Oh, for the love of Scissors!
Finding joy in unexpected crafty places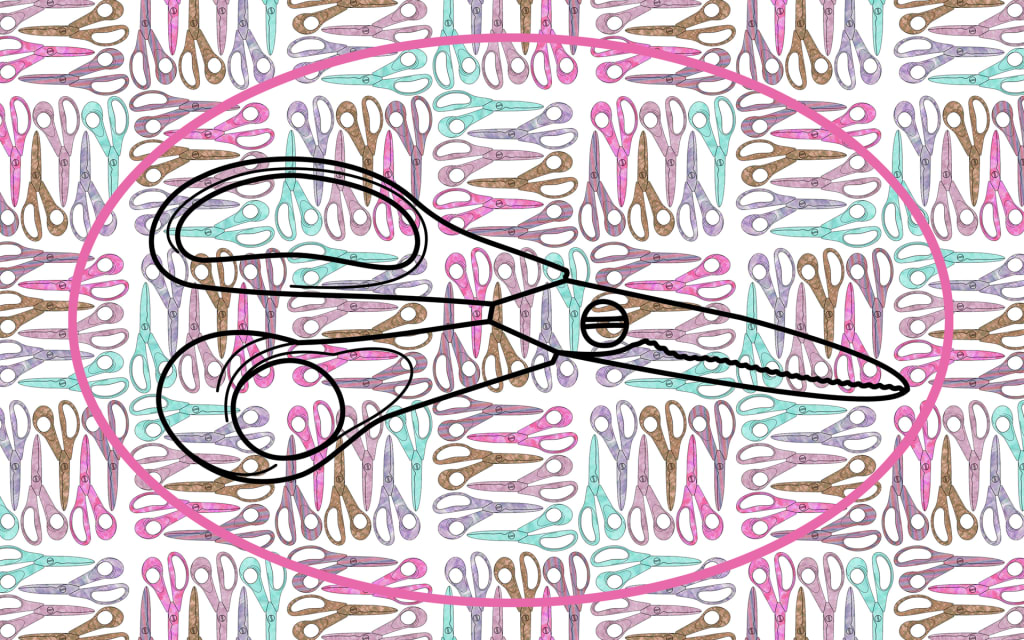 I couldn't have imagined that this Challenge would bring me so much joy! As I'm sure most people did, I started by looking around our home to see how many pairs of scissors we own and discovered that we have rather an abundance! Interestingly, almost every pair of scissors we own are made by Fiskars which seems to have become a household name in our home, even without intentionally making it so.
I have known for a long time that Fiskars' scissors are superior to other brands in sharpness, precision, reliability, durability, and design; and from the everyday, orange-handled kitchen 'workhorses' to the delicate razor-sharp embroidery scissors I own, each pair serves its purpose beautifully! I also inherited my late Mum's Fiskars prized dressmaking fabric shears, embroidery scissors, pinking shears, as well as her general all-purpose scissors. I have quite a collection!
For this challenge I decided to put my scissors to the task I enjoy most – cutting paper! My Mum always made sure to tell me never to cut ANY paper with her dressmaking scissors as it dulls the blade, but I decided that I would rather honour her by continuing to use her scissors - even if it is to cut paper - instead of letting them sit unused in a drawer.
.
I have a love of all things paper. I seemed to have inherited my Mum's creativity but not her love of fabric. She stitched the most incredibly beautiful bridal wear, but my personal joy is feeling the velvety, crispness of a piece of paper and crafting something beautiful from that.
.
I also have a love of pattern - repeating patterns in particular, inspired by the likes of Lucienne Day, and Terence Conran from the 1960's - so this challenge was the perfect union of being able to use one of my favourite tools - scissors, as well as one of my favourite mediums - paper.
.
I decided to focus my attention on the iconic, orange-handled kitchen scissors that are used multiple times every day in our home to cut open such things as food packaging, mail or parcels, remove labels from clothing, as well as often being employed to cut pizza into slices! Perfect! I love these scissors! They get used so frequently that they don't even make it back into the drawer after use but sit proudly in the cutlery drainer on our draining board ready for the next time someone needs to use them - which invariably isn't long!
So, to creating my patterns.
Firstly, I photographed my favourite scissors and tidied up the image in Adobe Photoshop, by removing the background. Next, I created a template from the photograph by tracing over the outline of the scissors in my vector-based drawing program, Affinity Designer. This allowed me to create a simple line drawing outline that would serve as a template to create the elements for my repeating patterns (as well as themselves unexpectedly becoming an integral part of some of the patterns I later created).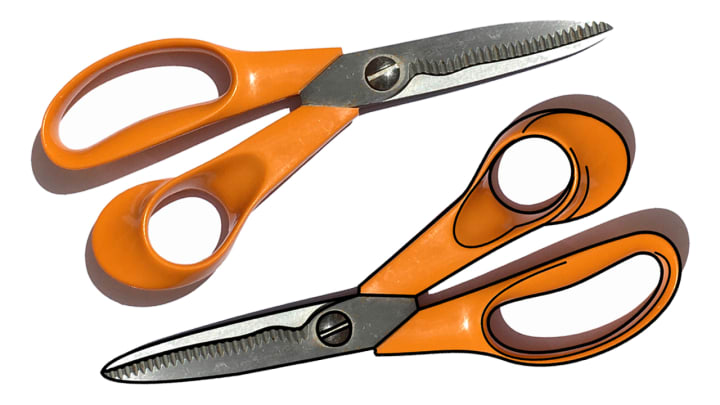 Having created my template, I flipped the design and printed out six templates so that the template was on the back of the paper but would be the correct way round when I cut the templates out with scissors. I did not want the black line template to show on the front of the design initially while I painted the papers, hence the reason for printing it on the back of the paper. I did, though, need to ensure that I had covered all the template area with paint, therefore needing the template on the back of the paper to ensure that. Also, I decided not to feed the painted paper through my laser printer to print the templates on them after painting them, as I have had some close calls with my printer having done that previously…whoops!
.
Next, I hand-painted my papers using Gouache paint. I have been experimenting with Gouache paint recently as it is slightly more opaque than Watercolour paint and the colours are super vibrant. I painted the papers in a range of colours, let them dry and then cut them out with scissors. I tried to create different textures with the paint to increase the visual interest of the designs.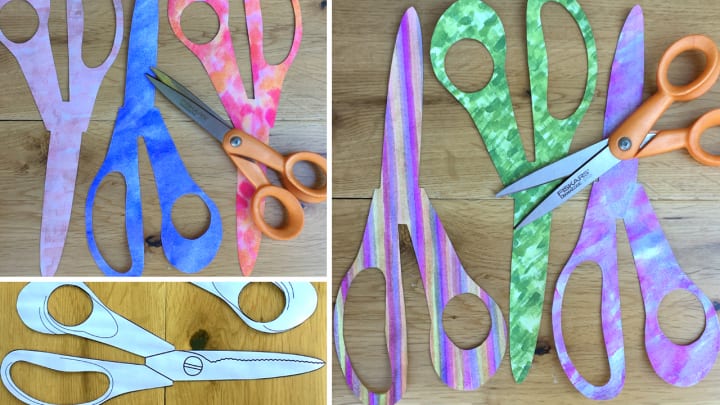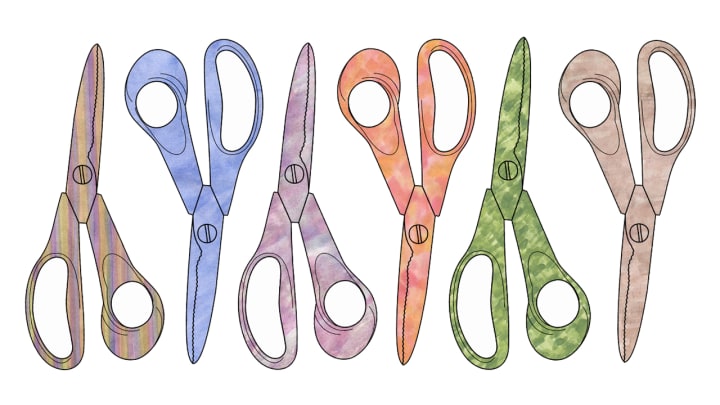 Once cut out, I scanned the images back into my computer, cleaned them up in Photoshop again and set about experimenting with creating some repeating patterns. I am always interested in how shapes interact with each other in patterns, and how much more dynamic they become when placed next to, opposite, or on top of each other.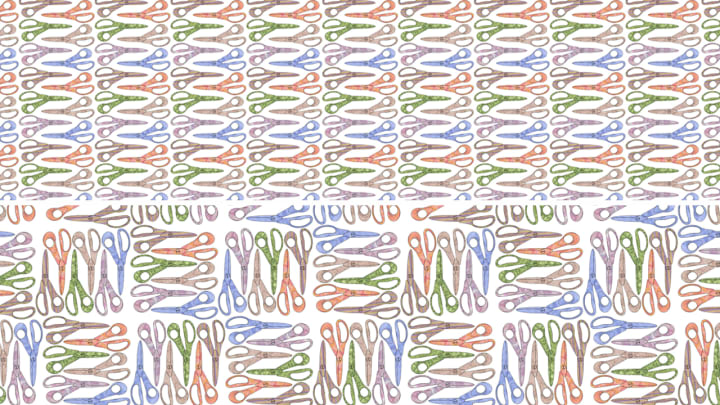 The shape of the scissors turned out to be an unusually exciting shape to play with. It is a visually interesting shape to begin with having the wide handles coupled with the narrow blades, and it lends itself to creating beautiful shapes when repeated. The 'flower' shape was a particularly exciting discovery when experimenting with duplicating the scissor shape around a fixed point using Affinity Designer, which makes the process very easy.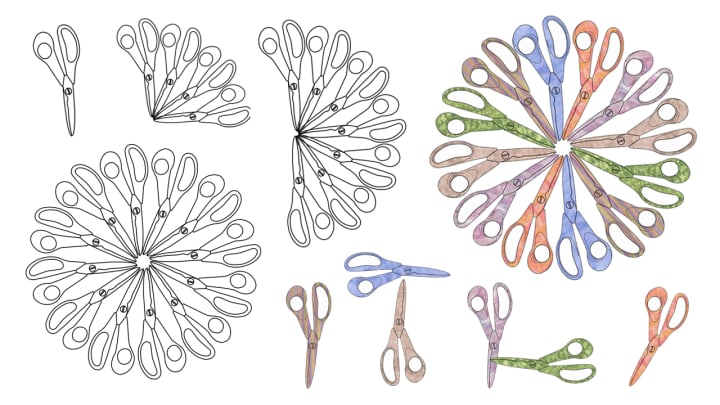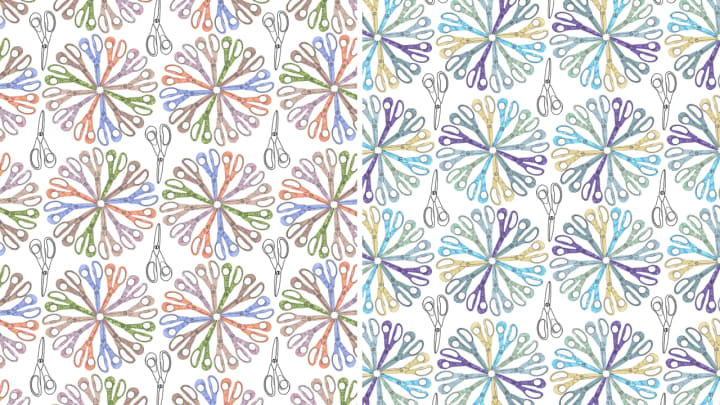 The real joy for me was giving myself permission to play with no expectations for the final outcome. This enabled me to try things that I wouldn't usually try and explore colours and designs that took my fancy as I progressed. Having the painted templates as well as the line drawing templates created a beautiful contrast between the softer painted effects and the harder drawn lines.
Experimenting with creating patterns in Photoshop with flat colours, no outlines, semi-filled shapes and different combinations of overlaying the scissor shapes has created some really exciting outcomes. The design of the scissors themselves was an important part of achieving these results as they provided a very versatile shape to work with.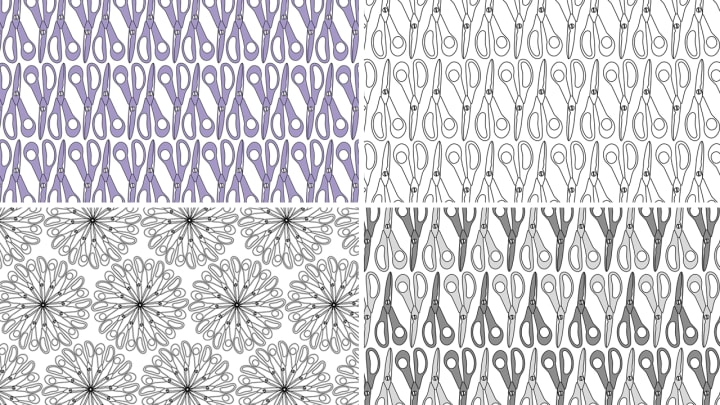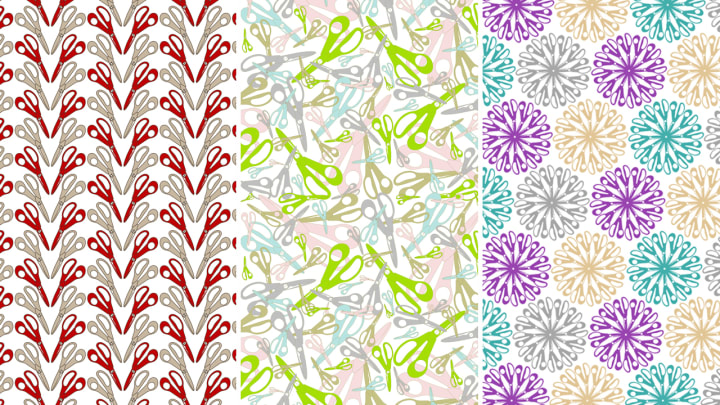 I also explored the idea of creating pattern 'tiles' in Photoshop by changing the scale of the scissors, as well as the colours and orientation, which I duplicated and laid next to each other to create dynamic repeating patterns.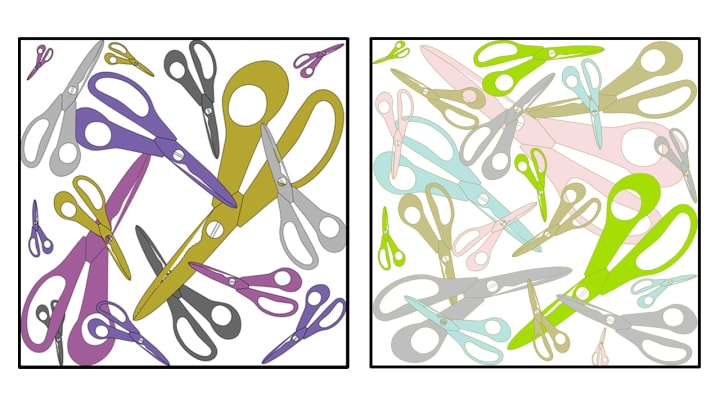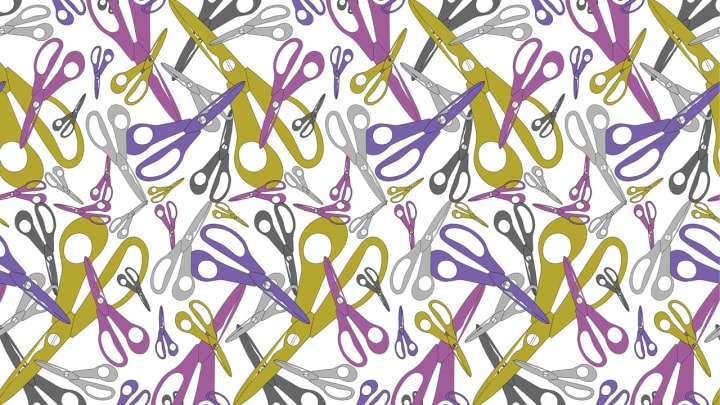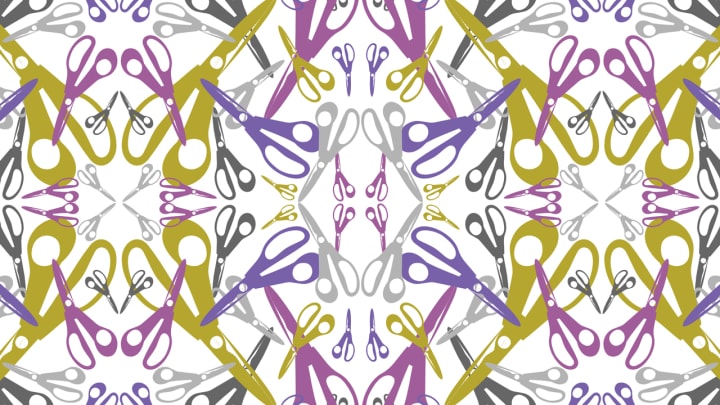 As an emerging artist I am learning that there are no right or wrong outcomes. Yes, some outcomes are more successful than others, but each one provides an opportunity to learn something new – including discovering which colours I love using together and which I don't; which kind of shapes, patterns or designs I am instinctively drawn to create; as well as realising that I am happiest when I am able to play and explore freely without placing expectations on myself or my outcomes.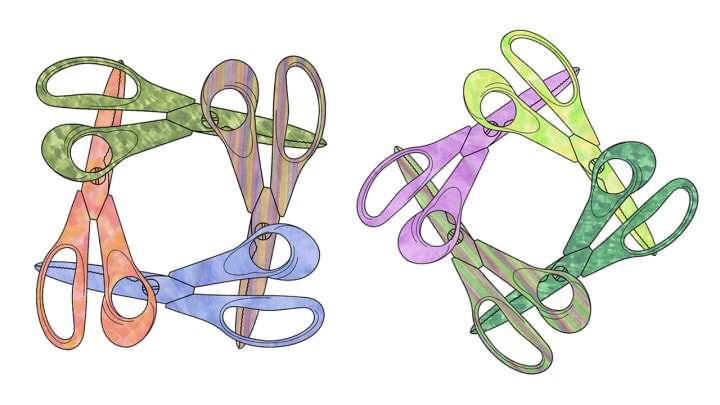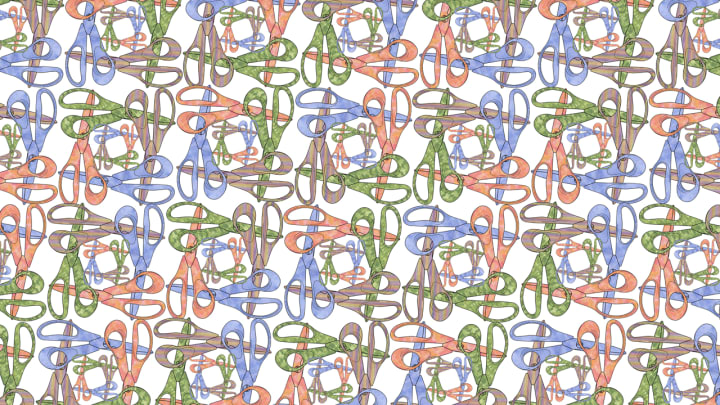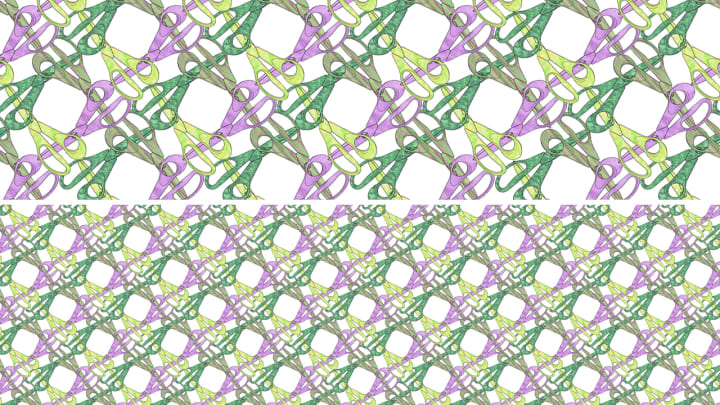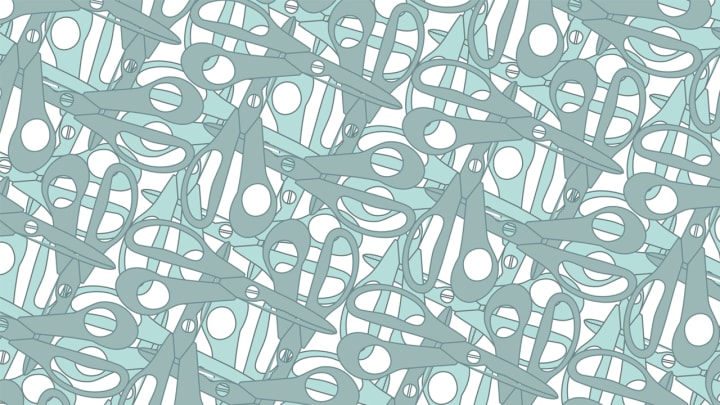 This project has given me so much more than I could have imagined when I started it. Do I love all the patterns? No. Did I learn something significant from creating each one? Most definitely. I had so much fun creating these patterns and was surprised by the variety of designs that the scissor shapes were able to produce. Working with such a well-designed object that initially seemed so 'mundane', has inspired me to intentionally start looking around me to find the extraordinary in the ordinary, and the magic in the mundane, as, unexpectedly, this is where the greatest joy in creating seems to lie.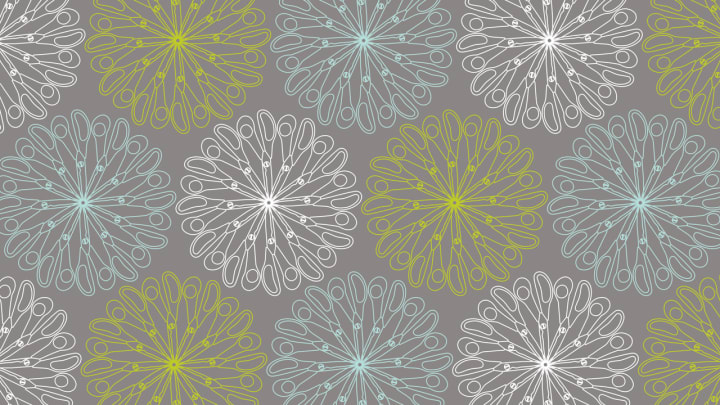 I have realised that anything can become interesting if you take the time to observe it for long enough. I have certainly been guilty of thinking that I am devoid of creative inspiration in my everyday life and that everything around me is boring and uninspiring. Working extensively with the scissors has enabled me to start to see the wealth of creative possibilities hidden in other everyday objects that up until now I have ignored and taken for granted as purely functional items. Creating art inspired by objects that are personal to my life brings a diversity and individuality to my work that no one else shares, and that's exciting! This is the greatest lesson I have learnt from this challenge and one that will, without doubt, inform and flow into my future creative experiments. My eyes are open and I'm inspired by what I see before me...