My Extraordinary Culinary Tour of Central America!
The Travels of a Foodie Through Central America!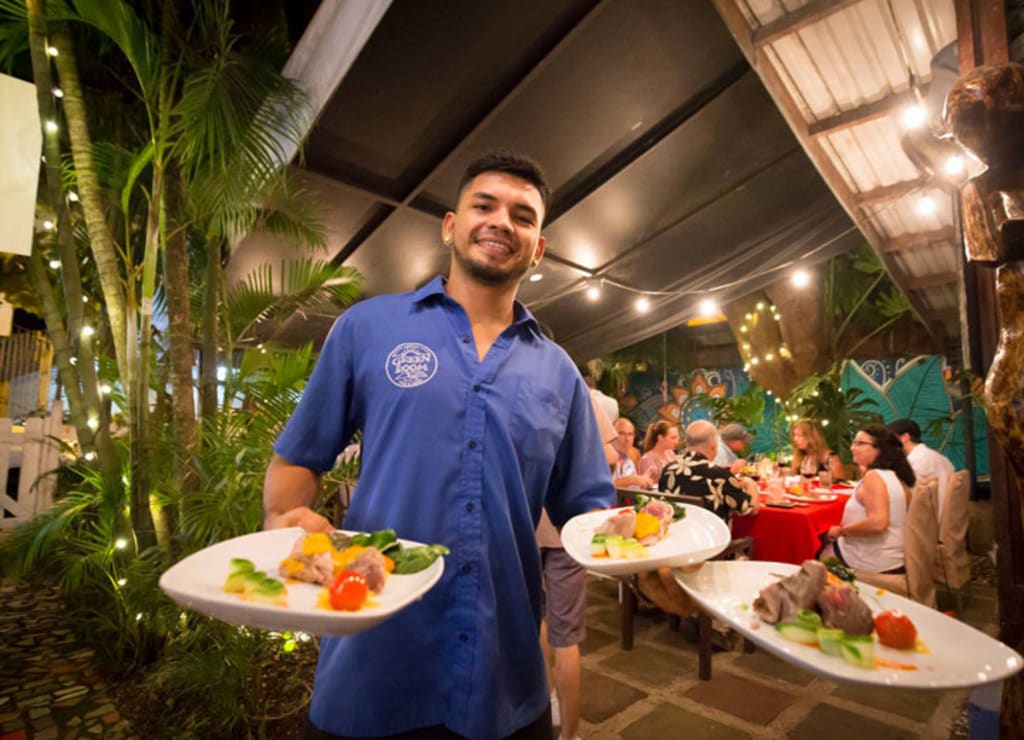 I find that the most important, yet, least asked question, before setting off on an adventure abroad, is, or at least should be, "What's your favorite part of traveling?" For some, it's the very idea of travel, moving around being strapped to a back-pack; for some it's the beauty of the sites or of the nature; for some, it's the vibrant ambience of a crowded, lively city. Well, for me the answer is simpler, more primal, perhaps – the food. Food plays such a big part in my day-to-day life (I am total foodie, and an amateur chef), so you can imagine how exciting it is for me to even think about being abroad and eating all these exotic delicacies I have never heard of or could possibly fathom to dream about – pure joy, the very thought of it! Hence, I've always made it a priority – discovering the culinary scene in every one of my travels. Food, food, food – and more food! Viva la comida!
My adventure started the spring of this very year, when I was traveling through Central America – an absolute culinary haven for a food traveler like myself! I did the whole tour, as in, I went through every country on the Central American connective belt, and had the opportunity to eat all sorts of delicious food unique to each country. For such a small area so tightly knit together, I found the individual cuisines of each of the Central American countries to be quite diverse and varied – always a good thing! Overall, the Latin American cuisine is rather alike – but if you know how to look for the right sort of dish that may be unique to a certain region or town in each specific nation – the types of dishes you find may result rather varied and unlike the usual ones that do share common qualities! After all, so far from home – it only makes sense to eat a very varied range of exotic dishes. In each country, I found something great – that's for sure!
In Belize, I discovered Fry Jacks; puffed-up, pillowy soft bread tortillas paired with cheese, beans, and meat to make a savory snack sold on street corners and in restaurants – simple and delicious! In Guatemala, I came across Pepian, a traditional chicken stew; brownish-red in color, made of various types of chilies and spices, served with a piece of chicken, baked potatoes, veggies and rice, as well as traditional corn flour tortillas. So flavorful! In El Salvador, I tried the famous Pupusas, one of El Salvador's most popular meals; simple tortillas made from corn or rice flour, stuffed with a wide array of flavorsome ingredients such as cheese, fried beans, pork rinds, or loroco, a native flower. Tasty! In Honduras, I tried Sopa De Caracol; conch snails are used as the base of the soup, complemented by a variety of ingredients such as carrots, pieces of ripe plantain, tomatoes, bell peppers, cassava, and finely chopped parsley simmered in stock and coconut milk – a true delicacy! In Nicaragua, I had the opportunity to try the typical Nicaraguan dish of Nacatamal – corn dough stuffed with meat, vegetables, and rice, flavored with spices, wrapped in banana leaves, and boiled. Filling and delicious! In Panama, I ate Mondongo a la Culona, a typical Panamanian dish made of tripe; the strips of tripe are cooked in tomato paste with chickpeas, potatoes, and other vegetables – I quite enjoyed it!
Now, for the crowned jewel of my story – Costa Rica. I stayed in a beautiful coastal town called Jaco Beach, in which all the remaining culinary desires deep in me were realized. Small as it is, this little town has a lot to offer; both food-wise, and in many other aspects, as it turns out, there's a lot of things to do in Jaco Beach! The little surfing town is beautiful with its bright blue ocean, long golden beach, lush green jungles – and as a personal appeal to me, it has a great culinary scene. A great place for lunch, El Point is a gastro-bar right on the beach, where I had an awesome Frozen Margarita and Supreme Nachos fully-loaded with beef, chicken, pork, cheese, beans, salsa, guacamole, and sour cream – delicious! Next, the star of the show: El Hicaco, namely the best seafood restaurant in Jaco where I ordered a great Grilled Red Snapper, as well as the Fried Calamari fried golden to perfection! For breakfast, I went to Green Room where I ordered Gallo Pinto, the typical Costa Rican dish consisting of black beans and rice, Huevos Rancheros, and a Breakfast Burrito bursting with flavor – I was left both full and fulfilled! I craved Japanese at some point and came across Arigato, where I had a cold beer and a Spicy Tuna Roll – delicious! The most unique place I ate at was Graffiti Restro Cafe & Wine Bar, with its "Ghetto Gourmet" theme and "no reservations" policy, where I had the Coffee & Cacao-rubbed Beef Tenderloin – absolutely scrumptious! Aside from the food scene, as it turns out, Jaco Beach has an extremely vibrant nightlife – I got to tour the bars and clubs, and had a great time! Jaco Beach rocks!
Now that I've come to the end of my story, I'd like to leave you with this thought – make food a priority when you're traveling! Yes, drinking is great; yes, site-seeing is great – but food is essential, and why not make that essential need, a glorious, delicious one? Discover the world as you eat; feed your palate, feed your soul. I definitely recommend Central America as a travel destination!