Motivation
Art of Empathy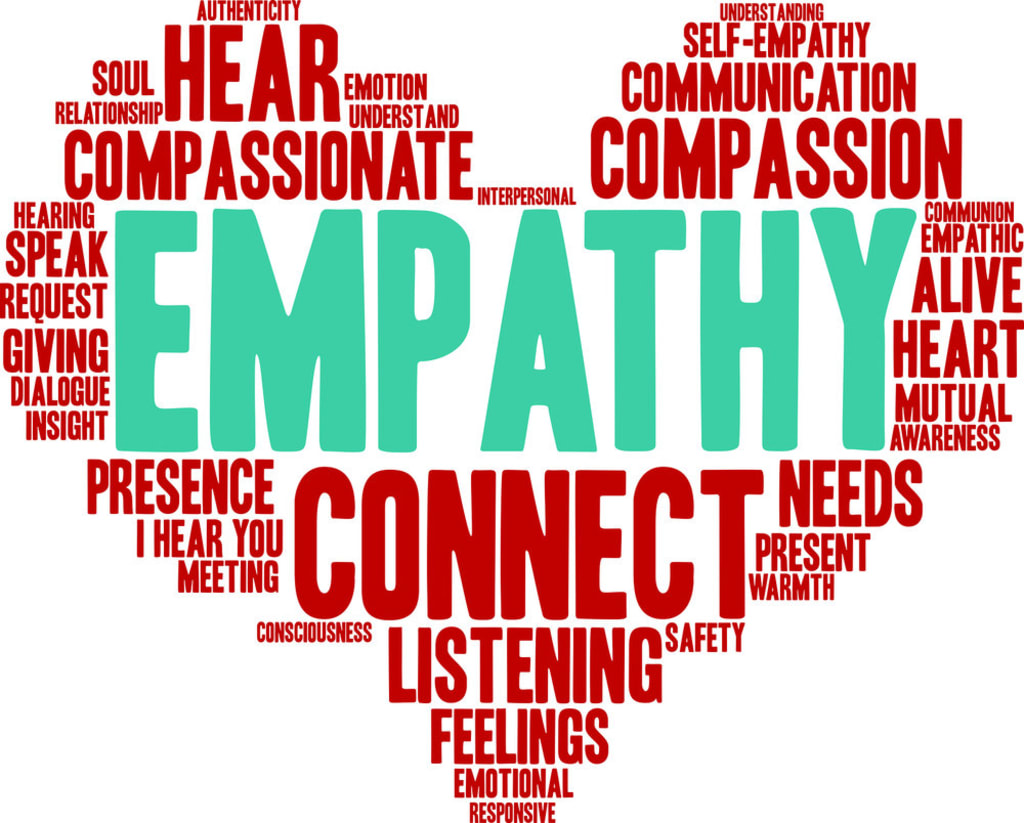 Ever since I've been a kid, I was always told I was too sensitive, or too emotional. I was constantly told my emotions would interfere with my ability to function, and that I would never be able to do what I do now.
Guess what? Not True!
I've come to realize that I have a talent for empathy. I'm an occupational therapist, so I'm constantly working with all sorts of people in different stages of their lives. I find my empathy helps me be a better therapist, because I can find ways to connect with people. I make the people I work with feel comfortable around me, and allow them to tell me what bothers them most. There are so many young and older adults who struggle with being confined to a hospital room, because they often feel like a caged animal. I find that empathy allows me to brighten someone's day, because I will take general interest in the person. I've had so many sessions where people I work with just let go and cry in front of me. Some would find that super uncomfortable to be around, but I look at it as a way to really see how the person is feeling. As an OT, I've found that providing small acts of kindness can go a long way, whether that's telling a joke to raise a smile, giving a bear hug for comfort, or saying a prayer with someone. All patients just want someone to listen, and to not feel alone in this world. In reality, since being an OT, I've come to realize my empathy is my greatest strength.
I find those who are more empathic when working health care field will find more success in opening communication with a person. When you open yourself up to a patient you are providing them an entry to a safe zone where they can feel comfortable sharing funny stories, things about their everyday life, and constant struggles or worries. Just the simple act of being aware of people's facial expressions, and tone of voice can help one try different ways of communication. There will be times where a patient may be difficult, but 70 percent of the time it's because they are either scared or frustrated about not knowing what's going on while they wait for their CT scan and MRI results. As human beings in the medical profession or not, you will have a client or customer, and it's important to create an open connection, because that's when you discover so much about the person you are helping or working with.
A few keys ways to tap into your empathetic side:
Be a good listener
Don't be afraid to share personal aspects of your life.
Don't judge someone based on their emotions, because likely they are dealing with a lot of hardship underneath it all.
Ask about family, hobbies, favorite travel spots, or if they have any pets.
Communicate in simple terms that don't confuse or overwhelm a person.
Don't be afraid of feeling sadness when your client, or patient is feeling the same.
Find ways to make a person smile, such as with a corny joke.
Never give up on a patient, or anyone in general, even when they lash out.
Be yourself, and just care no matter what.
Pay attention to tone of voice or facial expressions, because that can help with how you speak to the person, and how you approach certain situations without causing a bigger issue.
Be aware of how you present yourself as a professional, and try to leave behind your current troubles once you enter a patient's door.
Be present in the moment.