Most Beneficial Exercises for Heart Health | Nikolas Onoufriadis
Nikolas Onoufriadis on the most beneficial exercises for heart health.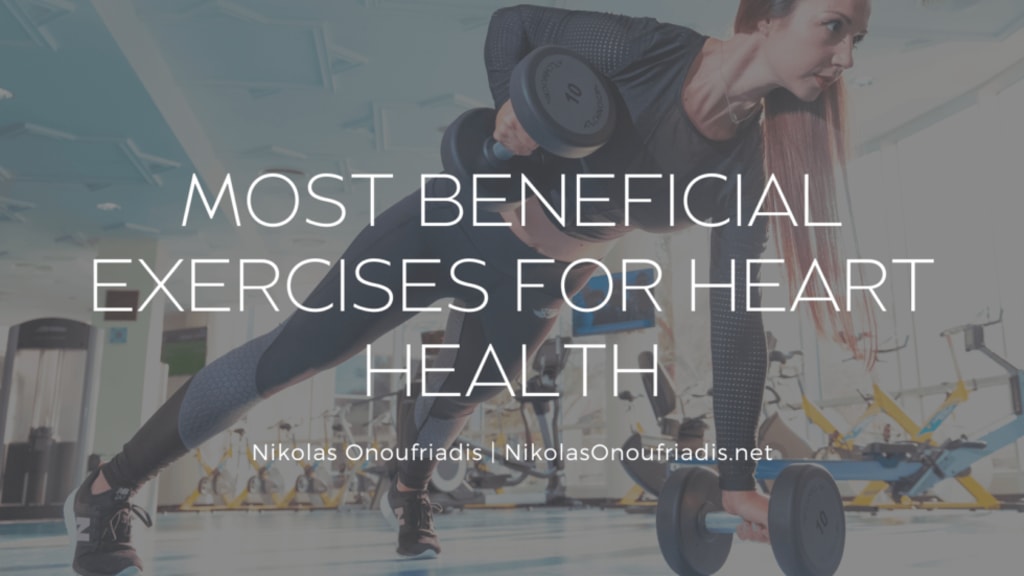 Heart health is one of the most important facets of a person's life. Currently, doctors recognize heart disease as one of the biggest problems in the world, with an estimated 48 percent of Americans being affected by the condition. One of the easiest ways to combat heart disease is to begin an exercise regimen. Regular exercise has been proven to cut the chance of developing heart disease in half while also reducing stress and providing a plethora of other benefits for the body. The following exercises are specifically designed to benefit heart health and can even be performed by those who are not accustomed to regular exercise.
Walking
Walking is one of the easiest exercises to get the heart pumping. While walking increases heart rate, it is also a low-impact exercise, meaning that it will not put as big a strain on joints, unlike running or jogging. Walking is also an incredibly versatile form of exercise. A person can walk anywhere, whether it be the mall or the street outside the office. Since it is such a low-impact exercise, anyone can join a walking regimen, including young kids and the elderly. Proficient walkers can also try speed walking to give an even greater boost to their heart rate.
Swimming
Like walking, swimming is a low-impact exercise that can also improve heart health. Doctors advise that swimming for heart health is more than just splashing around in the pool. Rather, medical experts recommend exercises like swimming laps and water aerobics to improve the heart health of patients. In addition to a healthy heart, swimmers will also get a full-body workout that improves muscle tone and stamina. Due to its low-impact nature, swimming is also recommended for people who suffer from joint pain and other problems with mobility.
Weight Training
Studies have found that moderate weight training can greatly improve cardiovascular health. Building muscle mass is essential for burning fat and maintaining a healthy heart. Lean muscles developed from weight training increase blood flow and thereby reduce pressure on arteries. While people often associate weight training with lifting dumbbells at their local gym, doctors advise that those interested in weight training for heart health can also benefit from exercises like push-ups and pull-ups, which yield similar results to strength training.
-
About Nikolas Onoufriadis
Nikolas Onoufriadis is a native Greek who is currently residing in Boston, Massachusetts. One of the things that sets Nikolas apart from the crowd is his genuine knowledge and understanding of balancing work and self-care. A skilled businessman and conversationalist, Nikolas has conducted business in more than 10 countries in the last 15 years. He's fluent in Greek and English, and conversant in Spanish and German, no doubt helping him during business negotiations.
Nikolas constantly goes above and beyond in whatever he's doing. He not only got his Bachelor's degree in Political Science from the University of Massachusetts, but also got another Bachelor's degree in Psychology from Harvard, making the Dean's list in both places.
Currently, Nikolas Onoufriadis is the Founder and Managing Director of his own consulting firm, Power2U Consulting. Founded in 2015, Power2U Consulting is a business that specializes in management and business consulting, as well as government relations. Nikolas wanted to put the skills that he learned throughout college and his extensive career to work, employing leadership, strategy, management, communication practices, and business growth to the company. Power2U has been successful in tackling complex issues throughout the United States, as well as several countries in Europe, the CIS, and the Middle East. Because of the work that he's doing, Nikolas has not only met with Heads of State, political dignitaries and prominent businessmen, but also gained experiences that he wouldn't have had otherwise by facilitating government and business meetings, participating in critical discussions and negotiations, and organizing targeted events and fundraisers. To learn more about Nikolas Onoufriadis, be sure to visit his websites!
list
About the author
Nikolas Onoufriadis has a track record of helping people succeed. He has two bachelor's and two master's degrees that provided a foundation as a strategist and consultant throughout his 15-year career. Visit his website to learn more.
Reader insights
Be the first to share your insights about this piece.
Add your insights