Look, It Has Lambs on It!
This little pink pot has a spotted history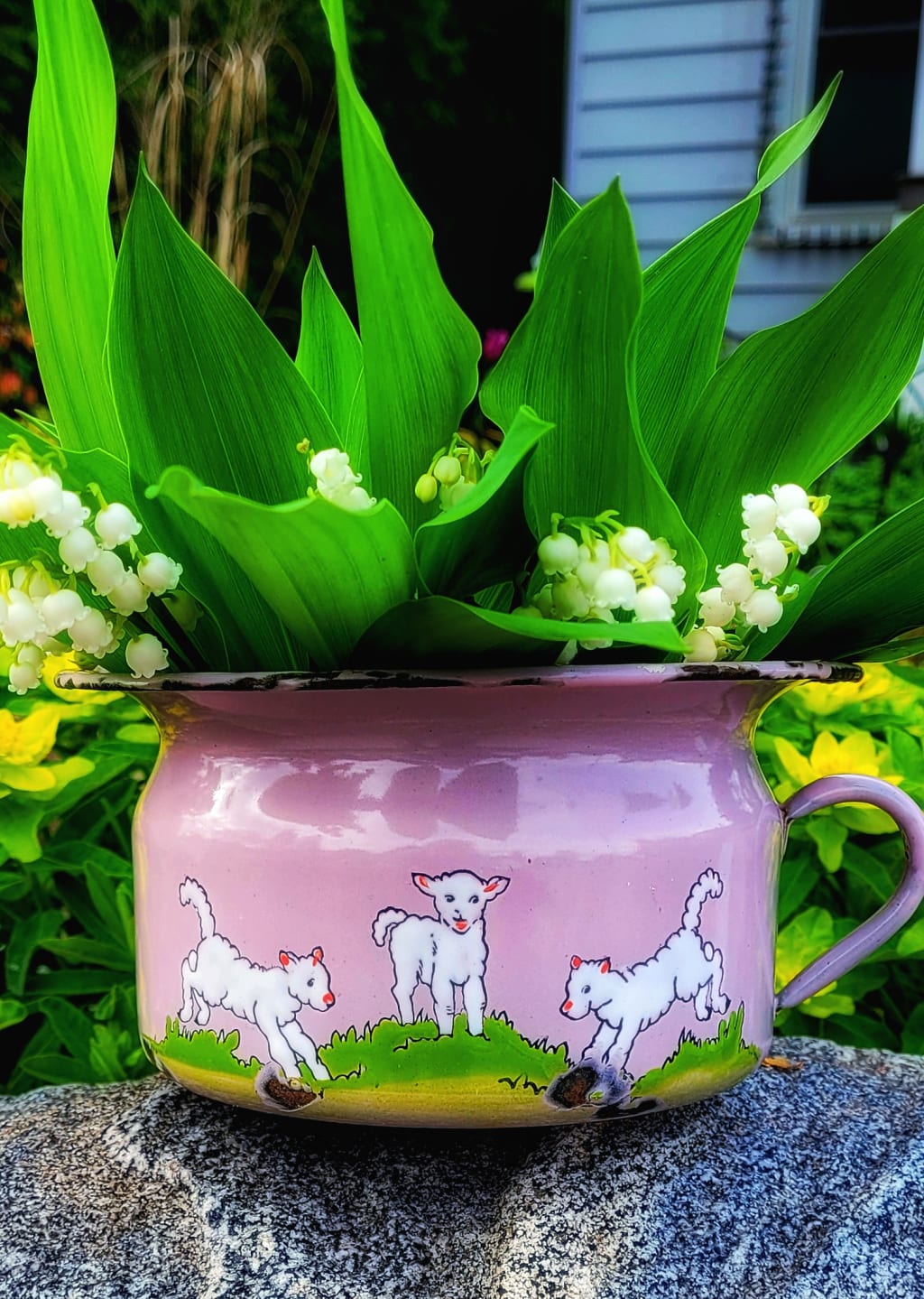 Author Photo
I pick up the strangest things. And this little pink pot, with its snowy lambs dancing in a field, has a rather unique history. It's the latest addition to my garden, and it will serve a solid purpose.
During COVID, I became an online auction fan. I've turned my garden into a conversation gallery, filled with upcycled and unusual pieces of art—items that were once functional household pieces have been transformed for new and practical use.
Fiesta ware—brightly colored and glazed Art Deco designed dinnerware—is a collector favorite; some say it is the most collected brand of china in the United States. In my garden, vibrant Fiesta cups and saucers perform duty as bird feeders, bird baths, and small shelters for toads and the like.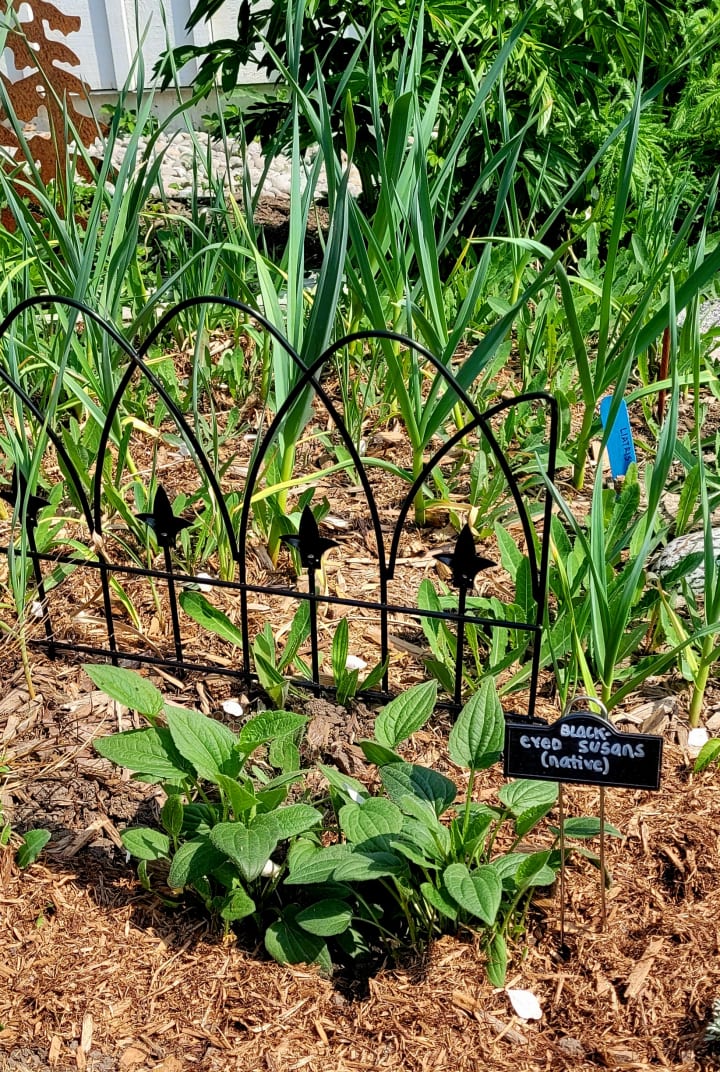 There are tiny iron fences winding their way through the flora; they were a second-hand purchase, and I loved their gothic feel—they matched our front arched window and added to our intended "Canadian Eccentric Gothic" theme.
You'll find an antique aluminum teapot, turned on its side and half-buried, for nesters or those in search of drinking water; its Bakelite handle becomes a perch for birds scouting for worms.
Our birdhouses are made from recycled wood and decorated with vintage buttons, glass, and found items. Traditionally, we host one or two bird families in each of them every year.
And our flowers and plants! We maintain a certified wildlife-friendly monarch waystation, which means we include milkweeds, host plants, food sources and shelter for all our pollinators. Many of our plants are native to our area, and we don't use pesticides.
Between the flora, the fauna, and the art installations, our garden is a feast for the senses.
But the newest addition to our eccentric little garden is perhaps the cutest and oddest yet.
A tiny, lovely lilac pink ceramic pot, showing a bit of age. Handy little side handle for ease of carry. And the best part of this curious little antique? A trio of adorable white lambs, dancing in a green field. Oh, it is sweet.
The moment I saw it on last week's auction, I bid on it. Someone bid against me, but I bid again. At auction's end, I received an invoice: I'd won it!
I was so excited—I knew exactly what I'd bought, and I couldn't wait to see it in person. I dropped by the auction house to pick it up; there were a few people ahead of me, so I scouted the warehouse room. There was an antique organ, and retro furniture galore. Lots of neat things. A woman in front of me was packing up an entire fine china collection in newspaper and placing it into boxes.
Finally, my turn. I gave the auction staff my invoice, and she walked away to find it. As she walked back toward me, she was admiring my piece. She, too, knew exactly what I'd bought.
Another associate saw it, chuckled, and said, "Is that what I think it is?"
"You bet," was the reply.
"It's so adorable, right?" I chimed in. "I'm going to use it for a planter. It'll be perfect!"
The three of us paused to view it. Despite its age, it was in terrific shape. Those snowy little lambs dancing around the base were delightful.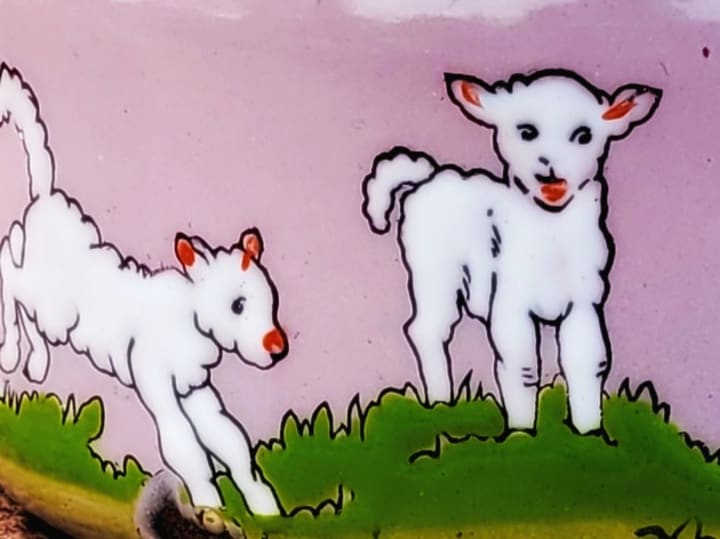 "What a perfect idea," the one fellow nodded. "Given its previous use, very clever!"
"I thought so, too," I answered.
I laughed too, because I was thrilled to add it to my collection of oddities and recycled garden art.
"Well…" the first associate quipped as she handed it over, "you could always put Oh Henry! bars in it…now that would be a great use!"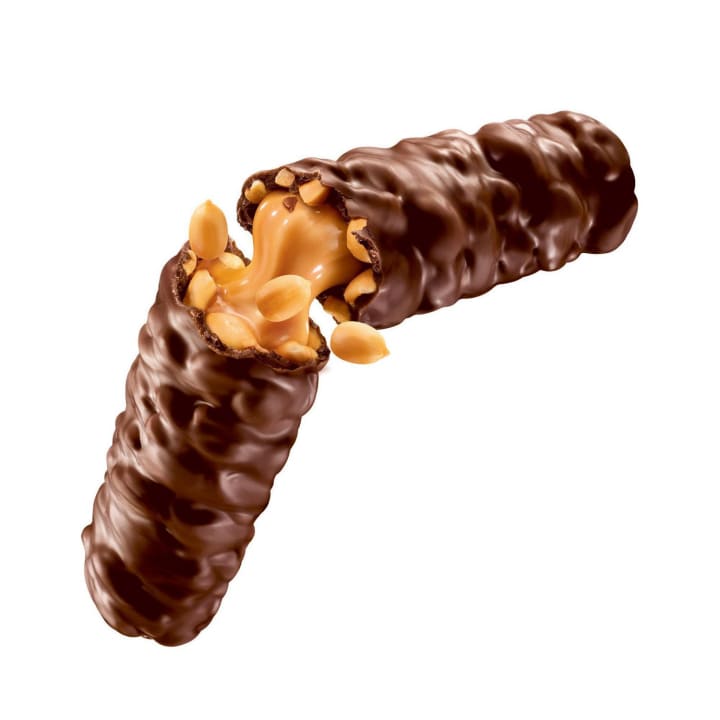 Honestly, that was the gut-breaker. I couldn't stop laughing at the image of the long, bumpy chocolate bars in my perfect find: my pretty, lilac pink dancing-lamb-themed…child's chamber pot.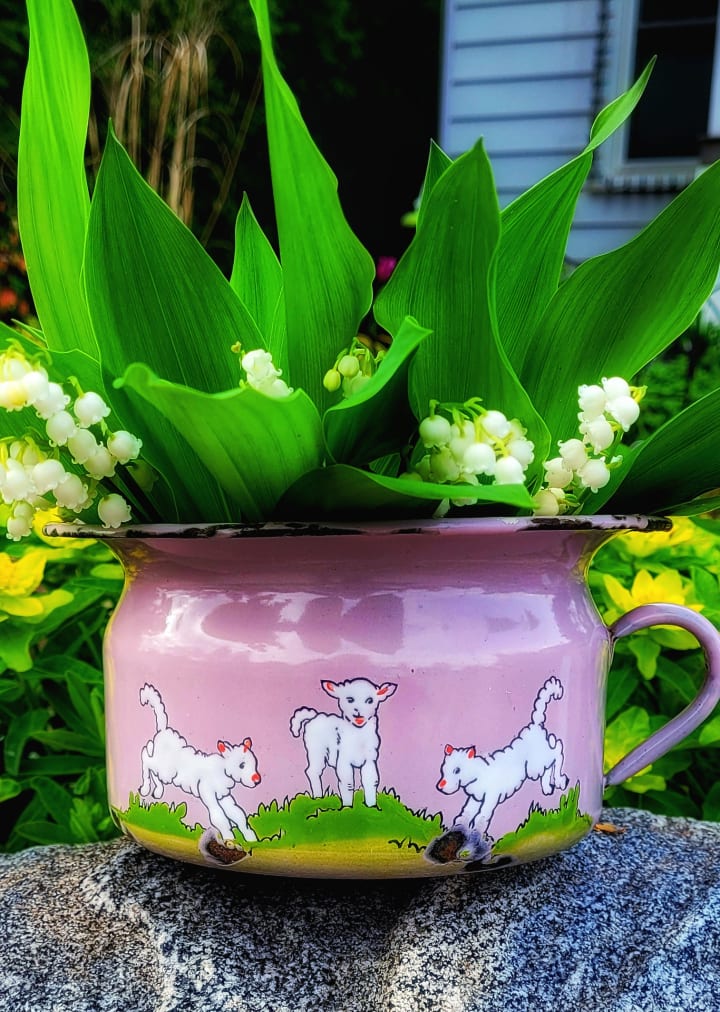 Nah, it's still going to be a planter. Except maybe on Halloween.
Check out my other gardening stories on Vocal! If you like what you read, please 'heart' and leave a comment, or better yet, send me a wee tip so I can keep buying crazy chamber pots at auction!
About the Creator
I live with a broken brain and PTSD--but that doesn't stop me! I'm an author, artist, and qualified mediator who loves life's detours.
I co-authored NOT CANCELLED: Canadian Kindness in the Face of COVID-19. I also publish horror stories.
Reader insights
Be the first to share your insights about this piece.
Add your insights