JOURNALISM AS PROPAGANDA TOOL
DECLINING VALUES OF JOURANLISM AND THEIR IMPACTS ON SOCIETY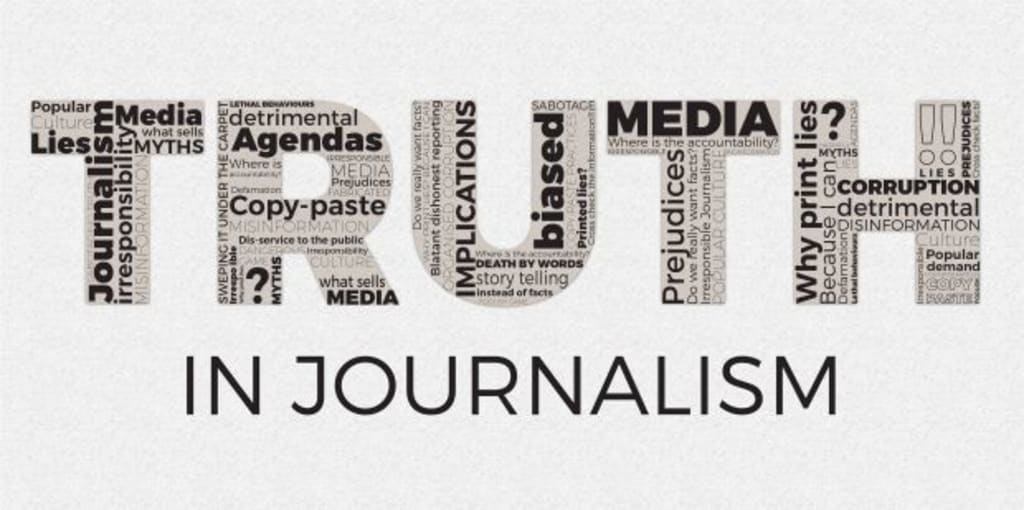 Journalism is the collection, production and distribution of news and related commentary and feature material through newspapers, magazines, books, blogs, webcasts, podcasts, social networking and social media sites, and also through print and electronic media e.g radio, through motion pictures and television. The reporting of current events in print, especially newspapers is generally comes under the definition of journalism, but with the advent of radio, television, and the Internet in the 20th century, the term came to include all printed and electronic communications to report and discuss current affairs.
Worldwide journalism is considered as an honorable profession. It is the job of a journalist to convey the true and authentic news to his people. Positive and constructive journalism has brought revolutions in different parts of world and a tool to bring a nation on single agenda of national interest and it is considered fourth estate. There are so many credible journalists in the world who are doing their best in spreading authentic and constructive news.
"Journalism can never be silent: that is its greatest virtue and its greatest fault. It must speak, and speak immediately, while the echoes of wonder, the claims of triumph and the signs of horror are still in the air."
HENRY GRUNWALD
If we talk about journalistic values, these are declining day by day. The quality of journalism is falling throughout the world. The place of truth in journalism has replaced lies and aberration has replaced values. Today's journalism has become a slave of the rich house. It is true to say that it is now the bitches of the riches. Today's media does not even avoid putting national integrity on stake for their personal interests. The market for lies is hot everywhere. Everyday people's turbans are thrown up, the hero is shown by presenting zero and zero to the hero.
In developing countries journalism has become a regular blackmailing institution because in these countries laws are low and they are not applicable due to which this class is engaged in doing journalistic terrorism by its journalists and no one can stop them. These people busy in exploding hate bomb in the form of hate speech very often. They play devilistic tactics to malign others and go beyond their limits for the character assassination by exploding character assassination bomb. Somewhere, thieves and robbers are portrayed as good and honest in a heroic form, and somewhere they make millions of attempts to erase good and honest people from the page.
They do not even avoid dealing with the dignity of the country in order to achieve the goals of their choice. They mix the bars of the earth and the sky to benefit the person of their choice and after completing their benefit, they beat the same person on the ground. Journalism has become a bad elephant that is passing through all of his feet. Whoever comes to his feet loses life. If this stupid elephant is not bribed, it will continue to trample on such people and mislead people and people will continue to suffer because of it.
All of this does not mean that freedom of expression should be banned in the world, every person has the right to express freedom. But freedom of expression should not be allowed in a form to accomplish someone's nefarious religious, political and social motives.
I am a great supporter of freedom of expression, but freedom of expression does not mean to make fun of the religious, social and cultural values and to present a particular class, group or nation as inferior to some other class, group or nation and it is not acceptable in any form. Every religion and every civilized society in the world allow freedom of expression only in terms of truth and sincerity.
Today, in the west, journalism and freedom of expression are present in a very beautiful form where the rules are respected. Character assassination of anyone is not allowed and the freedom of everyone is respected. Strict rules and high moral values compel people that they always promote truth and spread a genuine news among the people.
But at the same time, the hate speech is also gaining momentum in the world. The religious and political leaders of some countries are making the worst use of the hate speech to achieve their religious and political goals and they are leading their people towards confrontation with a specific group to another and one country to another country. They are engaged in accomplishing their goals and have their favorite journalists to get their work done, who play an important role in promoting their business of hate. This is the fact that, this is real journalistic dishonesty to hide the truth from your people and to promote lies and propaganda. They are not only stirring the feelings of hatred within their people, but they are also a threats to peace, which is promoting religious political moral and social extremism in the world.
We have to think that we want to take the world to which side, if our destination is peace, we have to promote love truth and tolerance, but if we want to destroy the world's peace then hate, lies and stirring intolerance can do it best. Only the promotion of truth and love is not only the guarantee of the survival of us but also the whole humanity.
literature
About the author
Reader insights
Outstanding
Excellent work. Looking forward to reading more!
Top insight
Excellent storytelling

Original narrative & well developed characters
Add your insights