If This Coat Could Talk
Treasures in Unexpected Places
I spend a considerable amount of time "treasure" hunting. I love shopping at garage sales and thrift stores, searching for items to flip for a profit on eBay or in a local flea market. I watch hours of videos following full-time "flippers," learning from them "the tricks of the trade." Occasionally, I stumble across goods they classify as BOLO's (Be On the Look Out). This isn't my full-time gig, it's a hobby and a personal challenge. Can I find things in the "wild" and make a hefty return by reselling? Sometimes, yes.
Recently I bought a piece of folk art. I found a carved figure standing about 21 inches tall. This "hillbilly" from the Ozarks came to life through the skillful work of JR McNeill. I spent $3 on this piece of art and resold it for $147.50 plus shipping. That's quite a score in anyone's book. Over the weekend, I found another wonderful treasure to flip for a profit.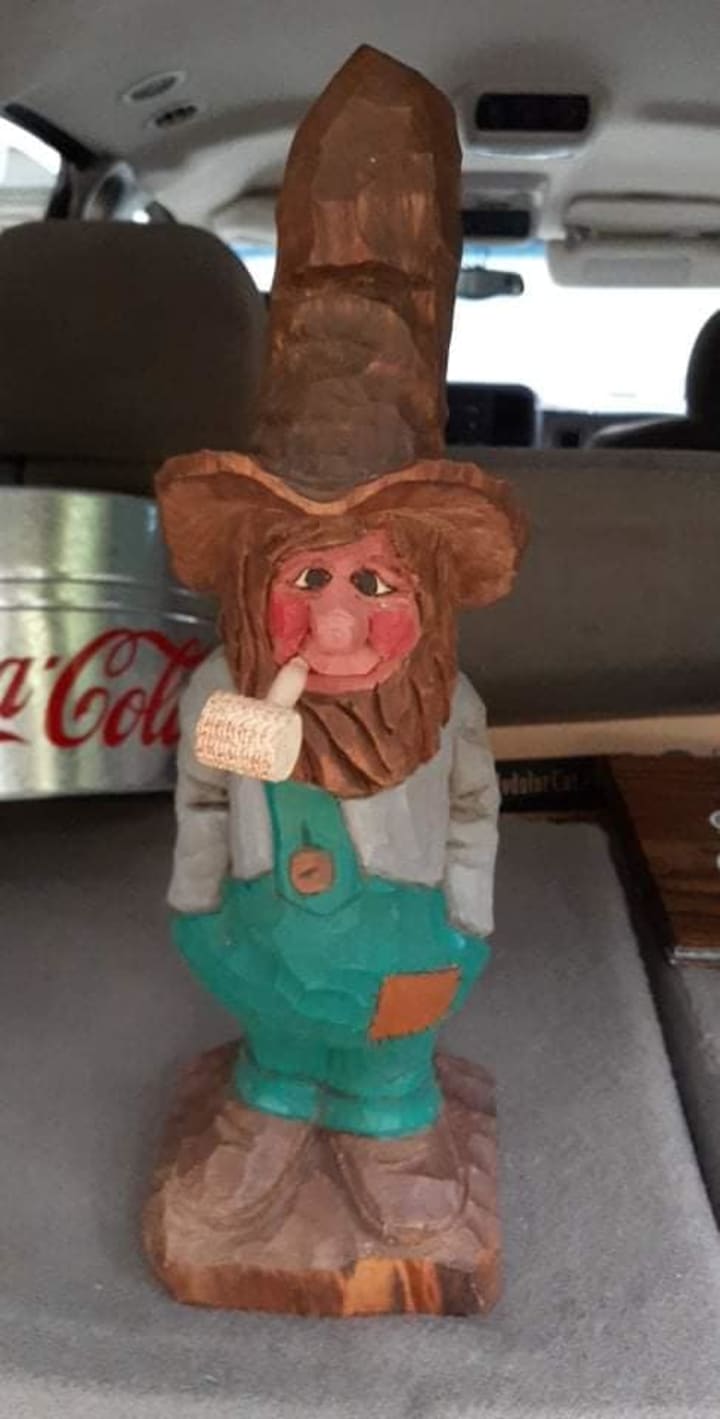 On Saturday, as I was sourcing for eBay and for my booth, I migrated to the clothes. There in the midst of t-shirts and faded jeans was a vintage, 1940's/1950's hunting jacket. When I noted the tag, I knew it was something special. I'd never heard of the brand, but when I saw the hunting dog and "Made in Waterloo, Iowa," I knew the jacket had potential.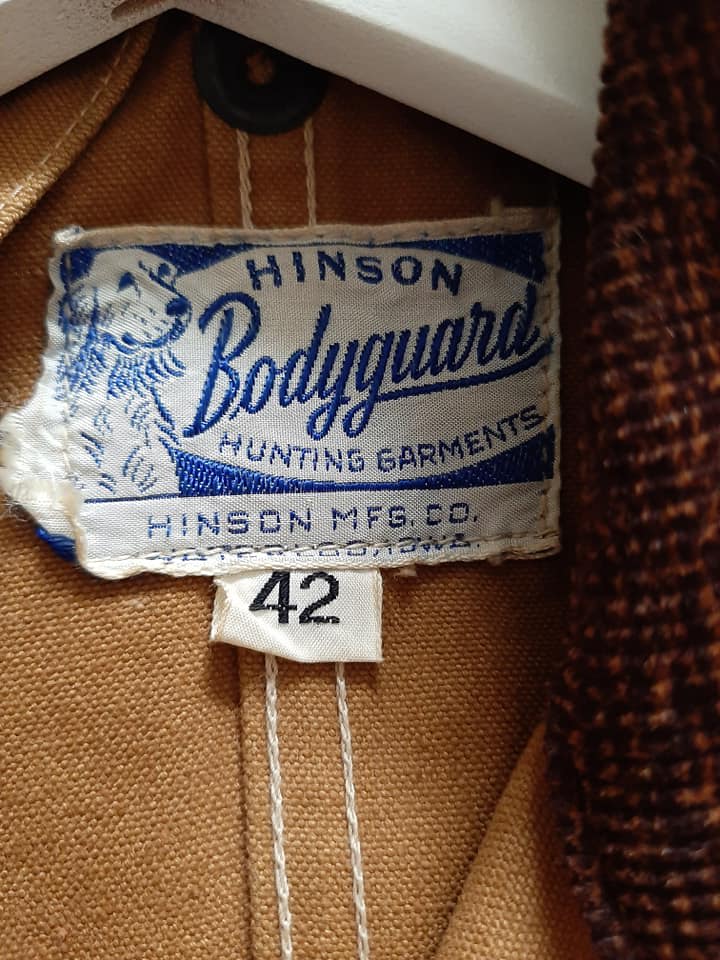 As I drove home, I thought about the many memories made in that coat. It left the garment factory over 70 years ago, and survived seven decades of service. I imagine the gentleman who owned this coat spent countless hours in the field, hunkered down in marshy areas waiting for elusive fowl. Over the years, the hunter tucked ducks and geese into the canvas pouch buttoned to the back of his coat and proudly toted them home to feed his family. In my thoughts, I envision the coat telling his story in this manner: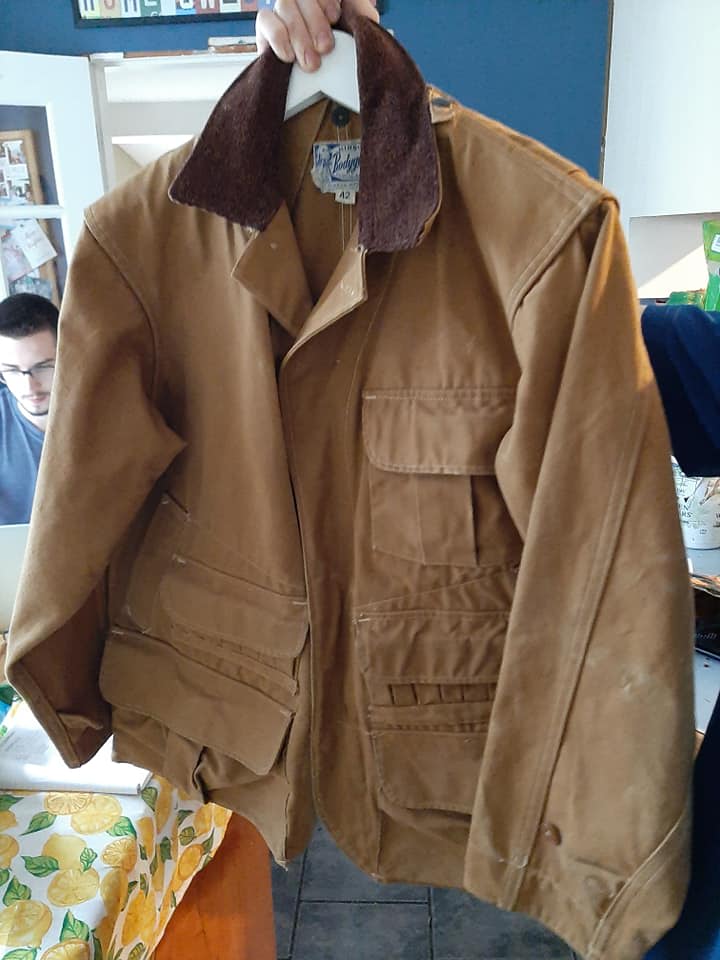 She wore inspection badge number #452 proudly, but I knew her as Edith. Every coat passed under her careful eye. She checked every seam and button, confirming the stitching held tight. Only after a thorough inspection did a coat leave our factory. She folded me up, placed me in a box and soon I found myself bouncing around in the back of a large truck headed to a farm in Central Iowa.
When the truck ground to a stop at a small white farmhouse, I knew I was home. Mr. Estell Clausen met the driver, pulled a few bills out of his wallet and exchanged the cash for me. He tucked me under his arm and strolled inside the house. Once at the kitchen table, he ripped the string holding my box together and pulled me out for examination. He shrugged into me and posed proudly in front of a mirror. His wife dried her hands on a towel and ran her hand over my material..."My handsome husband," she said, pecking him on the cheek.
From that day forward, we were inseparable in the Fall and Winter months. Every morning, I accompanied Estell as he threw hay out to the cows and puttered around the barn. A few weeks out of the year he donned me to fulfil the purpose for which I was made. He rose early and crammed my pockets with shotgun shells and beef jerky. Before the sunrise, he hunkered down in a blind by his one acre pond and blew into his duck call. On almost every outing, a Mallard or Wood Duck harkened to the call, and swooped in for a landing. Estell took aim and he dropped the game into the water. His reliable Black Lab plowed into the icy water and retrieved the duck, dropping it at his master's feet. Estell stuffed the duck into my canvas pouch and we waited for another unsuspecting fowl.
I can't count the number of times we hunted together and did so until Estell's health declined. Arthritis and dementia stole my hunting buddy. He still wore me when he drank his coffee on the porch, but there came a time when he no longer left his favorite chair in the front room. Estell's wife wrapped a plastic bag around me and shoved me to the back of the closet. It was a safe and snug place but I missed my early mornings with Estell.
I'm not sure how many years it's been since I've seen daylight, but today I'm back in a box, making my way to the East Coast. Sadly, Estell passed years ago and most of his earthly belongings are going home with strangers...and that includes me. I know little about New Jersey, but I hope I bring as much joy to my owner as I did to Estell. I also hope to accompany my new owner to the fields and ponds again. I miss the soupy morning fog settling over fields and waterways. I miss the call of ducks and a hunting dog nestled against me. I miss the frosty mornings on the porch and the before dawn ritual of feeding the cattle. I miss Estell.
No matter how I'm treated in New Jersey, I can say there's no place like Iowa.
There's no place like home.