I'm Rooting For Everyone Black With Plants
A Small Black Plant Business Changing The Face of Education and Agriculture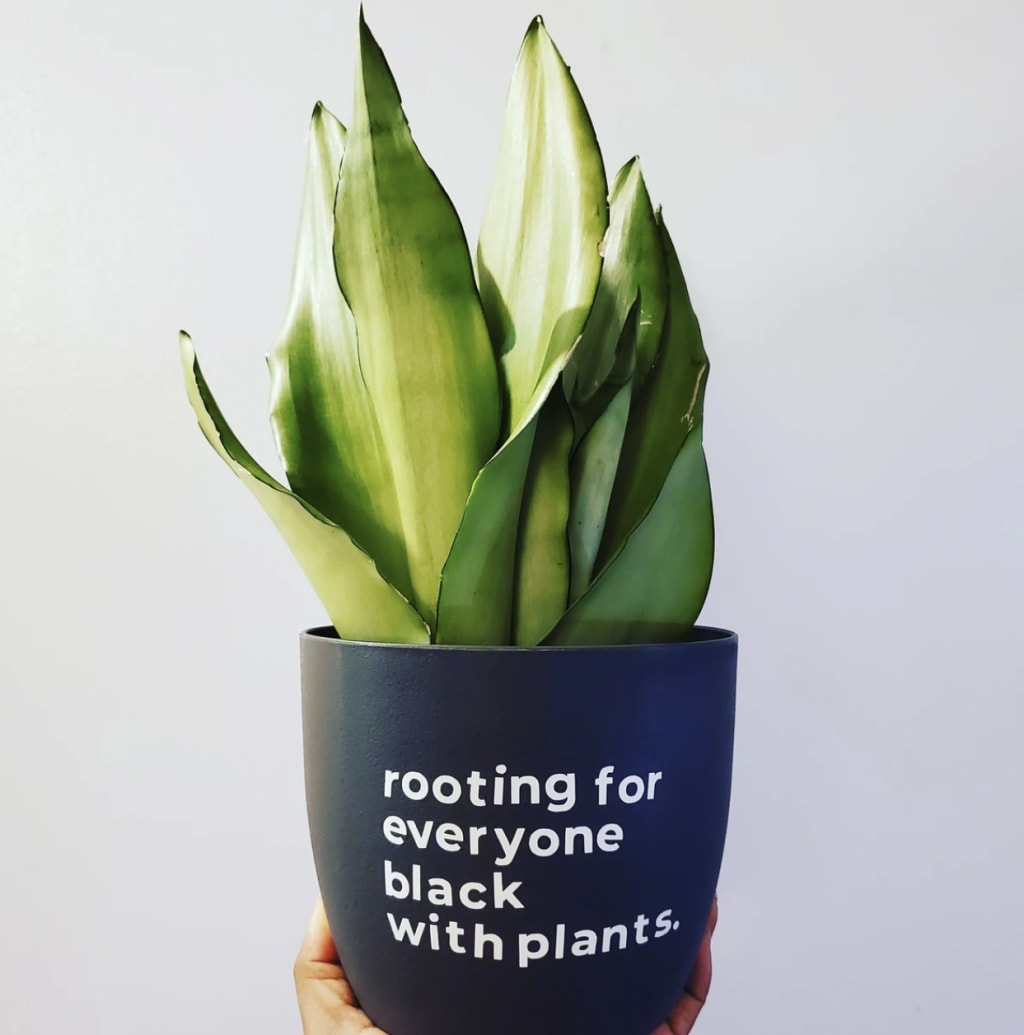 ROOTING FOR EVERYONE BLACK WITH PLANTS (6" PLANTER) $19 rootedinblk.co
After failing to receive an Emmy nomination for her widely popular series Insecure, Issa Rae boldly and beautifully attended the 2017 Emmy Awards in support of other hopeful creatives, looking to secure that coveted award. Adorned in a gorgeous red Vera Wang gown, she confidently stood in front of the reporter prepared to share this supportive mentality with the world. At the reporter's indicative pause, Issa Rae uttered the phrase that would shake social media, for about a month or two: "I'm rooting for everybody Black"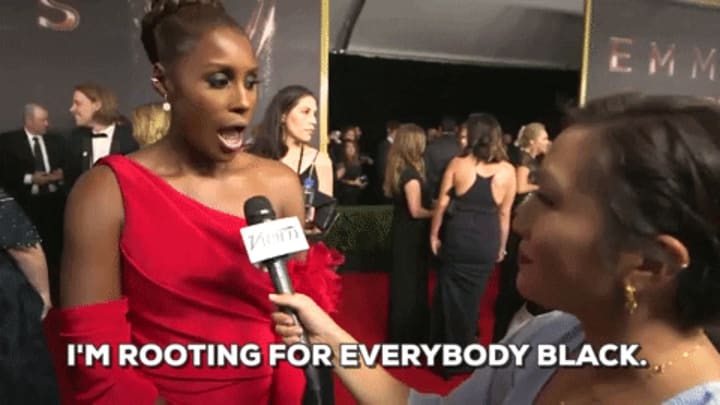 Now, Black people knew what she meant; we do it all the time while watching Family Feud, Let's Make a Deal and any other slightly competitive game show. But this was different, Issa said what we were all thinking out loud. Her comment reached Twitter, Instagram and Facebook within the hour and opinions soared; some oppositional from those who felt excluded and some defensive from those who understood what it was like to need, and now have, a cheering section. Within the following weeks, months and years, the comment would give way to the birth of a vast amount of Black creators who would slap the phrase on t-shirts, stickers, buttons, backpacks and any other collectable merchandise. They'd write film scripts, poems and stage photoshoots paying homage to a bold, honest statement. The most creative, by far, came years later in the form of a potted plant.
Rooted In Blk.co: A Brand With Solid Roots
Rooted in Blk.co is a Black owned minimalist planter company. Even that statement alone is underwhelming in comparison to the educational and holistic contribution they provide to the Black community. According to their highlight on channel News 4 Buffalo, the company began when owner Fee Scott-Bolden simply made a planter for herself displaying the phrase "Rooting For Everyone Black With Plants" and it went viral, as interesting things tend to do in a millennial society. The exciting part about all of this, and the inspirational part if you're a small business owner like myself, is that, according to their Instagram page, the company became a six figure business within the first six months and in the middle of a worldwide crisis.
The recent pandemic produced an abundance of Black business owners. My own skin care brand, for instance, was developed right before the COVID-19 shutdowns. So while it's not hard to find a Black owned brand now-a-days, it is hard to find one that's actually passionate about what they're doing. When you start your own company, there may come a point of absolute and utter uncertainty. The idea that you may have just spent hundreds on an unprosperous idea is petrifying and, if you let it consume you, you end up on your kitchen floor whispering "what am I doing?" to yourself until you fall asleep (or so I've been told...). It is right after that moment that, if you truly love what you do, you search for and find your inspiration peaking out from the clouds, or in this case, popping up from the dirt. Rooted In Blk.co seized the pandemic opportunity to take a stir crazy prevention invention and transform it into a hundred thousand dollar business. By selling potted plants and reading and writing supplies, they have proved that thriving within an undesirable circumstance is not only possible for them, but it is possible for any small business with an unquenchable thirst for change and success. Additionally, Rooted in Blk.co breaks Black community stigmas and reminds us of our well educated, advocate and entrepreneurial predecessors all while giving us a cute place to put our plants.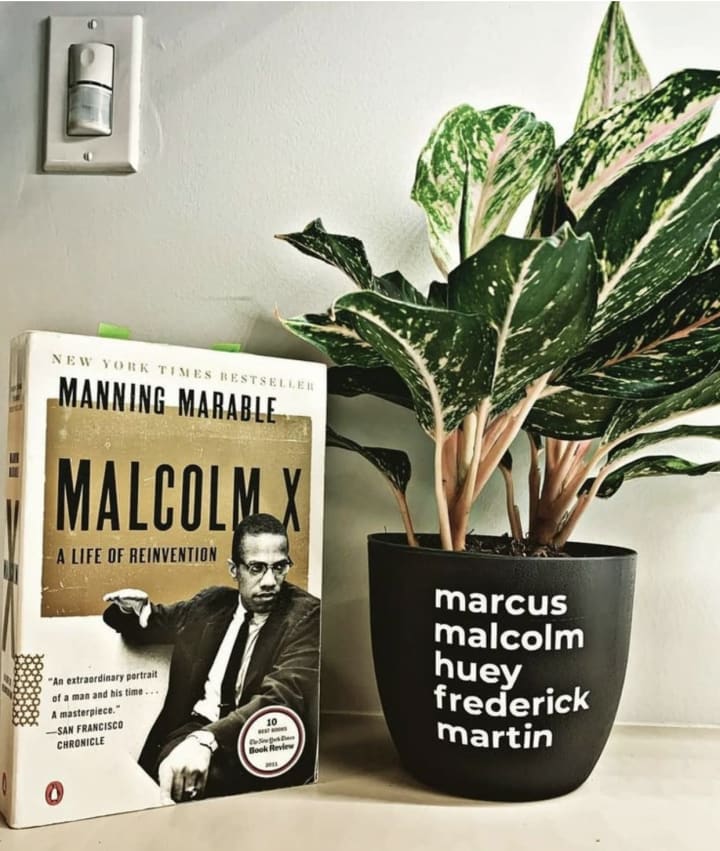 A Place For Plants and Advocates to Grow
From early on in my childhood, I learned that there was a simple code for what Black people did and did not do. As I grew up and I embarked on a journey of unlearning several lies, I discovered that other Black people, who were from various parts of the country, clung on to these rules as well. Certain aspects of our upbringings are worth holding on to as they shape a well rounded and cultured adult, but others have held our community back from health and happiness for decades. One of the things Black people "don't do" is plant and garden. For some of us, the thought is outrageous since we grew up with mamas, aunties and grannies that have been gardening all of our lives. For others, the thought is all too familiar. Recently, indoor gardening has become a little more popular among the "Earthy Black" community, but considering the fact that our ancestors once lived off of the land because Walmart didn't exist, it should be a thing among every Black community. So how is Rooted In Blk.co changing this stigma? When I first found their Instagram page, I sent a picture of their "Proud Black Plant Parent" planter to my brown-thumbed friend. That same day, however, she bought it. Though I feared for the life of the cactus she put in it, the fact was she had a plant... because the planter was "cute". As odd as it sounds, the desire to have something because it's cute and then to not want something to sit dormant and useless on a desk, has delicately forced people into the "Earthy Black" community. Even those of us who always wanted a little indoor garden now have an excuse to start one, so we can put plants in a cute planter.
Rooted in Blk.co has also done something that, to date, no other planter company has done, they remind us of our roots. Though stigma still sits like a rain cloud over the heads of our community, the more pertinent issues are the lessons we never learned in the public school systems. It wasn't until half of us sat in a college Africana Studies class, and the other half read it in an old book, that we found out that Malcolm X and Marcus Garvey weren't the bad guys, Harriet Tubman and Sojourner Truth were for more than just anti-slavery and Langston Hughes and Ta-Nehisi Coates weren't just names on a book you never read. These planters inspired by Black history open up a dialogue that crosses generations. Why do I need to know who Zora Neale Hurston was? How did Huey P. Newton benefit me? We are entering an age where the younger generation not only asks these questions, but sees the past as so far away that it's irrelevant to them, their struggles and their aspirations. So when you own the "Our Great Forefathers" planter and a child sees it and wonders about the names printed on it, not only do we get to have a conversation about the contributions of the men who died looking towards a better Black future, but we also remind ourselves that their past is not unlike our present. These conversations inspire activism, research and a deeper study that far exceeds what can be taught in a high school classroom. There is, however, a wealth of knowledge out there about Black History and culture and when we support companies like Rooted in Blk.co, we support the need for that knowledge to be tapped into and shared.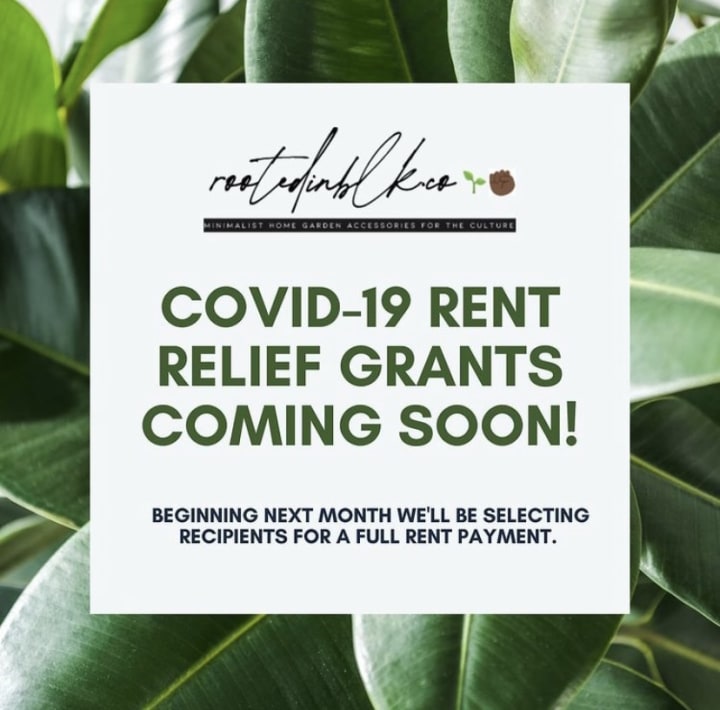 Harvesting and Sharing the Fruits of a Beneficial Tree
Directly, Rooted in Blk.co benefits individual members of the community on a daily basis. They have developed a Monthly Micro Grant Program, a COVID-Rent Relief Grant and an occasional paid photo contest. They are constantly growing and expanding, finding more ways to give back to the community that raised them. Though success has found them faster than most small businesses, they have not detached from said community. It is still, clearly, a priority for them them to not only root for everybody Black, but support them as well.
So what does all of this mean in terms of inspiration? Yes, we can acknowledge that a business had a smart idea and now helps out the community with it, but is that really grounds for inspiration? I once heard a very educated person say "Healing cannot come from plants unless you eat them." Essentially, her point was, if you want to be healed, from anything, see a dermatologist, doctor, or psychiatrist. I've never believed that though. Aside from growing my own home apothecary, I've always believed that wives tales and home remedies were the best source of healing. Nature and plants as a source of correction and healing is what my business, Brelon Essentials, is based on. It coincides with the idea that everything we need to heal our skin is already in nature. Likewise, there is a sort of healing that comes with what Rooted In Blk.co produces. They encourage the ownership of plants, which allows people to not only obtain a mental healing using the peace tending to a plant brings, but also physical healing from the increased oxygen they create in a certain room. They introduce educational healing, reminding Black adults and children that they are more than two or three pages in a history book from high school. Black history is as rich as the soil inside the planter and as deep as roots of your new green friend. The fact that Rooted in Blk.co was able to profit immensely is just the cherry on top of an inspirational cake. The company has not only inspired me to continue on the path I've been going with my business, but to remember that there is, has been and always will be healing in plants.
To check out Rooted In Blk.co or to purchase one of their inspirational planters, visit them at https://rootedinblk.co/ and follow them on Instagram @rootedinblk.co.
While you're there you can also check out my nature based skincare brand on Instagram @BrelonEssentials or visit us at BrelonEssentials.com.
product review
20-something year old writer From Los Angeles, CA. Vegan. Skin Care Business Owner. Loves Marvel, long naps on the beach, and ignoring texts. www.BrelonEssentials.com