I Love Watching and Listening to Oceans So Much That I Paint Them
When seeing is hearing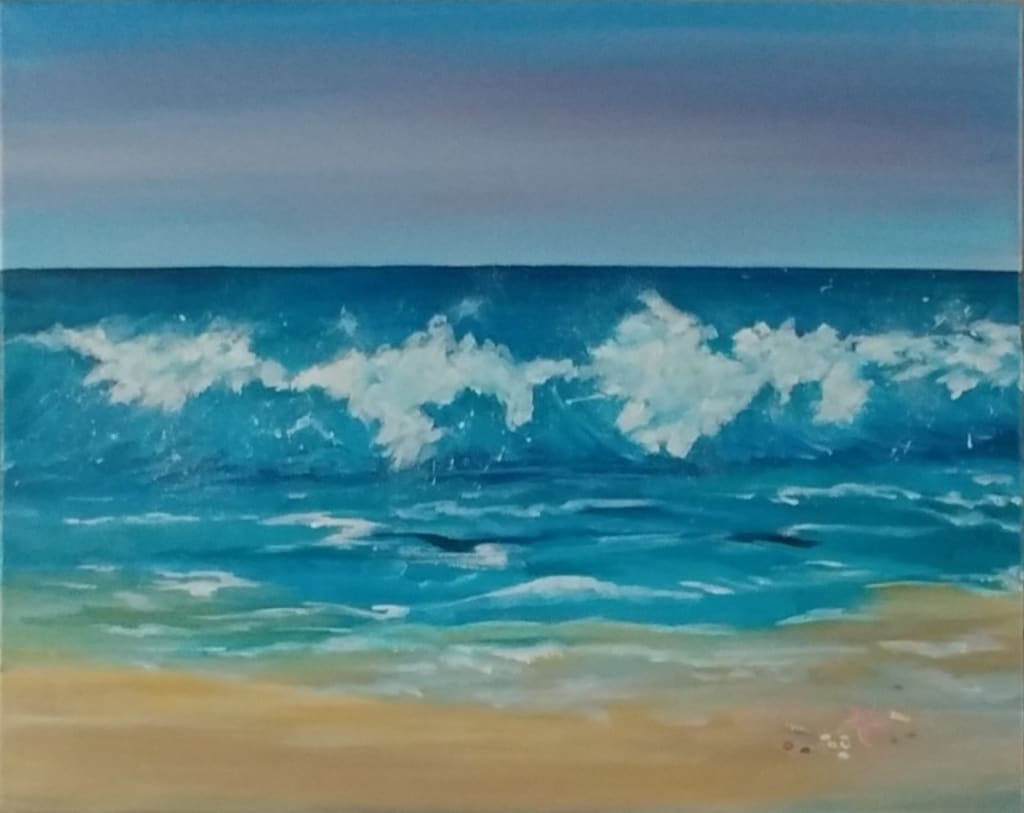 My representation of Kekaha Beach, Kauai I painted in the summer of 2020.
COVID-19 changed us in a variety of ways in 2020. It changed my mindset. It was my last full year to work as a legal secretary at a firm I belonged to for over 17 years and working was performed remotely from March through December.
I also helped a granddaughter with virtual schooling because she was a first-grader that we elected to enroll in the virtual schooling. Working from home for a law firm and helping a first grader who is pretty self-reliant wasn't as challenging as it was exhausting. I actually thought on the work front that I could be more productive because I didn't have office-related interruptions.
What I didn't know at the time, however, was 2020 would be the last full year I would be working because I started to address the thoughts shading my mind as we entered 2021.
The summer of 2020
During the summer of 2020, I didn't go anywhere. I started painting furniture in bright colors. I painted my brown dresser a gray lavender and bought new drawer knobs. I painted a black kitchen table a light teal. I painted a brown antique round table a shade of salmon. Typical beach-related colors. I didn't want dark-colored furniture anymore. I needed a cheery space that was my faux beach house. Then, I needed a sign.

After the furniture was painted, I decided to return to painting on canvas, something I never seemed to have time to do. I didn't have to make the time. I simply had the time since I wasn't going anywhere.
I painted ocean scenes. The one above is one of my favorites. This was another passion I never made time for - I lean on oceans because of Kauai, where my mom was born, and where we lived when my dad was in the Air Force. He was stationed on a private island not far away, so my brother and I attended school in Lihue, Kauai.
We would lounge at Poipu Beach before the hotels and golf courses moved in. The sounds of the ocean are soothing. They are always different. The unique sounds as the water drape the shoreline leaves its hint of white foam here and there. I like the sound of the waves crashing against the rocks.
I love how you can smell the salty air when you arrive on the island. It's wonderful. Lihue is much more touristy now than it was when we lived there.
Rolling into 2021
Vaccinations were available as we entered the new year. I worked remotely less but continued to think about my passions that I either didn't have time to do or didn't make time to do.
I also have six lovely grandchildren I call my grandees. I live with my daughter's family that has three of them aged 7, 4, and 2.
My mom used to say make sure you live after she had her stroke. She thought it was silly that people spent all their time dusting furniture on the weekends instead of living.
I always had this view that people shouldn't be statues, that they shouldn't just exist, and yet, I continued to dust furniture on the weekends because I grew up learning that's what you do.
In late April 2021, I decided one way or the other, I was going to write and paint. I have a whole new philosophy on life's too short. I got it figured out.
I have always believed that with most things you want, it may involve a sacrifice. I was about to make a sacrifice.
In early May, I resigned from my job giving ample time to find a replacement. My last day was going to be June 4.
I took the summer off to drain my work brain. I was in retrospection mode. I let the stress of a busy job slowly disintegrate. By September, I was writing full-time. I was also finishing a book I started a decade ago.
Some day I'll hear the ocean again and as I watch the waves roll in, I'll think about the commonality and mutuality discovered with writing communities and all the writers who inspire me daily.
art
About the author
Earning a B.A. in English Journalism & Creative Writing confirmed my love of literature. I believe every living experience is tied to language. I can't imagine a day without reading or writing. Website: https://writerallday.com
Reader insights
Be the first to share your insights about this piece.
Add your insights