How Yarn Helped Me Find Myself and My Community
Social Ryijy: Embracing a Traditional Art in a New Way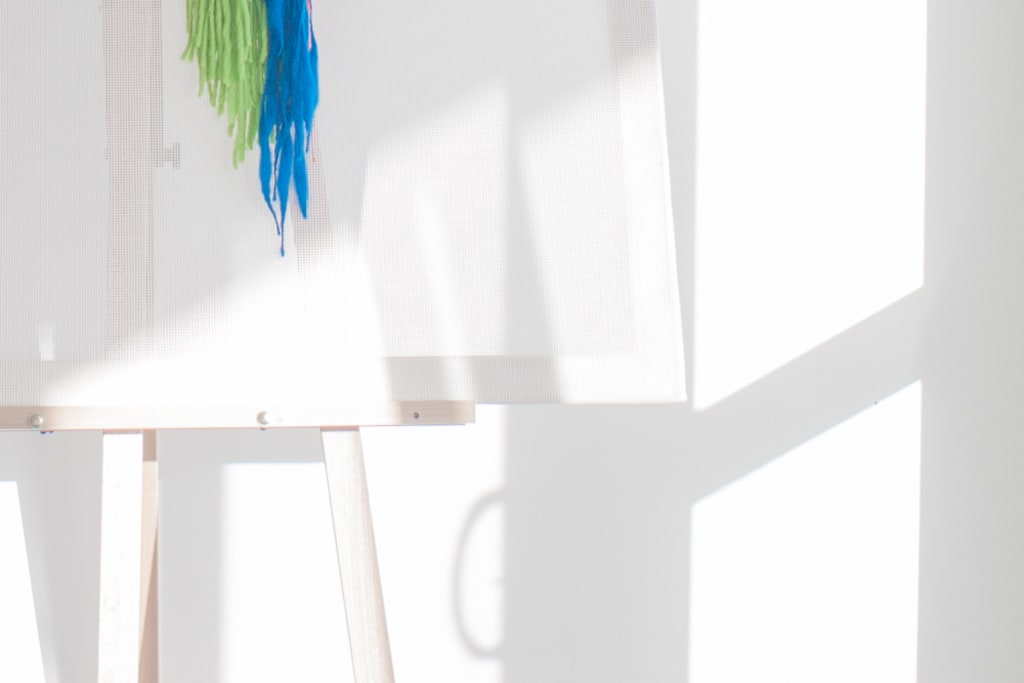 I liked my life there. I liked myself too. I was a single mom with a preschooler who made the bold move to emigrate from Russia to Finland to get her Master's of Arts degree. The move wasn't easy, but I found a place where I felt like I belonged. I was developing, creating, and living up to my potential.
I felt strong and fulfilled: studying, working, parenting, enjoying nature, and the city of Helsinki. I was part of a community of international and local students and professionals. I felt like I was in my place amidst the vibrancy, creativity, connections, and professional development opportunities.
And then, I met someone online--G. What started as endless long-distance night calls turned into expensive flights between Helsinki and Toronto, an emotional proposal, and then the decisions to move-in together.
You know how when you are so excited about a decision, you forget to see the challenges that might come up because of that decision?
The exciting, but overwhelming, idea of living with my partner didn't leave any space in my mind for considering what I would be leaving behind and what struggles would be waiting for me in a new country.
I left a lot, and struggled a lot. I found myself questioning my decision. Parts of my personality that I had been building for years and had mattered to me all my life were challenged or had to be rebuilt. There were also new aspects of my personality that were created as a result of the move.
I went from being a single independent working woman getting her degree to a married woman with no right to work or attend school. This is the dehumanizing condition I faced while trying to acquire resident status in Canada through marriage. I could no longer officially be a designer or a student. I was left with the titles "wife" and "stay-at-home mother". Not only did my legal status change, I also had to let go of my established community. My pending residency status didn't come with a listed end date. For an undetermined amount of time, I wouldn't be allowed to leave the country, apply for an official job, or join a study program.
I wasn't prepared for the mental overload I would feel, but thankfully, my inner artist had a path laid out for processing these changes.
I love working with textiles, and yarns in particular. After moving, I had an idea of how to continue this exploration. The idea first came to me as unformed thoughts and images in my head.

As a university student in Finland, I had access to all the creative studios I could ever need, including printing, weaving, knitting, sewing, and photography. In Russia, I built and operated my own art and fashion design studio. Moving to Canada, I knew that I wouldn't immediately have access to any of this. We were moving to an apartment with no extra space to fully accommodate my creative practice, but I had to find a way to create.
While we were dating, I took a knitting course in Finland and knitted a scarf for G. He, still in Canada, knitted wool socks for me. As small as our new apartment was, there was still space for a few balls of yarn. The only problem was I didn't want to knit anymore. So, before I arrived, I asked my now husband to build me a wooden frame and to stretch a grid canvas over it.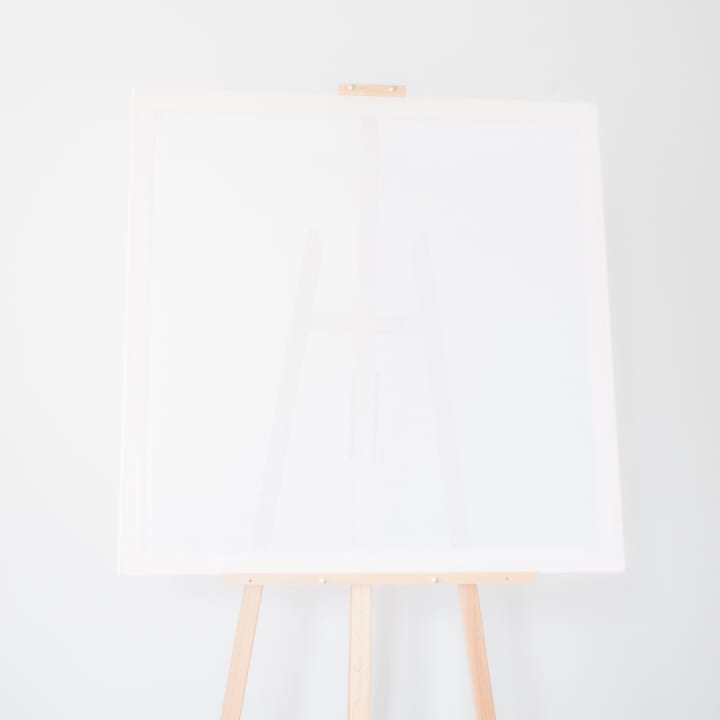 The unformed idea I had became more clear as I remembered the Finnish traditional craft--ryijy--a wall tapestry or a wall rug.
I didn't have a room for a traditional loom, so I found a way to attach yarn to my gridded white canvas. When filled with yarn, the final piece looked like Finnish ryijy art. The blank white canvas in our bedroom/studio became the start of my creative exploration of the new space.
At a time when societal conventions could often be restricting, particularly for women, needlework afforded an opportunity for women to illustrate their life experiences and personal thoughts." - Cynthia Bornhorst-Winslow (p.19)
The first three skeins of yarn that I decided to attach to my canvas were chosen by my husband. One white piece of yarn I attached in the day of our wedding day. I wrote in my journal: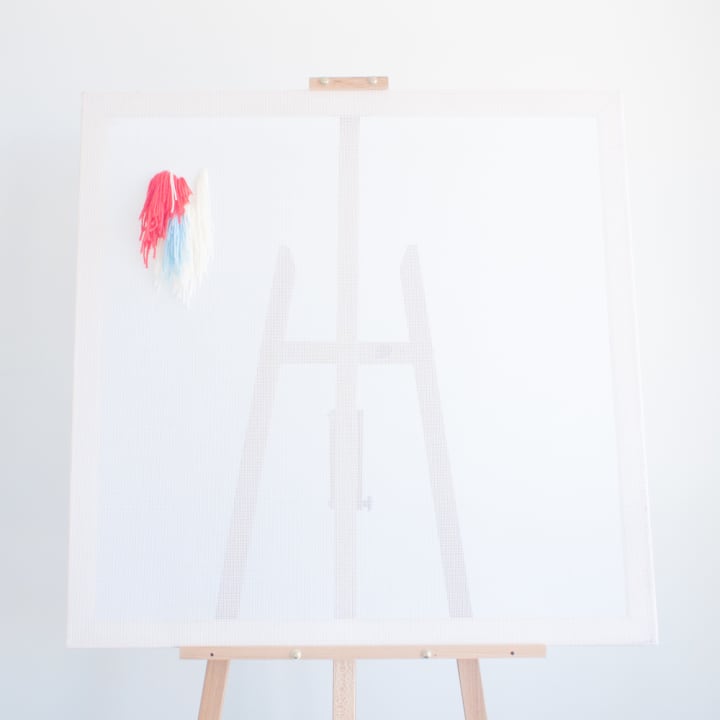 From there, I filled my canvas with pieces of yarn that represented my experiences as a new immigrant, housewife, mother of a growing child, and an individual looking for ways to fit into a new community. The needlework and the journal became my therapy, a space I could connect with myself and make sense of the world.
One day, my child brought home yarn 'waste' from a project she did at school. She said she wants to be a part of the canvas too--that day I wrote in my journal:

On my down days, I would meditate by concentrating on the texture and color of each piece of yarn, the way the canvas felt, and the process of connecting the two together.

As I filled up the canvas with yarn, I found new things to enjoy and fill up my life with: dates with my husband, cooking for my child and spending more time together, taking online courses, travelling locally, playing sports.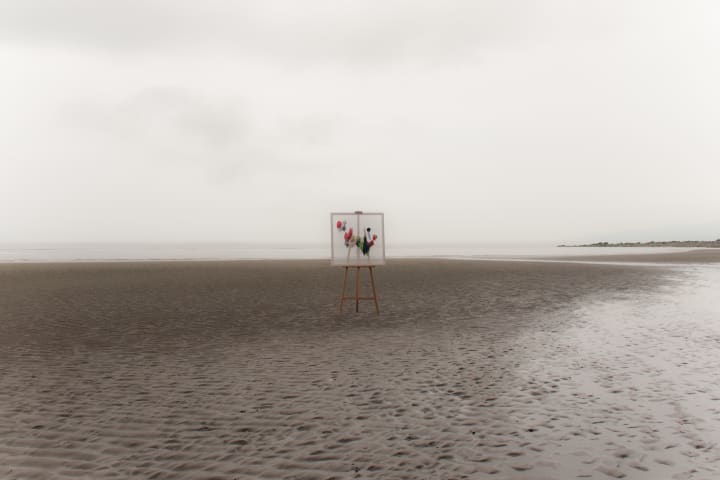 It took two years before I was approved for residency. Once approved, I had permission to travel back to Finland to present my Master's thesis, and start looking for an official job in Canada.
Out of the struggle I experienced during the two years it took to process my application came a desire to invite others to share and create together. Newcomers' realities vary from one immigration program to another. But no matter their country of origin, the change that comes with undiscovered environments can shake a person's self-perception and can be challenging.
My ryijy creation process became a visual and written language that helped me see myself, as I felt my personality fading. I shared my art on social media, and found other people connected to the process. This act of sharing my story brought many new connections to my isolated life as an immigrant.
The support started in the form of positive comments and feedback, but soon grew into a co-created social art piece. People from different parts of the world sent me their special-to-them pieces of yarn that reflected their immigration experience. The first pieces were attached to my "Housewife-in-Residence" canvas. The owners and their stories became a forever part of my settling process, and many became my friends.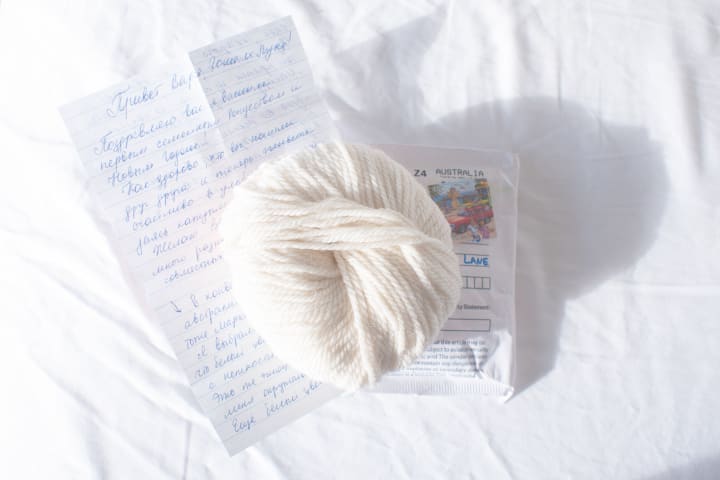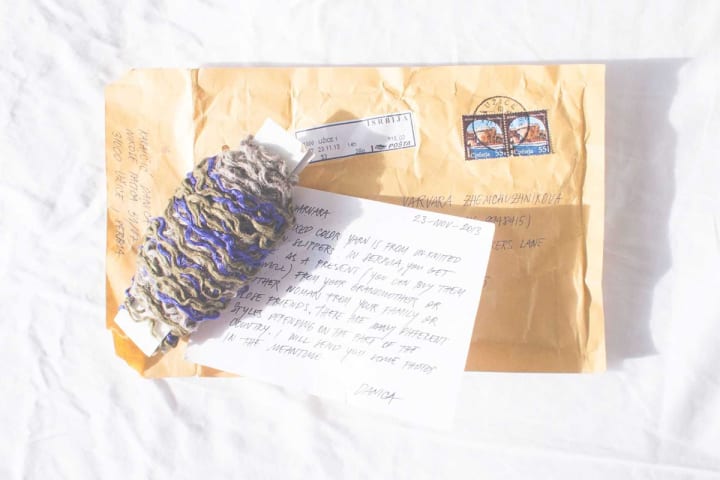 When I got my residency card and cut my canvas out of the frame, I decided to continue the project on a new canvas. My goal now was to make the incognito immigrant visible by sharing their stories, and reminding them that they are not alone. We are all connected by the fibers of our yarn-stories.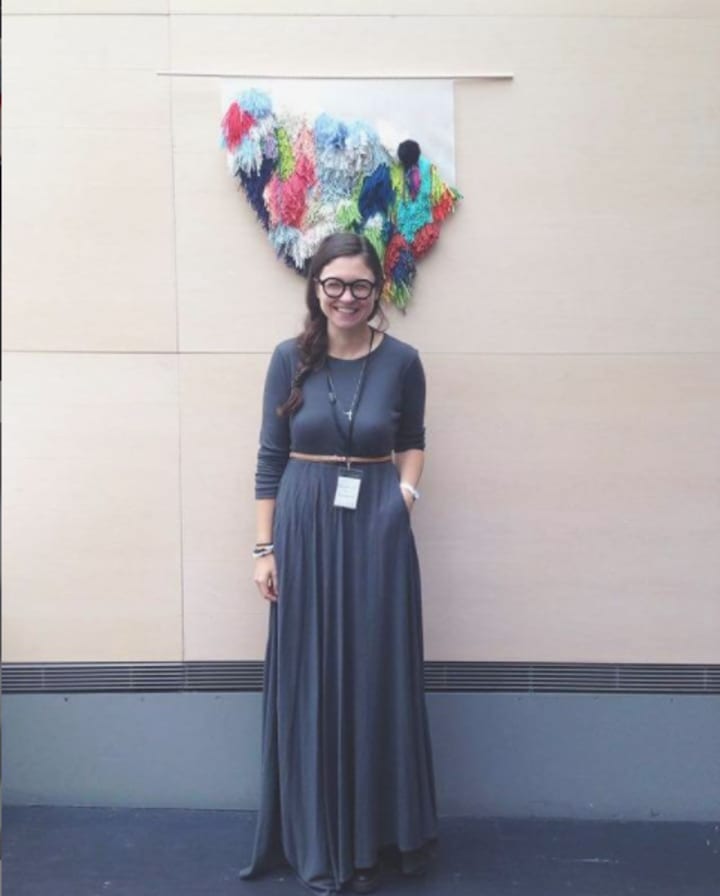 I still continue this co-creation process under the name Social Ryijy. Our pieces of yarn show how our lived experiences, whether or not they're related to immigration, connect us all. Our stories weave us together like yarn on an Earth-sized ryijy.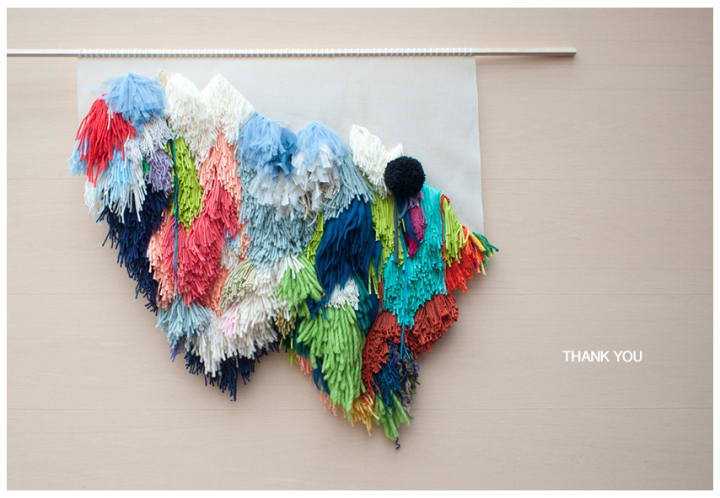 Credits:
This article was copyedited with help from Carmel Kundai.
More on the current state of the project: here.
Thank you 🤍