Healing Through Art
Re-mything personal stories and mending past narratives.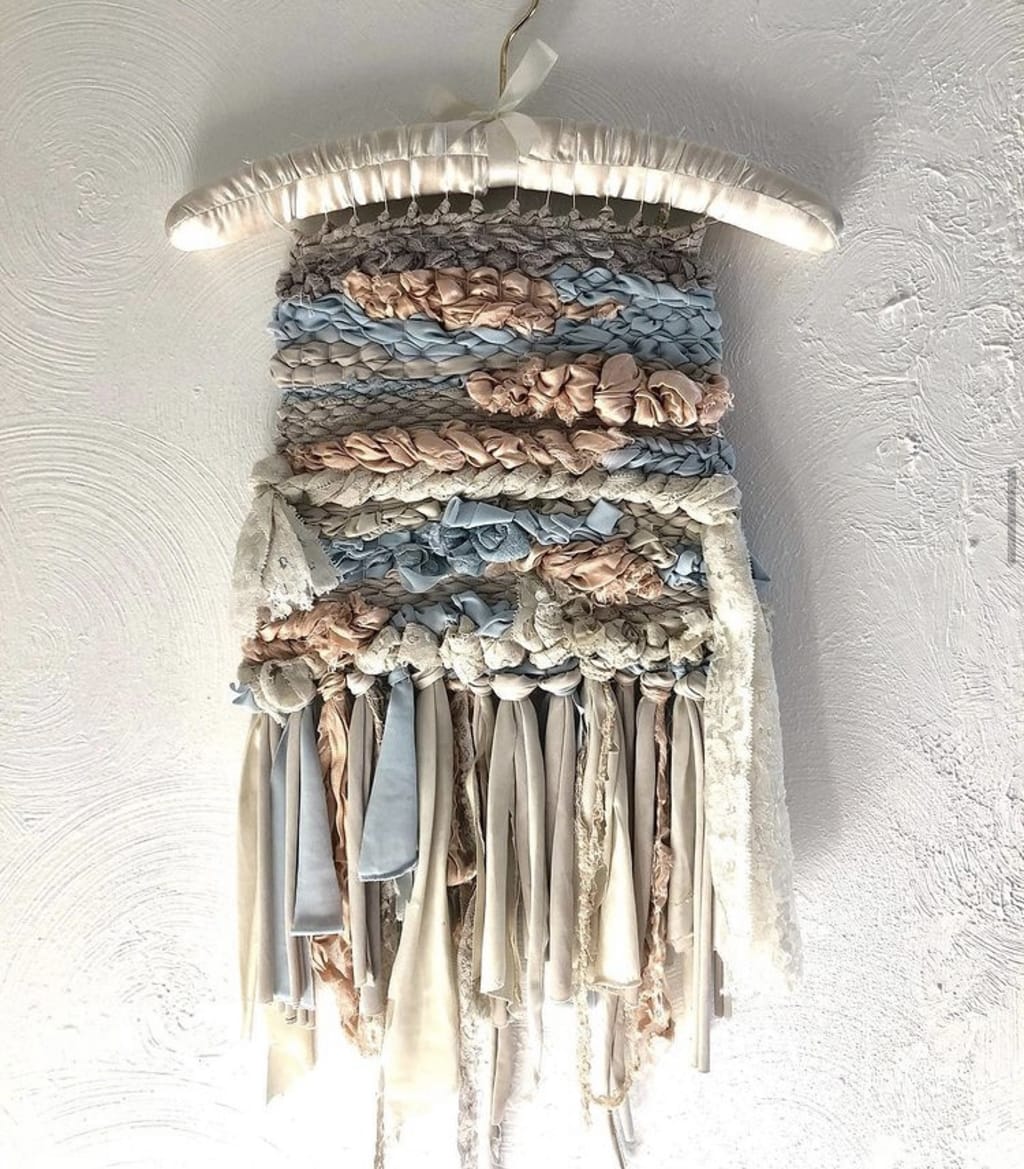 A textile wall hanging, made from beloved vintage nightgowns headed to the trash.
Every strand of fiber holds many stories. The story of the animal or plant the fiber came from; the story of the person who harvested the fiber; the people who washed, dried, combed, dyed, spun the fiber into yarn; the artists who wove the yarn into cloth; the ones who sewed pieces of material together, designed the finished products, packed those pieces into shipping boxes, brought those boxes across sea or land and hung those pieces in shops or windows or galleries, help sell the pieces and packed them into a bag or box. The story of the person who bought the piece. Or the story of the person who received the work as a gift.
All of these stories are different, unique, and true. But, as a multi-disciplinary artist (one who has spent many years trying to "focus" on a craft long enough to find my niche), it wasn't until I let go of trying to be the artist I thought others wanted me to be and started making art to help others heal, that I began to tend to my own wounds.
I have always been drawn to collages, found objects, and cross-disciplinary work, photography, old-family photos and memorabilia, practical objects, textiles, and "folk-art." Unfortunately, this didn't go over so well in university, where I studied photography and visual art. My peers and professors told me again and again that crafts were not contemporary. Crafts didn't push boundaries. Crafts were not conceptual. The ethereal art I was drawn to didn't matter, and by proxy, neither did the stories. And so, after I graduated, the yarn, wire, paint, thread, and stories got packed into boxes, and there they remained for over a decade.
Then, after my great-aunt died, as I organized her belongings, I came across a pair of her old scissors, sewing shears that had belonged to her mother—my great-grandmother. I took them home and gently placed them in a box near my small stack of quilting fabrics as a reminder of the hands that came before mine. The pile of quilting fabric and small stash of knitting yarns hinted at the crafts I had casually dabbled in since I left college. I hadn't turned my back on art altogether. It had just become a practical way to keep my hands busy more than anything. Plus, quilting was a way to give my friends, a large contingent who had started having their first children, a gift handmade with love. And knitting was a portable craft I could use to calm myself in social situations (with the added benefit of ending up with a beautiful pair of socks)!
Of course, as any artist can tell you, slowly and surely, art-making crept back into my life. First, I started knitting sweaters for those babies I had made quilts for as they turned into toddlers. Then, as my wife and I entered the adoption process, I started knitting sweaters for our child. Knitting kept my hands busy, and choosing colors, patterns, and finishing pieces kept my heart hopeful as we rode a two-year adoption process.
As my love for sewing and knitting grew, so did my exploration of other fibers. I built a simple wood frame, pounded nails in every quarter inch, and made a frame loom. It wasn't long until our walls were filled with simple wall tapestries. As the pandemic hit, I dove headfirst into my quilt stash and made hundreds of masks to give to my family, community, and any essential worker that asked. As the pandemic wore on, my hours at work were cut, and the hours I did work my job were from home. Crafts became key to surviving my wife and I juggling working from home, an interrupted school year for our pre-kindergartener, and the inability to be in physical community or partake in many of our usual indoor and social activities. My son, who had just turned 5, began learning how to weave on a frame loom, and weaving and crafting has become a shared quiet time for us. This time, working on our crafts separately yet together reinstills the passion and creativity I once found in art. Making art with my son, not worried about whether a piece is conceptual enough or a technique is without flaw, has started to heal my relationship with art and my relationship with myself.
The more confident and practiced in weaving I became, the more I expanded my tools and skills. My small studio now includes a rigid heddle loom, and most recently, a gigantic countermarch floor loom that belonged to the mother of a good friend. I've taken up embroidery and macrame and now use all the skills at my disposal to work on creating art for more than just myself. When I weave, I include bits and pieces of plants a friend may have grown, relying on their folkloric meanings to inform the final piece's message. I knot found family trinkets into the wall hangings I make out of macrame. I embroider onto photo montages of both cultural and familial ancestors, giving their stories new life. I talk with my friends (and now clients) about incorporating their history into new pieces.
The image accompanying these words shows an early weaving of mine, made of torn strips from old nightgowns. A good friend was cleaning out her house, purging things from years past. "Those are from a lifetime ago," she said, as I pulled them from the trash pile to reuse, "do whatever you want with them." So I did. I wanted the softness of fabric to preserve the grit of time, taking literal trash and making something beautiful--a reminder of the roads my friend has traveled to get where she is today.
This journey of repair has taken over a decade and is far from over. Every day I learn more about the materials I use. I understand the feel of flat vs. perle embroidery thread. I realize how braided rope dances differently from twisted. I learn which type of photo transfer works best for the fabric I chose for my work. How the pulls of thread and give of fibers affect the softness, richness, and outcome of a finished textile piece. I continue to learn how strong my hands are in order to warp, weft, throw shuttles, and beat heddles. Finally, I remember how the stories I weave, sew, and embellish continue to breathe after I have hung them on a wall or sent them to those who have commissioned work or place them in the hands of one who has bought my work.
My stories, the stories of those that I love, and the stories of my family, by blood, choice, or culture, survive and thrive through these pieces. These pieces, as well as the time spent making them, are the radical act of love for those I love. And there is nothing I could ask for art to give me stronger than love.
About the Creator
As an artist and a writer, I love pulling strands of folklore into our current world, imagining what could be, and paying respect to the past.
Visit me at ColleenBorst.com or etsy.com/shop/ModernHexology
Reader insights
Be the first to share your insights about this piece.
Add your insights