Happiness is just a stitch away
How two women spread the love of sewing thanks to their long-lasting friendship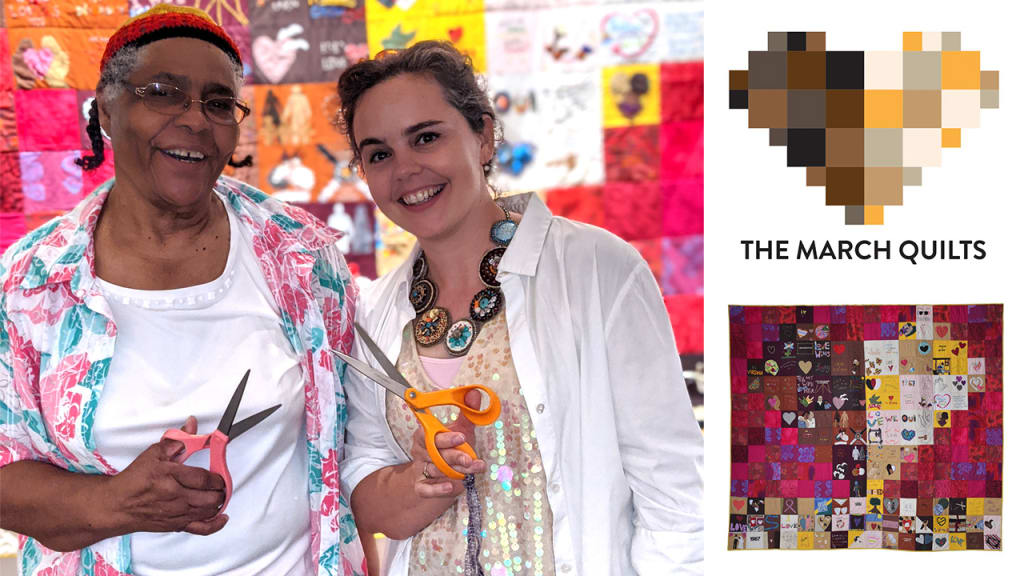 Clockwise from left: "Ms. Annie" Bryant and Lillis Taylor, co-founders of Birmingham, AL nonprofit, Bib & Tucker Sew-Op, posing with their favorite scissors at an exhibition of The March Quilts; Patchwork Heart logo for the 3rd year of The March Quilts; Finished quilt from 3rd year of The March Quilts, dubbed "The Loving Quilt" because it celebrates the 50th anniversary of the Loving V. Virginia Supreme Court Ruling that knocked down the ban on interracial marriages.
When it comes to friendship, it is easy to see how love and happiness go hand in hand. If I were to say, "here's a list of things that I love", it could just as easily be a list of things that make me happy. That list is long, but here are some things that live on that list in close proximity:
--Sewing, quilting, needlework, embroidery and textile design
--"Ms. Annie" Bryant
The first is a set of processes; the 2nd is born out of partnership and commitment; the third is born out of a need to speak up and out through our craft; the fourth is the friend and co-conspirator whom I have to thank for all of that which came before.
I met Ms. Annie about 11 years ago, in June 2010. There were many friendly faces at the senior center where more than 200 local quilters and sewists are members of a monthly quilting guild, but Ms. Annie's was the friendliest. Looking back, neither of us can truly explain why a chance meeting turned into a (so far) decade-long partnership; but both of us knew there was a kindred spirit in the other.
Me being a somewhat shy 30 year old with fledgling sewing skills, I felt out of place amongst the brilliant and talented retirees that gathered on that particular day but I had come to the meeting on a mission: I was knee-deep in graduate school loans; I had moved back home with no specific plan to use any of my degrees; and I had a notion to start a textile design business but needed to learn how to sew; preferably for free. Ms. Annie was looking to improve her sewing skills as well, and was still seeking a companion for the adventure. She wrote her name and number on a torn sheet of notebook paper and I slipped it into my pocket.
The moment I decided to call the number on that slip of paper, I somehow sealed our collective fates. She answered the phone and I reminded her who I was. I told her I'd been going from guild member to guild member, learning what I could and collecting hand-me-down supplies and tools from their sewing rooms and fabric stashes. I invited myself to her house and she replied, "No, baby, I don't quite know you like that. Let's just find a place that will let us come and sew together for a little while". That was my first lesson: respect and trust must be earned. And once they are, they come with so many other wonderful benefits.
Ms. Annie quickly found us a "home" at Inglenook Library, a tiny neighborhood branch in the northern part of Birmingham. The street the library was on had enough abandoned or burned out skeletons of houses to make dangerous activity more of a reality. Once, during our tenure at the library, gunshots were heard just on the other side of the window in the room we were sewing in. At the time, I didn't "hit the deck", but it did rattle me and cause a litany of stories from Ms. Annie and our other little collection of weekly participants about the frequency and uselessness of such shows of might.
I'm the first to admit that when I returned to Birmingham, AL in 2010, I was an educated 30 yr old who knew absolutely nothing about the place where I was born and raised. I knew nothing about systemic racism, or about my complicity in the supremacist society that continues to oppress people of color. I was ignorant, idealistic, and blind to daily inequities and injustices. What I did have going for me was a true willingness to learn and a simple love for humanity; especially when humans such as Ms. Annie came into my life. Step 1 of my reeducation was befriending Ms. Annie and committing to weekly sewing sessions with her.
Ms. Annie and I continued to meet and sew; swapping stories and skills and growing a little following of like-minded enthusiasts. We outgrew the library and around the time that we moved to the neighborhood of Woodlawn in Birmingham, Step 2 of my reeducation occurred: I participated in a week-long workshop called Undoing Racism. On the first day, I was told I was a racist and I fought back tears and defensiveness at the incredulity of the fact. Yes, I too, thought that "I don't see color" was a useful statement when attempting to defend one's honor against the "R" word. Cringe.
On the second day, I was still defensive, but I started to see the workshop's point when institutional racism came into full focus for me. I remember leaving that afternoon and calling Ms. Annie to tell her all about it. I was rehashing every detail that was new to me to a patient and loving woman who not only combatted the ravages of racism, but survived the 1960s in Birmingham, Alabama. Right now in the midst of this telling, I think back to the many times Ms. Annie has chosen our friendship above all else and I am filled with gratitude. There are so many ways in which she has helped me become a better person.
After more than 3 years of gathering and working on projects, we decided we needed to formalize what we were doing. I had been applying for funding for small projects here and there, but we agreed that becoming a nonprofit was the next logical step.
Bib & Tucker Sew-Op, the "B&T" being British slang for a woman's finest clothes, was officially incorporated in 2014, about 4 years after Ms. Annie and I first started meeting once a week to sit around sewing and talking. [A note on our name; Ms. Annie came up with a great name a few years ago and though we're still "Bib & Tucker", we use it between ourselves all the time. She calls me Salt and I call her Pepper and one day, she wants us to have an offshoot of the Sew-Op, known as Salt & Pepper Sewing]
Shortly after incorporation, we launched the first year of The March Quilts, as a way to celebrate the 50th anniversary of the Selma to Montgomery marches. The project gave participants a creative outlet for illustrating how far we as a nation had come and how far we had yet to go in the struggle for equal rights among all people in the United States. The March Quilts grew out of years of weekly conversations with Ms. Annie. It grew out of my reeducation. It grew out of stories of African American quilters in Alabama who used the art form to make political statements; quilters like Yvonne Wells. Here was a major Civil Rights milestone approaching a 50th anniversary and yet and still, we had so very far to go. The project was successful because it didn't require a lot of equipment or materials, and we had amazing partnerships that allowed us to reach so many unlikely participants. The first year of the project, we collected over 460 participant blocks sewn during open sewing sessions at the Birmingham Museum of Art, libraries, hospitals, schools, community centers, university classrooms, churches and more.
Bib & Tucker members sewed the blocks into 3 quilt tops; quilted and bound them, and prepared them for exhibition in Selma and Montgomery. During one open sewing session, dozens of Sew-Op members convened with community members in Selma and facilitated quilt blocks for their own banner, which was carried across Edmund Pettus Bridge during Selma's Jubilee celebration. Marchers from Bloody Sunday, Turnback Tuesday, and the 3rd and successful 80 mile march from Selma to Montgomery, participated in that sewing session. At one moment, the room erupted into song, everyone singing This Little Light of Mine as they stitched their blocks.
The March Quilts is now in its seventh year. The project was so successful in that first year, that we turned it into an annual program that sheds light on themes of civil or human rights through sewing and quilting. We've highlighted Gender Pay Equity and Environmental Justice; we've celebrated the 50th anniversary of the Loving Vs. Virginia Supreme Court Ruling knocking down the ban on interracial marriage; we've highlighted unsung heroines of Alabama; and we've responded to the seminal work of LaShawnda Crowe Storm and her Lynch Quilts Project. This year we've started work on quilts that will highlight the industry of home sewists during the Covid-19 pandemic: enthusiasts who made reusable face masks out of their valuable fabric stashes for friends, family, and first responders in the first days of the pandemic during PPE shortages.
To date, The March Quilts collection is 11 quilts strong and comprises the work of over 1,000 participants. Because this challenge is about the pursuit of happiness through a craft, I want to highlight Year 3 of The March Quilts. The theme that year was the Loving V. Virginia Supreme Court Ruling. We fondly refer to the resulting piece as The Loving Quilt. The logo (each year of the project has a logo that corresponds to the year's theme) is a patchwork heart, made up of myriad skin tones. The finished quilt mimics the logo. I think The Loving Quilt is Ms. Annie's favorite of The March Quilts. She loves the colors: the warm skin tones and the rubies, fuchsias, and pinks that envelope the patchwork heart. For Ms. Annie, Love and Happiness are interchangeable. If you ask her what is the biggest problem in the world, she would say that there isn't enough love...being given, being received. When Bib & Tucker Sew-Op chose to celebrate the 50th anniversary of the Loving V. Virginia ruling, it was not a personal choice. But as sewing sessions took place, more and more stories of interracial love unfolded, giving poignancy and intimacy to the blocks that were turned in. In Ms. Annie's own family, there are grandchildren with interracial parents. Sometimes I think Ms. Annie is seeing her own family when she looks at The Loving Quilt.
This project doesn't always sit with Sew-Op members in the same way. We are a unique mixture of identities, brought together because of a love of sewing and community. Thanks to deep trust and hard work at communication, Ms. Annie and I are able to discuss our differing views about all sorts of social, political, and religious beliefs. It helps that we fall on the same side of most issues, but it isn't always the case and in those moments, it is our commitment and love for each other that allows us to talk through a thing rather than turn away from each other.
In fact, one of the reasons Ms. Annie and I love sewing so much is that it gives the hands something to do when the head is getting hot! Imagine trying to have a difficult conversation with someone and all you have between you is the impending argument...with sewing, your energy, emotions, anger, frustration can move through you and into the fabric, allowing you to listen better and speak more calmly. One of the programs we have for young people - QUARK (Quilting Activity Resource Kit) - teaches math standards and art principles through the modality of sewing, but at the end of the day, we see the value of a child working that needle through that cloth because sewing improves hand-eye coordination and fine motor skills and it focuses the mind. Sewing is an excellent activity for teachers aiming to boost social/emotional learning. And it helps adults, too!
This challenge is about happiness brought on through craft. For me, Ms. Annie brings me happiness. And sewing is what brought her into my life. I'll never forget our first days together at Inglenook Library. Thanks to my many visits to guild members' homes, we were gifted with all of this sewing world booty: quilting rulers, rotary cutters, Fiskars scissor sharpeners, marking chalk (and on, and on) and Ms. Annie would treat all of these supplies with such care. "It is a great honor to work with such good tools, Lilly" she would say. And she was right. To this day, we continue to utilize only supplies and fabric that are donated to the Sew-Op. Repurposing is a cornerstone principle of the Sew-Op's mission. We are so grateful to our donors. And though we had to give up our shop in October 2020 due to the pandemic, we are still thriving and cultivating skills for those who sew or want to sew through programs like The March Quilts.
There is nothing that would make Ms. Annie happier than being able to secure a forever home for Bib & Tucker Sew-Op: one that we knew would belong to us for as long as the organization endures, which will be as long as Ms. Annie and I endure, if you ask either of us! Ms. Annie continues to scout locations and speak the dream to anyone who will listen and I continue to write grants, make proposals to donors, and submit stories to challenges just like this one: any and all funding received goes to putting Bib & Tucker Sew-Op back on the map in Woodlawn, Alabama. We are committed to sewing our community together one stitch at a time because sewing stitched me to Ms. Annie and I'm a better, happier person for it!

Lillis Taylor
Lillis Taylor is a boomerang between community, maker, entrepreneur, and artist. One day she hopes to add "writer" to the mix. Formally educated in Industrial Design and China Studies, informally educated in nonprofit management.
See all posts by Lillis Taylor →