Forever Bouquet
A story about breathing new life into old books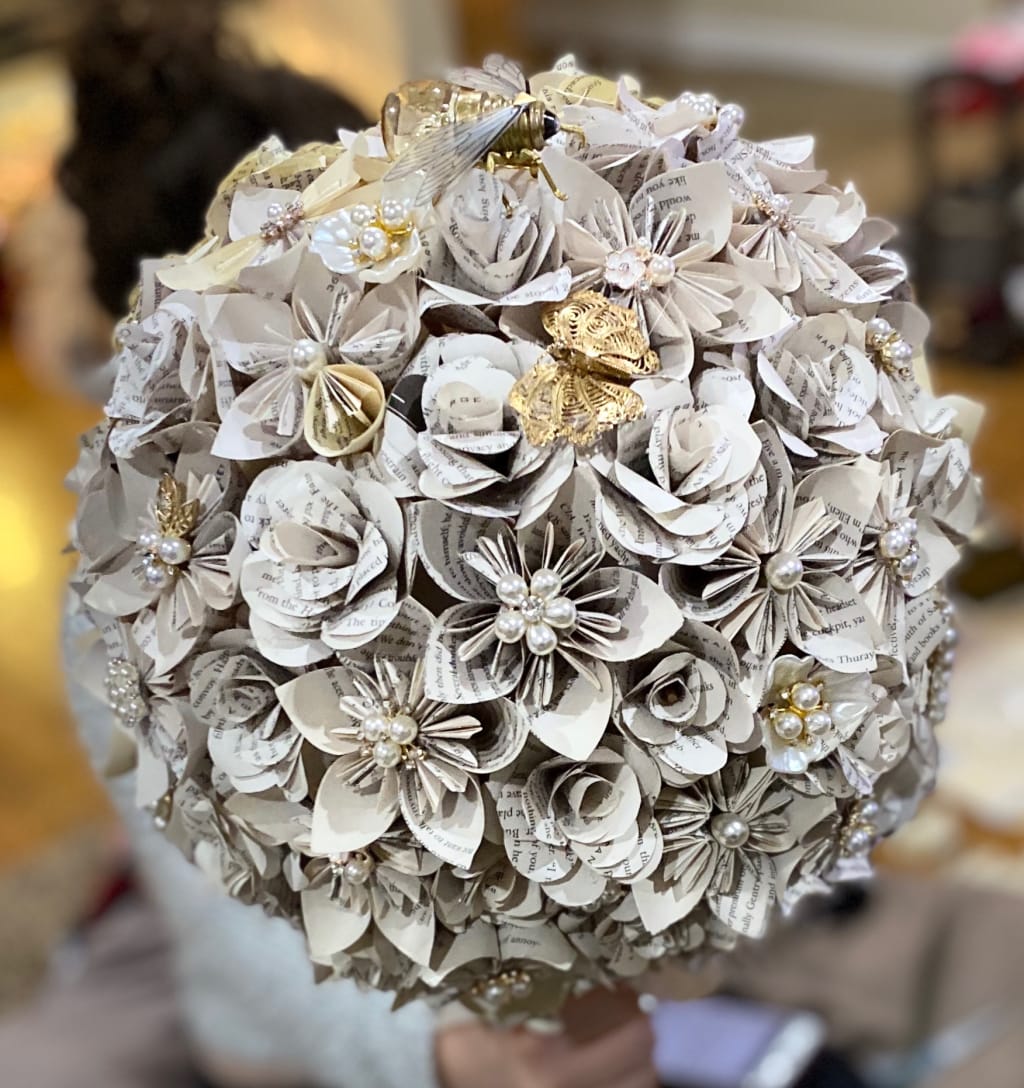 My completed Forever Bouquet
Every young girl dreams of the perfect wedding with their very own Prince Charming. The beautiful white dress, all of your family and friends in attendance, your father escorting you to the Man of your Dreams. There are beautiful flowers everywhere, adorning the aisles and tables, intertwined in the girls' hair, and pinned to the boys' suits. All of the bridesmaids and flower girls get to carry flowers, but you get to carry the biggest and most beautiful bouquet of flowers. That day you are the most beautiful girl in the world. I did not know it then, but it led to my favorite project that I'm most passionate about, creating my Forever Bouquet.
My story begins many years later as a graduate student. One of my art professors assigned a project on altering books. I had never heard of altering books before. This idea of cutting into an old book and ripping the pages out seemed barbaric to me at first. Because of that, I stuck to just folding the pages, rolling up the edges, and gluing pages together. It was so simple and basic yet I was having fun with it and began to create artwork from books. I began to see it as repurposing, reusing, and recycling of old books, rather than them being thrown away or destroyed. It was as though I was breathing new life into them. I became more adventurous and started to rip out pages from the books, tear them in half, and cut them into different shapes. I began to create pop outs coming out of the pages. I cut cavities into the book to provide a secret spot for more creations to hide. My altered book creations started to become even better and more creative. A few years later I became an art teacher, and I have taught the altered book unit for countless projects with all of my students.
Fast-forward a few more years and it's one year before my wedding. The thought of those beautiful flowers I dreamt of wilting away and dying made me want to create flowers that could last forever. I wanted a keepsake to remember that day for the rest of my life. It would not be my wedding and it would not be me, if I didn't craft something big. All of my bridesmaids carried flowers that I created out of satin ribbon and the groomsmen had boutonnières also made from satin ribbon. Everyone else had flowers created from old books. My future husband had a boutonnière of roses that were created from old book pages. Both my parents and my future mother and father in law had paper flower boutonnières and corsages. The aisles and tables were decorated with paper flowers. Even the flower girls had special paper kusudama flower balls of their own. My biggest project and best of all, was my massive bouquet. I could not wait to walk down the aisle with my most meaningful and favorite project I had ever created in my life.
This project required many books. At this time I was using old books to create art from the pages that were separated from the book itself. That's how I created my Forever Bouquet. I cut all the pages out from old books and made all the pages into perfect 3.5 x 3.5 inch squares and used them to create a bouquet of roses and origami kusudama flowers. The bouquet has easily over 100 flowers, the roses using 6 squares of paper each. The kusudama flowers used 5 squares of paper each. I broke it into small steps and mass produced each step along the way. Starting with ripping the pages out, cutting them into squares, folding them in the shapes needed and gluing it all together. Even though this project was so huge, I was in so much peace and happiness while creating this special forever bouquet. I worked on it whenever I could, even if it was for a short amount of time. I worked on it after school, on weekends, during school/holiday breaks. All in all, the bouquet took me about 9 months of work to finish this project, between school, moving and covid. It was truly a labor of love!
Altered books is my favorite unit to teach in my sculpture and crafts class now. I love to watch students problem solve and have those "a-ha" moments! I love to see the wheels in their minds turn and think outside of the box. I teach them the basic rolling, folding, and cutting techniques. We then dive into deeper methods such as cutting a cavity into a book to create a hiding spot for more creations. I teach them how to create pop ups, and how to use the paper to make little sculptures as well. They can draw and paint within their books too. When presented with a larger theme such as a personal perspective piece, students are able to create art using those techniques given to make their own altered book. Most of all, I love seeing students take a material that was going to be thrown away, and repurpose it to create beautiful artwork! They learn to look at found materials a bit differently after that project, which in turn makes them even better problem solvers. Why throw a material away when it can be used to create art out of? We are keeping old books alive by breathing new life into them!
art
I'm a high school art teacher and I love to create! My mediums of choice are video, photo and sculpture.