Finding the Right Workout Routine for You
Kasey Bledsoe offers guidance on finding the right workout routine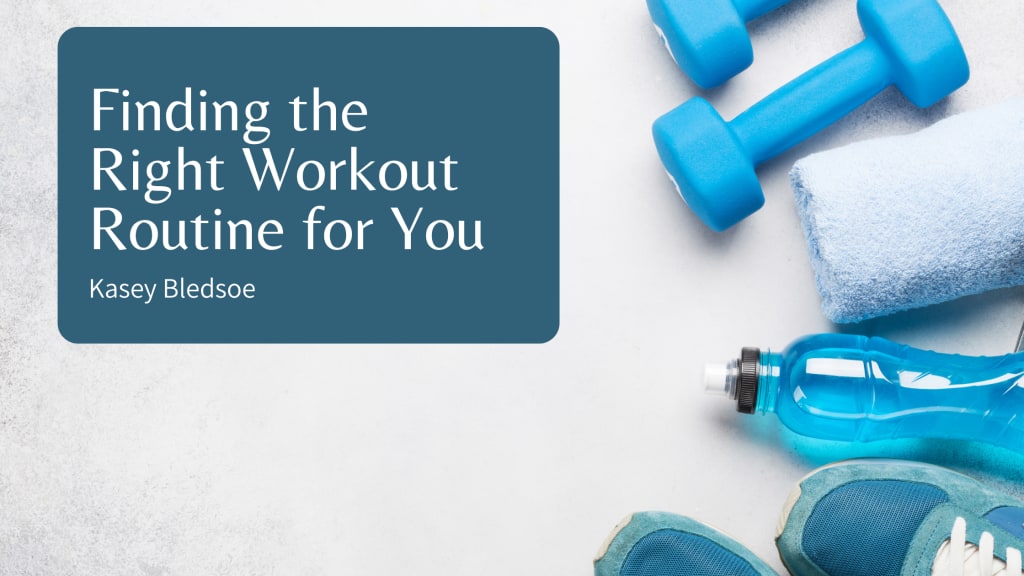 Getting into shape can be a significant challenge. However, if you're trying to get healthy, you must find the proper workout routine for you. This can be tricky. There are so many options out there. How do you know which routine will be the right fit for you and your needs?
Ideally, the right workout routine will challenge you, but not to the point where an injury is a real risk. Likewise, it should be a routine you want to return to, not something you'll get bored of within a few days.
There are several ways to find the right workout routine for your needs. Alternatively, you can always find an almost perfect routine and modify it accordingly.
Set Your Goals
First things first, before you begin researching different workout routines, it is highly beneficial to establish your goals. You need to define what your workout goals are. For example, is your goal to lose weight or add tone? Are you looking for a full-body workout, or are you more focused on one body part?
Understanding these goals will help you narrow the search, making it easier to find (or develop) the perfect workout routine. If you have a significant goal and feel intimidated, consider breaking it into something smaller and more approachable. For example, instead of saying, "I want to add thirty pounds of muscle," try saying, "I want to put on five pounds of muscle before the year ends."
Research Options
Now that you have a better idea of what you want from a workout routine, it's time to begin researching. When picking out a few options to try, consider adding some variety. For example, pick one routine, a detailed write-up of what needs to be done, and another, a video exercise. This way, you can continue to explore different available options.
Ask for Recommendations
Don't be afraid to ask for advice when trying to find the perfect routine. This is something that everyone has gone through, so there is plenty of advice to go around. You can ask friends and family about their favorite workouts or perhaps consider approaching a professional to have them build out a routine specifically for your body and goals. Either way, you get to know that you're not alone.
Slow and Steady
Once you've got a working plan or two, it's time to start giving them a try. Remember not to dive headfirst into any one workout. While it is exciting to have a new exercise in hand, you are more likely to cause damage if you overdo it. Instead, aim to build up your strength over time slowly. In other words, slow and steady wins the race.
Do You Enjoy It?
There are countless reasons why people give up on a workout routine. However, one of the biggest causes for dropping a workout is the lack of fun. If you're not enjoying the workout, you'll be less likely to want to exercise, making it more challenging to get started every day.
The best way to ensure you keep good habits is by finding a workout routine that is as mentally stimulating as it is physically. This way, you will have an easier time staying invested in the routine.
Stick To It
Once you've begun a workout routine, it's essential to stick with it. That doesn't mean you can't alter the routine as you go. If you find yourself getting bored with the training, or if it is no longer a challenge, it is acceptable to change the routine. The more significant thing is to ensure you continue exercising on your established schedule. You don't want to throw everything away.
About the Creator
Kasey Bledsoe has been a registered nurse for a decade. A resident of Lancaster, PA, Kasey received her associate's degree in nursing from Lancaster General College and her BSN from Eastern Mennonite University. Visit her website for more.
Reader insights
Be the first to share your insights about this piece.
Add your insights