Cultivating Creativity
with Inspiration & Art Experiments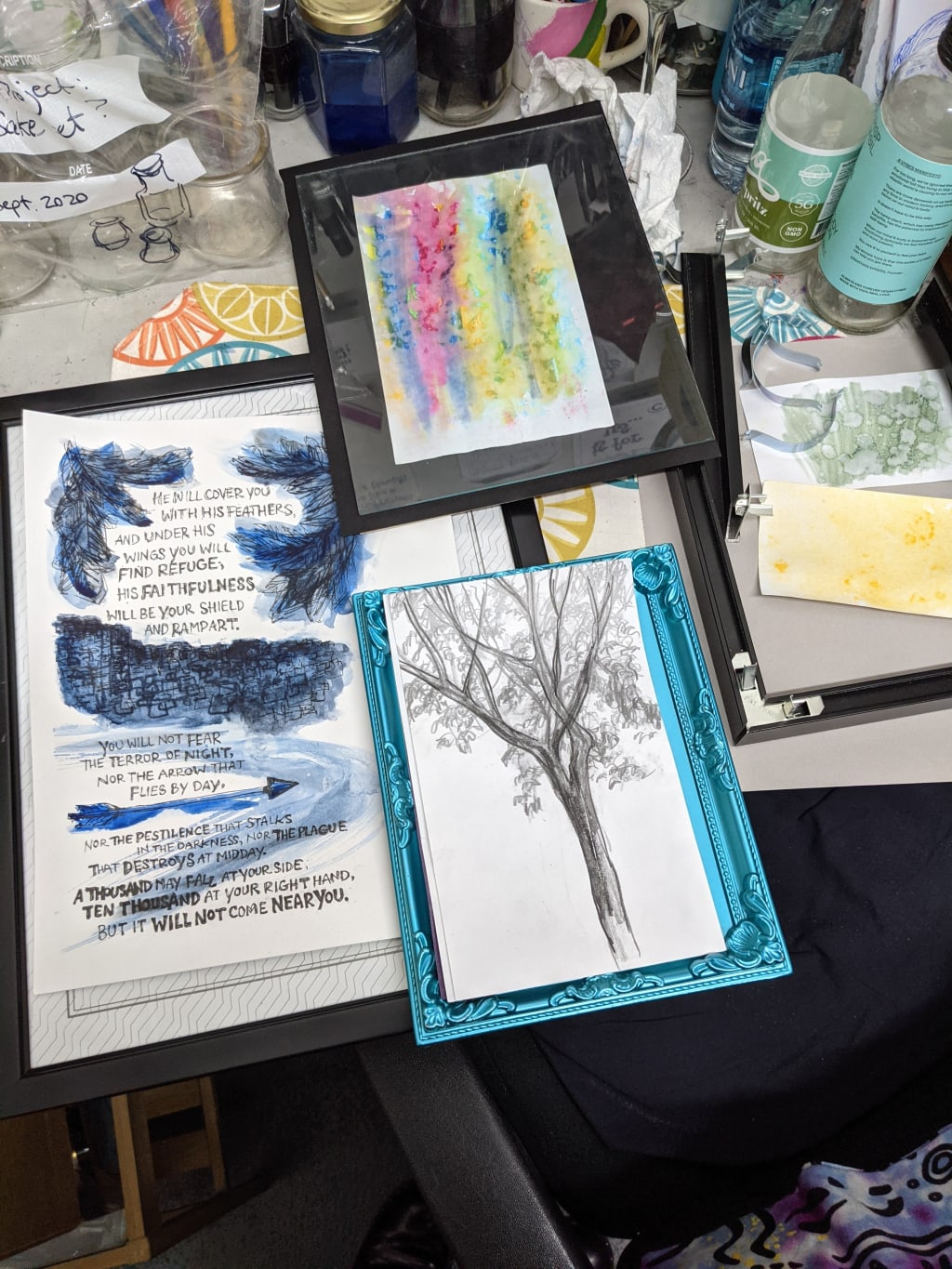 Prepping projects on my studio desk (come take a seat!)
I could make art every day for the rest of my life, and never run out of ideas. Not only have I learned to draw in many styles, to use paints and charcoal and a multitude of materials, but I have trained myself to see limitless inspiration.
Art is all around us. It might look like a crack in the sidewalk, a discarded bottle or broken furniture, stained shirt, or an empty picture frame. But just think... what could you do with it? If nothing comes to mind right away, don't dismiss the notion too quickly. Instead, let me walk you through the possibilities. I'll show you how the crack is a beautiful photo, the bottle makes a lovely flower vase, we can give that table a makeover (and if it doesn't work, it was fun to try), restyle as a new outfit or rearrange the pieces into accessories, and envision the image that perfectly matches the frame's size and look... or be brave enough to randomly start gluing things to it and see what happens next.
That's what I continually explore and share through art – the joy of creation, the practice of pushing past hesitations, to try something new, opportunities to connect with people through joint activities, and these seemingly small yet inventive ways to improve our personal surroundings and make the world a better place.
My specialty is drawing and illustration, which may seem like a quiet, singular activity. While I like having my own space to work, I also greatly value community, and enjoy the excitement of special occasions. Early on, I began connecting my artistry with events like children's book conferences, comic cons, and gallery exhibits. I practiced sketching the performers at live music and theater shows, until it became a staple of my artwork. Like those arts, I was including elements of time and place, forming an interactive experience.
Eventually, I came to realize that it was more than the artwork on paper I was solving for. It was the whole situation. Guidelines and deadlines, opportunities and limitations, goals and possible next steps. My portfolio needs new art, but the comic con is just days away? I'll make a single page that folds and unfolds like a book, and can double as a business card. Can't get an exhibitor table? I'll design my own scavenger hunt to cross-promote with other artists. It's novel-writing month, but I don't have spare time to sit down and focus? I'll type it on my phone during subway commutes and bathroom breaks, and dictate it while I wash dishes. I give myself assignments, and innovate new strategies to fulfill them.
Lemons into lemonade. Disappointment fueling fresh motivation. Finding just a little wiggle room to cultivate the circumstances into a win-win-win. Connecting the dots, growing ideas from ideas. And always asking myself: What is uniquely possible here?
The last few years, this mindset led me to creating a few interactive displays in group gallery exhibits, where my art invited the visitors to write and draw their own pieces. I've designed and led kids art workshops at local comic conventions. Last year, when the pandemic shut down all events, we took it online with a livestream show, where I did a cartoon drawing demo while being interviewed by a puppet/puppeteer. Even when we couldn't meet together in person, we found a way to make it happen, and share it with the world.
Making art isn't just about the final piece - it's the whole adventure. Let's keep going together!
About the Creator
Visual artist & writer immersed in drawing, illustration, and creative experiments @EllesaurArts.com
Community arts in NYC/LIC Queens and online, NaNoWriMo "The Ellesaur"
Love participating in challenges to motivate new work!
Reader insights
Be the first to share your insights about this piece.
Add your insights