Creative Floods.
Staying afloat.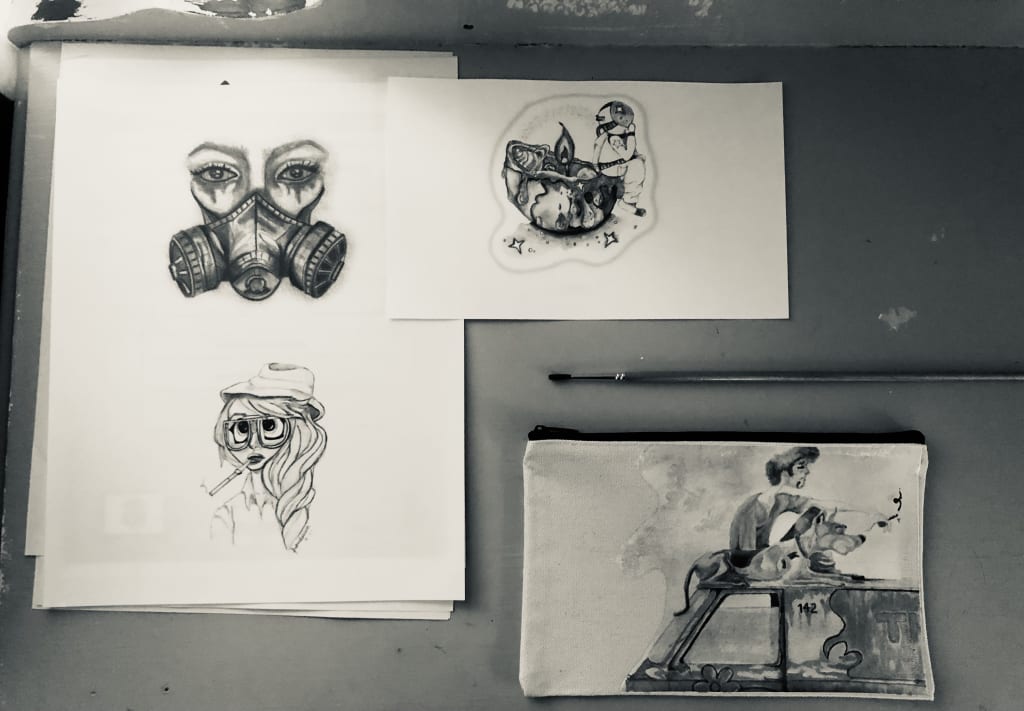 I decided to leave my job six months into COVID. I never thought making coffee was essential to the world but I was, in fact, wrong. There was more to my decision to leave. COVID was just the last straw and the push I needed to finally turn in my apron. At first, I was a little nervous about how we were going to afford our lives on just one income. So I started looking into ways I could contribute.
I would say I am a pretty well-rounded mind. I am resourceful enough to fix things when they are broken. I love to paint anything. Whether it's the exterior/interior walls of a house or maybe even a fun mural somewhere, I am the girl to call. I love interior design and flipping old furniture. To make a room flow together with unique pieces. Most of all I love to draw. The one thing I am not good at is being a businesswoman. I do not know how to sell myself or any of my many talents. I believe that if I have a passion for something that someone should not have to pay me for doing something I thoroughly enjoy. Unfortunately, that does not pay the bills.
I thought about maybe starting a little shop on Etsy. Selling some of my drawings. Being my own worst critic, I remember having the thought that no one would ever buy anything I drew. How would I even price my art? Nah, I moved on to the next idea pretty fast. What if I made something out of my drawings? A friend brought up heat transfer vinyl and all the cool things you could do with it. Immediately I started doing my extensive research. It turns out the process is pretty popular for t-shirts and stickers. The famous Cricut machine is the ideal tool to have in this business. Since I was trying to bring money in, not spend it, I had to do everything by hand the old-fashioned way.
In a nutshell, heat transfer vinyl is a paper-like fabric that is compatible with your inkjet printer. It allows you to print an image then transfer that image onto fabric. The image can say or look however you like. Once you have your image printed on the vinyl you cut it out and then place it on a fabric with its heat-sensitive adhesive backing. This process works best with high-quality images. You usually have to do some editing to make the image pop and look vibrant after it comes out of the printer. There are sheets for light and dark fabric. It is important to know which is for what, trust me, I learned that the hard way.
After doing my research, I decided to give heat transfer vinyl a go to create some unique things of my own. I first started with some drawings I had previously completed. I scanned them into my computer, loaded them up to an image-enhancing program, and tried to get the contrast just right. Then, I placed the transfer paper into my printer and crossed my fingers the image would come out the way it looked on my computer screen. After that was all done I intricately cut my image out. Any leftover paper will transfer over with the image. For a nice even transfer onto the material I was using I needed to make sure I got the cut as close to the original image as possible. I use my fabric scissors for as much as I can before going back through with an Exacto-knife.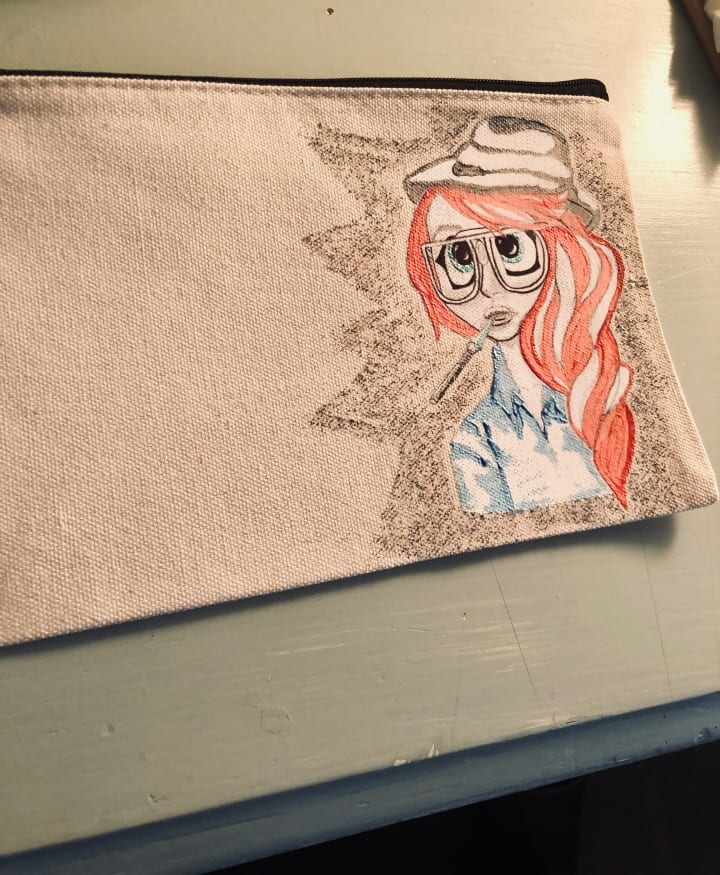 I chose a canvas material in an 8" x 5" bag. Applying heat to mold the vinyl with the canvas material. At first sight, I was pleasantly pleased with what I was looking at. However, the artist in me always thinks there is more I can do. I dug out some fabric paints and started creating further.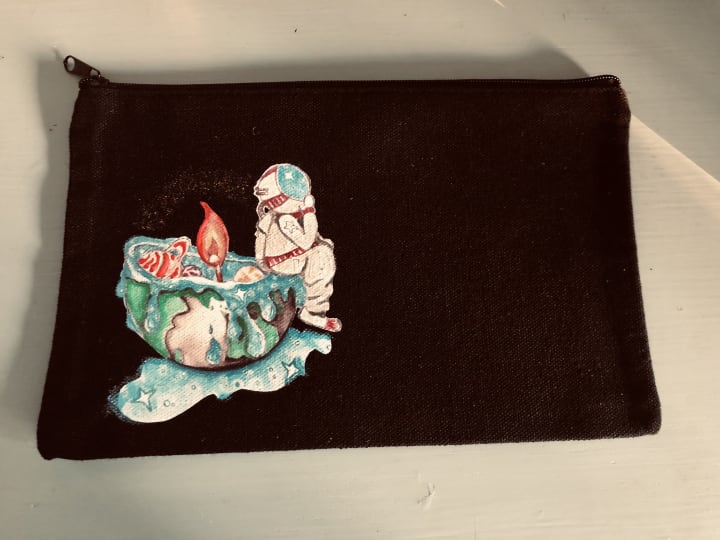 Adding the metallic and sparkle paint to my original drawings made each piece pop. Each bag I made was a one-of-a-kind functioning piece of art. A quirky addition to your desk for pencils and supplies. A unique fit on your vanity for makeup. A creative organizer for your car. In addition to these bags, I planned on making throw pillows, bigger canvas bags, and eventually stickers. I quickly became obsessed with dreaming up new images to bring to life. Picking through Pinterest and the internet for new and unique ideas. My brain could have easily flooded our house with creativity.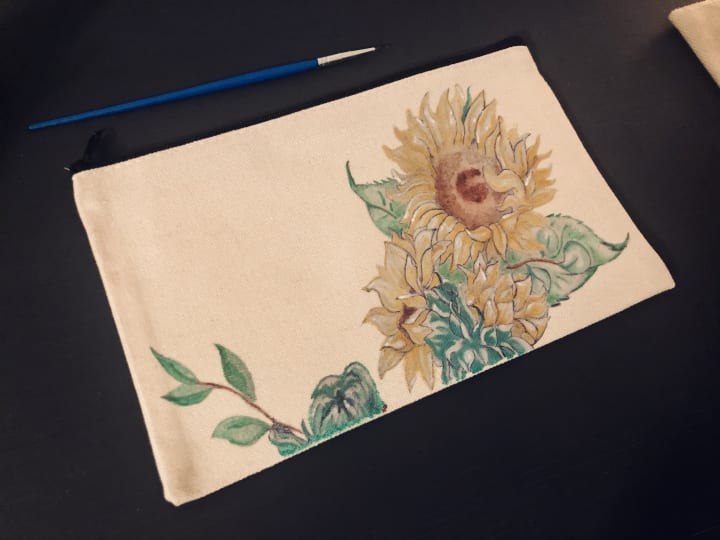 Unfortunately, we had a medical emergency a little after I started my initial project. My life was all but consumed with hospital visits, bills, and gofundme accounts. Everything turned out fine in the end and we are in the recovery stages now. My plans of starting a shop on Etsy were put on hold. I do still plan on eventually opening when the time is right. The fun of creating unique pieces of art is an escape more than anything else. I would love to have the opportunity to share it with others as well.
The dreams are all still there in my brain just waiting to burst into reality. Until then I continue to fit some craft creating into my life whenever I possibly can. To always improve me and my craft as time goes on. To continue to get better. To continue to create unique things. That is always the dream.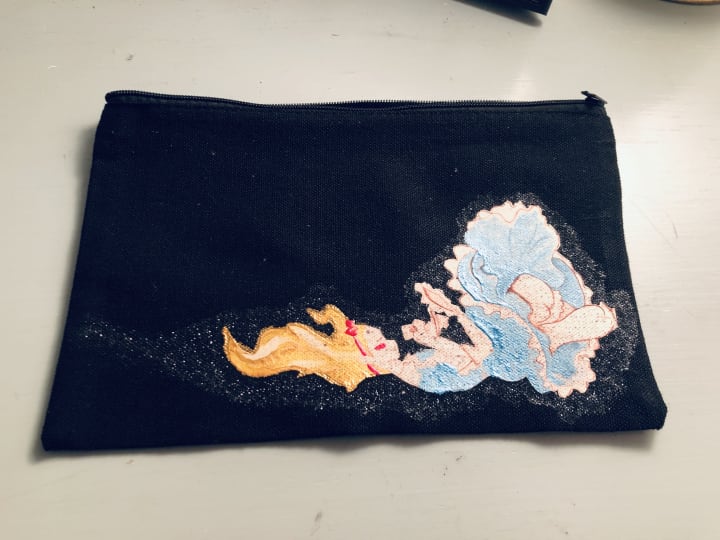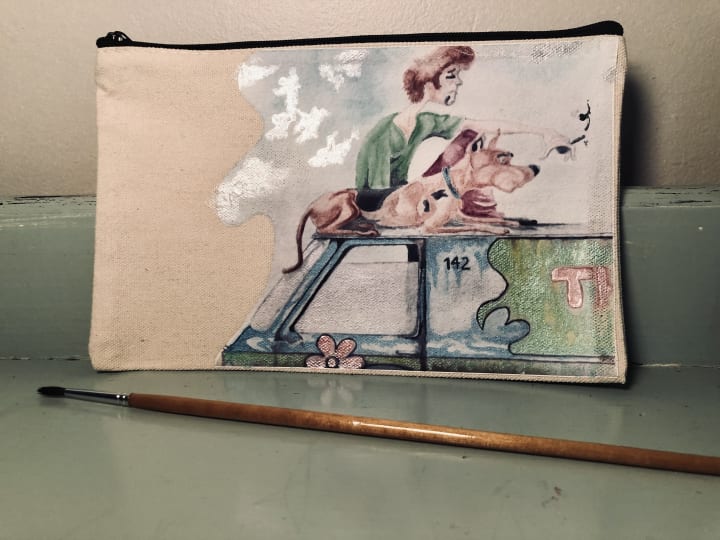 diy
About the author
Reader insights
Be the first to share your insights about this piece.
Add your insights