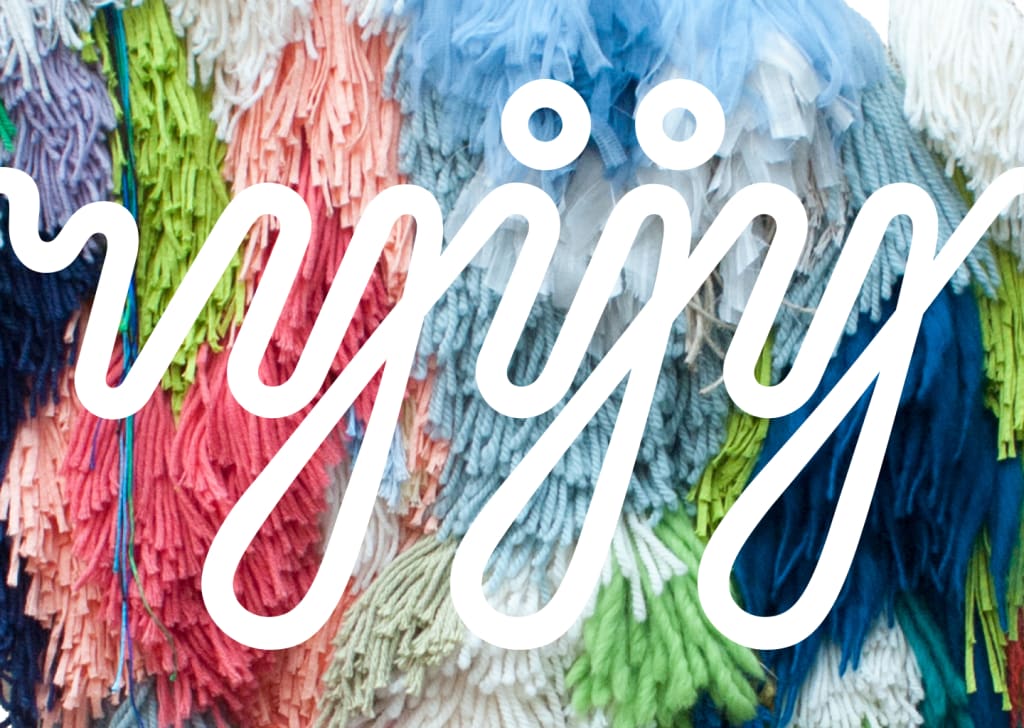 Hi,
My name is Varvara, I am a textile artist, researcher and the motion energy behind the Social Ryijy art project.
There are two parts of it: the digital is only starting to come together, so that the project becomes more accessible to people around the world, but the analogue part of the project has a history of connecting many stories of people who already participated in it.
I want to share the story of an analogue part of this project.
First of all, let me give you some background on where the name is coming from. 'Ryijy' is a Finnish word for "a woven Finnish long-tufted tapestry or knotted-pile carpet hanging" (Wikipedia). Finland has a long history of beautiful art pieces in the form of ryijy rugs. This project is highly inspired by the craft of ryijy.
Finland will always be the motherland of the project in many ways even though the project itself connects the stories of people from around the world. I spent two very transformative years in Helsinki, Finland after I immigrated there from Russia to study at AALTO University of Arts, Design and Architecture. I bought my first (but not last) pair of Fiskars scissors for my Master's studies there, the scissors that started the collection of my tools that travel the world with me and bring memories of our long-lasting relationships every time I use it (this year we are celebrating 10 years of creative journey together!).
The first Ryijy canvas of this project was born during my moving process away from Finland, the canvas that became my self-exploration of immigration process with reflection on personal experiences and thoughts during the transition period and adaptation to the new life in a new country, life of an immigrant with many changes to process:
transition from a single independent woman to a wife, from many respectful social statuses to one of a housewife, from an established community to a loner in a new country, the continuing processes - from a native to a foreigner, from citizenship' to "pending residency" status.
I chose my artistic tools for this exploration - something that I can pack away with me, something that I can create with not only in a studio but in a bedroom or kitchen too: yarns, needle, canvas, scissors and journal.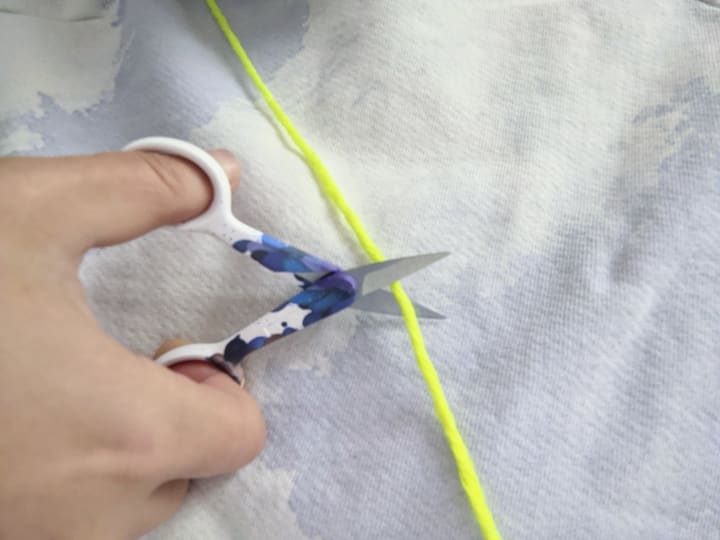 The question I asked myself that time: How does the personality survive through the immigration process?
Each experience of that 2-year long process of receiving an official status in my new country was recorded in a form of yarn on the canvas together with notes in the journal that I kept along with creating my first Ryijy. I called it 'Housewife-in-Residence".

"Yarns as a connection to your live experience.

The islands of colors are growing slowly, here and there. Volume of different textures and colors. It seems that I painted them. They start to connect, intersect and overlap each other creating a pattern of my days, new color plays, shapes and traces. "A return to live experience" - the description by Susan Kozel - is what my canvas will become.

The idea of the project came as unformed thoughts and images in the middle of my big change in life. I instinctively felt I needed to explore my inner world through craft I felt connected to and document the process to help me make sense of it and the emotions that come along.

I'm moving on my blank canvas with yarns and colors as I would do some dance performance, feeling and filling this canvas field with my senses, memories, experience, my inner. It's growing, spreading, flowing and moving on canvas. Every yarn there, every island of color is my return to the live experiences that I had during creating it." (Notes from journal, 2014).
These are some journal notes that I shared on my personal social media account along with progress of growing canvas. The act of sharing my personal story through my craft brought many new connections to my isolated life as an immigrant. It started from supportive comments and feedback but soon grew into an action that transformed the project from being a personal craft created in the bedroom to the co-created social art piece. People from different parts of the world were sending me their "special to them" yarns that reflect their immigration experience. Those first yarns were attached to the "Housewife-in-Residence" canvas, their owners and their stories became a forever part of my settling process in the new country, with many we became digital friends for life.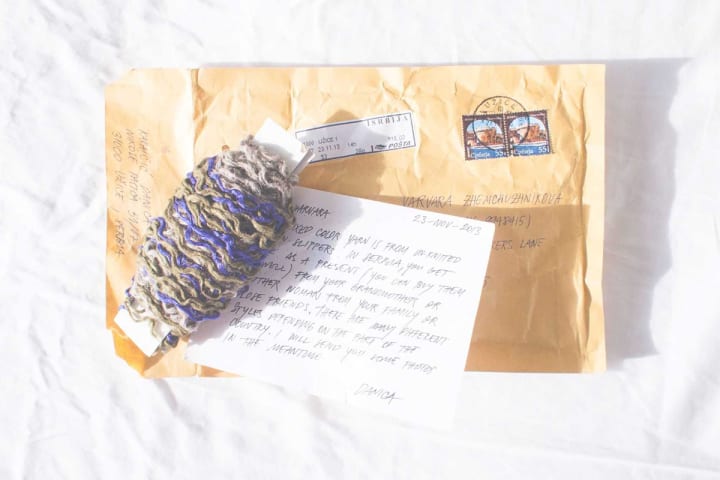 The created canvas traveled back to Finland to be presented at its first exhibition.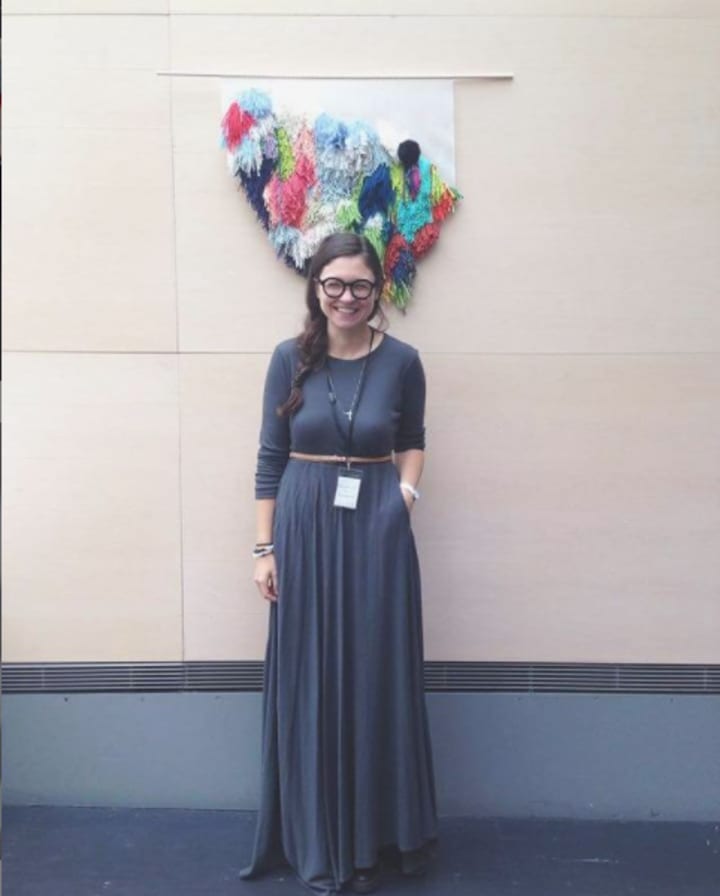 There the next canvas "Social Fabric Of Migration" started. The new Social Ryijy that brought together people's migration stories, some were sent in a form of letters and yarns that people chose themselves from their personal collection, some were chosen from a donated yarns during the exhibition, some stories were submitted online along with the yarn description so that I can find a match to it and attach to the growing canvas.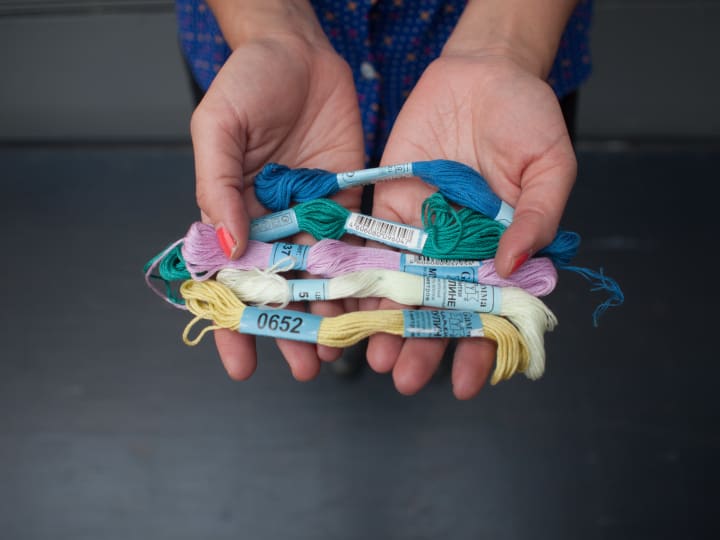 The stories were collected in a shared journal, the yarns were attached to the shared canvas. People's stories from different countries, backgrounds, age groups, statuses were connected in this co-created art piece and journal.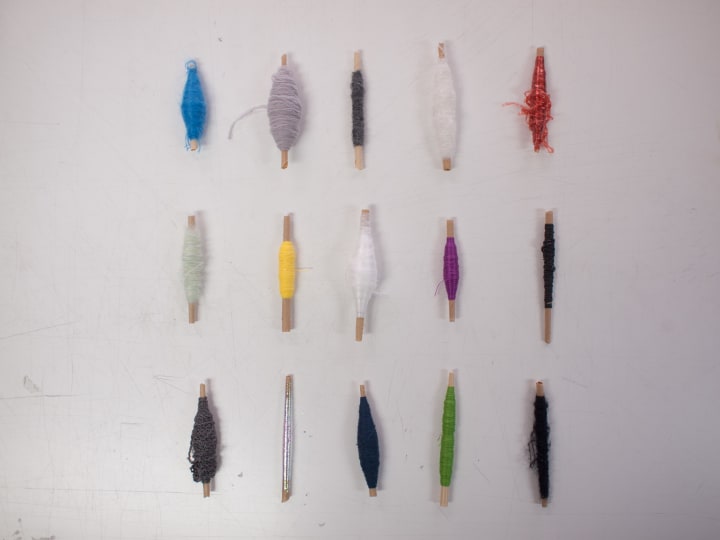 And again the new Ryijy travelled to Finland to be exhibited there and later on it was presented to the public in Canada as well.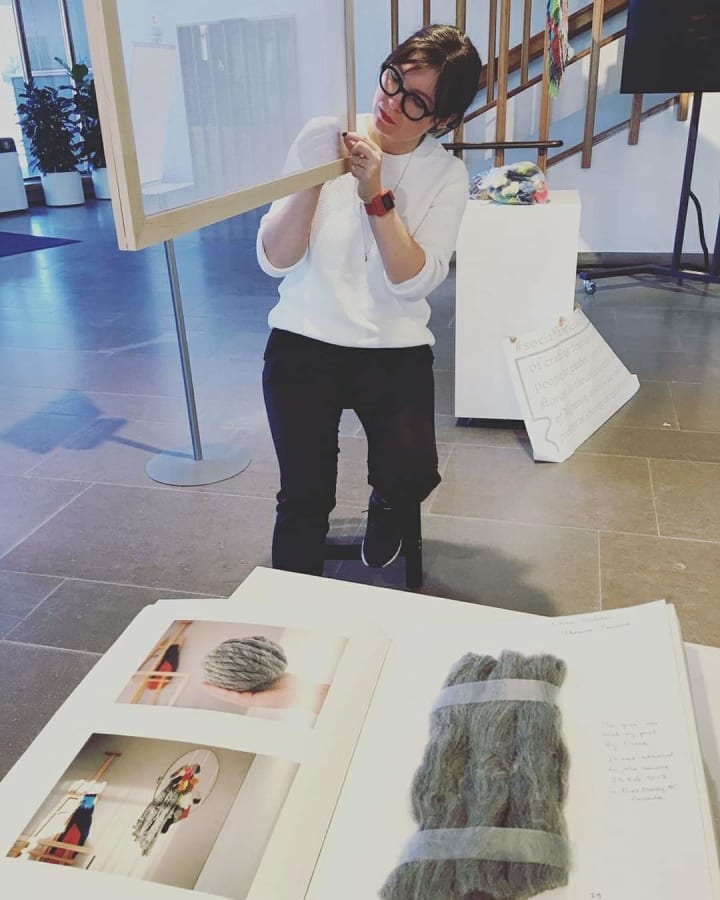 Right now, I'm working on bringing this project to the digital space so that shared stories along with its existing Ryijys become accessible for others to explore it not only during exhibitions but from anywhere through the screens of the digital devices. And the next step is to create our new Ryijy canvases (analogue and digital) to connect more people in their shared experiences of different parts of life (Pandemic parenthood is one of the first ones in the works).
From my personal experience sharing my story in a written format along with creating a visual along with it is something that helps to process the changes in life, the complex thoughts and emotions, feel more grounded and connected to my history and see the progress, it also gives a sense of belonging to a larger community of other humans with similar or different experiences or views in life, sense of being a part of a bigger story. And after I invited others to become a part of an actual art piece (Social Ryijy) - co-create it together while sharing our stories - I feel incredibly connected to all the participants, to their life journeys, personalities, I feel that we are part of one larger community, we belong, and I feel a huge sense of responsibility to continue creating the canvases - our Social Ryijys - that bring the feeling of connection further to the global community.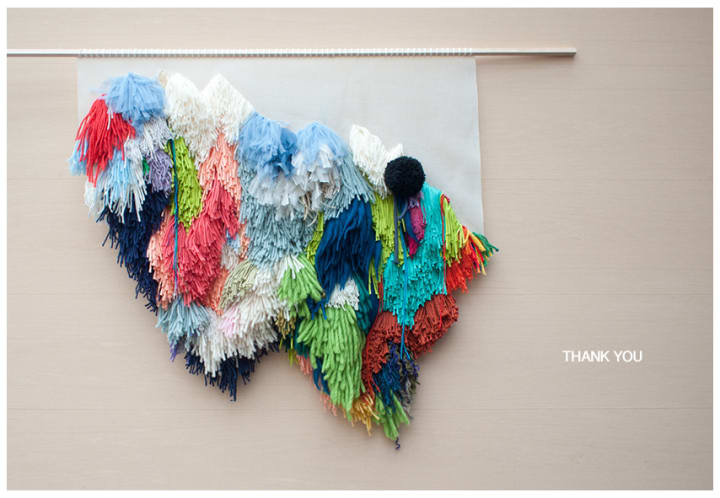 The support on Vocal platform will help this project's story continue. Thank you for reading!
Love,
Varvara.