Bunny Bliss: Knitting My Way to Recovery
How creativity helped me recover after contracting COVID-19 and experiencing "long hauler" symptoms.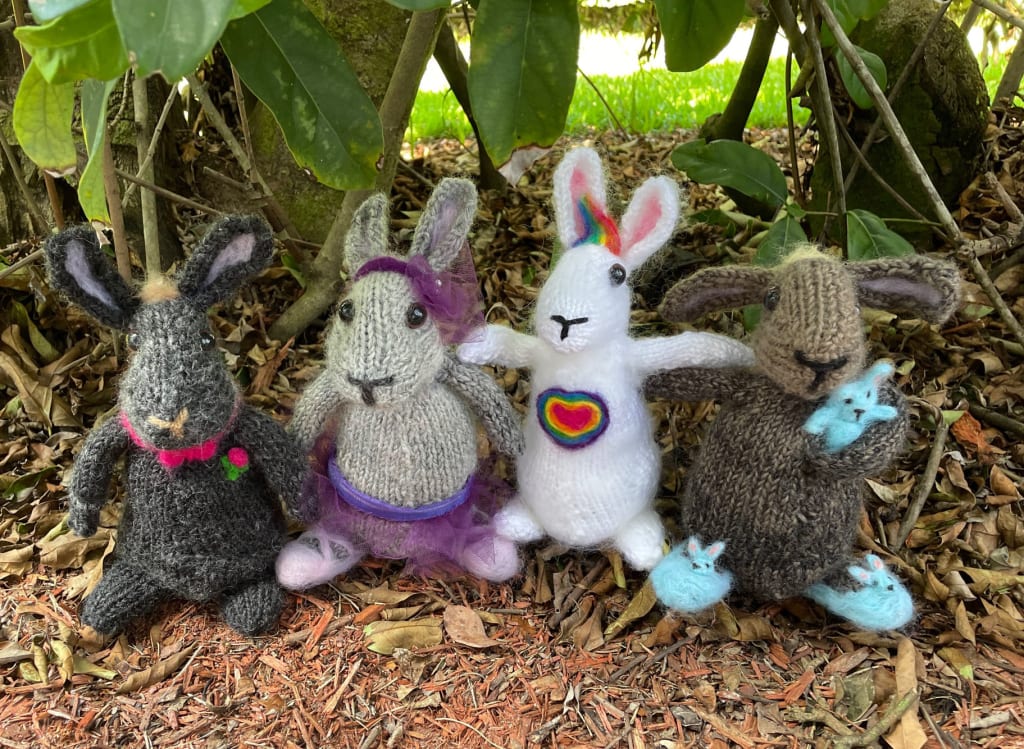 For most of my adult life, scissors have been in my hands. I've worked as a hairstylist for over 40 years, honing my skills through the decades. Scissors allowed me to provide for my family, keeping a roof over our heads and food on the table. I completed countless hair cuts, colors, and bridal and prom updos, including styling my daughter's hair for her most important big events. Styling was not only my livelihood, but was my creative outlet, and the one thing that defined me.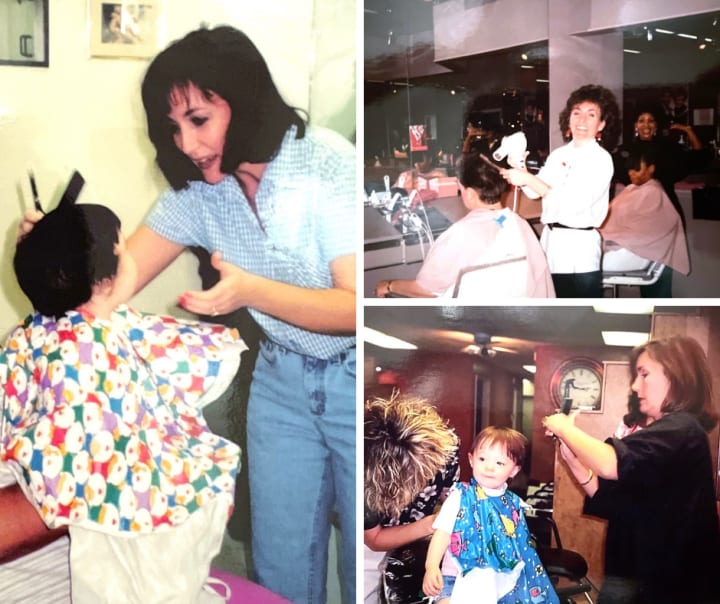 Fast forward to 2020, and COVID enters the chat. I, as well as the rest of the world, was struggling with how to complete my work in a way that was safe for myself and my clients. It's impossible to do hair from a 6 foot distance. My salon closed for several months and I quarantined for my own safety and those around me. During this time, I began to revisit my passion for knitting as a means to cope with my anxiety around the uncertainty caused by the pandemic. Upon reopening, I went back to work, wore a mask, and a face shield, and doused myself in hand sanitizer. Despite my efforts, I still contracted COVID-19.
Many people who got COVID were fortunate enough to experience minor symptoms; I was not so lucky. My heart goes out to the friends and family of those who lost their lives to this terrible virus. I battled COVID for 14 days at home before I was admitted to the hospital. During my hospital stay, my oxygen levels dropped dangerously low and I couldn't breathe and developed double pneumonia. I was given several cocktails of exploratory drugs that were being tested on patients. The virus caused a blood clot which led to a stroke, further depleting my brain of oxygen. After a lengthy hospital stay, I considered myself lucky to even be alive. For weeks, I was unable to sleep, and experienced other "long hauler" symptoms like hair loss and depression. I was left with both physical and neurological impairment.
I wasn't able to complete simple tasks like turning on a computer, and I definitely wasn't able to return to work at the hair salon.This was a particularly tough pill for me to swallow, as I previously lived my life as a very independent and active individual. I would have been absolutely lost without the love and support of my family, who encouraged me to take things one day at a time. I remember the simplest tasks that I enjoyed before my illness became alien concepts. I even had to Google " should your working yarn be held in your right or left hand", even though I've been knitting since my grandma taught me when I was a little girl.
Slowly, and with great effort, I began working on the simplest projects. First, a scarf, then I graduated to making hats and blankets. As part of my recovery, my daughter signed us up for an online felting workshop. We had a great time and learned some really unique skills.
I had always wanted to create whimsical, three dimensional creatures that I had seen before from my favorite makers. But I never had the time, since I spent the majority of my days at the hair salon just trying to make ends meet. Despite the devastating negative effects of the pandemic, it has caused some upsides. People began returning to the simple pleasures in life; spending more time with family, and reconnecting with old friends. I joined a book club with my daughter focused on education about feminism, anti-racism, and what it means to be an ally. We all had tough conversations with each other; healing conversations that led to growth and better understanding of one another. Additionally, my once jam-packed calendar was wide open and I picked up my knitting needles and got to work!
Much to my surprise (and delight!), these adorable visions that only lived in my imagination now sprang forth from my needles into my hands. My first knit creation was a bunny, my favorite animal and a symbol of innocence and joy. I added playful details using my newfound felting skills. Slippers and unicorn horns were magically sculpted from the wool fibers. Before I knew it I'd made five bunnies, then ten, then twenty. They were all different colors and had diverse, playful personalities and accessories. The collection even includes a rainbow heart bunny and two grooms and two brides to celebrate Pride this month!
Filling my days with this new creative outlet brought me much joy and inspiration. I began to focus more on the positive, and knitting helped me regain my cognitive skills through repetition and following a pattern. While my craft once included shears and a comb, my arsenal is now filled with Fiskars scissors, yarn, and felting needles. I even opened my first Etsy shop! The calming stability of knitting row after row aided with my return to the new normal. Nearly a year after my hospitalization, I'm happy to report that the worst of my symptoms are behind me, and I'm feeling happy and healthy. I'm hopeful that these charming critters will help to brighten others' lives and put a smile on their face, just as they've done for me.