Book Review of Spare by Prince Harry
This review is something that fascinated almost like an incite on how the royal family thinks.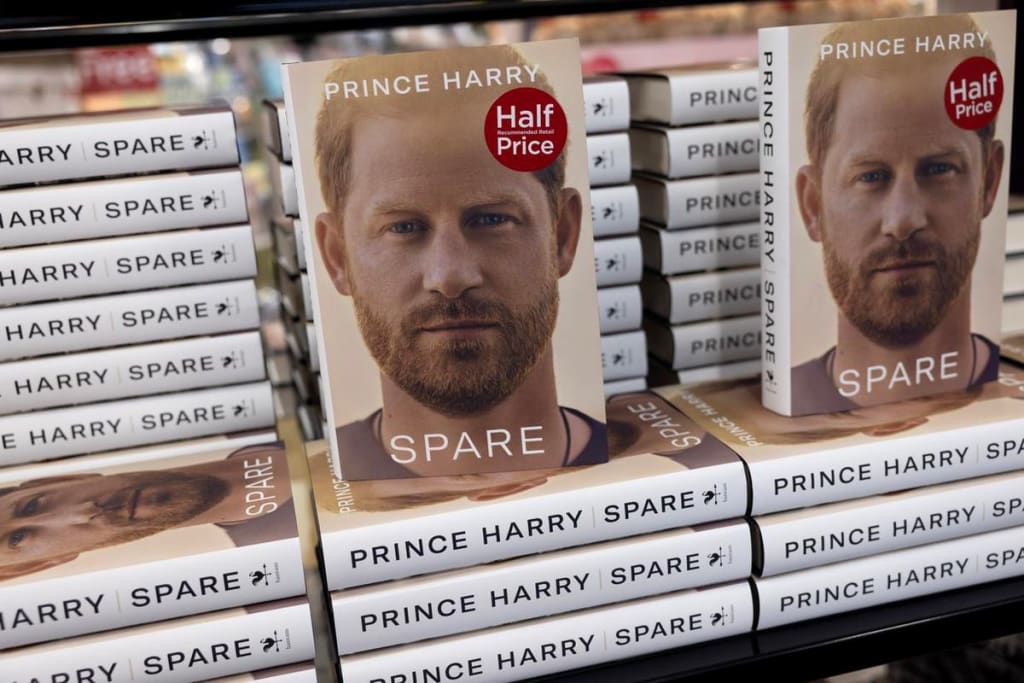 I looked up the word spare or phrase go, spare it's a british slang term that means frustrated, distracted, or angry. I guess it's depends on how you use the term. I listened to the audiobook and I couldn't get enough of it of dear Prince recalled his memories that led to the lose of his mum. He is truly a free spirits inside.
As I listen to his recalling of his memories the broken spirit of losing his mum to soon.
The House of Winsor is currently exposed by his memoirs I wondered how they took these secrets being exposed are taken?
The sad part of knowing why you are born as a spare you are the back up to the Prince if he needs anything: Blood transfusion, bone marrow, or a kidney. I couldn't believe what I was listening to. That's why he was born, for the prodigal son to be a distraction, and whatever Prince William needed.
He was meant to be a Spare in the royal family if Prince William needs a Blood transfusion, Bone marrow, or a kidney he is to do that on duty and against his will. He is told this up front and to provide a distraction from Prince William. So you are pretty much a distraction from the real issues within the wall. No wonder Harry Winsor had a broken spirit all his life.
As the painting of these memoirs became very clear to me. It explains why him and Megan Markle escaped the palace life. He didn't want his wife to become the next news of what happened to his Mummy.
I told my husband my thoughts on how he is called himself the spare of the royal linage and his opinion is fair point. "Don't believe every word that comes out of people's mouths."
Of course, I think why would he write a lie in his own memoir of his own life. It's sounds and reads to raw to be a fib.
Prince Harry does paint a perfect picture of his early childhood makes you wonder even though he led a posh live doesn't mean he was happy.
I found his writing very fascinating his early life how he didn't want to believe his mum died. How his childhood self didn't want to believe it.
My thoughts are Spare by Prince Harry gives readers an incite of his life painting the perfect pictures and the moods set for each milestones.
____________________________________________________
Emily's life has never been easy, not until recently when her whole world changed she became free. She lost so much but gained so much in the end. Emily has had so many struggles in life, but somehow everything ends up going as it should. She is happily married to her husband living a happy life, everything is changing constantly in her life yet one thing never has faded her love for writing. Nothing has been easy then again the hard lessons never are. I have a great book cover designer JV Arts.
She lost everything when it came to her family but she couldn't be a part of that life. So she forged her own path, though never easy she never gives.
Emily was employed at a hotel where she was a laundry girl, and never got to work the front desk as promised. She writes full time as well, and is working towards owning her own publishing company called Aurelien Publishing.
As time went on, all the times she was told she couldn't hold down a job, all of them saying that she proved them wrong. She proved them wrong, but for herself and no one else.
Right now she is working on two projects this year, and she plans on publishing them soon.
Emily is an animal lover, and enjoys a good book. She is addicted to coffee and Chai Lattes.
She wants her Readers to know that she has a good life, and her life doesn't revolve around writing 100% of the time.
As time went on she found herself finally with her husband. Her husband is a US green card holder, and life has been great to them.
Reader insights
Be the first to share your insights about this piece.
Add your insights