Book Review: Amos the Amazing by Jorah Kai
A fun YA coming of age solarpunk fantasy that's oozing with creativity and imagination.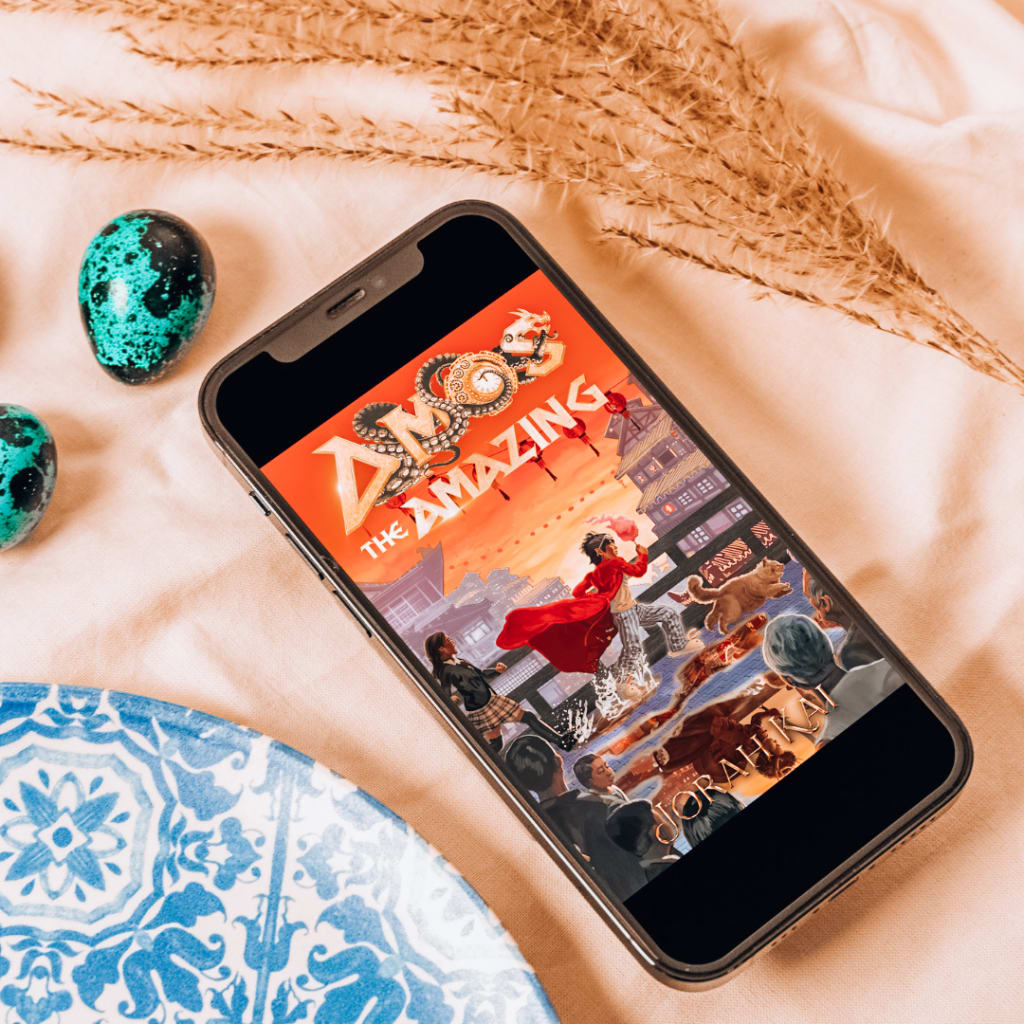 Finding time can be difficult in today's hypermodern world.

Making time, however, can be magick.

The world might be going to hell in a handbasket, but it isn't always going to be that way.

In 2038, in the SOLARPUNK futuristic city of Chongqing, things are looking almost rosy. That is until a story gets told that sets off a chain reaction that threatens our world and the entire multiverse. This is the story of that story.

The world's spiciest ice cream, a trip to Chongqing's rural countryside, & a strange collection of curious belongings begin this unforgettable tale that mixes Solar Punk science fiction and high fantasy for a thrilling modern fairytale about a boy who mistakenly believes he has all the time in the world and must risk his soul to chase a 9-tail fox into the dreamlands for the adventure of a lifetime and the chance to save his family.
GENRE: YA Coming of Age Solarpunk Fantasy
PURCHASE LINKS: Amazon
ABOUT THE AUTHOR: Someone once told Jorah Kai to write what he knew, but since he was 12 and knew very little, the avid reader set off on a lifelong journey to master a variety of esoteric subjects. He's been a lifelong student, martial artist, musician, English teacher, writer, newspaper columnist, editor, web designer, dance music producer and touring DJ, black rock city existential detective and philosopher, fire-breathing gypsy circus performer, standup comedian, and family man; which offered many profound insights into the human condition before uprooting his life and moving to a city of 34 million people halfway across the planet.
Kai enjoys conversing in foreign languages because it's more mysterious, and he enjoys playing guitar and eating pizza as much as he hopes you love his books. He lives at the confluence of two mighty rivers, the Yangtze and the Jialing, with a large and loving family for many years as a human being and then forever after as the most immortal of all supernatural beasts, a writer.
Review & Recommended Listening
I picked this up because I haven't really read anything solarpunk or involving Chinese folklore before, but it turned out to be more than just that. There's a lot going on in this book — and it's not a bad thing, though it might get overwhelming and/or confusing for some readers. I'm pointing all these out because I'd like other readers to take a chance on this book, even if it might seem a bit unwieldy and quirky at first! It's really quite interesting and enjoyable, with lots of surprises, and even gorgeous maps and illustrations.
Genre-wise, aside from solarpunk fantasy I'd place this as coming of age, and YA here is more of the full spectrum of middle grade to upper YA rather than just one of those, given the varying ages of the principal characters. There are also some adult literary references too. Just take the author's word for it: this is an 'epic solarpunk novel somewhere between Chinese Harry Potter and an especially psychedelic Alice in Wonderland.' That's it, that's the genre, and as someone fond of genrebending and genre mashups, I actually enjoyed it.
The narrative style also seemed to have a lot going on, and it actually took me a while to really get into the groove. Once I kept in mind that we're mainly in the POV of a 12-year-old with so much energy and a wild imagination, however, the thought-chunky, almost whimsical approach made sense.
If you're looking for a fun, fast-paced read that's just oozing with creativity and imagination, then this novel might just be for you.
My Rating: 3.5⭐️
Recommended Listening: As I mentioned in my open call for books to review, I'll now be adding a song to my reviews! It'll be one that either sums up the book for me, what I'd imagine in a trailer were it a movie, something that I associate with the story or one of the characters for whatever reason… or maybe even an original inspired by it 😉
I mean, the author did say Chinese Harry Potter...
About the Creator
Filipino fantasy author, singer-songwriter, theatre actress, and book reviewer. Also writes romance, horror, and scifi. Married and based in the UK. https://linktr.ee/mariesinadjan • www.mariesinadjan.com
Reader insights
Be the first to share your insights about this piece.
Add your insights