ANDREW TATE
ABOUT ANDREW TATE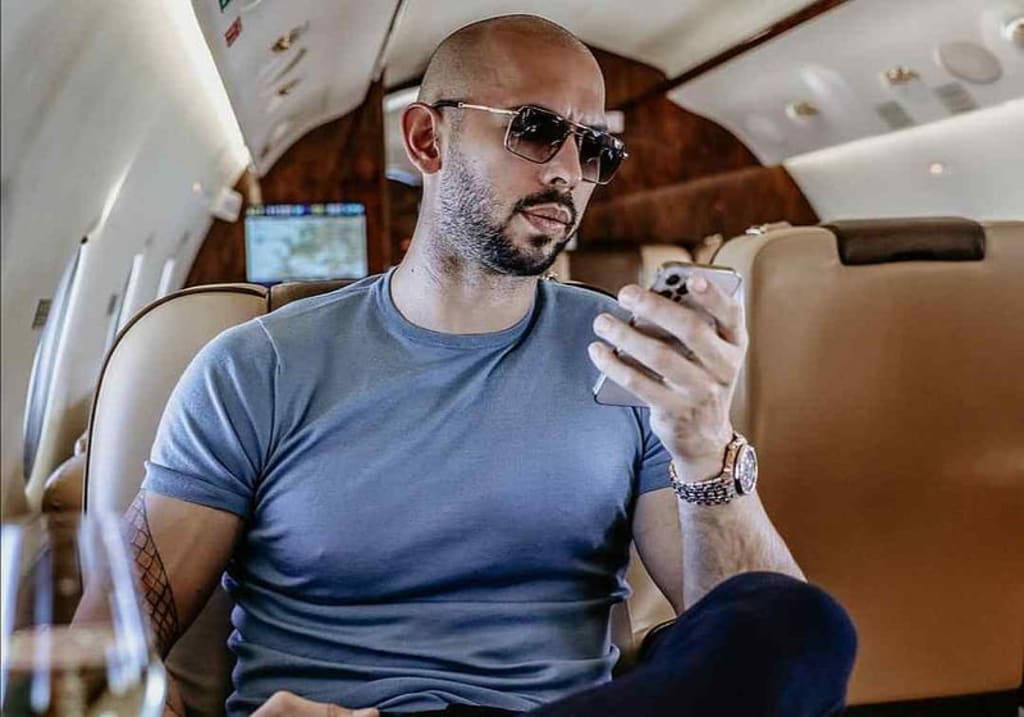 ANDREW TATE
Andrew Tate is a British professional kickboxer, former Big Brother winner, and controversial internet personality. He rose to prominence through his appearances on reality TV shows and his controversial comments on social media, which have generated both support and criticism.
◉ Tate is known for his outspoken views on a variety of topics, including masculinity, fitness, entrepreneurship, and self-improvement. He has also published books and created online courses on these topics, which have attracted a large following.
◉ Despite his popularity, Tate has faced criticism for his controversial statements, which have been seen as sexist, racist, and promoting toxic masculinity. He has also been involved in several controversies, including a feud with fellow YouTuber KSI and allegations of domestic abuse.
◉ Overall, Andrew Tate is a complex and polarizing figure who has generated both admiration and controversy throughout his career.
ANDREW TATE CARS COLLECTION :
◉ Bugatti Chiron
◉ Rolls Royce Wraith
◉ Ferrari 812 Superfast
◉ Lamborghini Huracan Spyder
◉ McLaren 720S
◉ Aston Martin DBS Superleggera
◉ Mercedes-AMG S63 Coupe
◉ McLaren 765LT
◉ Mercedes B64 Brabus
◉ Bentley Continental GT
◉ Ferrari 458 Italia and etc......
Andrew Tate has a total of 33 different supercars.
MATRIX THEORY :
◉ The Term matrix is the desire for transformation which we create around us with the help of self belief based on the intrinsic value about the surrounding nature we create our own experiences and therefore we live accordingly.
CONCEPT OF THE MATRIX :
◉ The entire Human race is used for power supply. Their bodies are asleep and their minds are plugged into the Matrix. The Matrix is a virtual world that has been pulled over their minds to hide them from the truth – they are slaves now. Humans are grown, the dead are liquefied and fed to the living intravenously.
Kickboxing fame :
◉ Andrew Tate made a name for himself in MMA circles, bagging multiple ISKA (International Sport Karate Association) trophies. His website dubs him as:
"Three times ISKA Kickboxing World Champion and Enfusion Live champion."
◉ Tate has competed in both heavyweight and lightweight championships and claims to have only lost nine matches over his career. He has also expressed his desire to fight YouTube giant Jake paul in a podcast. In recent years, however, he has focused more on social media influencing than kickboxing.
Webcam business and Hustler's University:
◉ Andrew Tate made a lot of money from his adult entertainment business model. He has talked about the webcam business numerous times in his usual tone of bravado, bragging about how much money "his girls" have made him.
◉ His official website is an online business aimed at "success." The program, called "Hustler's University," is supposed to teach men how to make money, along with other programs about serenading women.
Why was Andrew Tate arrested?
◉ Tate was detained alongside his brother Tristan in December 2022 in a suburb of the Romanian capital, Bucharest, as part of an investigation into allegations of human trafficking and rape, which they deny.
◉ Tate has appeared in countless videos, flaunting an ultra-luxurious lifestyle of fast cars, private jets, and yachts.
◉ Shortly before his arrest in December 2022, he engaged in a row with environmental activist Greta Thunberg on Twitter
◉ He claimed to have 33 cars and said he would send her a list of their "respective enormous emissions".
ANDREW TATE SAYS LAST WORDS BEFORE HE ARRESTS :
"MATRIX IS ATTACKING ME "
◉ THIS IS THE LAST WORDS SAID BY ANDREW TATE BEFORE HE ARRESTS
Is The Matrix attacking Tate?
◉ Following his arrest in Romania on December 29, the account of influencer Andrew Tate shared this tweet: "The Matrix sent their agents". The account has continued to share unsubstantiated claims about "The Matrix" - from Tate being the victim of an attack, to encouraging others to "escape" it.
About the Creator
I AM BHARATH.M
I AM FROM INDIA
I AM POSTING INTERESTING ARTICLE IN THIS PAGE
PLEASE CHECK AND SUPPORT
THAT ALL MYSELF
MORE UPDATE CONTACT ME @INSTA = MR XXX TENTACION
Reader insights
Be the first to share your insights about this piece.
Add your insights