Aftermath
British artist is tied to a tree with cellophane and tape as part of a thought provoking and beautiful artwork.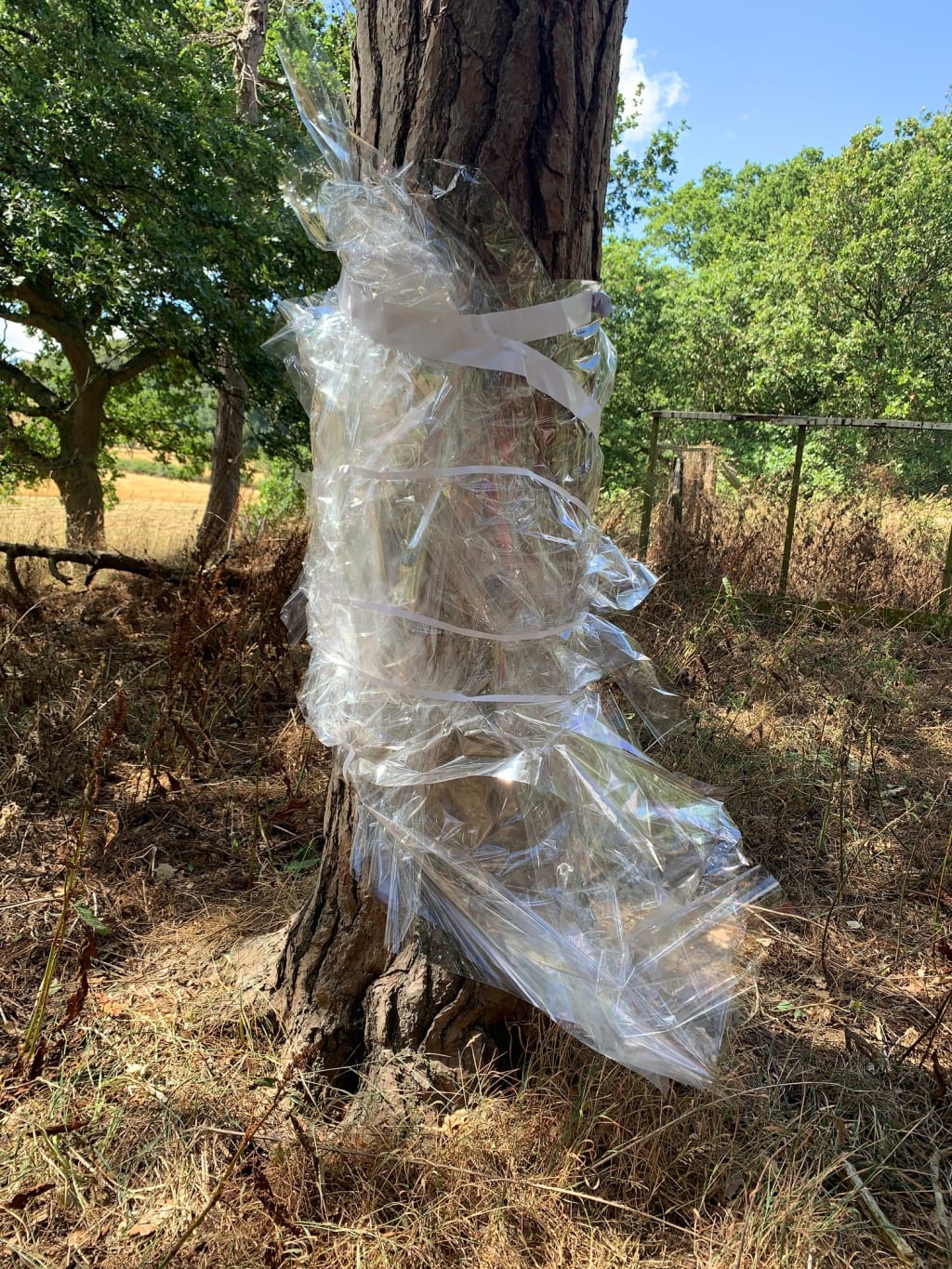 'Aftermath' by Jacqui Gallon 2022
The artist Jacqui Gallon made 'Aftermath' during and as part of 'Becoming Wild' an immersive two day workshop led by artists Miffy Ryan and myself in the secluded wood that is currently Jacqui's outside studio / workspace. The workshop was part of the 2022 Taiwanese Artist Intern / Residency programme hosted by Fearon Hall in Loughborough UK, curated by Jacqui Gallon and mentored / envisioned by Professor Ming Turner.
'Aftermath' is exactly that - the aftermath of Jacqui's experimental durational piece that saw her fastened to a tree by a sheet of cellophane wrapped tightly around her body and taped in place by Miffy Ryan. A pair of scissors was wrapped in with Jacqui so that she could cut herself out when she felt the need to. The breaking could be seen as something akin to birth, birth after death if one viewed the wrapped Jacqui as an allegory for death. Seeing Jacqui wrapped in cellophane attached to the tree also brought to mind the roadside shrines one often finds at the scenes of fatal car crashes, a bunch of cellophane wrapped flowers attached to a tree, a lamppost, a crash barrier.
One wonders what the unsuspecting walker, coming across 'Aftermath' in a wood and not knowing anything of its creation, might make of it. An ancient tree with the lower part of its trunk wrapped in cellophane and tape. It would certainly give most I think at least pause for thought.
Is it gift wrapped? No, the wrapping is surely too unruly. Is it to protect the tree from some harm or another? Attack from deer? Wild boar? No, it's maybe too flimsy to offer any true protection, at least physically, though perhaps the sound of it crackling in the breeze might effectively scare off an inquisitive wild beast. Did it hold something in place? Well yes but they could not know that it bound a woman to this tree and now the memory of her tears and rebirthing.
Does it matter that viewers after the fact might not know its inception? I think not. Works like these take on different meanings for different participants for yes they invite participation not passive viewing. Outside of a formal gallery space, not roped off, who could resist touching this cellophane wrapped tree? To make a noise with the material? To wonder 'why is this thing here?'
And the wood itself? What does she make of this intrusion by synthetic material and human emotion into her heart? She will embrace it for she will feel the spirit in which it was brought into being. Woods can, I'm sure, sense these things.
I was lucky enough to be there as Miffy Ryan wrapped Jacqui round and round with a huge roll of clear cellophane and then taped it into position on the tree trunk. It was a startling image to behold. Still fully dressed, her left hand at her heart the other across her stomach we see her through the layers of clear cellophane in which she is now cocooned. Slowly, as the action of the wrapping subsidies we see her as tree, not tree, of tree. Her face distorted, features seeming to move with the wrapping in the wind. And then the tears, first welling then slowly running down her cheeks. We feel ours might follow and they do. Jacqui quietly tells us that she feels dead yet undead and that she now wants to stay like this for some time, perhaps an hour on this the first time that she has undertaken this action, an action she has wanted to do, thought of many times in the lead up to this day. We leave her alone and carry on working with other participants in the group now exploring the performative possibilities of plastics in a woodland setting.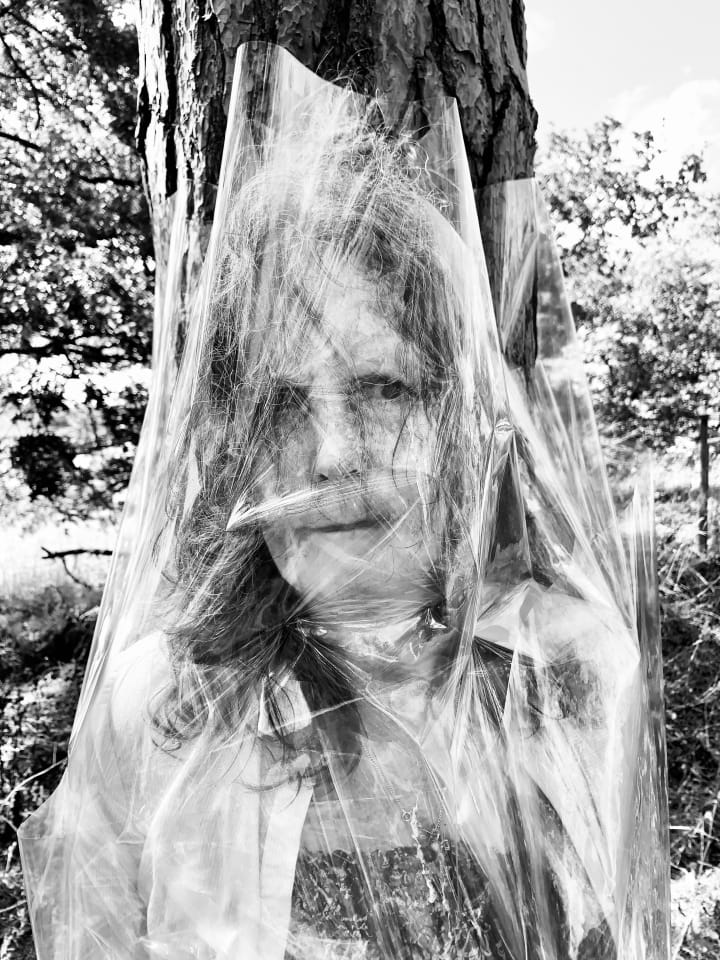 Eventually Jacqui cuts herself out and we are left with 'Aftermath' a kind of synthetic afterbirth at one with the tree. A proposition to us the viewers to engage and feel, head and heart. We do.
This is the first iteration of 'Aftermath' an experimental start and Jacqui tells us that she plans more. Perhaps at first again in this wood, maybe later in other spaces, places, times of day, year, in private or maybe, eventually, in a public space. It is an intensely personal and emotional performance, for both Jacqui and those with her during the wrapped state. A truly powerful piece that will gather more meaning/s for Jacqui as she reflects on this first iteration and subsequent iterations.
art
About the author
Paul Conneally is a Cultural Forager, poet and artist.
He writes on culture in its widest sense from art to politics, music and science and all points between.
His Twitter handle is @littleonion and on Instagram he is @little___onion
Reader insights
Nice work
Very well written. Keep up the good work!
Top insight
Eye opening

Niche topic & fresh perspectives
Add your insights