7 Red Carpet Looks That Caused Trouble (Photos)
From Toke to Cynthia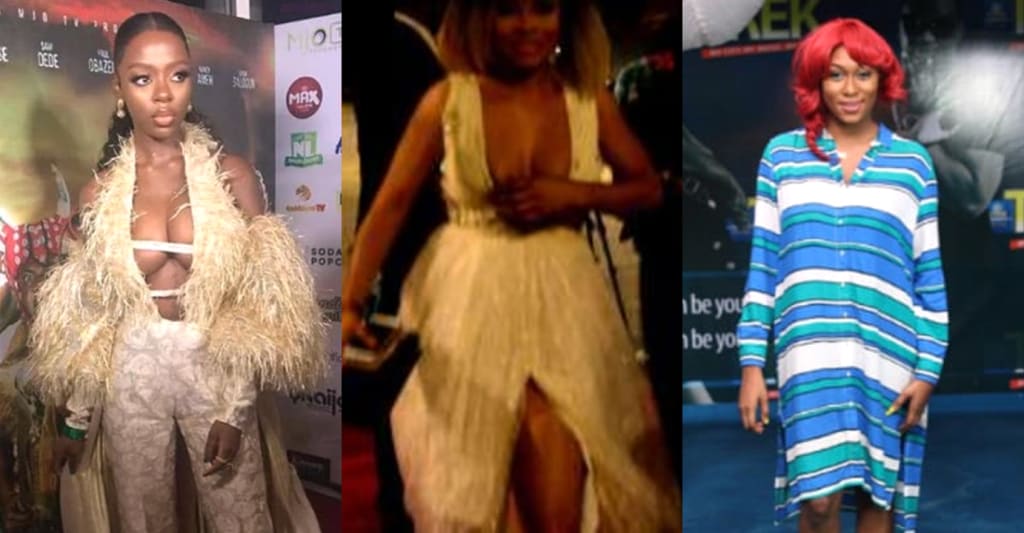 Red carpets are for fashion and sometimes fashion either goes wrong, goes too far, or causes trouble. On the red carpet a lot of celebrities try to make bold fashion statements. Sometimes, it pays off, sometimes it doesn't.
Today, we'll be counting down 7 Red Carpet Looks That Caused Trouble. Are you ready to jump in and see who they are? Then let's go!
**Before reading on, please make sure to like and follow my Facebook page (Jide Okonjo) so you don't miss out on any new and interesting lists, articles, and stories that I post every single day. I have a really fun page. If you like my page, you will have fun too. So what's stopping you? Like my page and let's have fun together!
1. Toke Makinwa at AFRIFF 2015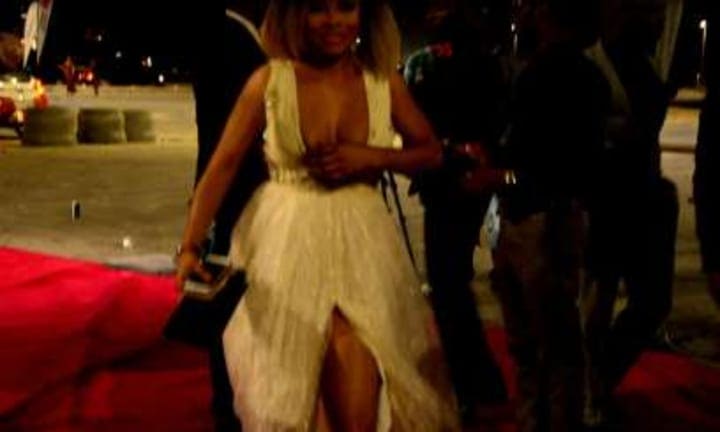 Nigerian OAP, influencer and businesswoman Toke Makinwa is one that is known for always trying to push the envelope and take risks with her fashion. But in 2015, when Toke hit the AFRIFF stage, she accidentally exposed more of herself than she was intending to.
Her outfit, with it's very deep plunging neckline caused a wardrobe malfunction and Toke suffered two nip-slips.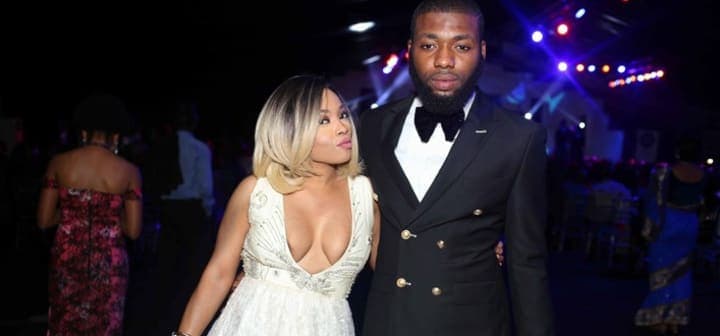 2. Diane Russet at The Legend of Inikpi Red Carpet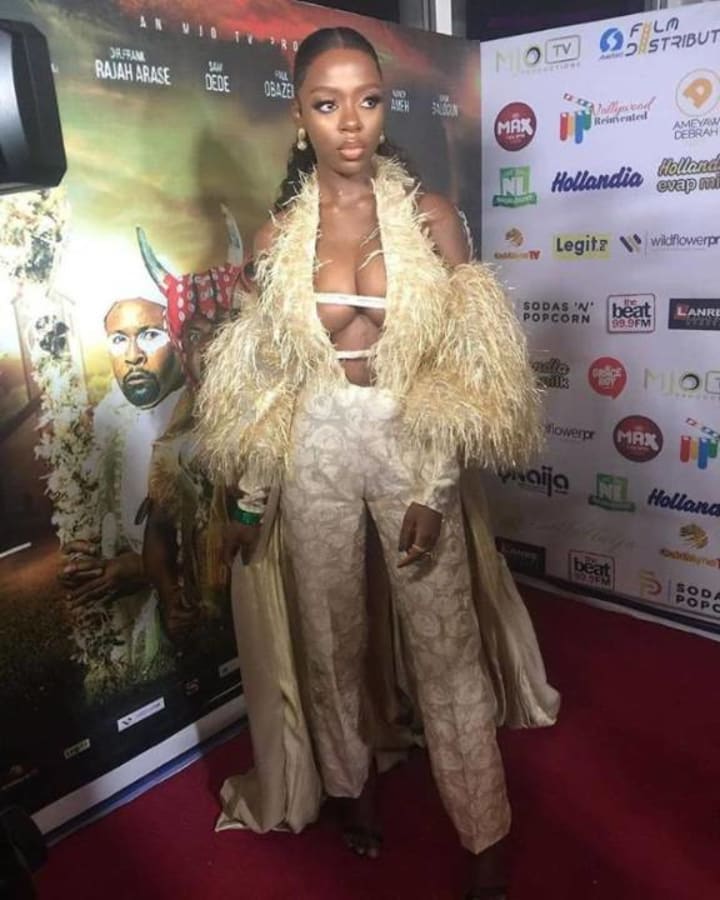 When BBN star, Diane Russet showed up to walk the red carpet at the film premiere of Mercy Johnson's movie, The Legend of Inikpi, the internet wasn't ready for it. The outfit was a very risque choice that put Diane's breasts on full display.
When the actress took to social media to post photos of the outfit, the response was very divided. Some praised her for being able to pull off the outfit, while many bashed her for having her breast out saying "This isn't the Diane we know".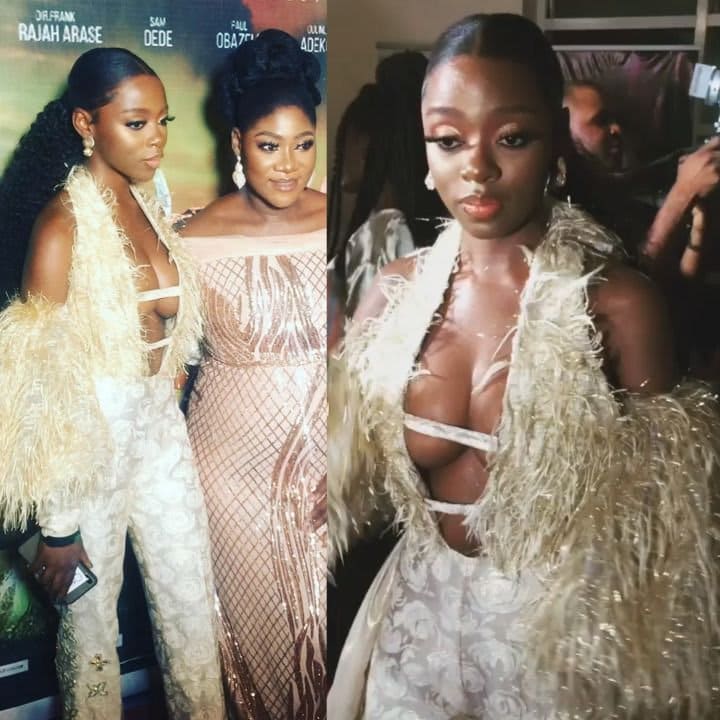 3. Ifu Ennada at AMVCA 2022 Red Carpet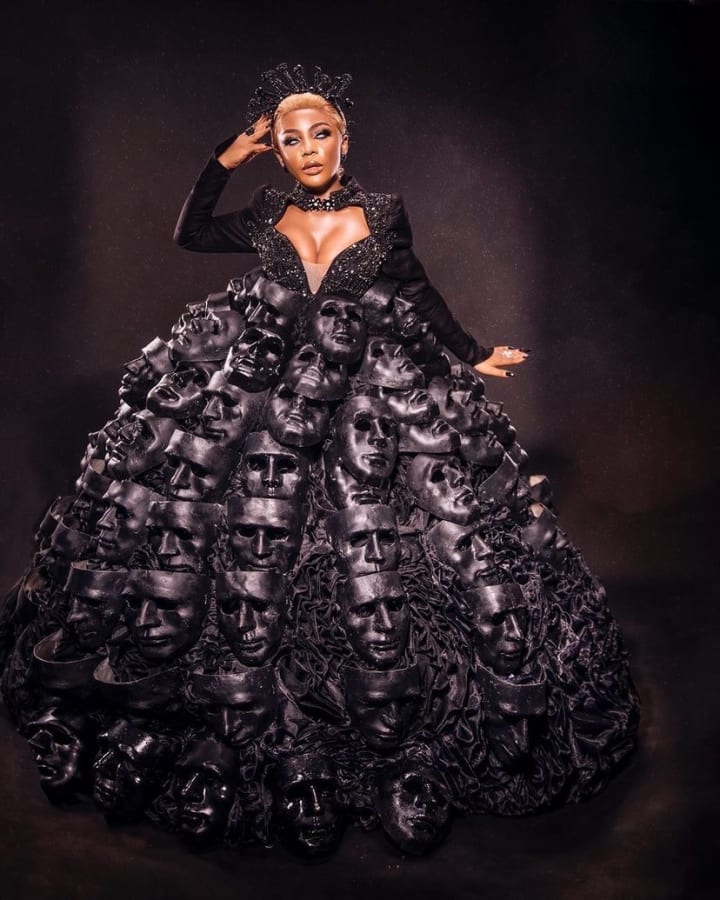 This outfit is one of the most talked about outfits of this year. First of all, when the outfit hit the internet, a lot of people had a lot of thoughts about the outfit: both positive and negative. But what really took the whole conversation to a different dimension was when Ifu Ennada said in a fiery Instagram post that the outfit was worth over $100,000. She said:
To those Cret!ns who wrote [email protected] about my Look or intentionally posted my Look just to bash me, here's what I have to say: My entire look is worth over 100k USD... Yes you read that right! So if you don't have a minimum of 10k USD in a domiciliary acct, you have no right to speak on my Look. Basically, stay away from criticising my outfit if you're a broke a$s.
This as you can imagine caused a lot of drama.
4. Toyin Lawani at AMVCA 2022 Red Carpet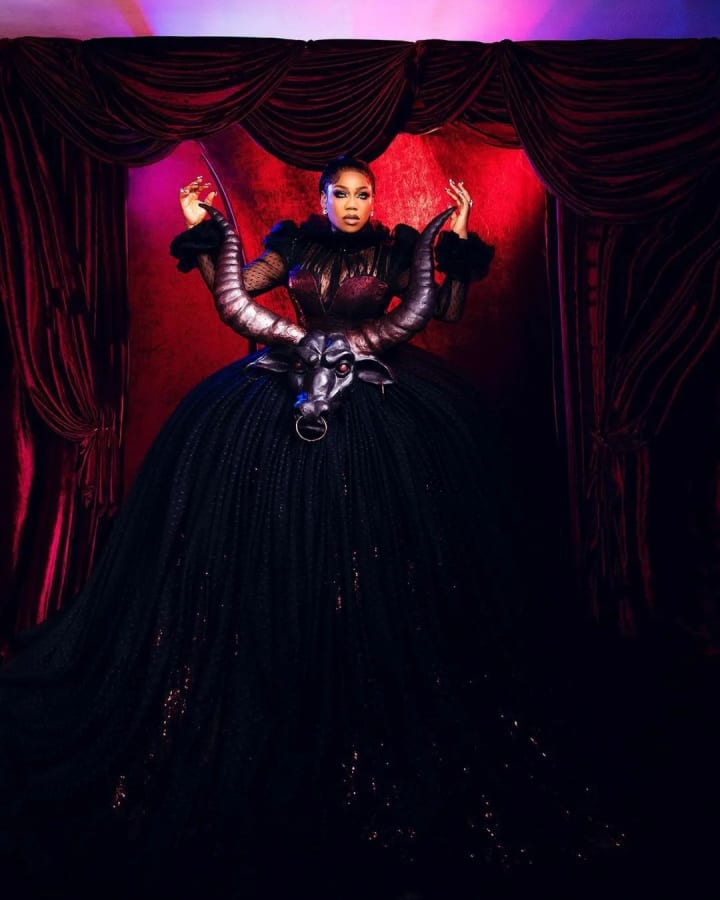 Another AMVCA outfit that caused quite a bit of confusion, fear, and a lot of raised brows was the outfit that Nigerian designer, Toyin Lawani wore to AMVCA 2022. The outfit which is a black gown with a bull head in front caused quite the rockus and looking at the outfit again even today, it is easy to understand why.
5. Seyi Shay at 2014 Channel O Awards Red Carpet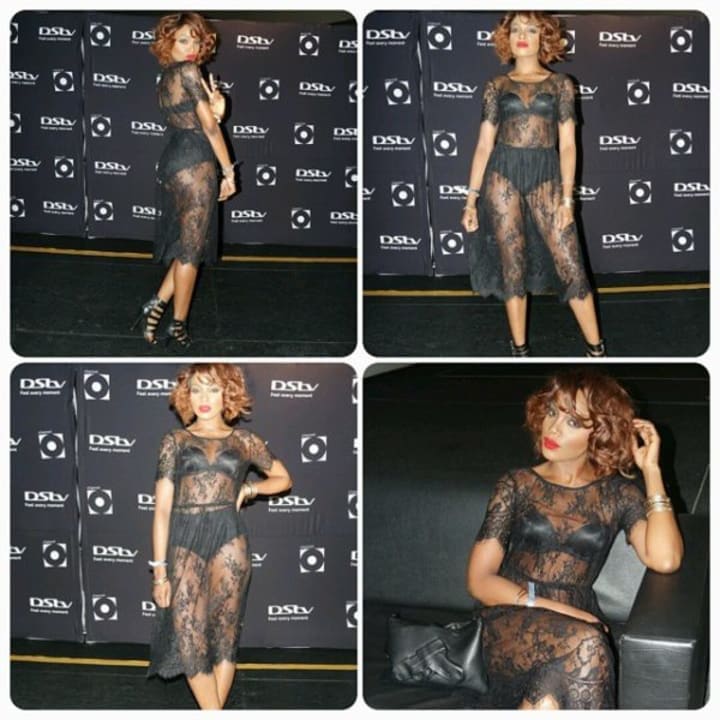 When singer Seyi Shay showed up in this black sheer outfit at the 2014 Channel O Awards, it got a lot of people talking and generated a lot of heat from not only fans and viewers online, but also from some industry folks like Charles Novia who speaking on the dress said:
She said she wants murder and dressed like that? She got her wish. Nonsense and ingredients. Lame thinking for a lame career. Let your talent speak for you always, if you don't have it, nothing can force anyone to accept it.
6. Cynthia Morgan at StarMusicTrek 2015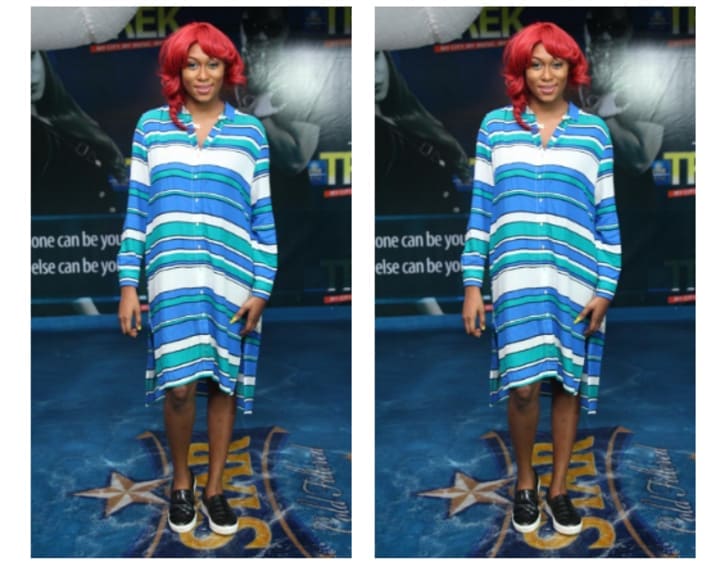 Not every outfit is hated and causes trouble online because of how revealing or daring it is. Some Red Carpet outfits actually cause trouble because of how plain they are and below people's taste they are sometimes. Case and point is the look that Cynthia Morgan wore to the StarTrekMusic artiste sign on party in 2015. The outfit got so much backlash for 1.) how simple it was, and 2.) because people said it wasn't appropriate for a red carpet event.
Some of the comments read:
She looks like she just woke up from sleep. Her "shirt dress" looks like a sleepwear to me

Her fake nails... how can one be so long and the other broken... hehehe

This her dress nawa
7. Simi at AMVCA 2017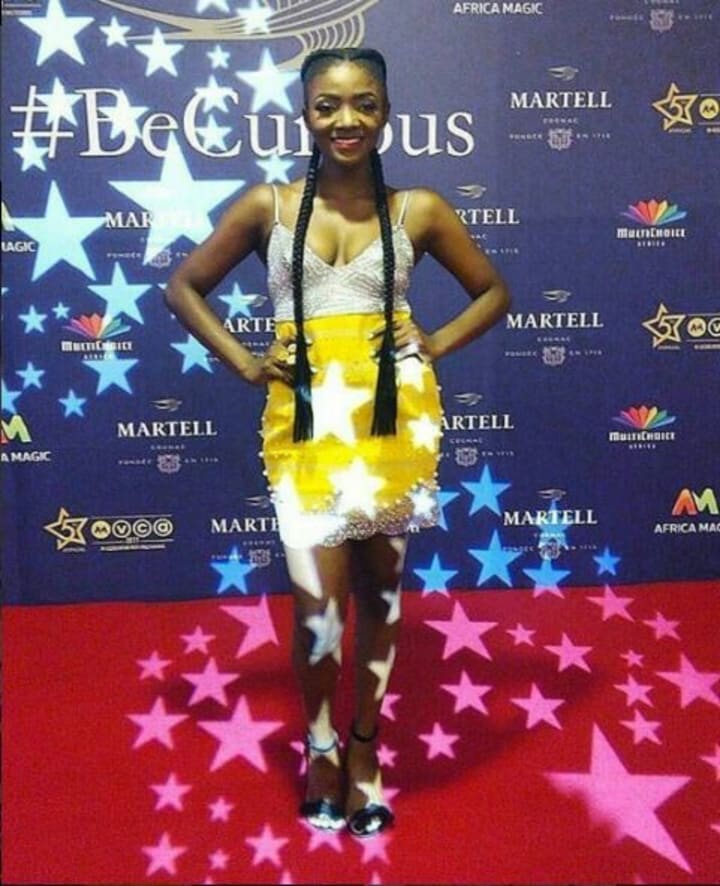 Just like Cynthia, another person whose outfit got bashed because people simply didn't like it is Simi. When Simi in 2017 showed up for the Africa Magic Viewers Choice Awards, her outfit became one of the major conversations of the night. People HATED it, and they were more than happy to rip into the singer and let her know exactly how hideous the dress was to them. Some of the tweets about the dress said: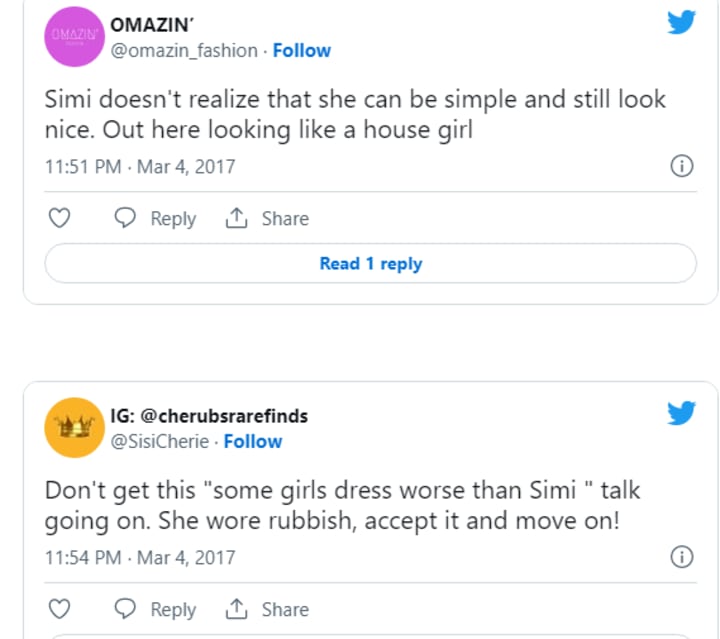 Yikes!
Which outfit do you think was the worst, and which do you think didn't deserve the hate or attention it got? Let me know your thoughts by leaving a comment either below or on my Jide Okonjo Facebook post.
That's All.
I hope you've had fun. Don't forget to like my page (Jide Okonjo) if you don't already for more stories like this, the fun never ends
To catch up on other content you might have missed, click here.
Until next time, have a wonderful rest of your day.