5 Times Tems' Clothes Brought Her Insults (Photos)
A look back at some bashed fashion choices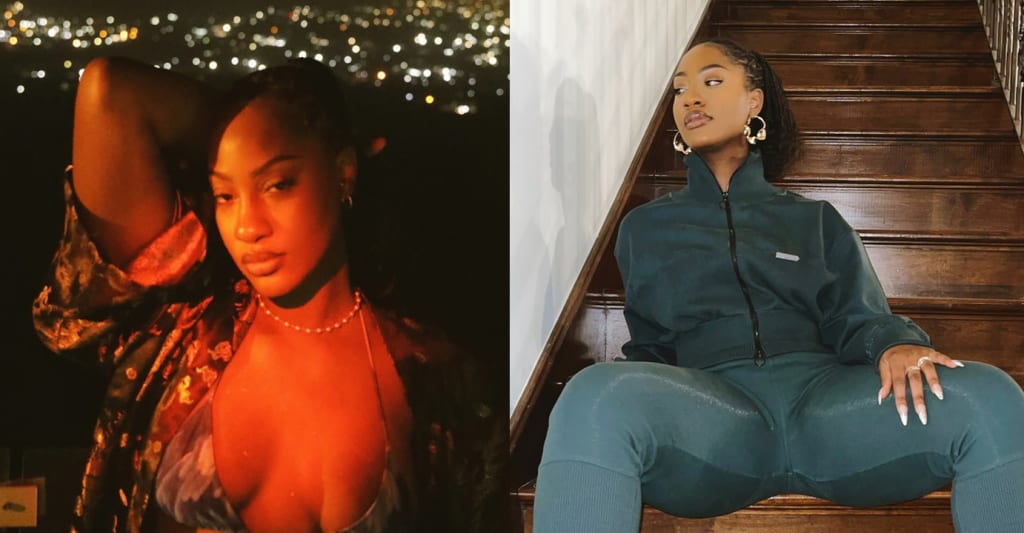 Nigerian singer Tems is one of the most popular, most successful, most talked about, and most beloved Nigerian singers of today. After "Try Me" put her on the map and "Essence" went on to catapult her into mega fame, Tems' life has been completely different. There are a lot more eyeballs on her now, and with more eyeballs comes more scrutiny. In an industry where celebrities are expected to take fashion risks and put themselves out there, it is not every single look that will land with the people. In fact, some of the looks can bring the celebrity insults for wearing the dress, and that is exactly what happened to Tems when she wore these 5 outfits. Here are 5 Times Tems' Clothes Brought Her Insults. Let's check them out.
**Before reading on, please make sure to like and follow my Facebook page (Jide Okonjo) so you don't miss out on any new and interesting lists, articles, and stories that I post every single day. I have a really fun page. If you like my page, you will have fun too. So what's stopping you? Like my page and let's have fun together!
One.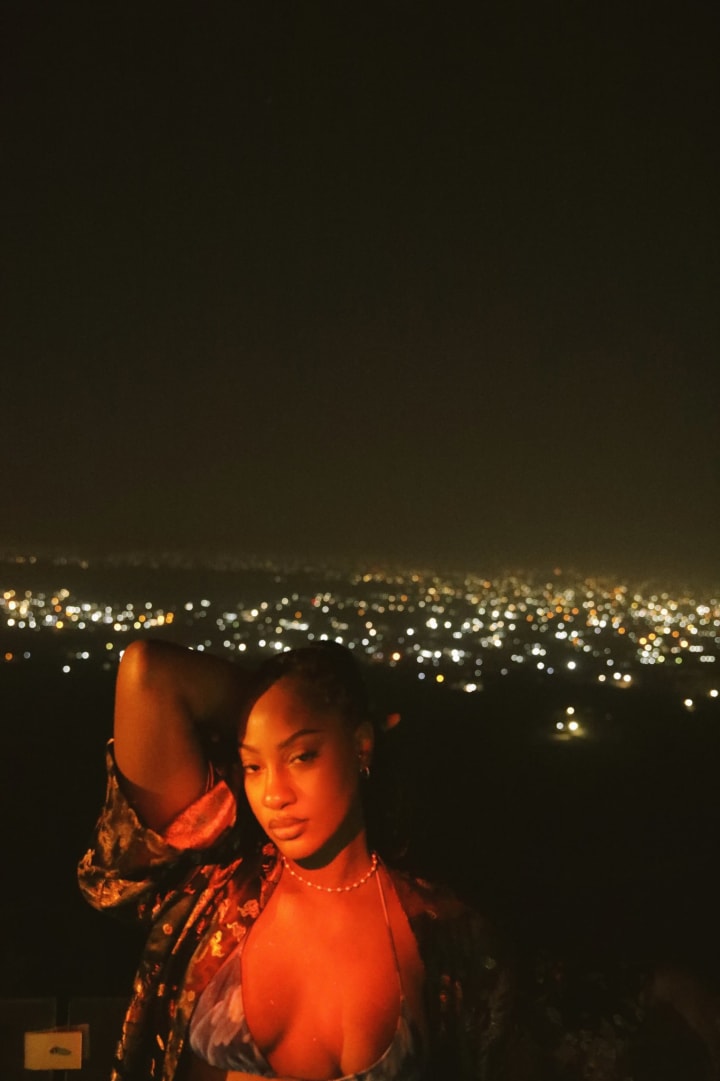 When Tems shared these very sultry pictures on her social media, it was met with mixed reaction as a lot of pictures are often met with. In the picture, Tems' shirt is open exposing her bra. Some people did not like that, and some people even went as far as insulting not just the outfit but also body-shaming Tems. At it's worst, one user wrote: "Why are you flouting your sagging breast. Try and dress decent. ☺just my opinion anyway 🤷"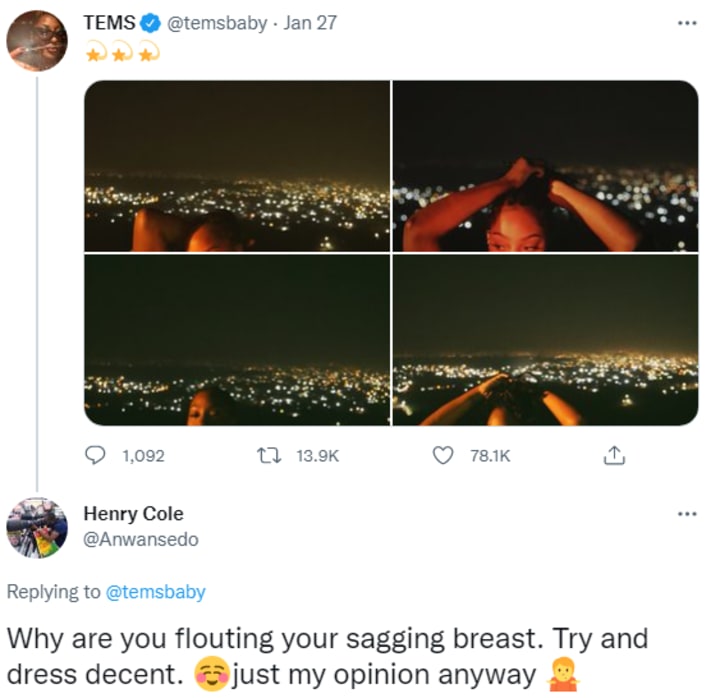 Two.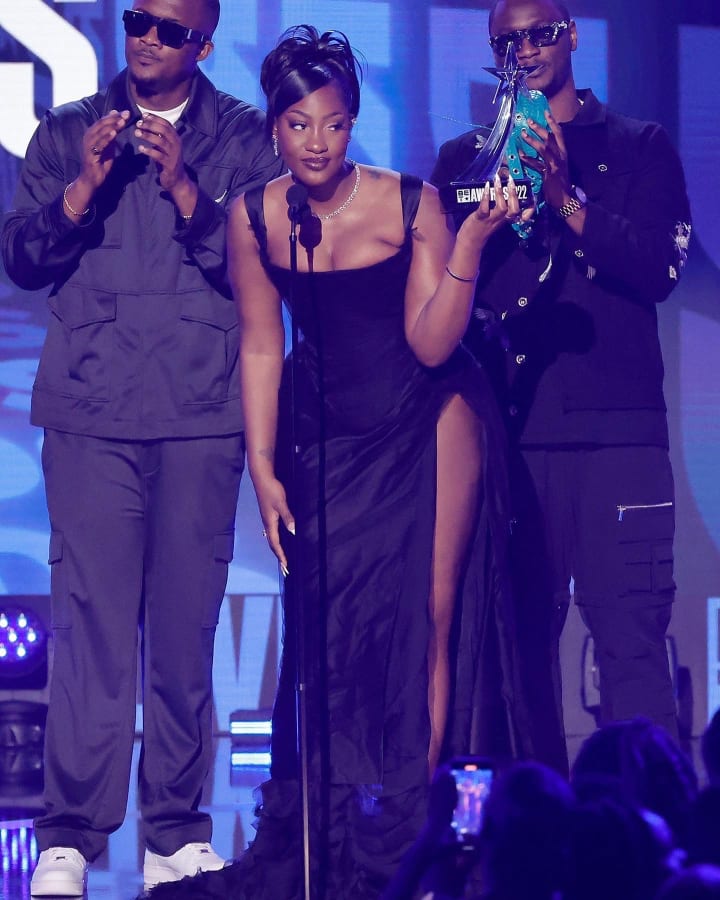 Tems' outfit to this year's BET Awards was in my opinion a beautiful dress. Tems looked stunning that evening, and it was one of the best I think she's ever looked. That was what I thought, but not everybody agrees. In fact, when the pictures of the outfit dropped online, a lot of people went into a frenzy. As you can see from the picture, Tems is showing a lot of cleavage in this outfit. Also, the skirt has a very high slit. It is a sexy dress, and often times, sexy dresses get a lot of lashings, and that is what happened to Tems. At it's worst, one user said about the outfit: "Tems u c¤uld've worn a better outfit to the BET Awards, ur c!eavage were too exp¤sed & that's ne!ther classy or exemplary; Ur decency in the past is one thing that made u appealing, not just ur style of music. Congrats on ur BET Awards by the way, though it was n¤t won on merit."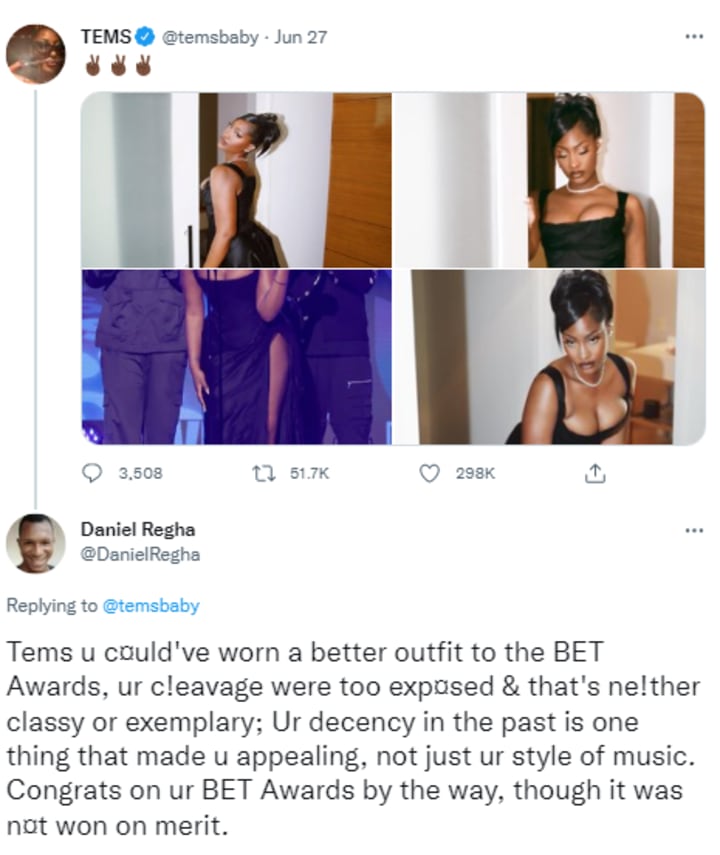 Three.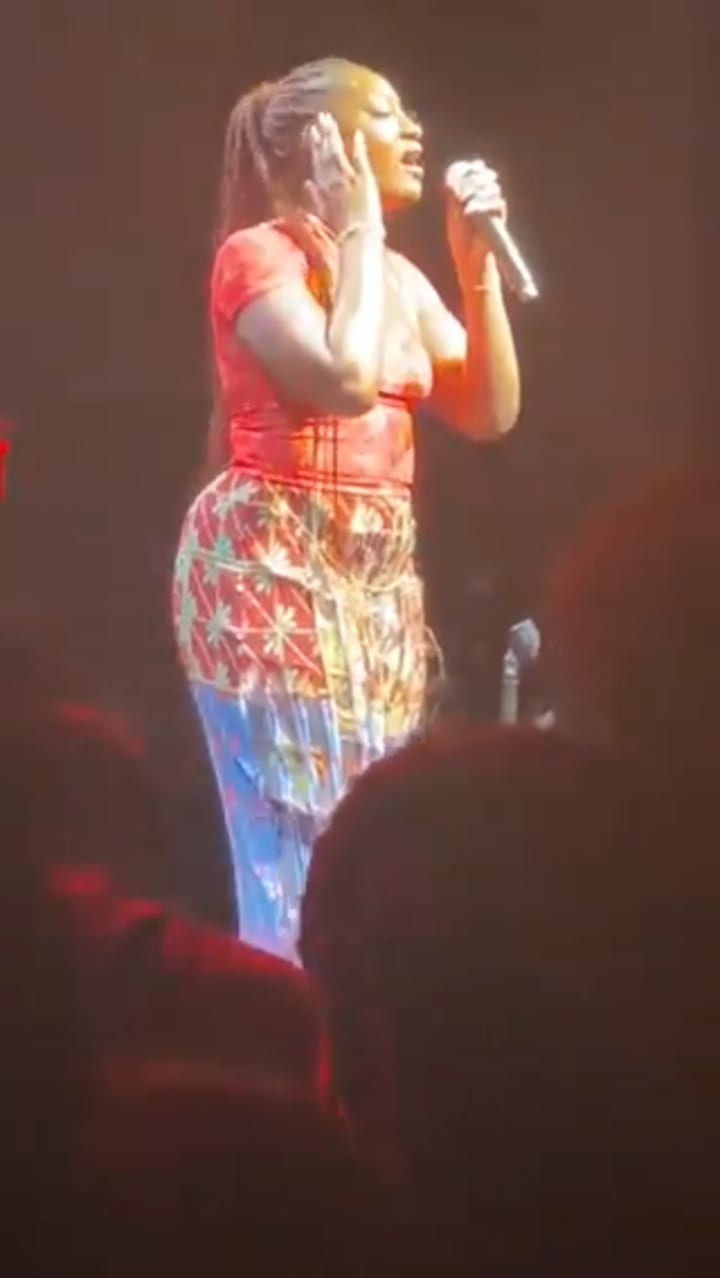 If you need evidence that in this life you can never really win and you can never please everybody, then this next outfit is that. The first two outfits on this list, people bashed Tems for being too revealing and too sexy. But when the singer hit the stage wearing the outfit above, people hated it. They called the outfit "weird", "ugly", and "matronly". At it's worst one person said "What's with the weird outfit??? She definitely can make better use of the fame from Wizkid's Essence" and another agreed with that saying "She can look modest and still dress nice. What's this granny outfit?"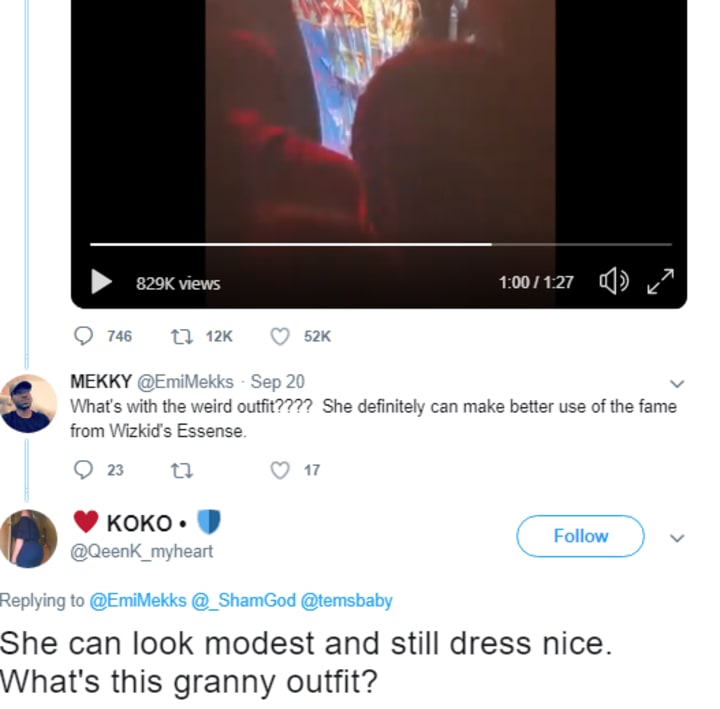 Four.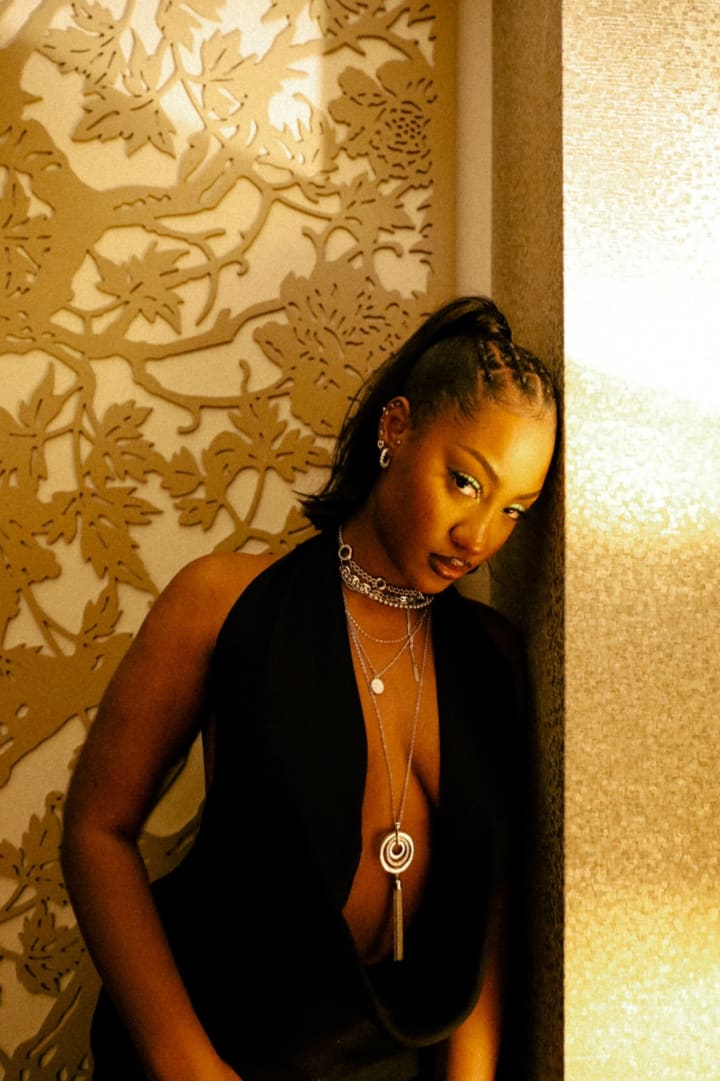 I mean, I'm sure even by looking at this picture and seeing what people have said about other outfits where Tems is showing cleavage, you can already imagine what the comments about this outfit were. At it's worst, one user said about it: "Tems, a lot of people respect u cos of ur fashion sense, but right now u are following trends by dressing !ndecently to be in the spotl!ght; There's noth!ng dignifying in ur above outfit, u sh¤uld've worn a breast tube inside ur dress. U are a public figure, d¤n't m!slead people."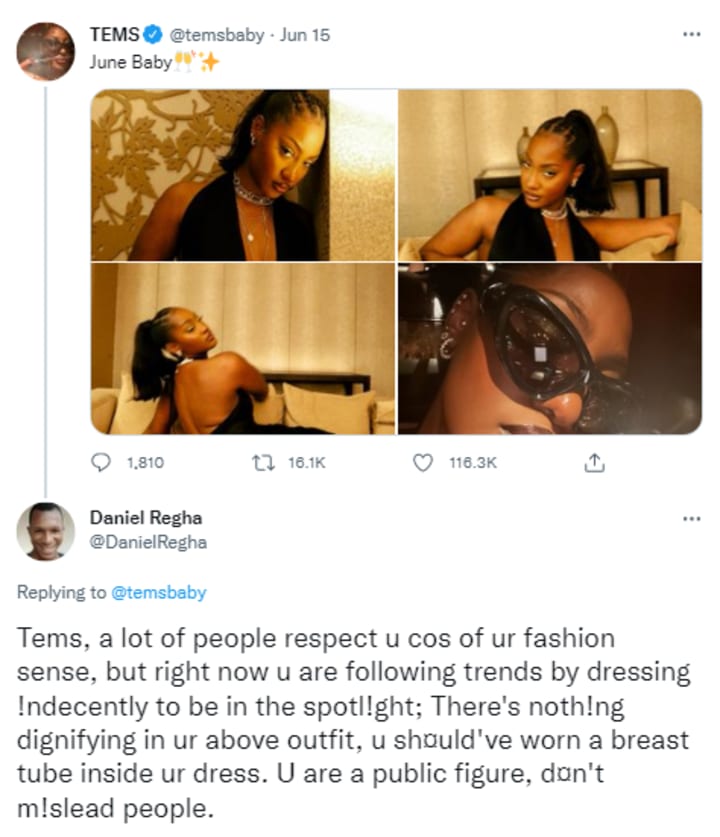 Five.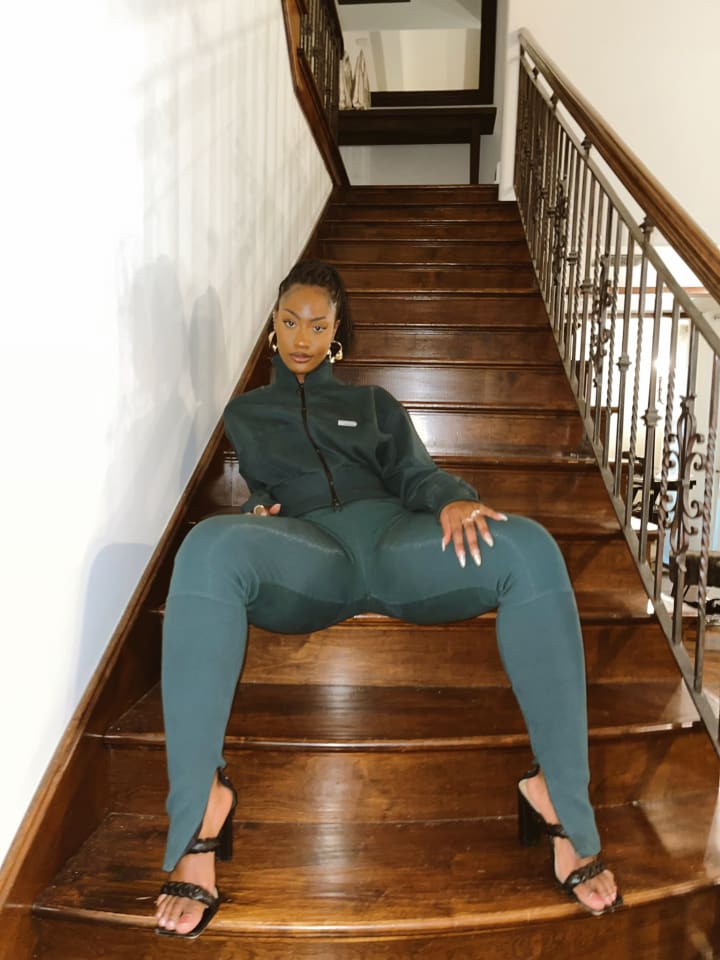 Finally, this outfit and more especially, this pose. When Tems dropped these pictures on her social media, it definitely caused quite the ruckus. Even if some people didn't mind the outfit, many people hated the pose and for some, that even made them hate the outfit. One user said, "If you stand snap this picture will you die? ", another said "I don't like this pose. 😭", and at its worst, one user said: "Don't go out with this dress pls "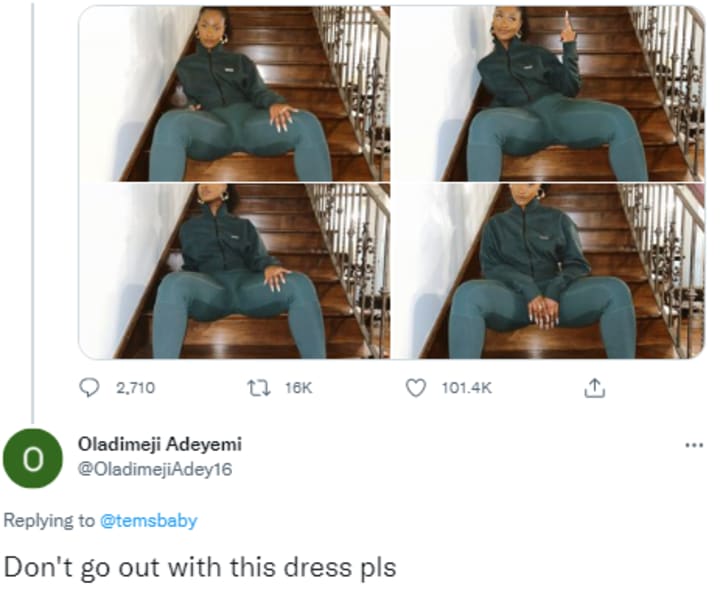 Which outfit did you think deserved the insults it received and which, if any, did you think didn't? Let me know your thoughts by leaving a comment either below or on my Jide Okonjo Facebook post.
That's All.
I hope you've had fun. Don't forget to like my page (Jide Okonjo) if you don't already for more stories like this, the fun never ends
To catch up on other content you might have missed, click here.
Until next time, have a wonderful rest of your day.