Witchy Movies for Halloween
Ladies Night In Movie Marathon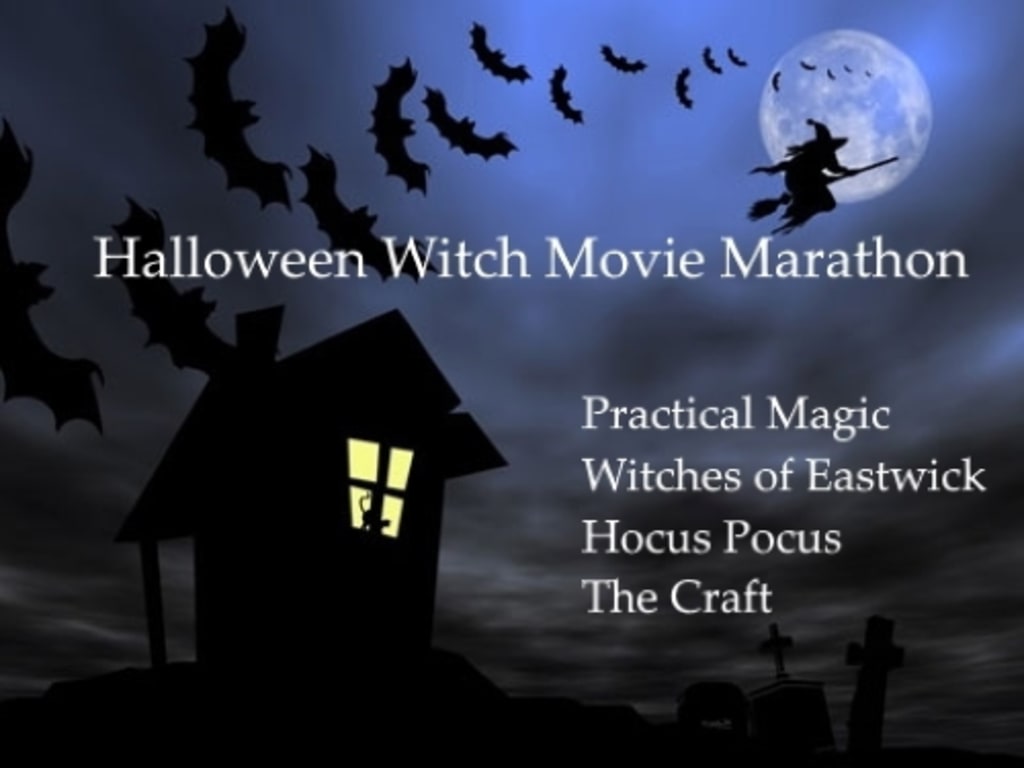 Let's face it, Halloween is one of the biggest holidays in the US and there isn't much we can do about it. It's not as popular as Christmas, but it's still big and there. So, why not have a cozy girls' night in and enjoy a movie marathon? Have to hand out candy? Throw in some popcorn and a great movie. Have a couple of free nights and don't want to go out? You need a movie.
Here are some of the top witchy movies every woman should watch at least once. Hope you enjoy!
Practical Magic
Sally (Sandra Bullock) and Gillian Owens (Nicole Kidman), born into a magical family, have mostly avoided witchcraft themselves. But when Gillian's vicious boyfriend, Jimmy Angelov (Goran Visnjic), dies unexpectedly, the Owens sisters give themselves a crash course in hard magic. With policeman Gary Hallet (Aidan Quinn) growing suspicious, the girls struggle to resurrect Angelov—and unwittingly inject his corpse with an evil spirit that threatens to end their family line.
With that all-star cast you've got to give this one a chance. Over 20 years old, it's still a fan favorite. It's also where Midnight Margaritas came from. Who wouldn't love heading into the golden years with a sister/best friend who wakes up in the middle of the night just to turn on the blender?
Witches of Eastwick
Three small-town friends, Alexandra (Cher), Jane (Susan Sarandon) and Sukie (Michelle Pfeiffer), each having lost the man in their lives, are feeling unfulfilled—until a furtive stranger, Daryl Van Horne (Jack Nicholson), arrives and begins courting each of them in turn. Eventually, Daryl tells them that they are witches. But as the three friends spend more time at his mansion, enjoying themselves and learning about their powers, they begin to worry about Daryl's ultimate intentions.
Okay, this one is from the 80s, but it's still an awesome story of real girl power and the love and trust that friends share. When these ladies find love with the same man, after a mistaken spell, things get wild fast.
Hocus Pocus
After moving to Salem, Mass., teenager Max Dennison (Omri Katz) explores an abandoned house with his sister Dani (Thora Birch) and their new friend, Allison (Vinessa Shaw). After dismissing a story Allison tells as superstitious, Max accidentally frees a coven of evil witches (Bette Midler, Sarah Jessica Parker, Kathy Najimy) who used to live in the house. Now, with the help of a magical cat, the kids must steal the witches' book of spells to stop them from becoming immortal.
Okay, this is a family movie and was targeted more at the kids, but let's face it, we can all relate to one of the Sanderson Sisters. Yeah, they lured innocent children away to steal their youth and turned that poor boy into an immortal cat, but it was just a bunch of Hocus Pocus.
The Craft
After transferring to a Los Angeles high school, Sarah (Robin Tunney) finds that her telekinetic gift appeals to a group of three wannabe witches, who happen to be seeking a fourth member for their rituals. Bonnie (Neve Campbell), Rochelle (Rachel True) and Nancy (Fairuza Balk), like Sarah herself, all have troubled backgrounds, which combined with their nascent powers lead to dangerous consequences. When a minor spell causes a fellow student to lose her hair, the girls grow power-mad.
Love it or hate it, this movie is a classic witchy watch. Yeah, it's filled with bratty teens, but it's also a must see. Even if you and your friends play a drinking game every time Nancy flips out.
There are of course a number of other great witchy movies that could be added to the marathon. Go for it. Personalize your own movie list and have a great Halloween!