We Have a Ghost Movie Quick Review
A family moves into a creepy old house in Illinois that neighbors say is haunted. In fact, youngest son Kevin (Jahi Di'Allo Winston) meets a ghost named Ernest (David Harbour) very quickly, and the two of them work together to discover Ernest's past. However, when Ernest goes viral, the CIA and the entire world want a piece of him.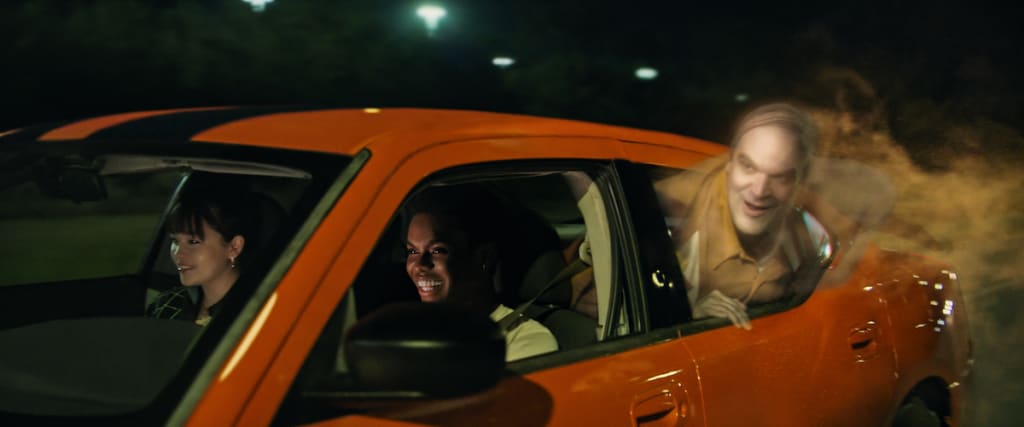 We Have a Ghost
Christopher Landon creates wonderfully quirky films in the horror genre that defy the prevalent cynicism of the day. In films like "Happy Death Day," "Happy Death Day 2U," and "Freaky," he expresses contagious joy through filmmaking, avoiding the pretension of "elevated horror." Whatever you want to say about their overall quality or execution; No one can argue that Landon was having a blast while creating them. When Landon is given permission to be silly in a way that only makes the viewer smile, his most recent film, "We Have a Ghost," is at its best. Sadly, his writing isn't as good as his directing, and the movie drags on for far too long and has multiple endings, even though it seems content to repeat themes and images rather than expand on the film's intriguing concepts. In the end, it's a good distraction, which is what most Netflix users are looking for. However, I hope he makes "Happy Death Day 3" before coming back to this world.
"We Have a Ghost," based on Geoff Manaugh's Ernest short story, opens with the Presley family moving into a Chicago fixer-upper. Father Frank (Anthony Mackie) is having trouble making ends meet and keeping a healthy relationship with his son Kevin (Jahi Di'Allo Winston, who was so good in "Charm City Kings" and "Everything Sucks!"), who is becoming increasingly distant from him. Kevin is exploring the attic almost immediately after they arrive when he comes across Ernest, a trapped soul (David Harbour in a silent performance). Although Ernest is unable to speak, he has been terrorizing residents ever since his death in the 1970s. Kevin does not become afraid. When he films Ernest with his phone, a viral ghost appears at once.
Imagine if YouTube and TikTok all contained a real ghost. What would take place? Landon doesn't do enough with this rich idea; all he does is have people screaming, including a man dressed as Jesus, outside the Presley home. It is fascinating to observe Frank's attempts to capitalize on Ernest's existence and become a kind of cultural agent. He even gets a nearby mode for an experience with Ernest, a scene that considers one of the film's additional noteworthy impacts and likely images from a Jennifer Coolidge appearance. However, the concept of what evidence of the afterlife would entail is not sufficiently explored. It doesn't have to be profoundly philosophical, but even a cursory investigation might have added some depth to this idea.
All things considered, "We Have a Phantom" moves an excess of concentration to a paranormal researcher named Dr. Leslie Monroe (Tig Notaro) and her CIA manager Arnold Schipley (Steve Coulter). In the middle of Landon's film, Ernest, Kevin, and their scene-stealing neighbor Joy (Isabella Russo) try to get away from the armed guards and figure out why this poor man hasn't fully moved on to the next plane of existence. This makes Landon's film feel like a chase/road movie. Naturally, as Ernest learns more about what really happened to him and who killed him, "We Have a Ghost" becomes a little bit of a mystery.
Winston still feels like a future star, and Harbour is effective in a performance that could have been all exaggerated mugging to make up for the lack of dialogue; despite being so young, he exudes such confidence and ease. There's sufficient to like here in both of them to hold adolescents and their folks back from checking virtual entertainment again and again while it plays, yet it comes up short on push that would make them put the telephones down for good. Simply put, there is a lack of urgency, particularly in the final act, which repeats ideas before ending multiple times. This film needs to hum like "Happy Death Day" and "Freaky," which were significantly shorter and felt more tightly knit.
Indeed, even as "We Have a Phantom" droops in places, it never totally blurs into the dull foundation of Netflix firsts of late. Even though we don't have a clear winner, we do have a decent distraction.
A fun, heartfelt horror-comedy directed by Christopher Landon that is enlivened by David Harbour's skilled apparition-acting is a fun, heartfelt film.
Reader insights
Be the first to share your insights about this piece.
Add your insights