The old man's cabin
Horror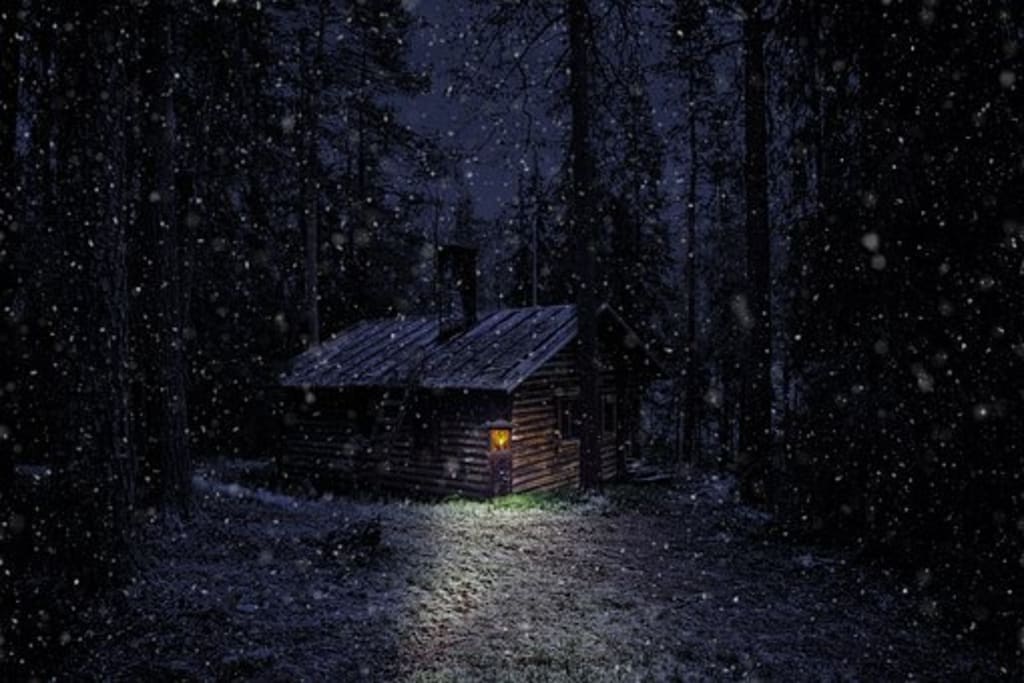 "The cabin in the woods had been abandoned for years, but one night , a candle burned in the window." It was a cold winters night when I looked out my cabin window. I was surprised to see a light, at first I did not know where the light was coming from.
There had been no light coming from that way since old man Isaiah jones passed away over twenty years ago. He was a strange man when he was in town everybody gave him a wide birth. He had a scraggly long beard, crooked nose and hollow eyes. That with his fiendish grin with half his teeth missing gave him a devilish look.
He wore the same clothes a red flannel shirt, bib overalls, dirty boots and amish style hat. He wore the same stained and hole riddled brown coat every winter. He had a musky filthy smell to him he looked like he had not bathed in some time.
He was a widower his wife died in a drowning accident some suspected he killed her. They had a son who moved out of the house soon after his mothers death. It was then some people said that isaiah snapped. He stopped taking care of himself, let the house went into disrepair.
Then one summer I noticed that old man Isaiah Jones was not showing up in town. I also noticed there was no light coming from cabin at night. Come think of it there had been no light coming from that house for a long time. So when the next morning came against my better judgement I decided to check in on old man Jones.
I walked up his broken up driveway the trees surrounding his house loomed ominous overhead. The trees rustled a little bit making it sound as if someone was following me. I walked past his old rusty car I noticed the windows were open. There was a musty smell coming from inside the car. I looked inside there was mold and mildew everywhere in the car.
Then I noticed there was feces possibly from mice I was not sure. That was alarming because even though the car was old it still was still in running condition. The old man would drive that thing everywhere. The car always made an eerie squeak when it came to a stop. I felt a chill go down my spine as a sense of foreboding overwhelmed me.
With much hesitation I walked up to the house and knocked on the door. I called out but he did not answer I knocked again no one came to the door. I carefully turned the knob it was not locked I slowly opened the door. Another shiver went down my spine as the door made a creepy creaking sound.
"Isaiah" I called but still no answer I looked into the kitchen there was a stack of dirty dishes in the sink. The living room had dust and cobwebs everywhere. I walked down the hallway, and that is when it hit me. A putrid smell hit me like a punch in the face. I started to cough violently I felt like I was going to vomit.
I covered my nose and mouth as I opened the bedroom door. There he was lying in bed. There was flies everywhere his body was severely decomposed. I ran down the hallway and out the door it was the most grotesque thing I had ever seen. Words cannot describe the smell of a rotting body it is a smell I do not want to smell again ever.
I ran to my house, and called the police they came to investigate. They interviewed me to make sure I did not murder him. Despite the bad state of old man Jones. They determined he had a heart attack and probably died in his sleep. It was then his son came to bury his father, his son did not seem to be distraught.
It appeared his son had a strained relationship with his father. It was not long before there was a for sale sign. Everyone in the area knew old man Isaiah Jones. Nobody wanted to buy a place that housed a creepy man. especially a house where the same creepy man died in. Suffice it to say the house did not sell.
The son abandoned the old cabin, and the county took possession of the property. For whatever reason the county just let the house sit there and rot. That is why I was so startled to see the light come from that direction.
It was quite cold outside my thermometer read twenty degrees not exactly a good night to be out. Was it someone who was lost? or was it some teenagers causing trouble? Either way curiosity overtook me, and I decided to investigate. I put on my winter boots, coat, hat, gloves, and grabbed my flashlight.
I walked out of my cabin and walked across the road "hello?" I cried out. No one answered I then made it to the edge of the driveway and stopped in my tracks. was that light coming from the cabin? I felt my throat go dry. I walked a couple more feet and realized it was a candle in the window.
The window to old man Isaiah Jones room I felt a chill and it was not from cold. That foreboding feeling came over me I had felt all those years ago. As I drew closer I thought I saw movement I strained my eyes to get a better look. Suddenly a face appeared behind the candle it was the face of an old man.
I screamed, and turned away I slowly turned back and looked at the window. The face was gone every fiber of my being the fabric of my soul told me to run. Instead I found myself walking towards the house. "It must be kids playing a joke on me" I tried to convince myself. But it was so cold out and getting colder kind of a cold night for a prank.
I walked up to old man jones car the light from my flashlight fell upon the car. His son had not taken care of the car and it was completely rusted out. The interior was chewed up from mice, and the smell of feces repulsed me. I turned to face the door my hand was trembling as I reached for the door knob.
I jumped as a noise came from the car was it starting? It was sputtering as if someone was trying to get the engine to turn over. But that was impossible that car had not ran since the old man died. I turned my flashlight on the car again. There was someone in the car it was a man with an amish hat on.
He turned to face me it was old man Jones he had a most horrific look on his face. I called out in horror and dropped my flashlight as I ran to the cabin opened the door, and slammed it behind me. Then I panicked what was I thinking? I needed to get out of there!
I tried to open the door but it was locked I needed to call the police. I pulled out my cell phone it was dead. I looked around the house it was dark the only light coming from old man Joneses room. I was not thinking straight I figured I could run to the room, and break the window.
I ran into the room, and came to a stop someone was lying in the bed. I shook in fear as Isaiah Jones sat up. I was frozen I wanted to run but I watched in fascinated horror. He then he got out of bed and grabbed the candle from the window sill.
He then turned to look at me the light dancing off of his hollow eyes. He then grinned at me that awful grin.
"why have you disturbed my sleep?" he asked in a gravelly voice.
I tried to speak but the words would not come out.
"Why?" he demanded in an inhuman sounding voice.
It was then I ran, I ran to the window from the other side of the bed. I screamed as he grabbed me by my coat. He threw me to the floor knocking the wind out of me. His face was contorted in anger as the candlelight flickered across his face.
I tried to sit up but he kicked my in the chest I gasped for air then he put his hands on my throat. They were as cold as ice as he squeezed his hands around my throat. I felt like my he was going to crush my throat somehow I kicked him. He loosened his grip and I scrambled to my feet I accidentally kicked the candle. It rolled to the bed catching the sheets on fire I ran to the window.
I smashed the window with my bare hands blood flowed out my hands and wrists. The fire was spreading fast as I tried to push myself through the window. Then I felt a great pain in my back I yelled I felt like a hornet stung me. It was then I realized I had been hit by something hard I fell back to a sitting position.
"Why?" Isaiah screamed again .
He had a shovel in his hand as he caught fire he screamed as he lifted the shovel. I braced myself for the killing blow then he dropped the shovel as the fire started to consume him. The smoke was getting thick so I quickly made it out through the window.
I stumbled past the car and hobbled back to my house and called the police. I told them everything that had happened of course they did not believe me. When the fire died down the looked through the remains of the cabin. The found the burned remains of Isaiah Jones his body burnt beyond recognition.
They were not able to identify the body I begged them to check any medical records to prove it was his body. They found no records and demanded for me to tell them the identity of the body. They even went to the grave of Isaiah Jones. They took pictures showing that the grave had not been disturbed.
There were no medical records to identify the body either. I begged and pleaded with them that it was Isaiah Jones. Everyone including my family thought I had lost my mind. I was sentenced to a mental institution for the rest of my life.
It has been a frustrating journey I know what I saw I know what happened. It now has been ten years since my sentencing, and I have accepted the fact that no one will believe me. It was then a new patient came into to the building. He looked old, and somewhat familiar He then looked at me and grinned. I felt a shiver go down my spine that wicked evil grin I shook in fear.
"Isaiah?"
supernatural
About the author
I am an aspiring author I am currently working on getting my first novel published. I love to write science fiction, fantasy, horror and dabble in regular fiction.and a little bit of poetry.
Reader insights
Be the first to share your insights about this piece.
Add your insights