The devils floor
Not all 5 star hotel floors are 5 star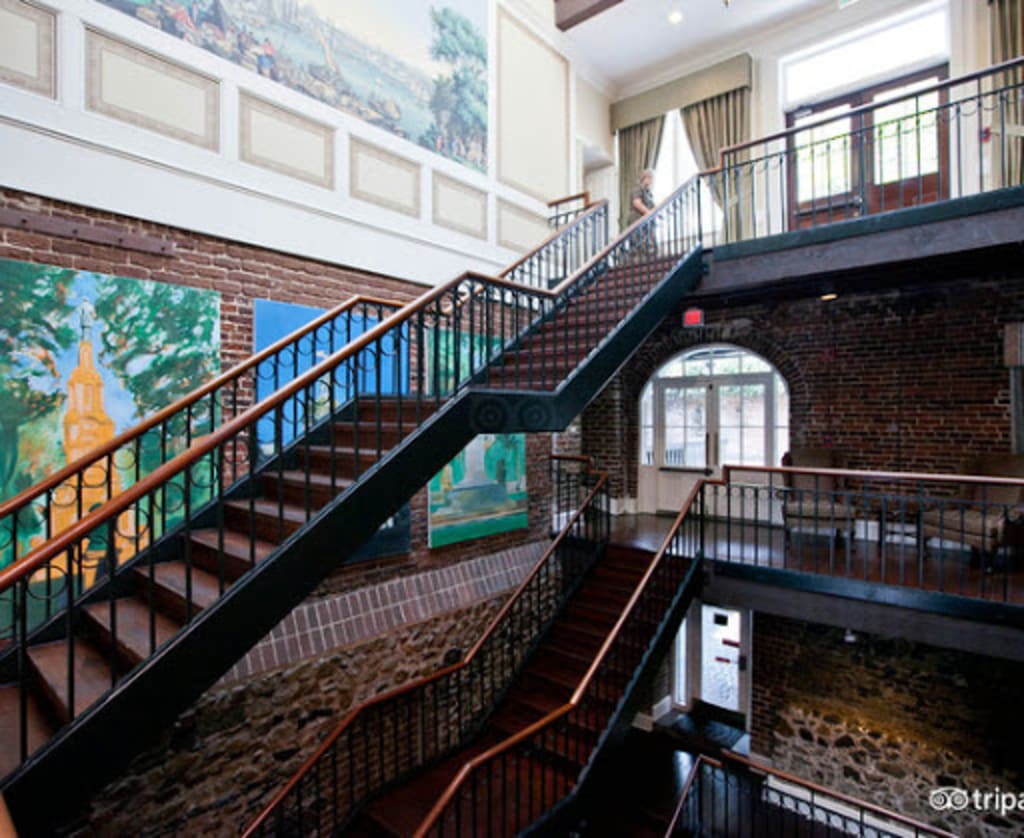 Not the actual hotel
Ok so Cramped space, small beds, a small tv, the life living in a RV with 3 people and leading a monster hunting group. However while there are perks and downsides, this time my teams hunts on the devil's floor, located in a local 5 star hotel in Atlanta Georgia. Once me and my team got there I sent Steve's wife to gather information on the hotel, she had on a purple spaghetti strap top, a black leather jacket, black jeans, and black boots, Steve had on a white shirt, blue jeans, and tennis shoes, and me... my usual University shirt and custom made suit. Steve and I investigated the hotel itself, we questioned the manager who claimed that "your the first guest who will stay in that floor since the 80s" and we pressed further and and found out there was a botched ritual to summon the devil done on that floor.
Steve getting the sense the manager was not telling us everything punched him in the face, thru him over the desk, jumped over the desk slammed his foot on the managers balls and slammed him into the wall, which got the manager to crack. Night came around and me and my team investigated the floor, doing EVPs in room 209 a room where a man supposedly committed suicide, but we got nothing so we moved to room 210 a room where a mistress was shot to death.
Here it was that we caught the voice telling us to "leave or die" of course completely I phased by this we tracked on for a good 20 minutes in that room before Steve complained about pain in his leg and he rolled up his pant leg to reveal long 3-set bloody claw slashes which I stiched up (using the medical kit I brought along and my medical knowledge since I come from a looooong line of surgeons). Steve was taken out of commission so it was me and his wife, we investigated room 213 were the devil himself is said to reside and after a good 12 hours of nothing at exactly 3 in the morning she was suddenly flung backwards and pinned to the bed screaming as claw marks appeared on her stomach and gashed her shirt, I took the bottle of holy water and splashed it on her however I heard a loud screeching sound and I myself was flung backwards with such a force that it out a me size hole in the wall.
"Crap I will have to pay for that" I said to myself and then announced to the demon I was not afraid of it and kept going performing rites for Steve's wife and after a long excorsist like battle for the girl at 5 in the morning she finally let out a loud demonic yell so soul reaching that it will put the fear of god in even the strongest atheist and then she went still. I manage to bring her back to life by using CPR (although I don't have a liscense who really needs one to proform such a easy action) and as she opened her eyes the sun shone on her face thru the windows as the day began to rise, we left the room and we got Steve some medical attention for his leg and then hours after Steve got out of the hospital we hit the road again, to Walmart were we got some supplies and I made a deal with the manager to let us park the RV for the night as we needed a well deserved rest..... man I love my job so much.