Rutger Hauer: an Unlikely Vampire, Now Immortal

Rest in peace, Etienne Navarre.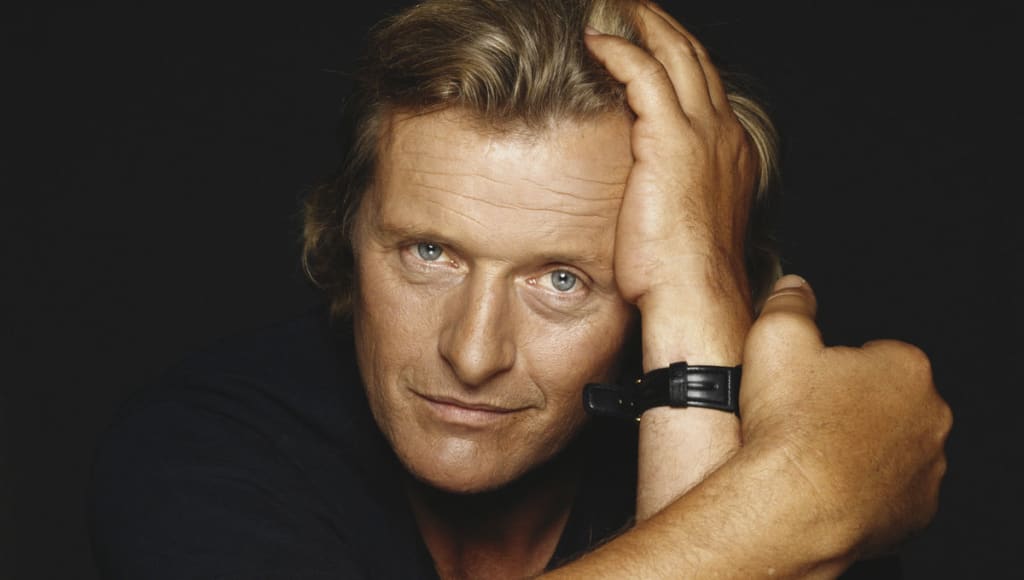 You remember Ladyhawke, don't you? Iconic medieval fantasy film about a rugged black knight with golden locks who falls in love with Michelle Pfeiffer, secretly a hawk by day. Oh, yeah, and the knight turns into a wolf at night. You can't buy stories like that anywhere. They're timeless.
We're Also Sure You've Heard of the Untimely and Tragic Death of the Man Behind the Knight, the Villain Behind the Blade Runner: Rutger Hauer
He left us too soon—and with a bevy of true classics, some of the sci-fi kind, but many of the horror genre, for sure. Those striking raptor eyes and his chiseled voice won many over, but in great favor and fun, we celebrate him in a way the horror genre only could: through the eyes of a vampire!
Yes, indeed, the man did much more than just turn into a wolf in one classic medieval romance. He was, in fact, quite the comedic icon. Remember the film Blind Fury? Only Jackie Chan could match his fever pitch, and the fact was the guy with the glazing light blue eyes mimicked a blind man with a vengeance to a tee.
Such is the case for many of his villains (and perhaps one hero) in a slew of true shlocky B-horror editions that could only make a vampire junkie bulbous with glee. Yes, indeed—Hauer could ham it up with the best, such as with...
'Dracula 3D'
Come on... This is Rutger Hauer, man. Who else could play a bad-ass Van Helsing better? (perhaps Anthony Hopkins?) The fact is this is just proof that the actor can swing just about anything into an over-the-fences role of delight, portraying the vampire killer based on Stoker's book for a new age.
For sure it must've made Bela Lugosi, Gary Oldman, and Francis Ford Coppola shriek in terror as if Hauer resembled the most bizarre fleshy cross, tainted with his hammy acting prowess. Bravo. This is a film deserving to be on the shelf of any horror freak.
'Dracula III: Legacy'
Speaking of Dracula portrayals, we all have our favorites: Christopher Lee was a true legend, often understated (but we don't know why). The character had that aura only an actor of true slick style could manage when you think about it.
Hauer managed it. All with blonde hair, we might add. And he did it against the kung-fu expert who portrayed Bruce Lee, of all people. It may arguably be the perfect combination of camp, gothic, and horror, with not one sub-genre straying too far. And isn't that what we've always wanted with our favorite Universal monsters anyway?
Think about the more forgettable portrayals in our history—like Gerard Butler (who we can't hear without a really thick Scottish accent), or Dominic Purcell (honestly he resembled an Abercrombie & Fitch model more than the father of the damned), or even Luke Evans (he was actually decent).
You can honestly say that Rutger Hauer stood out the most...
'Buffy the Vampire Slayer'
That is, until this one came out! An instant cult classic, but for other particular reasons. It was definitely cheeky. Campy. Fun. And perhaps a little stupid. But that was precisely the point. That and freakin' Pee-wee Herman played a vampire lackey to Hauer's more debonair gothic rendition of a vampire lord, oddly named Lothos.
His scenes will forever remain iconic. With Kristy Swanson, of course, looking bloody hot in a cheerleader skirt. That and Hauer has the ultimate honor of having staked one Donald Sutherland—another true iconic actor—in the heart. And let's not forget Luke Perry!
We, of Course, Don't Remember Rutger Hauer for THESE Particular Roles
Blade Runner. Hobo With a Shotgun. Split Second. The Hitcher. These defined Hauer. Without a doubt, though, when we look at the man's entire filmography, you can definitely say he defined creative originality! Rest in peace, indeed. Ashes to ashes, dust to dust.
READY TO CHECK OUT MORE SCARY HORROR STUFF? JUST CLICK HERE!