Movie Review: 'Nope' Spoiler Free Review
I will not spoil the fun of Nope, not that I think I could spoil anything that is as much fun as Nope.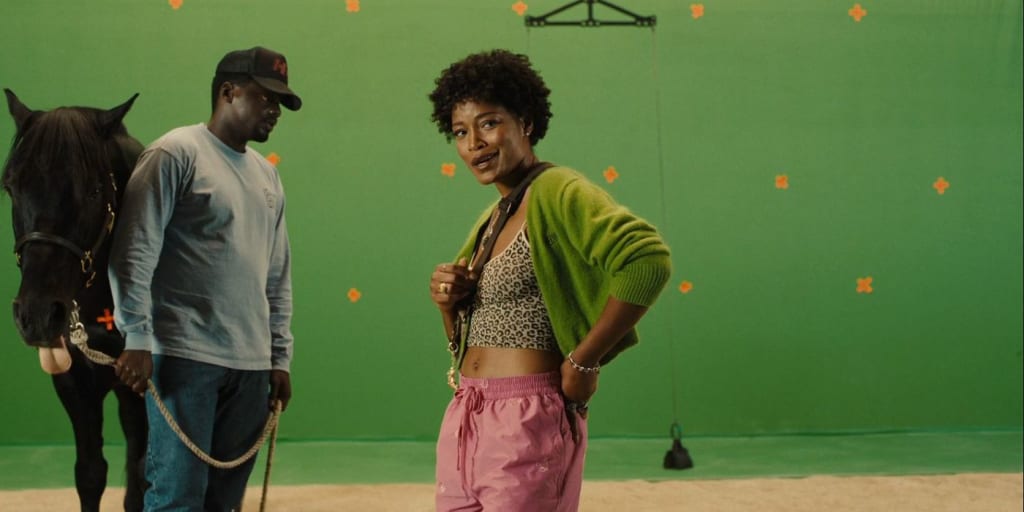 A shoe stands on its end, the toe pointing into the air. It's an evocative image, shoes don't do that. But a shoe does do that in the new Jordan Peele horror thriller Nope. Come to think of it, the sight of a shoe in such an unnatural position is the kind of image that might cause one to say 'Nope' while slowly backing away from whatever might be the cause of this image. It's not just a shoe though, there's a well placed drop of blood on that shoe as well that offers another disturbing aspect to this sight. Then the context for the shoe comes fully into frame and…
I am not going to spoil this for you, I promise. I am going to do a little tap dancing to get through this so bare with me. I want you to see Nope because it is so unique and thrilling. So, trust me when I tell you that nothing I write in this review will reveal anything important regarding the surprises and shocks of Nope. And trust me again when I tell you that those shocks and surprises are worth every penny of your ticket price.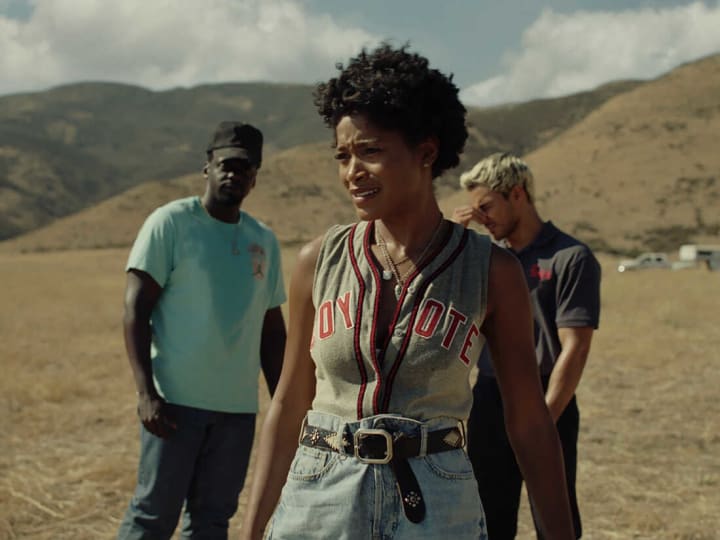 Daniel Kaluuya stars in Nope as O.J Haywood, the son of a behind the scenes Hollywood legend. His father and grandfather before him were Hollywood horse trainers and the only black horse trainers in Hollywood. They trained horses for a host of famous films. Lately however, with the increasing popularity of CGI, there isn't much work for horse trainers. O.J has been reduced to having to sell some of his beloved horses.
One of the most loyal buyers is a former television star nicknamed Jupe (Steven Yuen). Jupe used his television fame to open a western themed tourist attraction next door to O.J's horse farm and has purchased horses from him before. Jupe is a nice enough guy but he has the instincts of a vulture and is ready to buy O.J's farm if he can convince O.J to sell. Meanwhile, since the untimely and very strange death of his father, played by David Keith in a very effective cameo, O.J's been working alongside his flighty and excitable little sister, Em (Keke Palmer).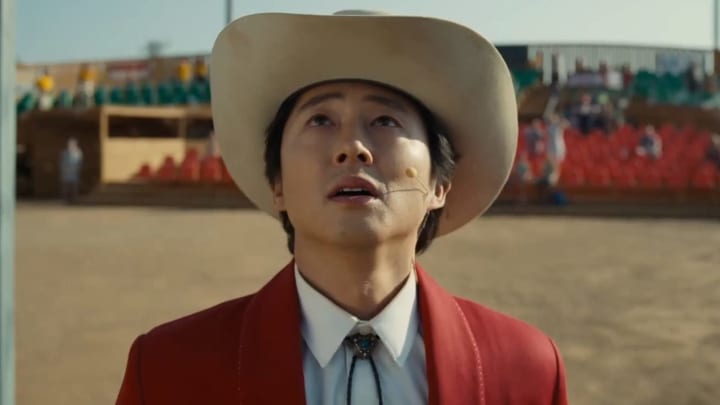 That's a lot of the background elements that inform what is to come in Nope which uses that backstory to create the motivation for these characters to take on the danger that slowly reveals itself as we begin to move from the end of act one and into the full blown horror thriller of the final two acts. Much like how Spielberg slowly revealed the shark in Jaws or how he used light and sound to play peek-a-boo with the aliens of Close Encounters the Third Kind, Jordan Peele is Spielberg-esque in how he reveals and makes use of his horror device, his monster, his alien, his…
Like I said, I am not going to spoil this. I'm not sure I could spoil it even if I wanted to but regardless, I am taking care with your viewing experience because I want you to see this for yourself. Jordan Peele is a brilliantly ambitious artist and yet, he's also a wildly talented genre filmmaker. While you can likely search for and apply a meaning to Nope, as people, including myself have done with both his Get Out and Us, what really stands out about Nope is how it is mainly a John Carpenter style horror thriller where the meaning is less important than the thrills evoked by what is happening and how extraordinary the craftsmanship of it all is.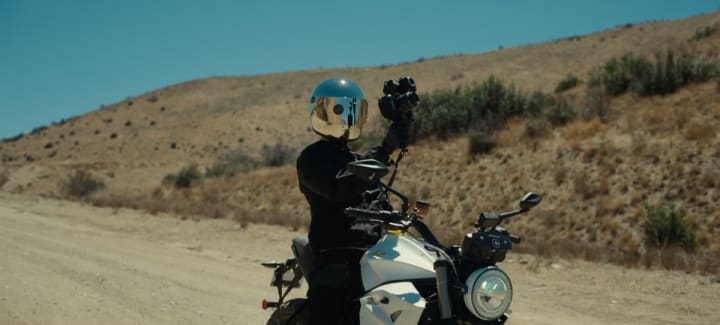 While Spielberg may be the best comparison for what Jordan Peele does as a filmmaker, John Carpenter is right there as well. Peele combines the best of both Spielberg's pop entertainment and Carpenter's grimier, grittier, low budget aesthetic in ways that create a style that is all his own. As much as I feel the comparisons to great filmmakers are warranted, I can't take away from the fact that Jordan Peele is an artist with his own unique style and perspective.
One of those distinct elements of Peele's artistic style is the grounding in black culture. Nope is not a movie that puts its subtext forward as Get Out does from beginning to end and Us does in a stranger, more disjointed fashion. Nope simply has black characters who have a generational link to Hollywood's past that is symbolic of the role that so many black people in Hollywood played over the years. That subtext could be read in many different ways but for me, it was intended as homage to black history in film and not necessarily carrying any further weight into the rest of the plot which is a classic horror thriller with all the beats and excitement of a monster movie.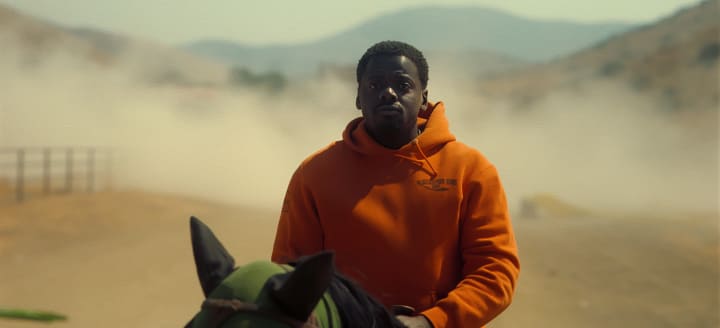 The word 'Nope' never fails to get a laugh in the movie Nope. That's not to say that Nope is a laugh-riot. Rather, it's the kind of tension breaking laughter needed to create an even bigger tension. Peele times these moments brilliantly to set the audience at ease and then return that anxiety moments later. It's almost a perfect symphony in line with the amazing score for the movie by the brilliant Michael Abels. The timing of what happens in Nope in each scene is impeccable and it all builds to strong rises and falls like a great symphony until the very end.
Nope is one of the best movies of 2022 and an absolute must see movie.
About the Creator
Hello, my name is Sean Patrick He/Him, and I am a film critic and podcast host for the I Hate Critics Movie Review Podcast I am a voting member of the Critics Choice Association, the group behind the annual Critics Choice Awards.
Reader insights
Nice work
Very well written. Keep up the good work!
Top insights
Expert insights and opinions

Arguments were carefully researched and presented

Easy to read and follow

Well-structured & engaging content

On-point and relevant

Writing reflected the title & theme
Compelling and original writing

Creative use of language & vocab

Heartfelt and relatable

The story invoked strong personal emotions

Masterful proofreading

Zero grammar & spelling mistakes
Add your insights