Movie Review: 'The Black Phone'
Scott Derrickson delivers some of the best scares of 2022 in The Black Phone.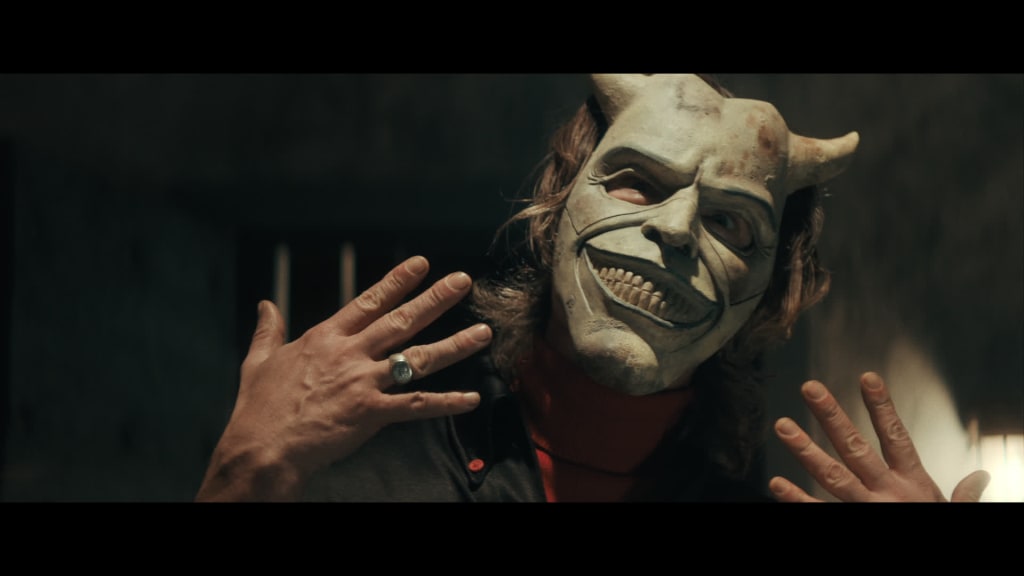 The Black Phone is a terrifically terrifying tale. Directed by arguably the best horror movie director working today, Scott Derrickson, The Black Phone delivers both an incredibly rich story and a legitimately scary horror movie. Featuring one of the best performances of Ethan Hawke's extraordinary career, The Black Phone is far more than a one man show. Scott Derrickson has thought of everything in The Black Phone and takes care to cast the movie perfectly while pacing it to near perfection as well.
The Black Phone stars Mason Thames as Finney and Madeleine McGraw as Finney's little sister, Gwen. Together they have navigated losing their mother to mental illness and suicide and their father to his ongoing alcoholism and self loathing. The once loving dad, exceptionally played by Jeremy Davies, has become belligerent and abusive. Brother and sister navigate around his moods amid the outside chaos caused by a recent spate of abductions in their Colorado neighborhood.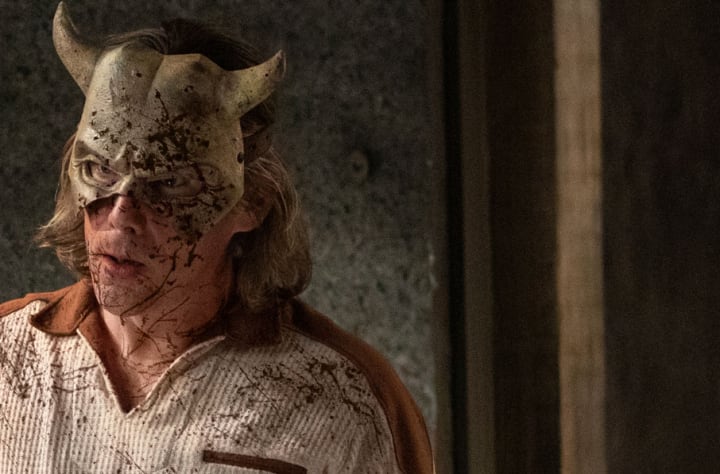 A serial killer referred to in the media, and in whispers around their school, as The Grabber (Ethan Hawke), is terrorizing the neighborhood. The Grabber's M.O involves boys, those around Finney's age, and a mass of black balloons that he uses as a distraction to drag kids into his black van. From there, the boys are held in a dingy basement with a busted black phone on the wall that is clearly disconnected.
Plucky Gwen has a secret super power. Gwen's dreams can tell her about where the abducted children may be. She has brief, broken visions in her dreams that come to the attention of Police after she gives details of one of the kidnappings to one of her friends. Gwen somehow knows about the Black Balloons despite the Police not revealing that detail. This leads to her father becoming a suspect in the case. Dad functions briefly as a terrific red herring.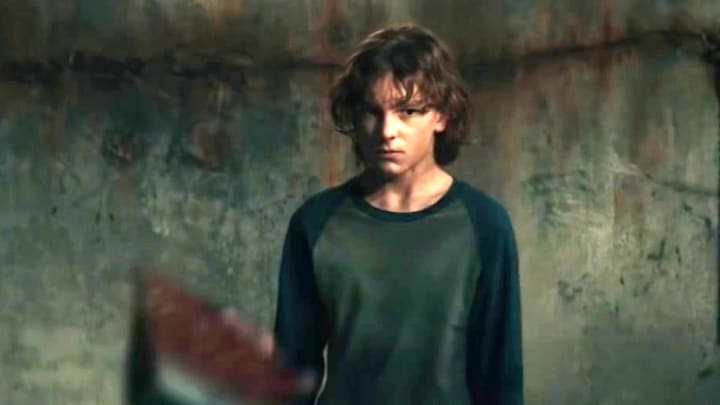 The duo of Mason Thames and Madeleine McGraw are spectacular together. They are sweet, funny, and deeply sympathetic. Their close relationship provides the heart of The Black Phone and director Scott Derrickson smartly uses their dynamic to provide a strong emotional undercurrent to the horror elements of The Black Phone. No mere children in danger, Finney and Gwen are smart, resourceful and resilient young people that you can't help but root for and fear for.
Ethan Hawke delivers one of his best performances ever in The Black Phone. His The Grabber is more than just a creepy mask and a strange voice. Hawke invests his performance with a childlike quality that provides layers to when the character becomes truly menacing. It's a performance rich with layers of unspoken back story and trauma. The film never pauses to ponder The Grabber, he's a figure of menace throughout, but Hawke gives you a strong sense of the awful man behind that creepy mask.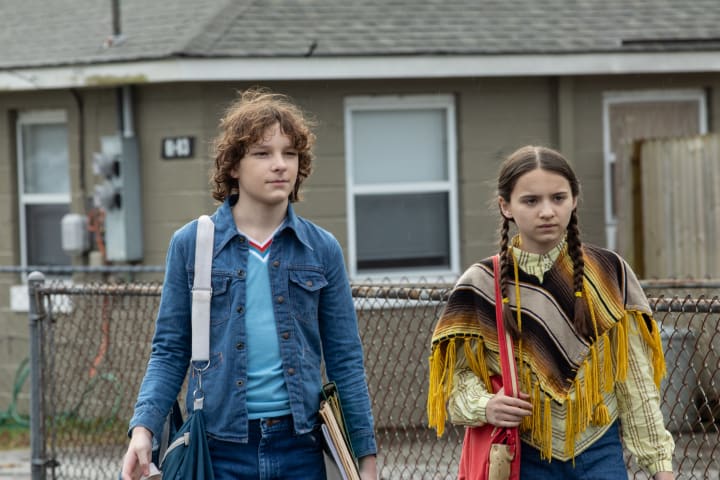 As a film critic of more than 20 years of experience, I tend to be so jaded about jump scares that I rarely react. A jump scare has to be particularly good to get to me. The Black Phone has one of the best jump scares I've ever seen. It's only a slight camera move from a one shot, to a two shot and yet it is completely terrifying. I legitimately jumped in my seat. After not heavily relying on shocks, Derrickson sprinkles his jump scares so cleverly that they never fail to get the intended effect.
Smart, scary, and wildly compelling, The Black Phone is among the best horror movies of 2022. The Black Phone debuted in theaters nationwide on June 24th, 2022.
movie review
About the author
Hello, my name is Sean Patrick He/Him, and I am a film critic and podcast host for Everyone's a Critic Movie Review Podcast. I am a voting member of the Broadcast Film Critics Association, the group behind the annual Critics Choice Awards.
Reader insights
Nice work
Very well written. Keep up the good work!
Top insight
Easy to read and follow

Well-structured & engaging content
Add your insights