Movie Review: 'Hereditary'
Ari Asher arrives with terrifying 'Hereditary'.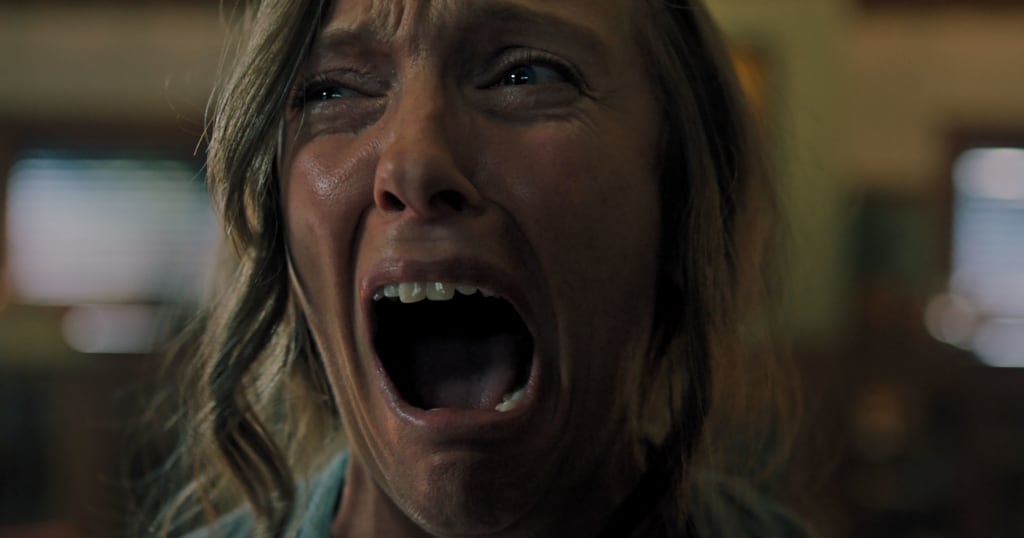 Hereditary is a shocking and deeply unsettling horror thriller. Writer-director Ari Ascher's remarkable attention to detail in production design, cinematography, and even character blocking, where a character is positioned in the frame, contributes to the brilliance of Hereditary. That the film also features a career-best performance from Toni Collette only underlines the genius at play in Hereditary.
We meet a family on the day they are laying their matriarch to rest. Annie's (Toni Collette) mother has recently passed away though she struggles to feel the loss. Annie's daughter, Charlie (Milly Shapiro) was much closer with her grandmother and appears to feel the loss a great deal more. Annie's husband Steve (Gabriel Byrne) is sympathetic and supportive while son Peter (Alex Wolff) appears to be a typically aloof teenager.
It's clear to us from the staging of these early scenes that there is something eerie and strange about grandma. Annie makes a living as an artist who crafts tiny recreations of her life in models and we learn about her relationship with her mother visually via one particularly striking model depicting Annie breastfeeding her daughter and through Annie's secret visit to a grief support group.
As part of this group, Annie meets Joanie (Ann Dowd), an overly friendly, seemingly sympathetic figure who is eager, perhaps too eager, to help Annie deal with her loss. This becomes clear after the family undergoes another unexpected tragedy, one that spins the film off in an unexpected and horrifying direction. I would not call this a twist but it was definitely unexpected and the payoff is a stunner of a visual that may be overwhelming for audiences of a weaker constitution.
Ari Asher is a remarkable young director, a fully arrived visionary who has crafted a masterpiece on his first attempt. The use of Annie's models to set the stage, especially in a clever opening visual, combines with some clever visual design to keep audiences off-kilter throughout. Minor touches regarding the size of everyday objects and the use of distance and blocking to make characters larger or smaller in ways that are noticeable enough to be disturbing makes for an experience that uses classic filmmaking technique to build on the tension being built in the story.
The visual elements are brilliant and inform the story which also capitalizes on classic storytelling technique, specifically the use of an unreliable narrator. Toni Collette's Annie is not a reliable narrator and while she is not offering actual narration, the story is told from her perspective for the most part and we can't necessarily trust what Annie is seeing, especially after the second family tragedy sends her into a tailspin.
Young Alex Wolff has a remarkable journey in Hereditary. While seeming like a normal teenager who occasionally partakes in weed smoking, Peter has a dark family history filled with unexpected traumatic events that are revealed slowly before he becomes the equal focal point of the story alongside Annie. It's a brilliantly layered and revealing performance from Wolff who draws you in with his normalcy before revealing the deep trauma at his character's core.
Peter is front and center in two of the shocking set-pieces at the heart of Hereditary. The first revolves around that second tragedy the family endures that I will not reveal here and the second comes during the film's stunner of an ending. Wolff's face is remarkable and Asher's choice to stay in close on Wolff's face in both of the film's most shocking moments bonds us to him as a character as much as his relationship with his mother makes him the most sympathetic character in the movie.
I am going to stop here so as not to spoil anything about this remarkable movie. Toni Collette, Alex Wolff, and Ann Dowd give award-level performances in a film that is so much more than just a horror movie. There is commentary on mental illness, family trauma, and marital strife throughout Hereditary, all of which keeps you guessing as to whether something supernatural is even taking place.
All of that combined with Ari Asher's incredible filmmaking technique and his incredible attention to detail combine to make this the fourth consecutive movie I have seen that is among the best movies I have seen in 2018. With Night of the Virgin, Adrift, The Rider, and now, Hereditary, 2018, for me, is on an incredible roll.
movie review

Sean Patrick
I have been a film critic for more than 17 years and worked professionally, as a member of the Broadcast Film Critics Association for the past 6 years. My favorite movie of all time is The Big Lebowski because it always feels new.
See all posts by Sean Patrick →