'Misery' - A Movie Review
Always be on the lookout for your number one fans because they may just be as crazed as Annie Wilkes.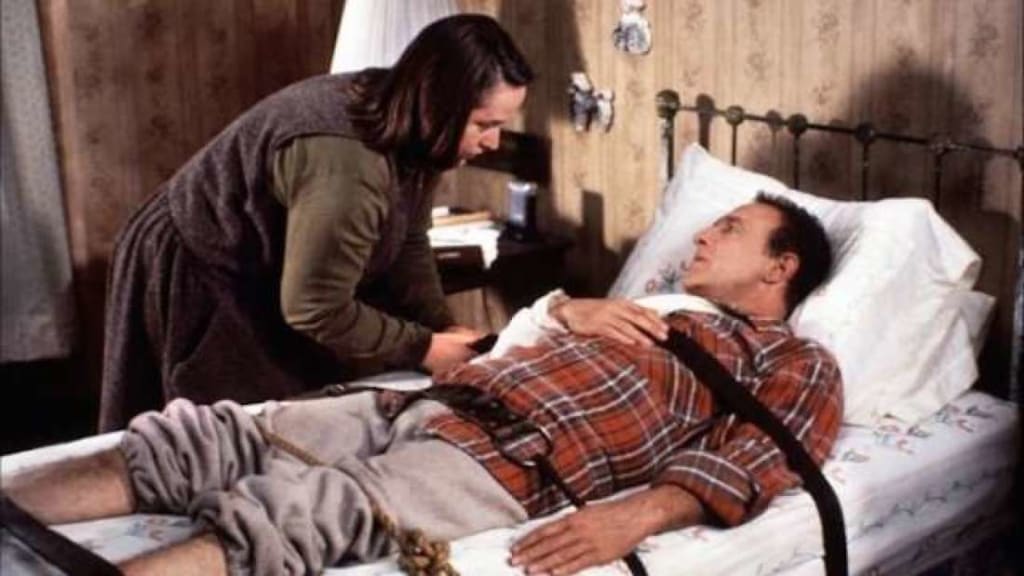 If you think you've experienced misery, then you'd better call yourself lucky not to have been in Paul Sheldon's aching shoes.
Misery crept into theaters in 1990. In one of Stephen King's most popular film adaptations, Paul Sheldon, a popular author, steers off the road during a snowstorm. When he awakens, Paul is in the care in the home of his number number one fan, Annie Wilkes, a supposedly caring woman with a dark and crazed personality. In the fight of his life, it's truly a matter of life and death.
Packed with riveting suspense, a gripping story, and outstanding performances, Misery is sure to keep you on the edge of your seat. Stephen King never fails at the depths of horror and suspense. Director Rob Reiner did an excellent job putting the pages to the screen. He never neglected any important details and took the chance in adding in his own personal touches.
Surprisingly, actors like Jack Nicholson and Michael Douglas turned down the opportunity to play Paul Sheldon! Reason being is because the role consisted of spending long periods immobile in a bed. For James Caan, his role as Paul Sheldon was all about ecstatic facial reactions, acting through acting, and mixing in humor with dark humor.
I commend Kathy Bates! Annie Wilkes will forever go down as one of the best movie villains ever! She is startling, and yet so amusing to watch, bringing out a perverse sense of humor. I don't want her anywhere near my ankles though. Bates definitely deserved the award for best actress in 1990 after her incredible heart-pounding performance.
So, if the Academy Awards recognized performances from horror movies then, why haven't they been recognizing them now? Toni Collette should have been nominated for her enticing performance in Hereditary this past year!
The setting and cast for Misery are small. It takes place in one bedroom. You can easily feel Paul's immense cabin fever and breathe in a breath of fresh air once you visit the town or wander about Annie's house.
Reiner expanded a few different characters and even changed a few scenes around. One scene I will not give away. Even you will be thankful that they changed it to a somewhat... okay, not really. It's still a painful scene to witness, no matter how many times I've watched it.
The late Richard Farnsworth stars as Buster, the sheriff of the town. Frances Sternhagen plays his sarcastic wife and deputy when on duty. These two added characters are a perfect touch of comedy. Farnsworth and Sternhagen performed so well together! I would even love to see a spinoff just for more of their banter.
Rob Reiner succeeded in the gripping adaption, keeping it at a decent pace, with clever camera angles and cuts, and awesome direction to Caan and Bates. The actors briefly conflicted with one another about technique, but they were able to figure scenes out.
The most heart-pounding scene is when an escaped wheelchair-bound Paul retreats back to his room the instant he hears Annie returning. Even in the book, the sheer suspense if Paul is going to get caught does not change. Wow, that scene was so suspenseful the first time I ever watched the movie. Even the viewers are caught up in the suspense and terror.
Writers will most certainly enjoy Misery. Writing has been one of my passions ever since I read my first Stephen King book. As the title notes, writing is miserable, but it is one of the most satisfying journeys ever. Writers cannot stop writing, even if they are in impending doom. Your passion just may save your life.
Always be on the lookout for your number one fans because they may just be as crazed as Annie Wilkes.
movie review

Marielle Sabbag
Writing has been my passion. I love creating stories from fiction, poetry, fanfiction, and I even enjoy writing reviews about movies and plays. I would love to become a freelance writer and leave the world inspiring minds.
See all posts by Marielle Sabbag →