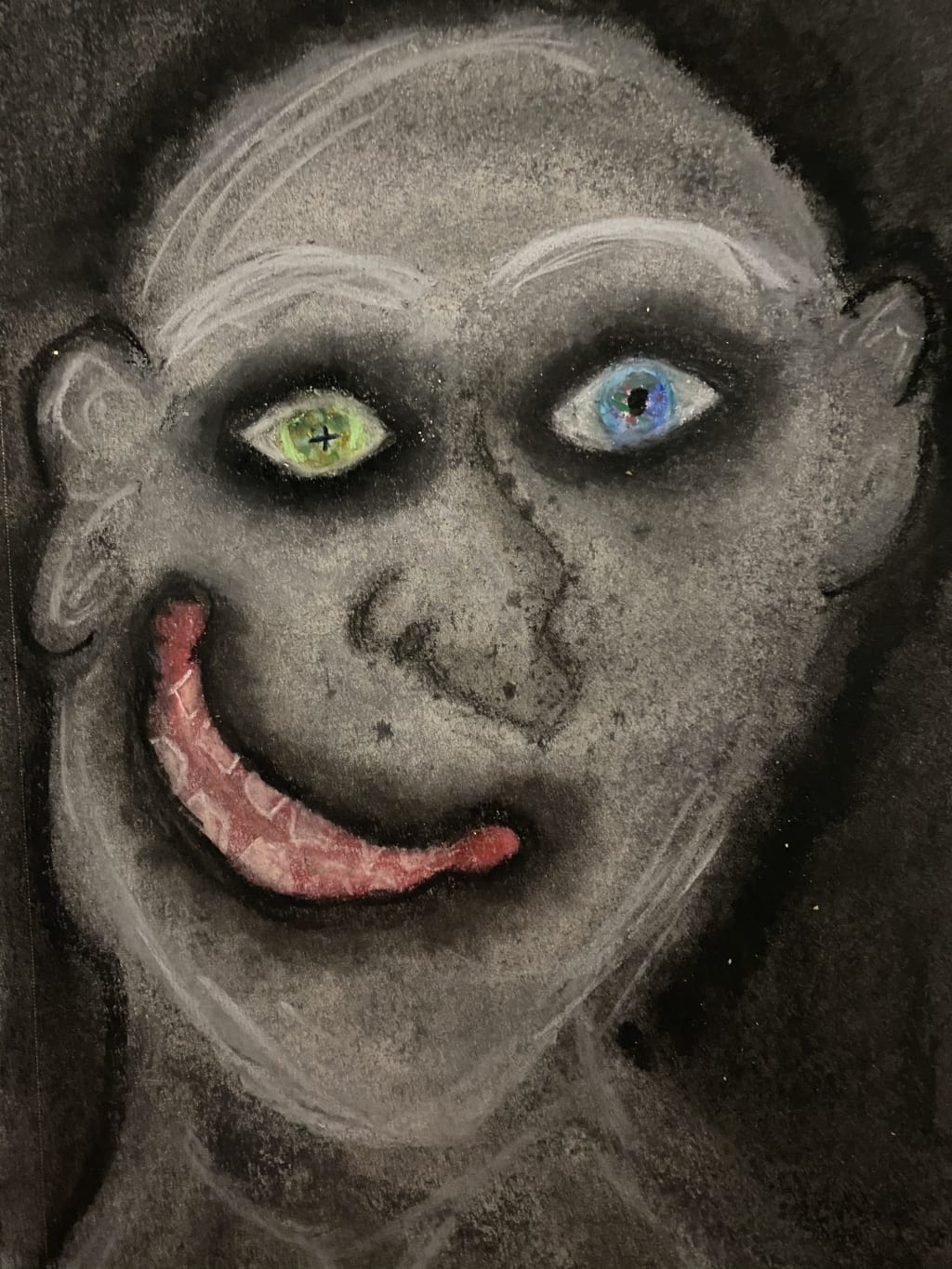 "Mirror Man" River 2023
the mirror showed a reflection that was not my own
i walk towards it, its eyes hold me strong
i am not scared, for i have been here before
the hallway is long, i know not what's in store
i reach the mirror, no light in their hall
my hand goes up to the glass i see its thoughts stall
it moves back as i dance forward
my hand hits the glass the feeling is violent and familiar
i notice the eyes are someone so similar
maybe my yesterday is haunting my dreams
my feet feel all solid, so it's not what it seems
maybe the voice in my head is still honest
this reflection i see is her fear incarnate
it twists and it turns and it pierces my armor
i lean in close so my breath fogs the mirror
it steps away, whispering how could you harm her
i pull my hand away, is that my blood?
it cant be the pain is not mine to have
i am still frozen in place, my heart out of fear
the mirror still questions, it still holds me tight
i think its eyes change to mirror her fright
she wants to remind me of all of the tears
but i am not scared, it reminds me of home
for fear is not for me it's for her alone
the mirror it showed me as not who i know
but they might just recognize me and beg for another show
it tells me that my work is not quite done
i have a few more clients to spread some more love
i'll finish the night without a second look back
my guilt is not mine, it's who i leave alive in their shack
the mirror it showed me who i really am
by the adrenaline rush with a slice of my hand
is more than i can bear to resist
i've gotten quite good all you need is to persist
i can't leave the mirror though, i'm going to get caught
if i can't figure it out i'll leave here all fraught
that mirror it whispers, you know to get going
i can't help but talk back, i know what line i'm toeing
i hear a creak behind me, the first thing to make me jump
my eyes don't move from the mirror, but i can't help but look up
bigger than me, bigger than the stranger in the glass
he holds her in his arms, those arms made of brass
can't you see the creature in the mirror i demand?
he places her down, makes almost no sound
i pull out my knife, still gleaming with her blood
his head tilts to the side, i think he's sizing me up
he does not know what i know, that the creature in the mirror
comes along with me on jobs that may end in fear
i give him the warning, i give to all that aren't mine
step away from the girl, you won't find me kind
he takes a step forward, no hope in his face
my mirror man stretches out slowly, he's not in a race
his twisted and tangled and terrifying eyes
come forward to take on this new kind of guy
the mirror shatters and my mirror man says
hey this is her biz
you wont find one better, i stand with her always
you are not on the list tonight so i suggest you don't stay
the man's eyes glazed over, an otherworldly power
he sets my client down, i start my daily scour
my mirror man meets me back at my home
i never clean where i live, so my bed is ready and warm
tomorrow again i'll start a new day
it depends on what my mirror man has to say
Hiya! You can now view and purchase all of my visual art in one place (including a print of this guy)
About the Creator
I make things with paint and words and light. I was once described as an asshole with Mr. Rodgers vibes.
Reader insights
Be the first to share your insights about this piece.
Add your insights