'Liver' Let Die: Talks About 'Hannibal' Season 4 Are Officially Underway
Pour yourself a nice glass of chianti and pop open the fava beans, Hannibal could finally be returning to our screens.
Pour yourself a nice glass of chianti and pop open the fava beans, Hannibal could finally be returning to our screens. Coming from the "bloody" brilliant mind of Bryan Fuller, Hannibal was the brutal adaptation of Thomas Harris's books and brought the cannibalistic Dr. Hannibal Lecter to the small screen. With actor #MadsMikkelsen taking the leading role, supporting cast members like #HughDancy, Eddie Izzard, and Gillian Anderson all got their time to shine. However, quite literally leaving us on a cliffhanger back in 2015, Fannibals have been hungry for more ever since.
Warning: Spoilers for the Hannibal finale below.
Room For Another Course
After Mikkelsen's Dr. Lecter and Dancy's Will Graham tumbled off a cliff to their apparent deaths, the show gave us one of the most frustrating but poignant endings to a series ever. While it could've ended perfectly there, Fuller had always planned for seven seasons, so had high hopes for more. Now, according to #BryanFuller's Twitter, talks of #Hannibal Season 4 have washed ashore like our leading characters themselves: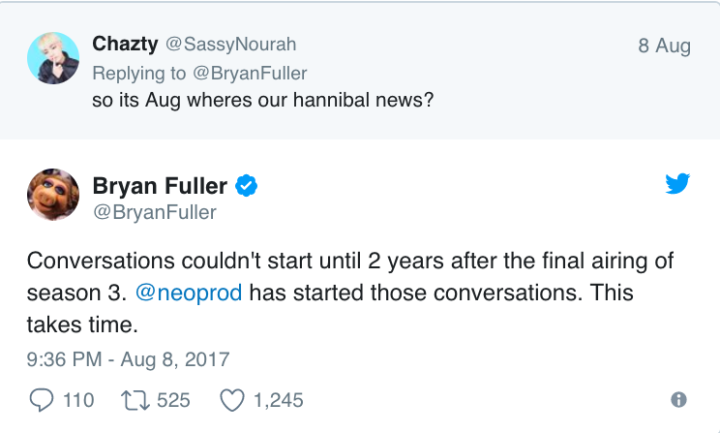 Talks on a revival couldn't begin until NBC's streaming deal with Amazon Prime had ended this year, and with that conveniently being this month, one fan quizzed Fuller on where we could go next with our psychotic psychiatrist.
Executive producer Martha De Laurentiis blamed internet piracy as the final nail in the coffin for Hannibal, but being honest, that was never the problem. As one of the most under appreciated shows to grace our screens, the show was an artistic dinner platter that unfortunately alienated some. With scenes of graphic abortion, sewing someone inside a horse, and more cannibalism than you could shake a butcher's knife at, Hannibal was a gory story for all to enjoy — but too much for some to stomach. Truthfully, the other biggest problem always was ratings. Despite a cult following and many campaigns to bring it back, Hannibal was no Game of Thrones in the viewing stakes.
That being said, just days after Fuller's tweet, Laurentiis herself took to social media and posted a cryptic shot of herself alongside Fuller and a Mads Mikkelsen doll. Accompanying the hashtag "fannibals," is the network bigwig teasing that talks of a second course might be closer than we first thought?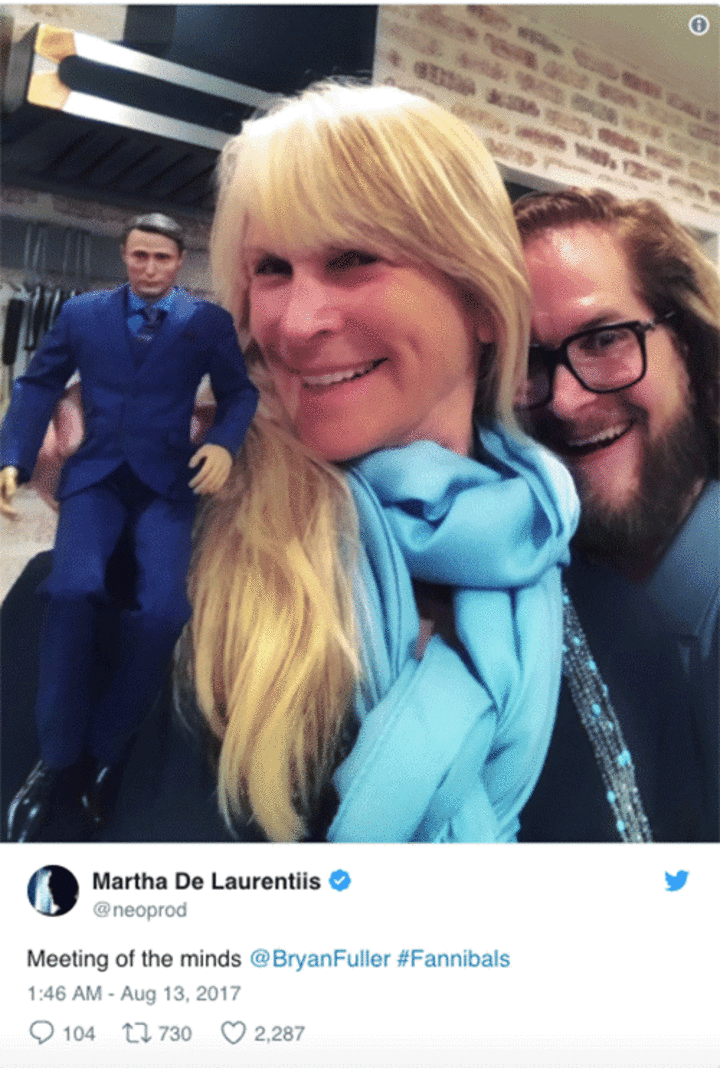 Fuller is currently overseeing the second season of Starz's equally graphic American Gods, but while it may seem like Fuller's plate is full, there is always room for some just desserts with Hannibal. The showrunner has already laid out his loose plans for where he had wanted to take Season 4: Dr. Lecter heads to Cuba, and it sounds like a typically horror-filled delight that fans of the show have come to know and love.
We can assume that all the stars will be back, because let's be honest, you'd be "Mads" not to. There were once talks of completing the story as a movie, but it is great to see that Fuller is sticking with his original vision and hopes for another season (or four). With talks "officially" underway, we will have to wait and see whether NBC will be chowing down once again or Hannibal will have to find itself a new home. While those loyal to the show are certainly ravenous to tuck in for more, all you can say for now is "bon appétit, Bryan."