I Finally Saw 'Resurrection' and Wow!
Rebecca Hall is Oscar level awesome in 'Resurrection.'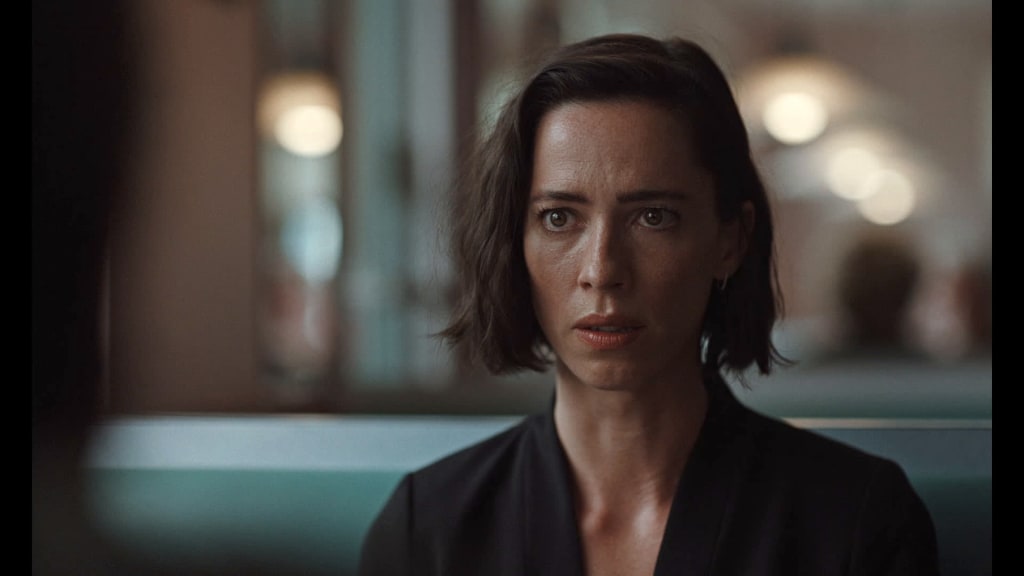 Resurrection (2022)
Directed by Andrew Semans
Written by Andrew Semans
Starring Rebecca Hall, Tim Roth, Grace Kaufman
Release Date January 22nd, 2022
Published November 16th, 2022
Resurrection is not a movie you watch passively, it's a movie you recover from having watched. The 2022 horror thriller starring Rebecca Hall is an intense and thoroughly enthralling experience. And all of that is due to the remarkable performance of Rebecca Hall. Beginning the movie as a confident, independent business woman and single mother before slowly succumbing to the abuse she suffered as a teenager, Hall is breathtaking, delivering one of the best performances of 2022.
Margaret (Hall) is a confident and successful woman with a corner office, a beautifully appointed apartment, and a teenage daughter who she loves dearly. We meet Margaret as she is counseling one of her subordinates who is going through a rough time with a boyfriend. Margaret is thoughtful, understanding and very helpful in her advice. It's clear, at this point, that Margaret may have some experience in dealing with abusive men, her advice comes from a place of hard won experience.
This veneer of success however, along with a rather mundane routine of sleeping, jogging, working, and sleeping with a married man, begins to be upended when Margaret encounters her former abuser, David (Tim Roth), at a work conference. She only sees him briefly but it is enough to trigger a significant breakdown and panic attack. This is just the beginning. Soon, Margaret begins seeing David in other unexpected but also very public places such as a department store and a local park.
Deciding to confront David, he immediately starts pressing her buttons. He claims to be there with Benjamin whom we learn is the baby the two had together more than 20 years ago. This is not possible as Benjamin is dead and it's strongly implied that David killed the baby. If that were the only implication, Resurrection would be a very different movie. As it is, the revelations from this point on, I don't wish to spoil. You must have this experience for yourself.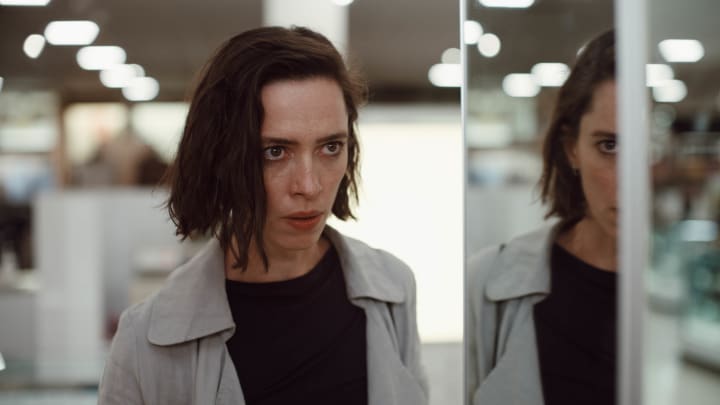 Resurrection is a disturbing movie. Writer-Director Andrew Semans has a strong command of the terrifying things that abusers do to their victims and some may find it hard to sit through just how disturbingly real David's machinations are, on top of the outlandish notes that Roth brings to the character. The gas-lighting, the grooming, the separation of the victim from their support system, all of these are seen or referred to as part of Margaret's past with David.
A disturbing and bizarre detail involves what David calls 'kindnesses,' painful, extreme, activities that Margaret must engage in in order to please David. She is drawn back to performing these kindnesses as a way to keep David from approaching or threatening her teenage daughter and these brief demonstrations along with the intense description of past kindnesses are shocking and horrific. In a monologue that should earn Rebecca Hall an Oscar nomination she explains the concept of kindnesses in disturbing and absorbing detail.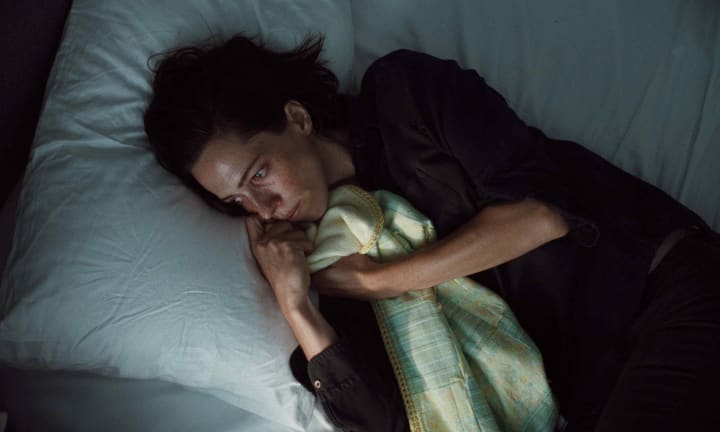 The final act of Resurrection is an intense experience. As I mentioned at the start of this review, this is a movie you recover from after watching it. Rebecca Hall and Tim Roth are an amazing duo and where their confrontation goes is something I was haunted by after watching the movie. The whole of Resurrection is engrossing but the final act takes the movie to even more intense and dark places until a final moment that leaves you breathless.
Resurrection was released back in January of 2022 and received some divisive reviews at the time. IFC Midnight and Shudder have included the movie in their Awards submissions to critics for end of the year awards consideration. I am undoubtedly going to be nominating Rebecca Hall for best actress at the Critics Choice Awards. In a career filled with incredible performances, Hall's work in Resurrection may be the best in her career.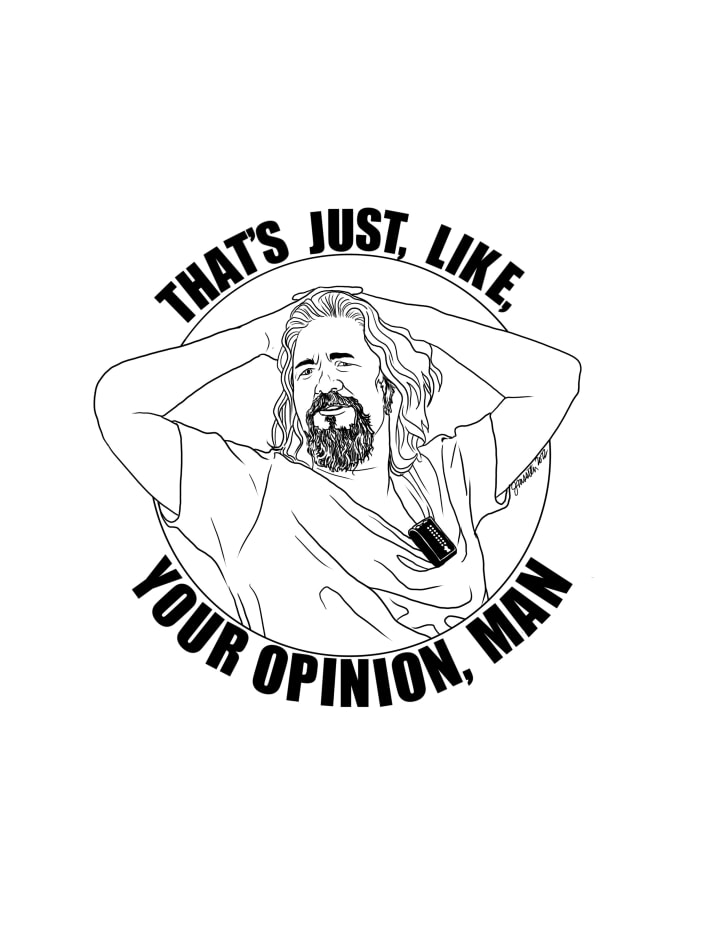 Find my archive of more than 20 years and nearly 2000 movie reviews at SeanattheMovies.blogspot.com. Follow me on Twitter at PodcastSean. Follow the archive blog at SeanattheMovies on Twitter. Listen to me talk about movies on the Everyone's a Critic Movie Review Podcast on your favorite Podcast app. If you enjoy my writing consider subscribing to my work here on Vocal. If you'd like to support my work you can make a monthly pledge or leave a one-time tip. Thanks!
movie review
About the author
Hello, my name is Sean Patrick He/Him, and I am a film critic and podcast host for Everyone's a Critic Movie Review Podcast. I am a voting member of the Broadcast Film Critics Association, the group behind the annual Critics Choice Awards.
Reader insights
Be the first to share your insights about this piece.
Add your insights