Frightmare: The Halloween Festival
The annual event you'll be dying to attend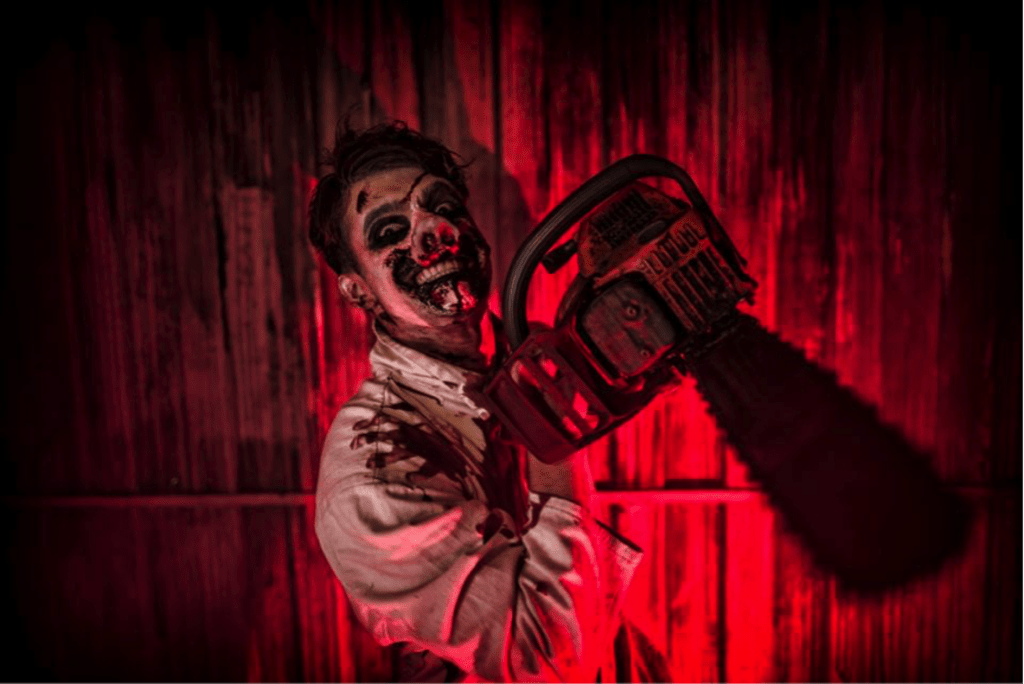 Frightmare
Pass by Over Farm in Gloucester, UK on a regular day, and you might just come across a few farmyard animals and a couple of pick-your-own patches. Oh, and the finest handmade pasties in the world, of course.
Drive through in July and you'll notice the aura of acoustic stages and triple-A headliners performing to thousands of fans at the 'Barn on the Farm' festival. But, stroll on by in October, and you might just find yourself thrown into the very cesspit of your darkest fears.
As the late summer months fade and the cherry-apple leaves begin to fall, Over Farm take a step away from the warm and welcoming approach and disappear eerily behind the smokescreen of September embers. And, from there, begin to construct the annual event that soon captures the eyes of every individual, both locally and nationally.
As an ensemble of the finest scare actors is crafted from behind the scenes, the makers behind the famous festival start to crack knuckles and build the world that we all soon see as Frightmare; the scariest must-see attraction that rests on the hollow grounds of a family-run farm.
Traditionally, Frightmare has provided ticket-holders the freedom to explore not only one live event, but five. And, as the years sludge on, by we seem to be treated just that little bit more for every return of the most renowned event in the city. This, of course, means many, many more attractions, bigger fairgrounds, larger casts, and more thrills we can shake a stick at. So, with the inevitable rise to the pinnacle of social outings, Frightmare manages to cement its place in the top spot every year running without fail.
As the festival draws in, Over Farm begin to celebrate the horrors of October with a series of events held onsite. From open-air cinema screens clashed with live actors rifling through the audience when least expected, to daytime events for the younger ones who'd rather leave the nightmares for the adults. This, in itself, is worth every second. And despite the fact Frightmare clearly aims for scaring its goers, its sister event, Spookyard, is likely to give children more happy memories as oppose to bedtime traumas.
Spookyard offers families the same series of attractions Frightmare has, only they are tweaked to meet the satisfaction of ambivalent parents and children alike. With professional actors providing more giggles than quickfire banshee screams, customers can merrily plod on through the festival without so much as feeling a hair on their necks stand tall.
There's pumpkin patches for families to explore and plenty of those little spooky blood-orange lanterns to dig up for the mantelpiece back home; that, as well as handfuls of rides, stalls, mazes, and much, much more. So, without doubt, there's a place for everyone at Over Farm; even if you aren't overly keen on the late-night thrills as the event transforms into a much, much darker self.
As the sun goes down and the laughter of the younger audience dissolves, the scare actors drop their grins and smear the sinisterly foul smiles across their cheeks. And, with the drums of war pounding from behind the gates, Frightmare prepare for the nights upcoming antics with nothing but one goal in mind: To scare the living daylights out of you.
The chainsaws fire up, and the lights go down. The actors submerge into the shallow depths of the shadows, and the six unique mazes creak open their doors ready for the first steps to pass through. Frightmare wakes during the night, but it will make sure you don't sleep a wink until morning.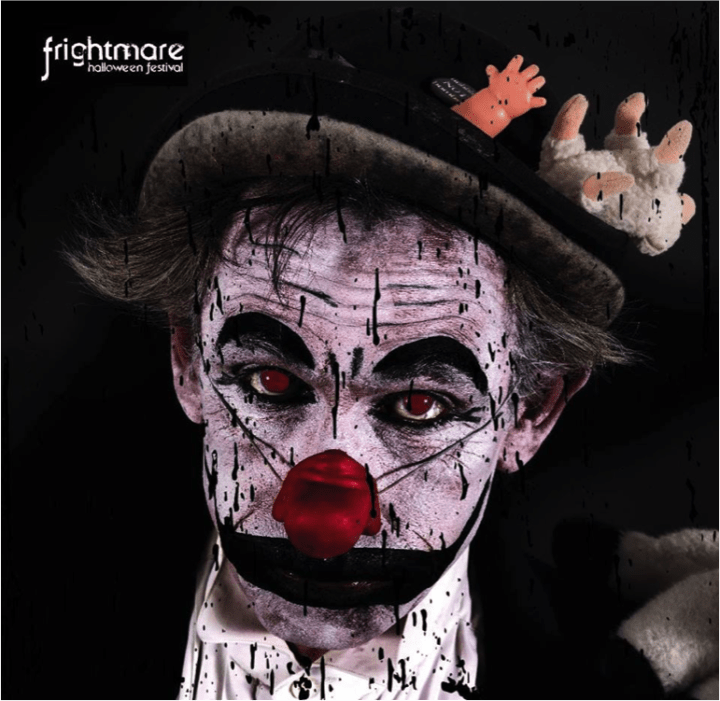 As mentioned before, Frightmare, on average, reveal around five or six unique attractions each year. These special mazes dip into every single fear and unravel the stuff of nightmares. Whether you fear tight spaces, dimly lit rooms, cackling clowns, undead nuns, spiders, or anything remotely paranormal; Frightmare manages to grasp every straw and package them all within one incredibly tense night of horror beneath one single roof.
This year, Frightmare have promised to deliver six unique events; The Offering, Séance, Carnival, Caged, Wonderland, and The Haunted Hayride. Plus, they plan to bring back the Vintage Fairground, for when you've reached the peak of your fear and fancy taking it one step further on a ghost train or two.
But, besides from the horrifying mazes, Frightmare tend to deliver a welcoming atmosphere that you'll always feel safe within. With pocketfuls of security on-site, professional staff on every attraction, and a selection of actors who know their limits and will never put you in an uncomfortable situation, they'll make sure to deliver a night you'll remember for the rest of your life. Oh, and you'd definitely want to return the following year, too.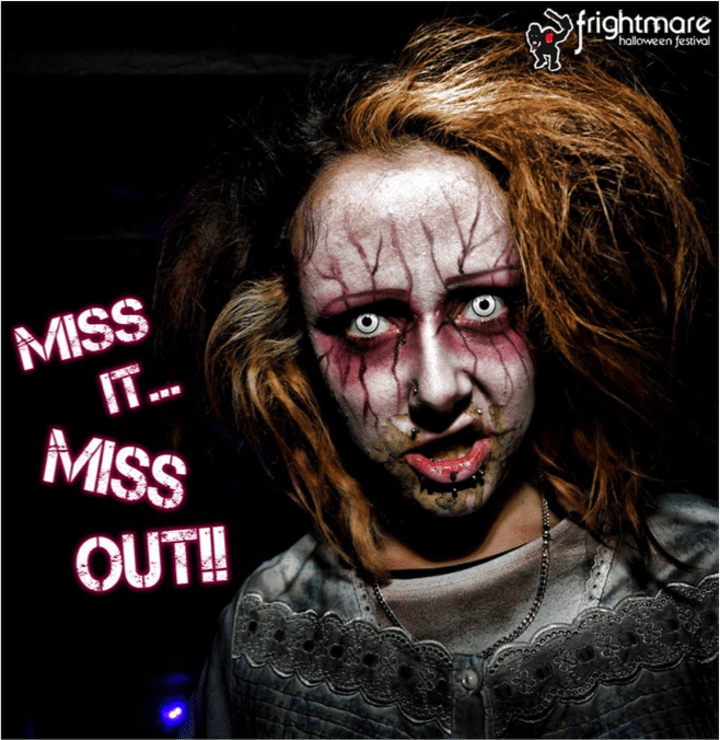 Frightmare is live for the duration of October and commences on the 12th October 2019 at Over Farm, Gloucester, UK. Tickets can now be purchased via the official Frightmare website, frightmare.co.uk
Frightmare is a 12A rated event. However, all children aged 15 or under must be accompanied by an adult.
For more information, please visit frightmare.co.uk, or contact Over Farm/Frightmare on Facebook (@Frightmare) or Twitter (@ofm_frightmare)
That's all for now, my friends. The curtain is almost ready to be pulled back and reveal the many spooky wonders lurking behind. So, please, prepare yourselves. For Frightmare is about to begin. And I hope to see you there very, very soon.
Location—Over Farm, Gloucester, GL2 8DB
Dates—12th October-2nd November 2019.
Admission - £22+
—Jordan Tury