Down in the Dumps-ter: 'The Walking Dead' Star Regrets Glenn's Dumpster Scene
Remembering back to Season 6 of 'TWD' and Glenn's "dumpster" demise, fans were up in arms about the whole storyline.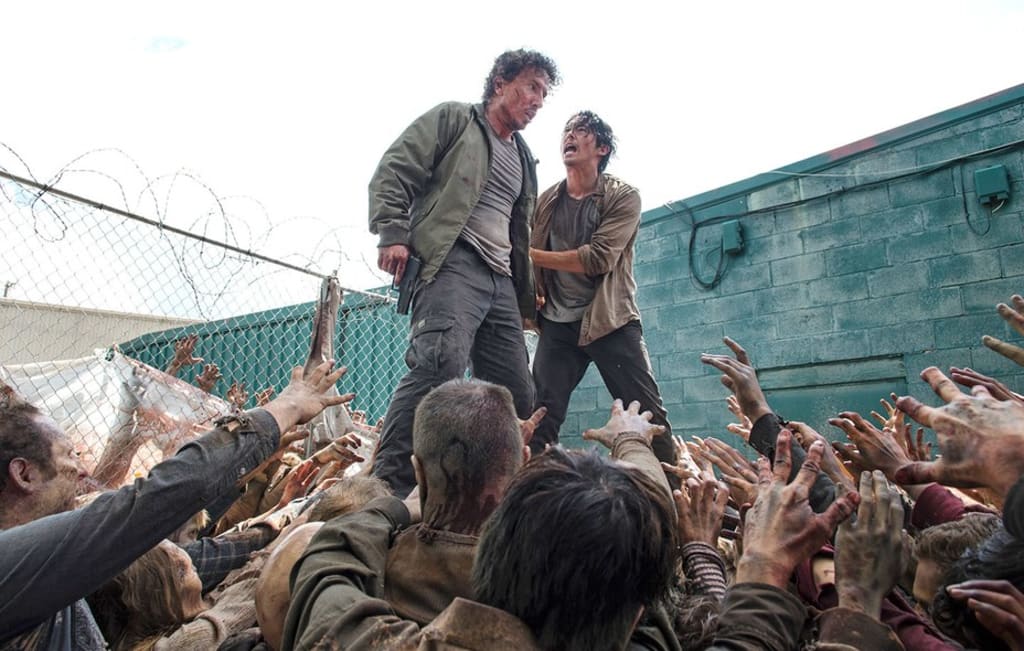 'The Walking Dead' [Credit: AMC]
There is no denying that AMC's #TheWalkingDead sure knows how to go for the jugular with a shock death, a skill that the show has recently excelled at by hitting us where it hurts. For seven seasons we idolized #StevenYeun's portrayal of Glenn Rhee, the plucky delivery boy who became a staple of #RobertKirkman's zombie apocalypse. However, with Glenn having his brains turned to mashed potato in the Season 7 premiere, it seems that he tried to dodge death one too many times.
It became a running joke that Glenn was the cat with nine lives and always managed to escape death by the skin of his teeth. Most of the time it worked, but remembering back to Season 6 and Glenn's "dumpster" demise, fans were up in arms about the whole storyline. So, looking back, did anyone actually learn anything from playing their audience like fools with Dumpstergate?
Time To Take Out The Trash
Speaking at Walker Stalker Con in Nashville, Yeun talked out about his eventual gory story arc but also addressed that stinking pile of garbage from Season 6:
"You know what, man, that I think is a testament of where we are in technology and media and Internet that I think wasn't tested truly until that moment. I think the intentions were not to deceive but the intentions were to make a fun plot."
With Glenn seemingly shoved into a pile of clawing hands by a newly deceased Nicholas, the camera panned in on Glenn's panicked face as he was "ripped to pieces" by the deados. However, something smelled fishy and we didn't want to buy what the show was selling.
Conspiracy theories about miraculous survivals, dodgy camera angles, and David Copperfield-esque tricks soon started doing the rounds. Even the well established rule of "if you don't see a body, they aren't dead" didn't apply here. We very clearly seemed to watch Glenn be devoured by ravenous walkers, but still no one really believed that was the case. Viewers were right in thinking the show was saving Glenn for his HUGE #comicbook death, so his return just four episodes later fell flatter than the acting of Sarah Wayne Callies.
It may have been showrunner #ScottGimple just trying to mix it up a bit, but you can't deny that the episode "Thank You" led to one big "no thanks" from audiences. It was a learning curve for everyone involved, with some so pissed off, the dreaded talk of jumping the shark was bandied about. While the show remains defiant in its decision, Yeun continued talking about where The Walking Dead went wrong:
"What happens is the Internet, spoiler sites, people camping out, which are all good indicators of the success of your show so I don't want to admonish that, but at the same time you look at it and you're like, 'I don't think any show had to deal with it until that point.' Now, you look at how shows deal with stuff moving forward and its' completely changed because people freaked out about it. It sucks that it had to be a case study but it was a case study."
The whole debacle was sadly one fake-out too many, and we all know that Glenn eventually met his maker just 10 episodes later in the Season 7 premiere. Yeun seems to have put the whole thing behind him, but admits that he will "probably" be getting dumpster jokes for the rest of his life. Oh well, lesson learned I guess — or was it?
tv review
About the author
Tom is a Manchester-based writer with square eyes and the love of a good pun. Raised on a diet of Jurassic Park, this '90s boy has VHS flowing in his blood. No topic is too big for this freelancer by day, crime-fighting vigilante by night.
Reader insights
Be the first to share your insights about this piece.
Add your insights