Before Jordan Peele, there was Rusty and Darin
Before Oscar Winner film director and actor Jordan Peele, there was film horror directors Rusty Cundieff and Darin Scott behind "Tales from the Hood"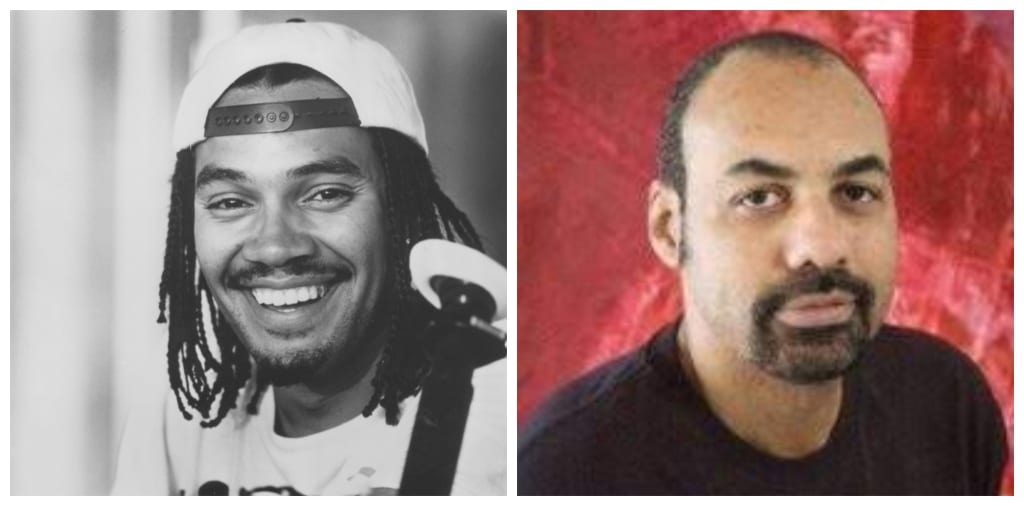 Rusty Cundieff (L) and Darin Scott (R)
Before Jordan Peele's 2017 horror film Get Out debut dominating the box office which earned former actor Jordan Peele as the horror flick director and earned him an Oscar for Best Original Screenplay, there was film directors who were behind the 1995 horror flick Tales from the Hood that was beyond woke than Get Out but didn't get much accolades not even an Oscar buzz. Actor, writer and filmmaker Rusty Cundieff and his partner filmmaker Darin Scott both wrote the anthology film based on the African American community with horror themes.
Born as George Arthur Cundieff started off studying journalism at Loyola University in New Orleans and the philosophy of religion at the University of Southern California. While he was in USC, Cundieff became a member of Alpha Phi Alpha, a historically African American fraternity. Darin Scott was a student at USC studying chemical engineering. The two met when they were students at USC and became friends. After graduating from USC in 1982, Cundieff performed stand-up comedy in Los Angeles while looking for opportunities to act. His first major role was a year-long run as Theo Carver on Days of Our Lives in 1985. He later did films: Welcome to the Fun Zone, 3:15, and Spike Lee's School Daze. After his film experience with Spike Lee, he was inspired to write and direct films.
According to Cundieff, the idea for "Tales from the Hood" came from a one-act play he performed a few times in L.A. called "The Black Horror Show: Blackanthropy." After the play wrapped, it gave Cundieff and Scott to collaborate on writing the stories for the film. The "Tales from the Hood" story, "Boys Do Get Bruised," is loosely based on an incident from Cundieff's childhood. He remembered visiting a friend's house, who lived down the block from his childhood home in Pittsburgh, and seeing his friend's younger sister "gagged and hogtied" in the basement.
Fun Fact: Cundieff's parents appear in the story, "KKK Comeuppance." His dad is the preacher who gives the eulogy to Rhodie and his mom is Miss Cobbs.
Director Spike Lee would be the executive producer behind Tales from the Hood (including Tales from the Hood 2 and 3).
The Story of the Film
The film takes place at South Central LA where three Gang Drug Dealers: Stack, Ball and Bulldog(all three played by Joe Torry, Samuel Monroe Jr., and De'Aundre Bonds ) head to Simms Funeral Home to buy the drugs or better yet the "shit" from weird creepy mortician Mr. Simms (played by late Clarence Williams III ) inviting them in to give them but before he gives them the "shit" he tells them stories.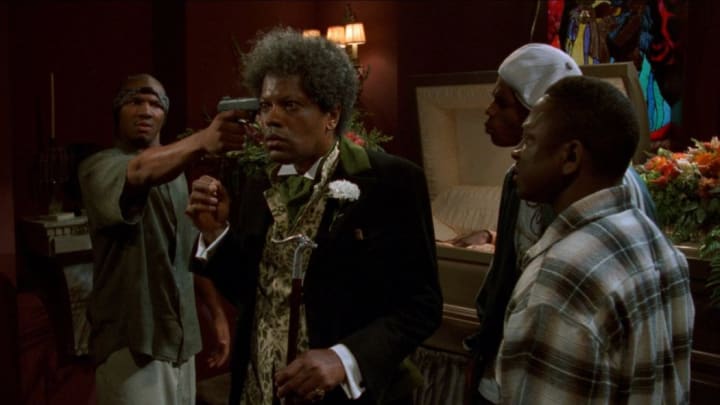 First off, the first story "Rogue Cop Revelation" , a black cop named Clarence (played by Anthony Griffith) and pulls over Martin Moorehouse, black activist (played by Tom Wright) the white cops except Clarence start to beat him up until one of them strangles him. Clarence stops the fight and demands the cops to take Martin to the hospital but instead behind his back the took his car drugged Moorehouse takes him and Moorehouse vehicle dumps into the lake. A year later, unemployed Clarence hears the ghost of Martin charms him to bring the white cops who killed him. Clarence brings the three white cops to the cemetery where Martin was buried. Two of three cops pee on his grave until Moorehouse's zombie body comes alive and kills the cop peeing on him. The cops fled until Moorehouse chases them down to kill them. He finished the job killing the cops. Clarence asked Moorehouse, "Are you satisfied now brother?" Moorehouse responds while choking Clarence saying, "Where were you when I needed you "brother"?In the end, Clarence was taken to the mental hospital suffering from guilt.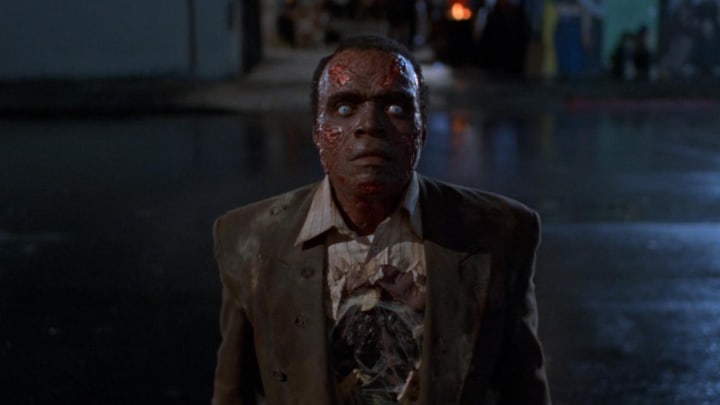 The next story, "Boys Do Get Bruised", a boy named Walter (played by Brandon Hammond) getting abused by the monster. His teacher (played by Rusty) noticed the bruises from Walter which he says its from the "monster". Concerned, He pays a visit at Walter's house to talk to his mother (played by Paula Jai Parker) and his mother's boyfriend (played by David Allen Grier) who turned out to be Walters monster who was abusing Walter and his mother. In the end, he destroys the monster and burns him to death. The third story, "KKK Comeuppance"A racist Southern senator (played by Corbin Bernsen) living in a plantation owned by his ancestor demands him to leave by African American and Jewish protesters. Inside the house, it haunted with the dolls that were actually slave souls who were bewitched by Miss Cobbs until one of them kills Rhodie (played by Roger Guenveur Smith) then in the middle of the night all of the slave soul dolls kill him.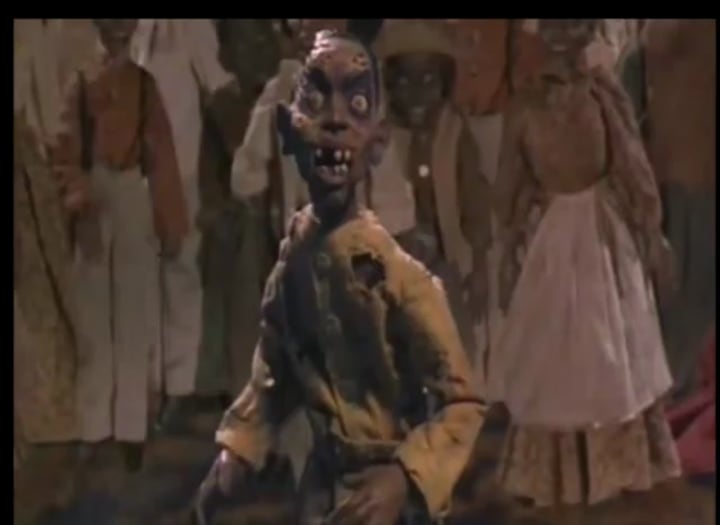 The final story "Hard-Core Convert", about Crazy K (played by Lamont Bentley) a dangerous gangbanger heads to a experimental trial facility to get help from the doctor (played by Rosalind Cash) trying to change his life after he shot and killed a rival member. In the end, Crazy K doesn't care keeps repeatedly saying "I don't give a f**k" and ends up killed by gangbangers who would later turn out to be Stack, Ball, and Bulldog.
Spoiler Alert!!!!!!
In the end, Stack, Ball, and Bulldog thought they were getting the drugs from the caskets but it was actually them already dead. Sims tells them after they killed Crazy K. His friends killed them and they weren't at the funeral home collecting the "shit".
Sims screams:
"Welcome to Hell, Motherfuckers!"
Sims transform into Lucifer and the whole setting was transformed into Hell. The film was released on theatrically on May 24, 1995. The film received mixed reviews. Some critics call the film a "smart brilliant" horror film, some critics criticizes the film as poor writing, not horrifying film. But whatever everyone is entitled to their opinions. The film gained a huge audience following and became a cult classic hit. Years after Tales, Cundieff directed television shows like "Chappelle's Show," "The Wanda Sykes Show," and "Black Jesus." As for Scott, he went to directing films like Sprung, Caught Up, and The Brothers. 20 years after the release of Tales from the Hood, when Cundieff was asked about Jordan Peele's Get Out on IndieWire.com:
"Obviously, I thought "Get Out" was amazing. I've heard a lot of people say that "Tales" was doing what "Get Out" did first. In some ways, you could say that we were, but I do think there's a difference. "Get Out" is one film from beginning to end, so there are more opportunities for nuance and character development. We hit things hard in "Tales From the Hood" because it's an anthology. I couldn't be more thrilled that "Get Out" happened and look forward to the opportunities that come for a lot of filmmakers to do stories that are like that, playing around with the genre a little bit more. I also think "Get Out" opened the door for us to do "Tales From the Hood 2."

Cundieff on IndieWire.com.
Tales from the Hood would comeback for a sequel in 2018 this time with Keith David playing as Mr. Simms replacing Clarence Williams III, the original Mr. Simms since he has retired from acting.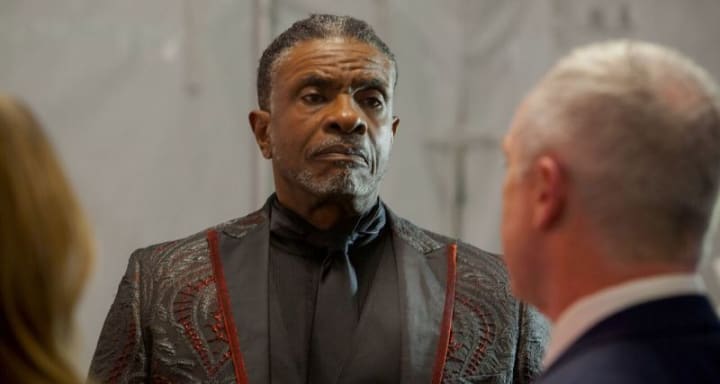 And would come back another sequel again with Candyman star Tony Todd.
My review on Tales from the Hood 3
Hopefully, we'll see more Tales from the Hood in the future or maybe a possible tv series inspired by the film.
Source
Wikipedia
https://www.indiewire.com/2018/07/tales-from-the-hook-2-interview-rusty-cundieff-get-out-black-horror-1201980492/
https://podofmadness.com/
https://www.stage32.com/profile/122306/about
About the Creator
Hello, My name is Gladys W. Muturi. I am an Actress, Writer, Filmmaker, Producer, and Mother of 1.
Instagram: @gladys_muturi95
Twitter: @gladys_muturi
Facebook: facebook.com/gladystheactress
YouTube channels in the works
Reader insights
Be the first to share your insights about this piece.
Add your insights