6 Christmas horror films to scare you into the holiday spirit
For those that need a break from the holiday cheer, here are six sinister holiday films that prove Christmas can be a horrifying time of year.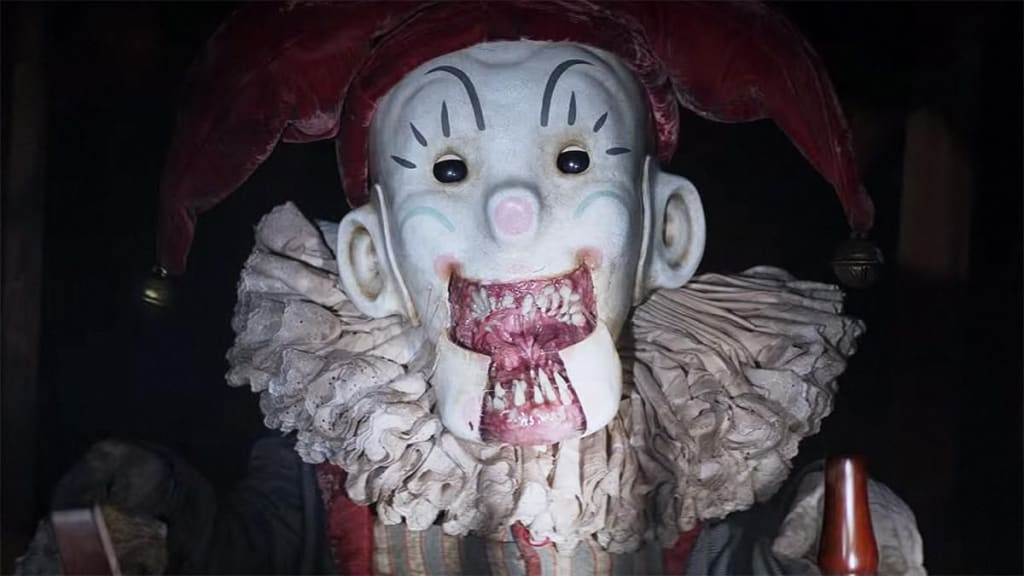 Image from Krampus (2015) - Christmas horror film
Every year Christmas comes and goes with the same holiday-themed films getting all the glory while so many less traditional yuletide motion pictures go under-appreciated. Tales like A Christmas Story and A Christmas Carol are all well and good, but sometimes people want to escape all of the cheer and seasonal spirit for some good old fashioned horror.
The nightmare-inducing genre has some great titles that take place around that special time of year that showcases not everyone's Xmas experience is guaranteed to have a happy ending. Out of all the options of noel-centric films available for people to view, here are six scare-fests that will encourage everyone to ask Santa for a night light.
Better Watch Out (2016)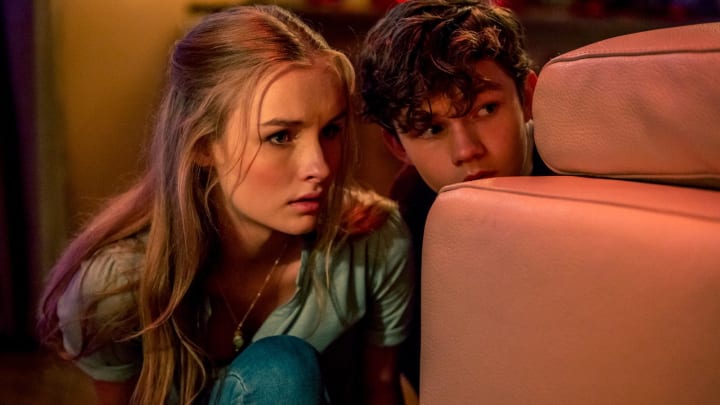 Better Watch Out is a psychological horror film set around the holidays that has garnered a very impressive Rotten Tomatoes score from its enticing story and magnetic cast. This terrifying yuletide tale takes place on a safe and quiet suburban street where no one would ever suspect any type of horrifying ordeals to occur. But when 12-year-old Luke Lerner and Ashley, the 17-year-old girl he has a crush on babysitting him, are attacked by intruders, things quickly get out of control, and it soon becomes very clear that nothing is as it seems in this unhinged home invasion caper.
Trailer for Better Watch Out (2016) - Christmas horror movie
If people are in search of a suspenseful, twist-filled holiday horror experience unlike any other yuletide motion picture, then the 2016 edge of your seat thriller is a great option to choose from. Whether it's the charismatic performances or the intense mind games, Better Watch Out clearly stands out as a solid choice for a shocking Christmas horror film that will keep you guessing every step of the way.
The Nightmare Before Christmas (1993)
The Nightmare Before Christmas is a classic stop motion animated film that many have been watching since they were young, and for whatever reason, this twisted ordeal has become a valued holiday tradition for some. Despite its gruesome aesthetics and demonizing demeanor, the film always seems to exude a certain charm that makes this nightmarish affair something the entire family can enjoy. The film follows Jack Skellington, the ruler of Halloween Town, who discovers Christmas Town and tries to bring the newly found holiday home, causing all kinds of hilarious chaos and confusion.
Trailer for The Nightmare Before Christmas (1993) - Christmas horror movie
While many think The Nightmare Before Christmas was directed by Tim Burton, it was actually directed by the very talented Henry Selick who's other credits include Coraline and James and The Giant Peach. Selick does an amazing job creating a magnificent world of horror and fright with darkly funny characters, exceptional musical numbers, and an unforgettable story that will always be revered as a holiday horror classic.
Krampus (2015)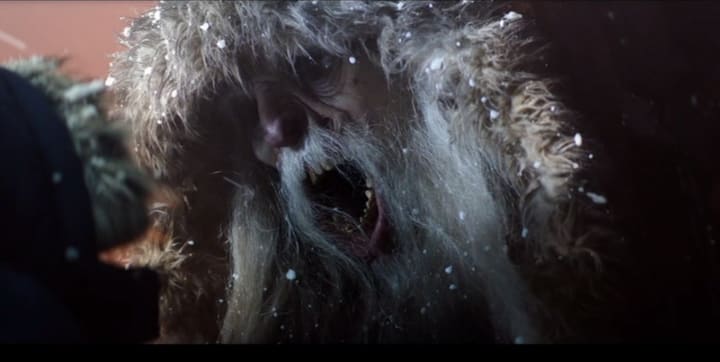 Everyone has obviously heard of Santa Claus, but not many have come across Krampus, or at least have lived to tell the terrifying tale. One Christmas horror movie pulls back the curtain on this mysterious horned demonic beast of European folklore and turned it into a frightening film starring Adam Scott, Toni Collette, David Koechner, and Alison Tomlin. It all centers on a young boy that has a bad holiday experience and accidentally summons the festive demon, wreaking havoc on the neighborhood and his unsuspecting family, who have definitely lost the spirit of Xmas.
Trailer for Krampus (2015) - Christmas horror movie
Krampus does an exceptional job of taking everything wonderful about Christmas and turning it positively evil. Whether it's the monstrous toys or the demonic elves dragging naughty children to Hell, there is no shortage of terror-inducing yuletide horror that occupy this well-crafted nightmarish holiday film.
Gremlins (1984)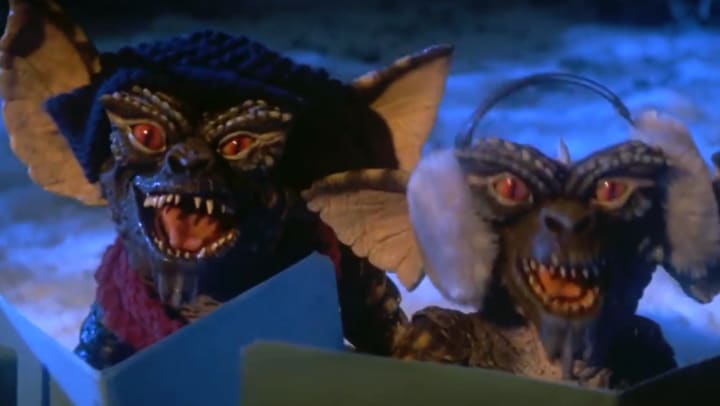 Not every holiday horror endeavor has to be a trauma-inducing event. Some of these fear-ridden features of the festive variety may also leave viewers rolling on the floor laughing in between hiding behind the couch in terror. A perfect example of this magical movie combination is none other than the 1984 Christmas comedy-horror flick Gremlins.
Trailer for Gremlins (1984) - Christmas horror movie
This tale of terror and laughs follows a young man who gets a strange creature called a mogwai he names Gizmo, which was basically the Baby Yoda of its time. But he ends up spawning a ton of horrifying creatures that wreak havoc across an unsuspecting small town on Christmas Eve. There is an equal balance of exceptional scares and hilarity that occur throughout Gremlins, and it's no wonder why so many enjoy watching this yuletide feature around the holidays.
Black Christmas (2019)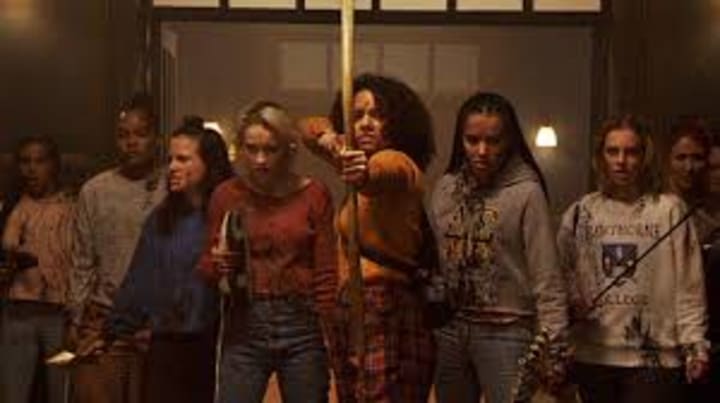 The 2019 Black Christmas film is a loose second remake of the 1974 Canadian version taking place after the 2006 film of the same name. The Christmas slasher flick follows a group of female students who are mercilessly stalked around the holidays only to find out those who are tormenting the young sorority pledges are part of a dark underground college conspiracy.
Trailer for Black Christmas (2019) - Christmas horror movie
Out of the films in the Black Christmas series, this one definitely has the most action, and the stakes are considerably raised, offering much more intensity when it comes to tension and scares. Sophia Takal's take definitely deserves a place among the elite of the slasher genre and a spot in everyone's holiday rotation.
Await Further Instructions (2018)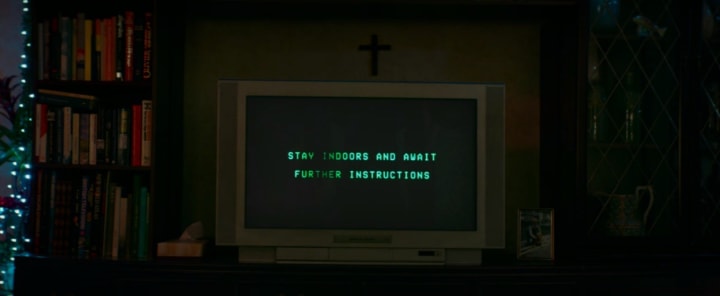 For some people, nothing is more terrifying than going home for the holidays, especially if introducing a new girlfriend for the first time is also on the agenda. Imagine that stressful ordeal and then add in the fact that some strange black substance has blocked all exits out of the house. Await Further Instructions tells that horrifying tale which showcases the horrors of escalated paranoia in a confined place resulting in a bloody mess of what was supposed to be a typical depressing Christmas.
Trailer for Await Further Instructions (2018) - Christmas horror movie
Armed with an exemplary Rotten Tomatoes rating, this mysterious sci-fi horror feature of the Christmas variety has a family taken hold by the sinister grip of the television screen, which is the only form of communication they can receive from the outside world during this emergency situation. Following the screens, every instruction, things begin to spiral out of control as the fear and uncertainty turn everyone against one another. Await Further Instructions is a pulse-pounding thriller that will at least make anyone's own holiday seem much easier in comparison.
For more stories, articles and great content make sure to check out WrittenByDJR.com and ProducedByDJR.com. Also make sure to check out my work on Vimeo, Amazon Prime, and on Twitter @WritttenByDJR.
Reader insights
Be the first to share your insights about this piece.
Add your insights