5 Great Modern Folk Horror Books
A List...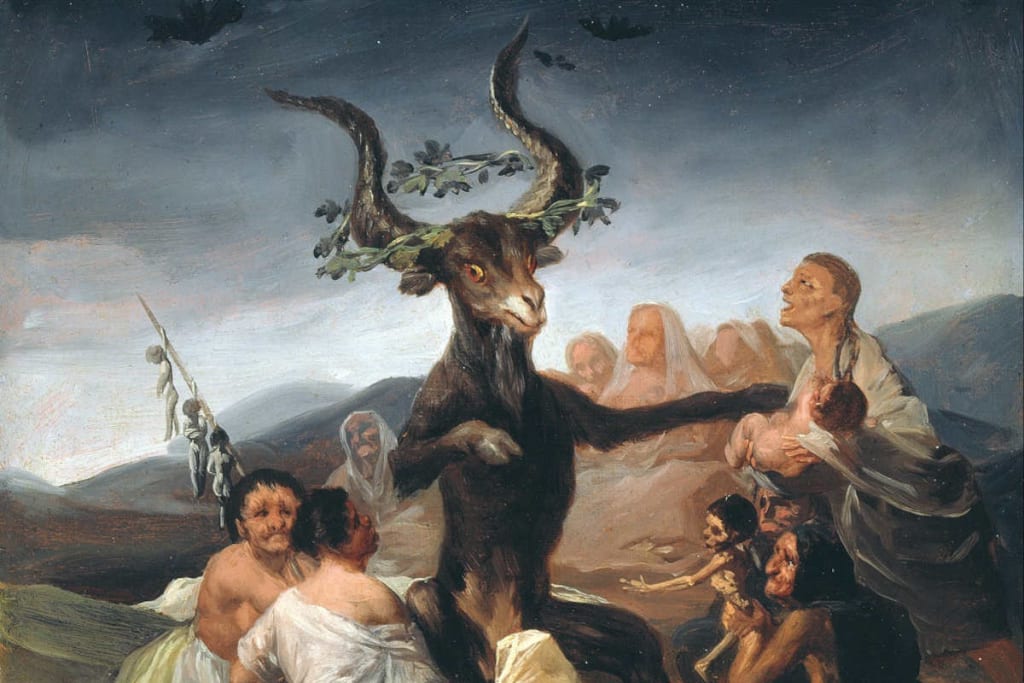 From: WideWalls
I repeat myself: folk horror is my favourite genre ever.
Now we've gotten that out of the way, we can move on to what really constitutes as a 'folk horror book'. Entrapped in wide open spaces, isolated in nature and overcome with ritualistic practice with a taste for the terrifying and traditional in ancient cultures. The justification of inflicting violence against the innocents is present more than most in folk horror tradition, relying on the factor of sacrifice, especially human sacrifice, to shock and horrify the reader. One of the best anthologies on this has always been the Richard Wells collection titled Damnable Tales: A Folk Horror Anthology which brings together many short stories that both entertain and get under the skin whilst bringing the reader closer to the world of dark traditions and midnight forests.
Here are 5 great folk horror books you can read to help you along this amazingly unsettling sub-genre:
5 Great Modern Folk Horror Books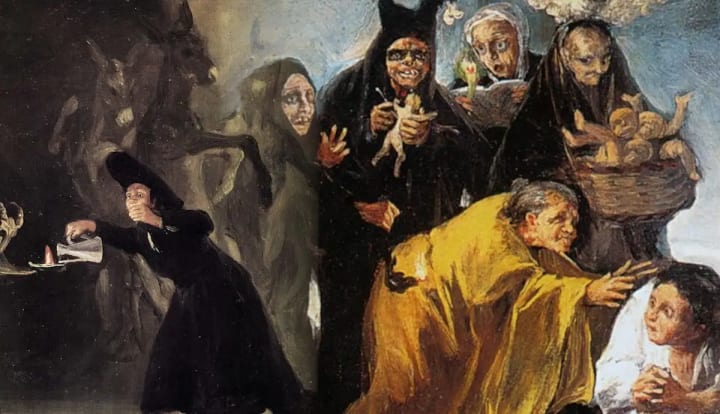 1. Starve Acre by Andrew Michael Hurley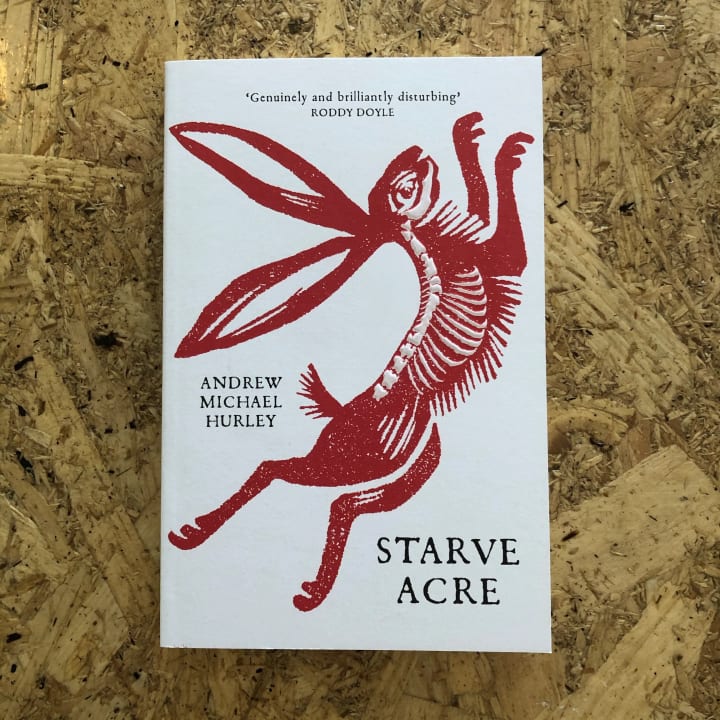 I genuinely knew the list was going to start like this. Ever since I read that book, I have not been able to forget a single scene from it. About a house named "Starve Acre", mystery and horror begin to unfold through the symbolism of a rabbit skeleton and a group of occultists.
A five-year-old boy has died and his mother is seeking help as she continues to believe the spirit of her dead son lives in the house. Whilst her husband searches for a legendary oak tree, and the rabbit skeleton makes a shocking appearance repetitively through the book - the ending is both tragic and absolutely terrifying. Just try not to read this one in the middle of the night in one sitting like I did.
2. The Nesting by C.J Cooke
Read the full review here
Honestly, when it comes to folk horror, there is something really exciting about setting it in such a vivid atmosphere as this: Norway. With the imagery of various animals and the mysterious yet picturesque view of the space, there is something terrifying about the sound of the wind at night or the loneliness of the day.
When Lexi goes to work as a nanny in Norway, she is met with a lovely, yet terrifying atmosphere. In such as sublime location, there is something horribly wrong bubbling beneath the surface as she starts to wake seeing an elk's footprints next to her bed and an image of a woman without any eyes haunts her. An amazing achievement of folk horror, this novel was really to die for.
3. Dead Relatives by Lucie McKnight Hardy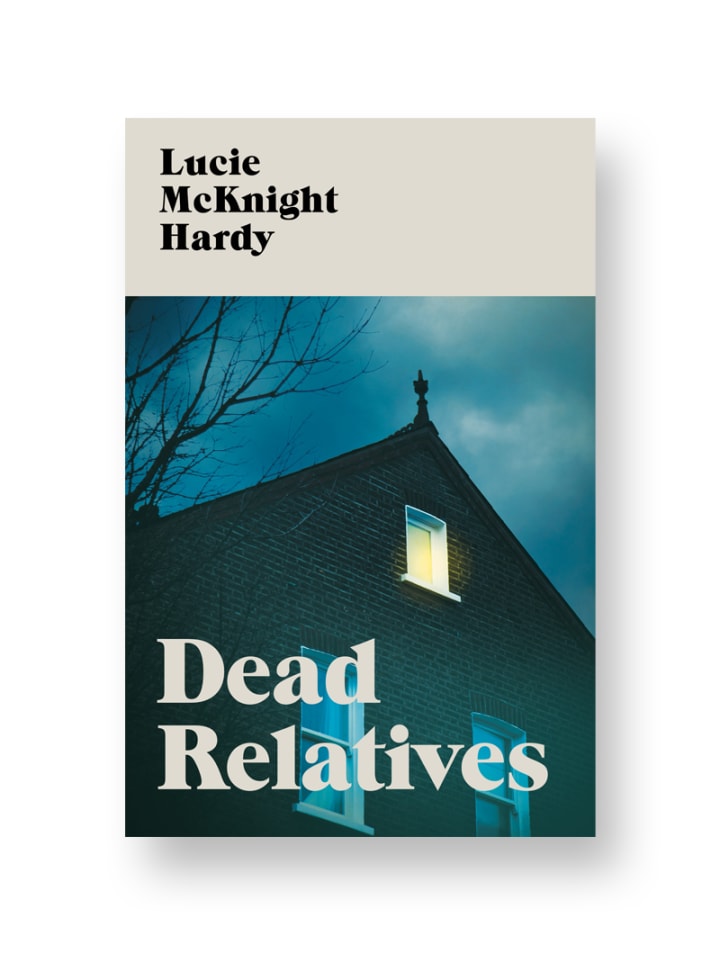 Read the full review here
I adore books that explore the effects and impacts of isolation on the human psyche and not a lot of authors quite do it like Lucie McKnight Hardy in her book Dead Relatives or, equivalent in greatness - her other folk horror story, Water Shall Refuse Them.
Dead Relatives is actually an anthology text. The title story is about a young woman who isolates herself in a country house when she is told she must see her dead relatives. Woods come alive, the night is dangerous and the other stories are just as incredible. Between all these narratives lies the pervading thump of terror as the reader is pulled through a sensory fest of folklore.
4. Damnable Tales: A Folk Horror Anthology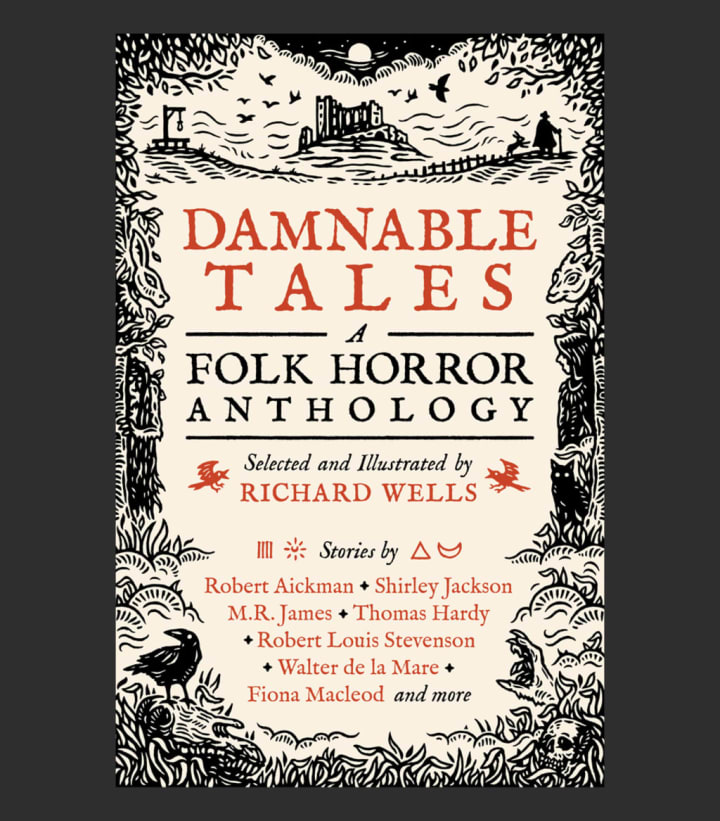 Read the full review here
I didn't want to be predictable and put this at number one, but just between you and me - on the entire list, this is the one you must by all means read. If you love sinking your teeth into classic stories whilst discovering ones you never really knew about, then this is the absolute definitive anthology of folk horror for you (and me).
Including authors like Shirley Jackson, M.R James, Robert Louis Stevenson, Arthur Machen, Walter de la Mare and more, the folklore horror atmosphere of this book is perfect for your winter night in. Just try not to read the whole thing at night though as that could cause some sleeping difficulties.
Also before you ask, yes that was me on the reviews you keep seeing about this book :)
In my opinion, this is the most important one of the list as it just brings you into the genre. It is, in fact, filled with Damnable Tales...
5. Through the Woods by Emily Carroll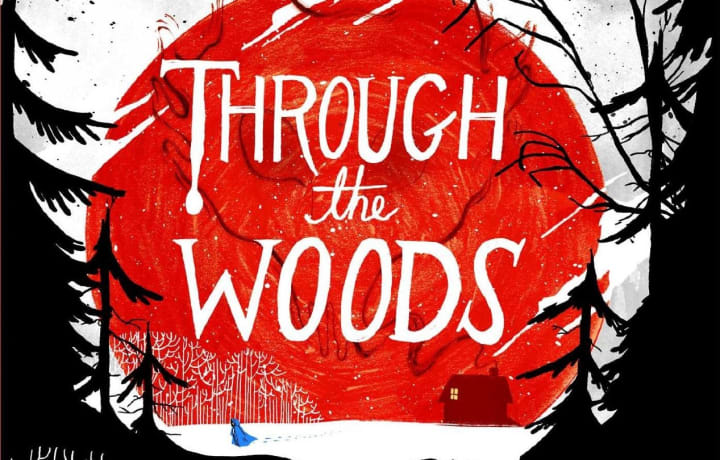 I always use this one to introduce people who think they do not like folk horror to the genre because it represents just how extensive and freaky the sub-genre can get. Oh, and it always wins them over.
Written in a fairy-tale style in the form of the graphic novel hell threw up, this book has images that you probably do not want to show the children because honestly, they are terrifying. But, that is just the point. An amazing set of stories about losing innocence, changing times and strange people coming in and out, this book represents a new era for folk horror that I hope continues - one where we meet illustration at a crossroads as it works its way, cleverly between the lines of the narrative.
Conclusion
I hope you enjoy your modern folk horror reading. I will be sharing more about the best folklore horrors I can find so definitely watch out.
Reader insights
Outstanding
Excellent work. Looking forward to reading more!
Add your insights