Book Review: "Damnable Tales: A Folk Horror Anthology" ed. by Richard Wells
5/5 - the definitive folk horror anthology...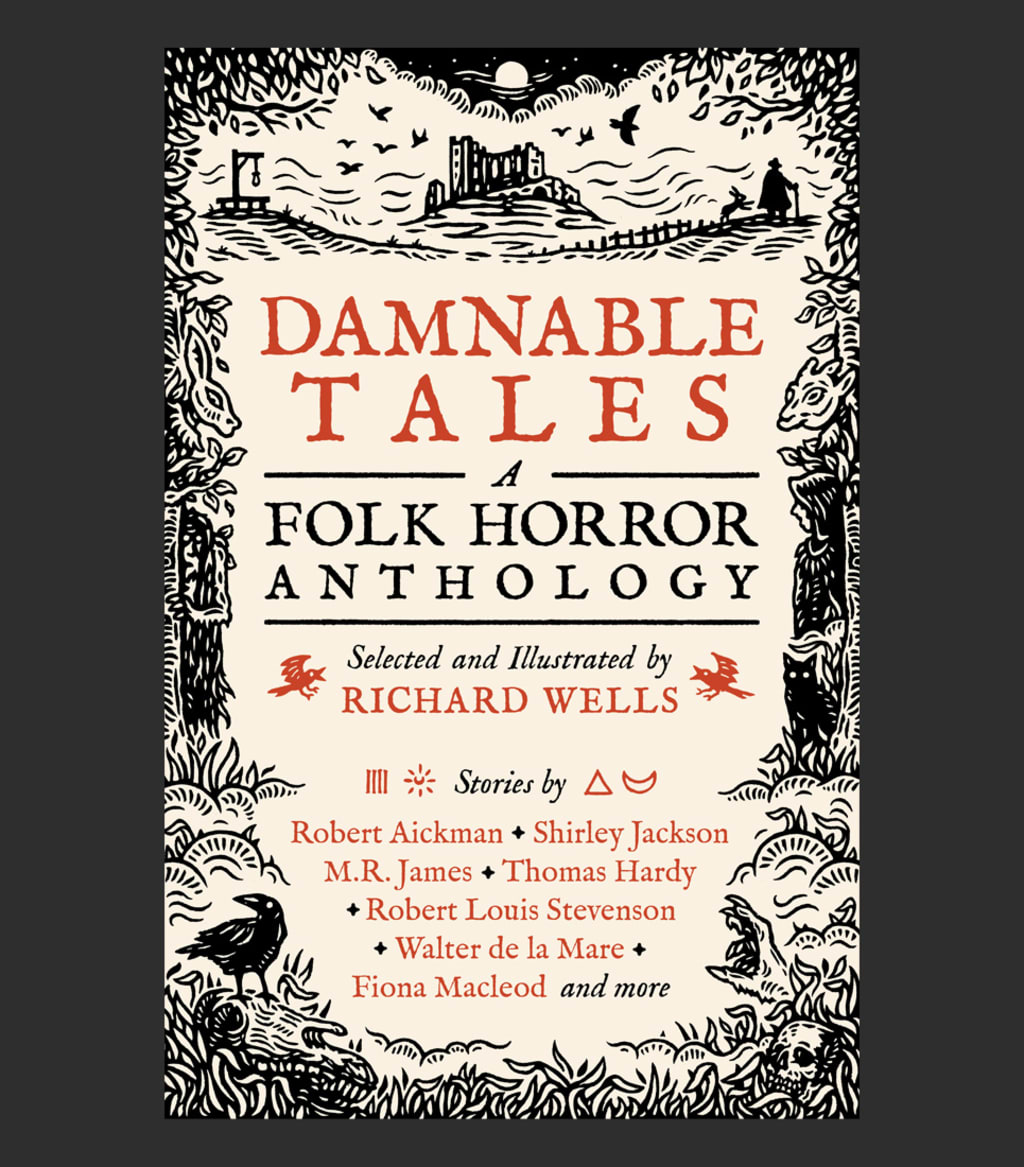 You all know how I feel about folk horror. You all know that I sit there on a rainy day with a cup of coffee and a glass of Soya Milk, watching "The Wicker Man" over and over again. You all know how I feel about everything from Daniel Kehlmann's "Tyll" to Mikael Niemi's "To Cook a Bear". You are aware of my ramblings about the films of Ari Aster and movies like "Onibaba" and "Kwaidan" by the Japanese. Anyways, you get it - folk horror is my all-time favourite genre of anything ever. When it comes to folk horror you need a few things to make it just right: strange belief systems, odd almost folklore characters, weird behaviours that are seen as normal to the character performing them, signs and symbols that represent some sort of repressed thought and if you want to push the barriers, pick up your copy of "The Republic" by Plato and toss it out of the window because everything here is a representation of something. The almost ethereal and threatening quality of a folk horror piece is what keeps it alive. The idea that something that is considered so normal by the folk performing it is actually incredibly dangerous to an outsider can be absolutely terrifying. From black magic to the black plague, from maidens to the maypole and all the way down to the very creatures that walk with them - this anthology of folk horror leaves no gaps and is illustrated brilliantly.
The book starts off with a foreword which introduces you to why folk horror is so terrifying and how it plays upon some of our worst fears. Benjamin Myers starts this ominous foreword with "Fear nourishes. Fear can comfort" and goes on to state that our dystopian reality has created this requirement for "fears we at least partially recognise and willingly submit to. Old fears. The fear of the weird and inexplicable." From Sheridan Le Fanu's case of a doomed child in "Laura Silver Bell" which works in elements of folkloric creatures and magic, to the short, terrifying and brutal story of "Devil on the Marsh" by H.B Marriott Watson. This book has everything that a folklore fan and a horror fan could want. Arthur Machen's "The Shining Pyramid" lives on the landscape and the horrors within could terrify us into a sense of true danger as with one of the giants of horror, M.R James, and the story of "The Ash-Tree". Walter De La Mare has a story in this anthology as well, something I admittedly read a few years back called "All Hallows" and the queen of modern horror, Shirley Jackson, gets her turn at "The Summer People" - a deeply disturbing piece of horror fiction. The book ends with the great Robert Aickman and his story "Bind Your Hair". Each story just as terrifying as the last, each one containing a different aspect of folk horror, this book works in mountain goats of the devil, fairies and cults to create one of the scariest and most satisfying anthologies I have ever read to date.
In conclusion, you can probably guess how I feel about this book - you can also probably guess how much I tried to not actually finish it because I didn't want to put it away. I read three stories per day but kept going over because I didn't want to put it down. So I ended up reading five stories a day and finished the book in about 5 days. I had to keep pulling myself away from it so I didn't finish it in one sitting. It is an incredible book.
Reader insights
Be the first to share your insights about this piece.
Add your insights