Wonder Woman 1984's Exciting Post-Credits Scene Explained
The post-credits scene in Wonder Woman 1984 is nothing short of fantastic and has some interesting implications regarding the rest of the DCEU.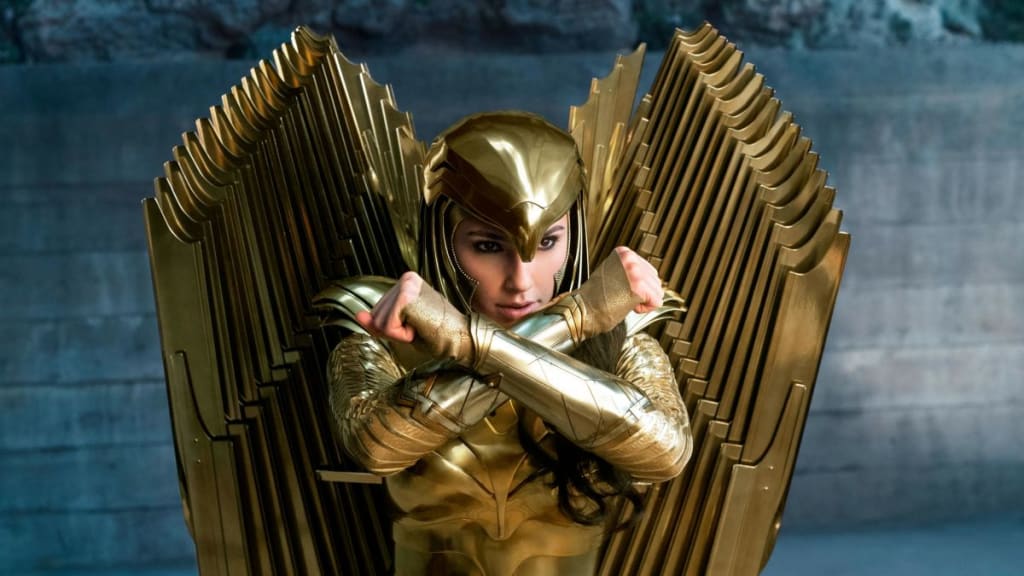 Image from Wonder Woman 1984, Gal Gadot
Warning: The following contains spoilers for Wonder Woman 1984!
Many people are probably wondering if there is a reason to stick around after the credits of Wonder Woman 1984 for any of those notorious extra scenes that superhero movies have become notoriously known for these days. On the other side, if they did end up seeing it in theaters or on HBO Max, they are most assuredly curious as to know what exactly is going down in this intriguing final clip from the hugely anticipated sequel.
Wonder Woman 1984 offers up a solid follow-up for fans and features an enthralling, action-packed thrill ride from start to finish. Gal Gadot is once again back as the titular superheroine Diana, but this time, her latest endeavor takes place in the '80s, and thanks to the powers of the Dreamstone, Chris Pine's' Steve Trevor is also able to make a comeback as well.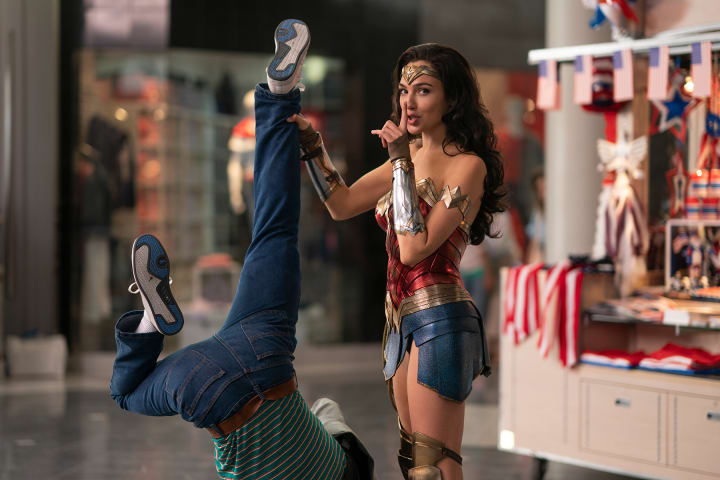 Together they must take on two new nefarious evildoers in the form of Pedro Pascal's Maxwell Lord and Kristen Wiig's Barbara Minerva, aka Cheetah. The end result sees the arrival of her infamous invisible Jet, and her ability to fly is mastered magnificently. Also, there is the stylish golden armor she wears in the final sequence, which contains an enticing origin story, that is referenced heavily throughout the DCEU film, especially in the Post-Credits scene.
What Happens in Wonder Woman 1984's Post-credits scene?
After Wonder Woman stops Maxwell Lord and Cheetah to save the day, a scene appears after the credits roll that depicts a woman who, from behind, dramatically resembles Gal Gadot's Diana. She is walking through a busy market when a beam almost falls on a woman and her child.
But the Amazonian stops it from doing any damage without breaking a sweat and continues to walk on as if nothing happened. The grateful mother chases her down to show her gratitude and proclaim her amazement at what she just witnessed.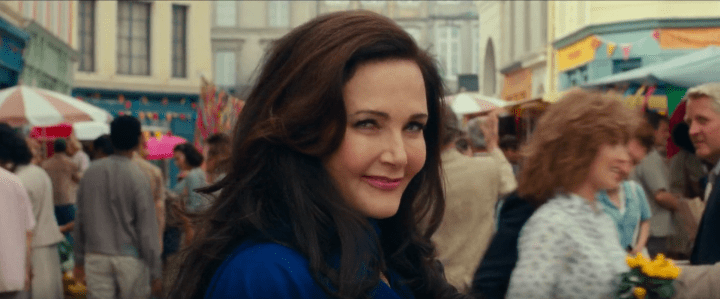 This reveals that the heroic woman in question isn't Gadot's Diana at all and turns out to be Lynda Carter, the actress known for being the first person to portray the DC comics character in live-action on the small screen in the 1975 TV series, also available on HBO Max. She makes a call back to Diana's cover story for her super strength, saying it's about shifting one's weight the right way and that she has been doing this sort of thing for a while.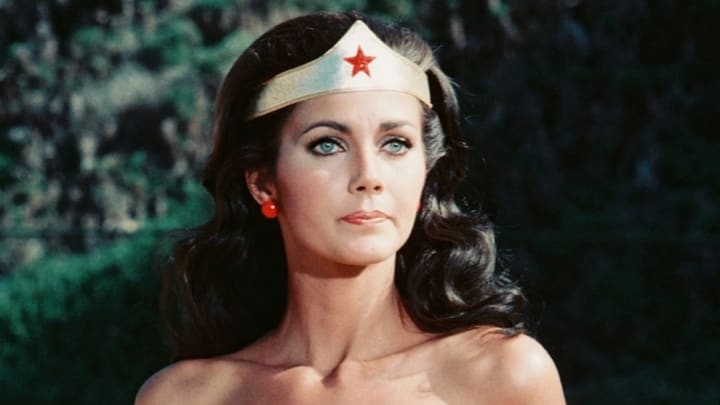 She also unveils that her character's name is Asteria and that it comes from her culture. The very clever and well-crafted scene ends with Carter winking to the audience, wrapping up a gorgeously realized sequel.
Who is Asteria?
Asteria is an Amazonian hero who is revered by her people with an elaborate obstacle course focusing on all the skills and attributes that make up a great Amazonian warrior. Diana is seen competing in the ordeal at the beginning of Wonder Woman 1984.
It's later learned in the film when Steve Trevor discovers Asteria's golden armor in Diana's possession that ages ago when mankind enslaved the Amazons, her mother freed and led them to safety in Themyscyria. But in order to do this, one of them was forced to stay behind and by them time to escape.
To help her in this impossible endeavor, every Amazon gave Asteria their armor, and together they forged the golden fatigues Diana dons in the final battle of the film. Diana also mentions that the armor was all she could find, indicating there was no verification if Asteria had perished while fighting for the Amazons.
Asteria isn't from the comics, but there is a character with the same name that arrived in the Elseworld's Finest limited series as a Justice Society member in a parallel universe.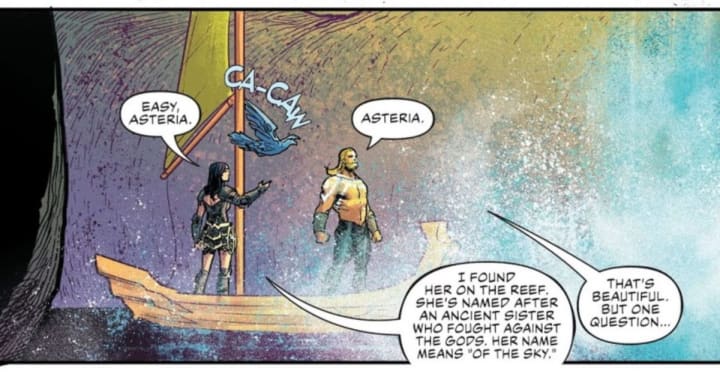 There is also a metallic two-headed bird with the same designation in Justice League #11 that Wonder Woman named after an ancient sister who fought against the gods.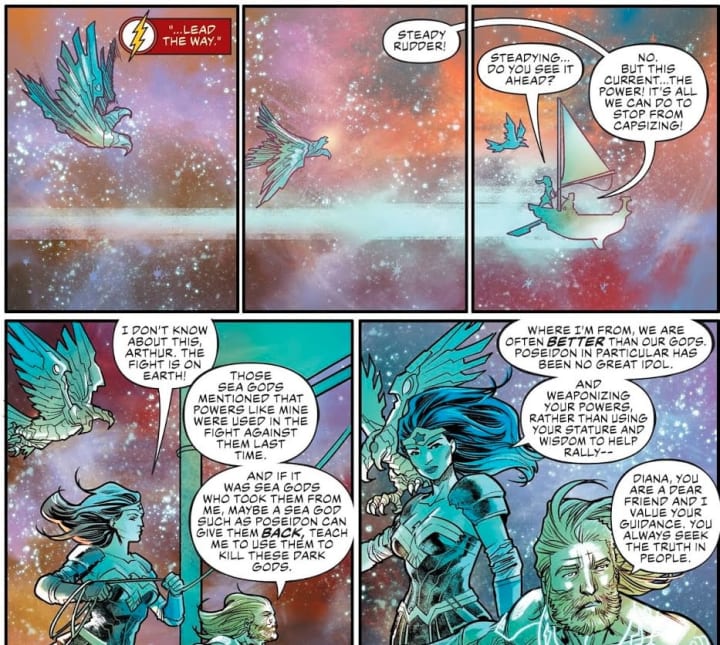 Neither of those iterations matches up with what goes down in the post-credits scene, so Carter's version proves to be an excellent new addition to the Asteria legacy within the massive DC comics story universe.
What does it mean for the future of the DCEU?
Knowing Asteria is alive and well in the DCEU offers up many opportunities for the future should Lynda Carter suit up as an Amazonian warrior once again. She could easily fit into a supporting role in Wonder Woman 3 or another DCEU film as someone who assists the characters on their quest.
She could very well become an asset to other heroes in future iterations. It also would be pretty awesome if we ever got a scene where Gadot and Carter fight side by side. Watching both generations take on villainous foes would be an epic thing to witness, and something fans would line up for a week to see.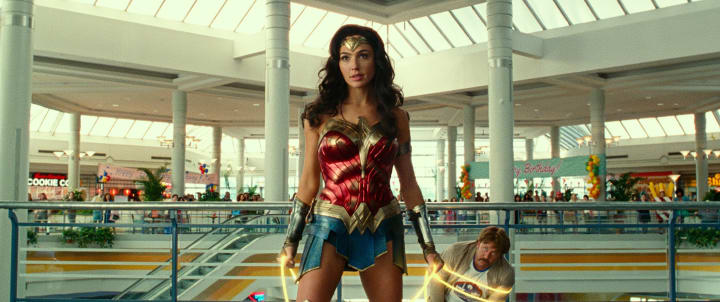 While it would be nice to see Asteria in the Justice League's roster assembling for an Endgame-esque situation, it would seem those chances are relatively low, but one can dream. Whatever the future holds for Asteria is anyone's guess, but the one thing no one can deny is that Carter's character is a welcomed addition to the DCEU, appearing in what is arguably one of the massive franchise's best post-credits scenes ever.
Wonder Woman 1984 is now in theaters and is also available on HBO Max for 31 days from the theatrical release dates at no additional cost for paying subscribers.
For more stories, articles, and great content, make sure to check out WrittenByDJR.com and ProducedByDJR.com. Also, make sure to check out my work on Vimeo, Amazon Prime, and on Twitter @WritttenByDJR.