Why "Warrior Nun" needs to be your next binge watch
This Netflix original combines intriguing fantasy elements with occasional laugh out loud moments spearheaded by an immensely talented cast.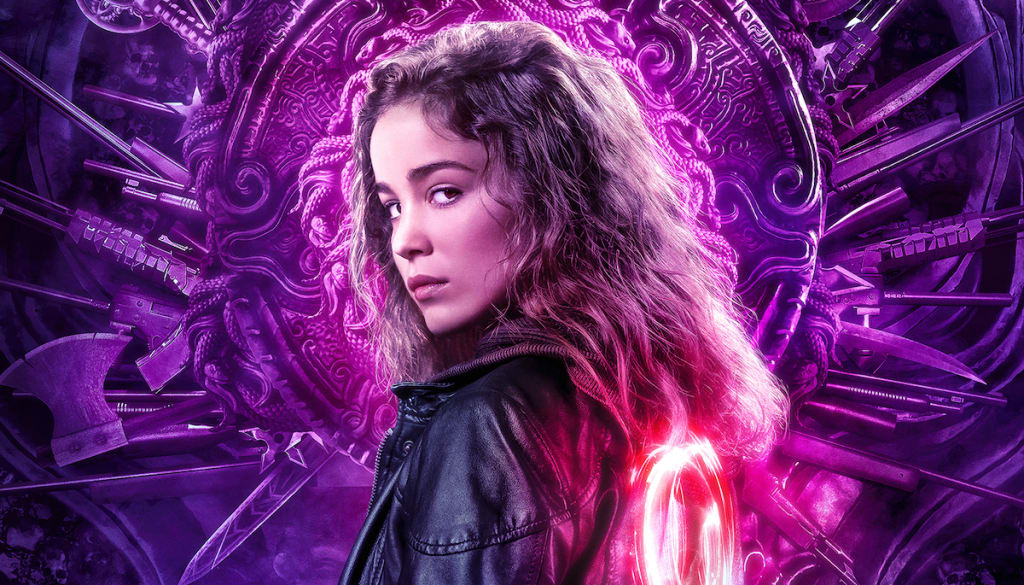 'Warrior Nun' [Credit: Netflix]
Warrior Nun is one of the best Netflix originals the streaming giant has to offer. When I began watching its first season in July 2020, I had zero expectations going into it. I simply saw two words that I never associated being together and thought "huh! I wonder what kind of warrior shenanigans these nuns can possibly get into?"
What ultimately transpired was me becoming emotionally attached to this fantasy-action series featuring a compelling group of characters within an incredibly rich universe. I knew I wanted more and following the conclusion of season one, I eagerly awaited the release of its second season which released in November of this year... More than two years since the initial episodes dropped.
While its first season had the daunting task in setting up the universe's numerous vast conflicts and tends to be slower paced during certain scenes, the continuation of Warrior Nun into its second season is absolutely enthralling; I tend to avoid the Binge Method of TV consumption as I prefer spacing out my episodes in order to have something to look forward to but I simply could not help myself with season 2... WHAT OTHER DELIGHTFUL QUIP WILL MOTHER SUPERION AND SISTER CAMILA SHARE, DAMN IT? *Eats erotic pastry.*
The series' second season recently earned the insane achievement of becoming the highest audience scored show on Netflix, boasting a whopping 99% based on over 7,800 reviews at the time of writing. For the sake of comparison, Season 2 of Stranger Things holds a great audience score of 90% with 7,660 reviews and the second season of The Umbrella Academy has an 88% with almost 2,200 reviews.
If additional convincing of its merits is needed, look no further than its perfect 100% critic score for its second season, a feat only a handful of Netflix originals can state they've accomplished.
Although there may only be ten reviews presently, a win is a win. And if utilizing one of the most popular metrics on the internet is any indication to gauge what critics and audiences like to watch, Warrior Nun reigns supreme. Here is why the series must be placed at the top of your watch list.
Putting the "care" in "characters"
Warrior Nun does not shy away from tackling complicated themes. The series begins with a quadriplegic orphan being resurrected with supernatural abilities and needing to join an ancient order of demon-hunting nuns working to exterminate demonic forces... This is not exactly the most delightful of circumstances to be in.
Virtually every character has experienced immense loss and grief; there are moments of existential crises and the concept of sacrificing one for the greater good of all, for example. Yet throughout all of these hardships that plague our heroes, the playfulness remains. Not in the sense of utilizing humor as a means to easily get out of a situation with no consequences, but moreso using a character's natural charisma and habits to determine how they would assess and proceed with the conflict at hand.
Alba Baptista's portrayal of the titular warrior nun, Ava Silva, is spectacular as she effectively embodies Ava's internal turmoil struggling with this massive responsibility foisted upon her while needing to remain physically capable of defeating those who wish her, and those she loves, harm.
If there is one trait that can be attributed to Ava's character, it is using humor as a coping mechanism in order to handle the whirlwind of chaos she experiences on a daily basis.
The show's keen ability in sprinkling those brief respites of levity while also recognizing the severity of whatever issue has arose makes for an incredibly enjoyable experience because it gives characters depth. Ava endures trauma after trauma yet remains cognizant that allowing the darkness to overtake her is not an option; regardless how dire a situation is, she strives to remain as level-headed as possible. Thankfully for her, she has a collection of fiercely loyal allies swiftly ready to banter while simultaneously decapitating evil forces at a moment's notice.
The camaraderie depicted between the women of Warrior Nun is also just so refreshing and executed brilliantly. I find myself actively looking forward to when Ava interacts with other members of the Order of the Cruciform Sword because their interplay is genuinely engaging and feels like an authentic interaction between these characters we grow to love.
The fight sequences are beautifully brutal
Warrior Nun's TV-MA rating is well earned. When a moment involving violence causes me to converse at the screen by remarking "what the-- oh my GOD", chances are I am elated with the writers' decision to not hold back.
Although characters always have the option of choosing a polite chat to resolve any pressing conflicts between foes, there are times when ripping off a guard's arm is truly the only way to solve such a dispute:
Avatrice: When the Slow Burn engulfs the screen
I am not going to sit here and claim Netflix has a history with prematurely canceling shows with lesbian leads yet with very few exceptions, the powerhouse streaming service seemingly adores having a catalogue of one-season-WLW-wonders that clearly reach an audience within those few episodes and promptly cancels them despite triumphant critic + audience ratings and (what is arguably the most disheartening) impressive viewing numbers.
Every so often, lightning is caught in a bottle wherein a series reaches the pinnacle of prosperity within their initial season as seen with a Stranger Things or Wednesday, however expecting a new series to release and garner immediate success or excessive popularity is unrealistic. Had this mentality remained during previous eras of television, beloved classics like Friday Night Lights and Buffy The Vampire Slayer would not have made it past their first season.
Throughout Warrior Nun's first season, it is eventually revealed Beatrice is a lesbian and although Ava's initial love interest was a male character named J.C., creator Simon Barry previously stated characters will not be defined by a "singular idea" and that both them and the writers remain "open and exploring" within their respective journeys.
As the season progresses, Ava and Beatrice's bond grows exponentially with the palpable chemistry between Baptista and Kristina Tonteri-Young radiating through the screen with every episode.
These two exhibit a particular skillset that is difficult to find within many fictional couples in any medium: constructive communication. Ava and Beatrice express their fears to each other without judgement. They apologize when they mess up and actively listens to what the other says. They also tend to, most importantly, empathize with one another. Ava divulges why she handles an issue in the manner she does leading to Beatrice understanding and sincerely apologizing for how she dealt with it...
... A couple lovingly supporting each another by implementing effective communication skills within their partnership?? In this economy?!!
Please watch
Warrior Nun devotees are still awaiting news of a potential renewal with a fan campaign firmly underway to hopefully secure that next season. Following the cancelation of 2018's Everything Sucks! (another title on the beloved Netflix platform), I swore a personal oath to not become intensely attached to any other series with fewer than three seasons... well, call me Jon Snow because that oath is officially broken.
If you browse any of Netflix's social media platforms, particularly on Twitter, the immensely dedicated fanbase exhibits their devotion to the series by posting stellar edits, numerous compilations, creative fan art and illuminating analyses. Whatever reason decided to hopefully renew Warrior Nun - be it the money saved on having no marketing (yet still managing to attract a substantial fandom), solid viewing numbers or its exemplary Rotten Tomatoes score - fans are eager to see a return of this riveting series that is second to nun...
***
Thank you for reading!
If you like anything found in this piece, please click that little heart under the article's title and possibly consider subscribing/tipping if you're so inclined! Follow me over on Twitter for my many ramblings.
About the Creator
Afghan-Canadian writer who enjoys witty quips and BTS, proper grammar and Jodie Comer.
I tweet with @MrsBananaPhone because it's the best and beats the rest.
Reader insights
Be the first to share your insights about this piece.
Add your insights