A Dedicated Fan Campaign Has Remained Strong After Netflix's Cancellation of 'Everything Sucks!' Over a Month Ago
The streaming service has remained silent amidst the outpouring of support for the 90s-set dramedy.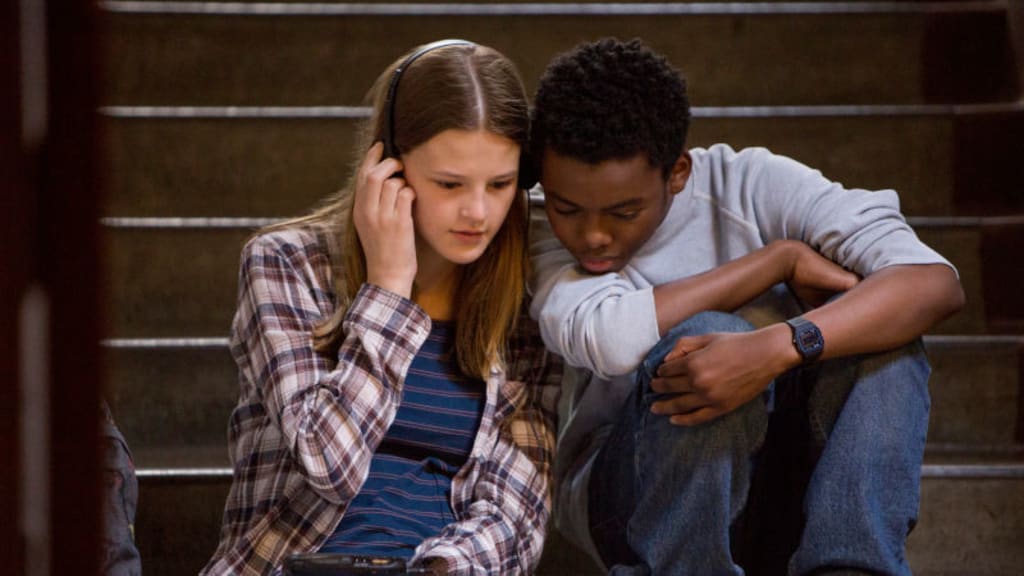 [Credit: Netflix] 
I previously wrote about the premature cancellation of the Netflix original series Everything Sucks! and how an online campaign was immediately formed in hopes of convincing the service to reverse their decision.
It's been over one month since I wrote that article and there have been some remarkable initiatives taken since then to potentially reach their goal of a renewal. Taking a cue from their Sense8counterparts, a dedicated website was recently created which provides details of the show, campaign, as well as ways fans are able to support a renewal.
Ring Pops and Pride Flags Sent to Netflix HQ
While the Change.org petition has managed to amass almost 20,000 signatures, the campaign decided one of the best ways to potentially be seen would be to send a ridiculous amount of Ring Pops to Netflix's corporate office. For those unfamiliar with the show, Ring Pops are used to represent the connection between two characters whose relationship we all want to see reach its potential with future seasons.
A GoFundMe page was created wherein its initial goal was to raise $600 to send 1,000 ring pops to Netflix's Los Angeles office. Within 15 hours, the goal was ultimately surpassed, which meant over 1,500 ring pops were shipped over to their office with a simple message: please #RenewEverythingSucks. Although user Shanti Keshavi confirmed that the delivery was signed for, Netflix has not acknowledged whether they enjoyed the nutritious snacks.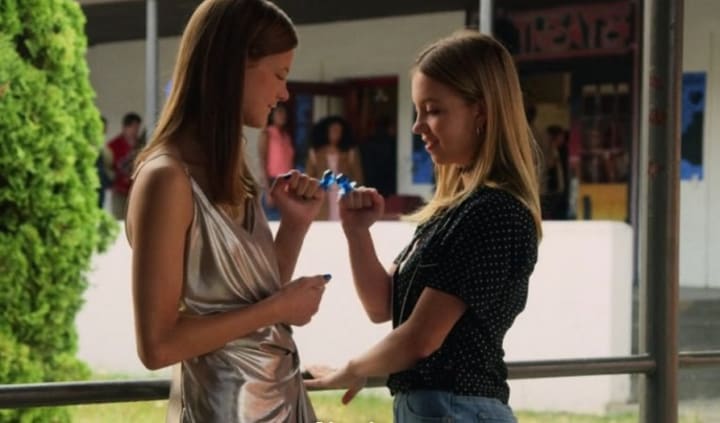 Due to the success of the Ring Pop initiative, another GoFundMe was created with hopes to raise money to send Pride flags to the Netflix office. A majority of Everything Sucks! fans remark that the show's LGBT+ representation is unlike anything they've seen in the television medium. While there are certainly TV shows that paved the way for shows like Everything Sucks! to exist, there is something special this particular series has that makes viewers crave a return to Boring, Oregon.
Whether it's the idea that the creators spoke with a GLAAD representative to ensure the subversion of tired-out tropes (and, in return, received the organization's support in a renewal) or the effective depiction of Kate Messner (Peyton Kennedy) and Emaline Addario's (Sydney Sweeney) characters struggling for acceptance, the series has struck a core with the LGBT+ community striving for compelling representation in media.
$540 was raised with another successful campaign surpassing its initial goal. 1,950 flags were sent and similarly to the first crowdfunding campaign, silence was met from the platform.
Fans Rally for Campaign Video
When twitter user itsbananaslug announced they were planning on making a video compilation on why viewers adore Everything Sucks! as much as they do, the fandom (yours truly included) responded with obvious jubilation.
Within a period of a few days, the campaign video was edited and uploaded with clips of the series sprinkled throughout along with a number of impassioned fans pleading for Netflix to "renew Everything Sucks!"
Business Insider and The New York Times include the series in their 'Best Of' lists.
As Netflix keeps a tight lid on their viewership numbers, subscribers are left with finding alternative methods when attempting to discover what impact their favorite show may have on the public.
One of the most frustrating aspects of the Everything Sucks! cancellation is the critic and audience love the series has received. The show's Rotten Tomatoes score for both have gone up a point or two since writing my original article, with its Critic Score sitting at a respectable 70 percent while its Audience Score is at 91 percent.
The NY Times included the series in their "Eight Recent Netflix Original Series That Are Worth Your Time" along with Business Insider's recent list counting down "The 8 Best New TV shows of 2018 So Far." UPROXX also included the freshman series in their "The Best TV Shows On Netflix Right Now, Ranked" list, coming it at an impressive #24 out of 60 shows, beating out such staples as 13 Reasons Why and The Crown. ELLE is yet another recent example of an outlet praising the show as it landed #1 on their "8 Best TV Shows of 2018 (So Far)."
Seeing the dedicated fandom's gradual growth this past month along with the praises sung by admired outlets, it remains a mystery why the series is not given an opportunity to continue its progress.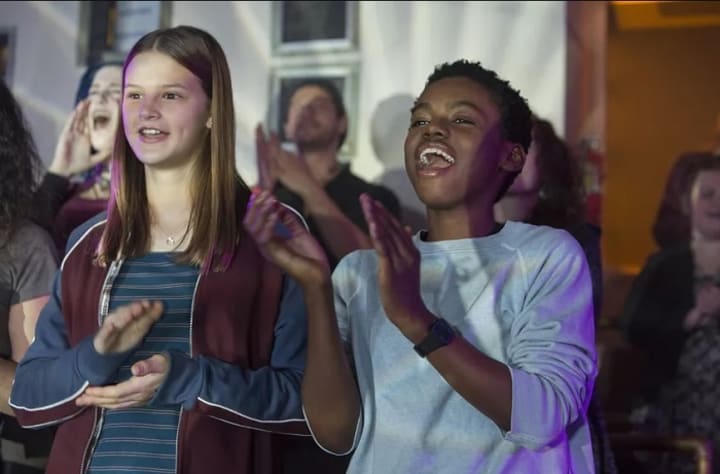 Netflix has apparently gone back on their word—twice.
About a year ago, Netflix announced the cancellation of another original series with a passionate fandom behind it with Sense8. Following the initial cancellation announcement, that fandom executed the basis of what fan campaigns will probably emulate for years to come. Calls to customer service, e-mails to every executive featured in the public domain and flip-flops sent to Netflix's offices in an attempt to convince the service to renew the show.
Through their vigorous campaign, the series received a finale special which is set for this summer. Sleuthing Everything Sucks! fans went through the Netflix archives and dug up an interesting point made by their official Twitter account which states them striving not to allow their future shows to be left with an unfinished story.
Leaving a Story Unfinished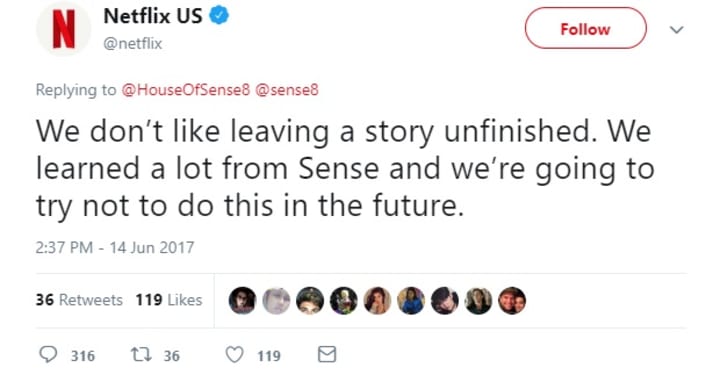 Without spoiling Everything Sucks!, it leaves off on a major cliffhanger that would justify a continuation, in every sense of the word. The unfortunate nature of that tweet affects the show's many fans who were left screaming at their TVs anticipating what will transpire next.
"To disagree silently is disloyal."
Last month, Netflix's CEO Reed Hastings spoke at a TED conference where he shared a thought on his company's credo that sounds stupendous in theory but doesn't seem to be occurring in reality:
"We want people to speak the truth, and we say, 'To disagree silently is disloyal'... It's not ok to let a decision go through without saying your piece. We're very focused on trying to get to good decisions with a good debate."
Throughout the past month and fervent attempts at communication from the Everything Sucks! fandom, Netflix has remained stone-cold silent. No social media posts about the campaign, no replies to those inquiring about a renewal—absolute silence. Despite the flood of comments included in virtually every one of their social media channels, an official statement has not been released. There are instances, however, where those involved in the production of the series have assured fans that the company is hearing them out and for them to continue their campaign, which we will certainly be doing for the foreseeable future.
I am obviously not naïve enough to believe a company making promises will keep said promises in perpetuity. Unforeseen circumstances come about, other factors arise that can't be addressed at that time. Who knows? I'm not heartbroken, and I will be able to move on with life, it's simply disappointing that a service which prides itself on maintaining a sense of transparency with its subscribers manages to blatantly disregard that philosophy in this case.
Whether any of this campaigning will be enough to convince the Goliath of the streaming industry to reverse their cancellation decision or release a statement justifying the decision is an unknown. It also may seem silly to continually spend our days annoying a company for one of their products, however, Everything Sucks! deserves our dedication. There's a reason why this little show has managed to amass such a following in such a short amount of time. At this point, I believe we're going to be campaigning for a renewal longer than the show was on Netflix prior its cancellation, but I am cool with that.
Certain fan campaigns including Sense8 and Jericho have proven to work, and I think I speak for all of us when I say we would much rather feel a staggering sense of shame and regret for failing than not trying at all.
About the Creator
Afghan-Canadian writer who enjoys witty quips and BTS, proper grammar and Jodie Comer.
I tweet with @MrsBananaPhone because it's the best and beats the rest.
I also have designs: https://www.teepublic.com/user/designingsimple
Reader insights
Be the first to share your insights about this piece.
Add your insights