Where's the Love RICC?
First they oversell, now they treat volunteers and attendees poorly? Where's the love for fellow nerds, RICC?

"Where's the love Rhode Island Comic Con" is the question I find myself asking this week as the popular Providence area convention came to a close earlier this past week.
Overcrowding
Now as some you remember the convention ran into a number of problems back in 2014 when they over sold their capacity by 3,000 attendees. This means they sold 20,000 tickets when they were only allowed 17,000.
This left massive hoards of convention goers outside of the convention trying to get in all day and others that had gone to lunch were stranded, unable to get back inside the hall as well. People were told to contact the convention for a refund but many were told no if they had even seen the convention floor for a mere hour or two out of the total 36 hours of content they had paid for.
This was of course not the last time that RICC was going to have an over crowded convention floor. This year attendees felt the convention center was also stuffed almost, if not, to capacity. One attendee, Erica Grube-Grumt stated, "The convention center is too crowded for its own good." She continued her sentiment: "Staff were nice for the most part but had no clue what they were doing, and to top things off the dealers hall was just a circular hallway crowded to the brim. It took you in a complete circle with nowhere to go among the current of disappointed nerds."
Miss Grube-Grumt finished: "We didn't get a chance to see the entirety of the con because it was THAT crowded."
Cancellations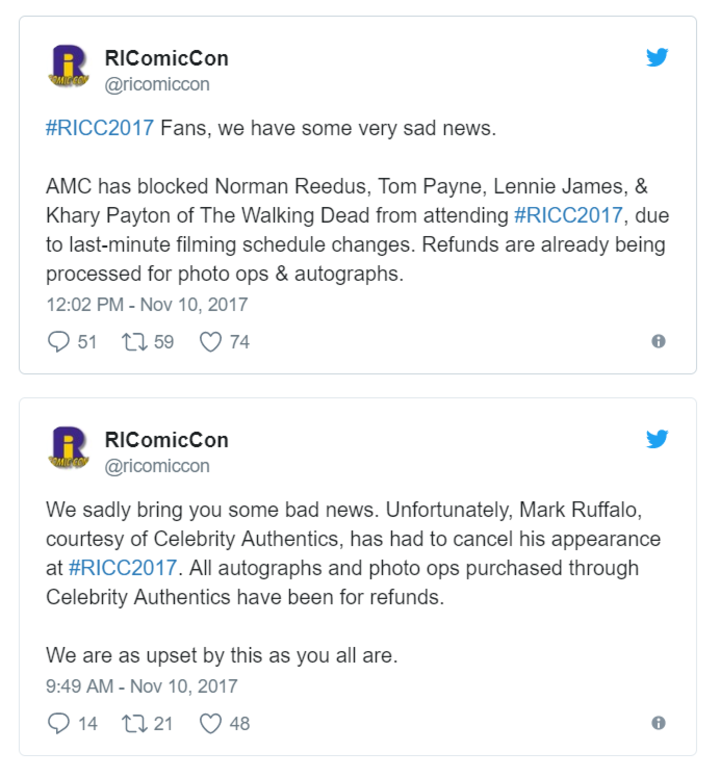 This year, RICC was suffering a number of cancellations mere moments before and into the convention it self. Norman Reedus being one of the biggest names to cancel disappointed many fans, but you really can't blame him or the rest of the cast as they are currently filming the finale of The Walking Dead, a community favorite from AMC's television channel. Richard Dreyfuss and Jon Bernthal also canceled their appearances at the comic convention.
This is not the first time RICC has had a number of cancellations before the convention of course. Back in 2016, Kate Beckinsale canceled her scheduled appearance and ten percent of the RICC guest list had canceled in totality days leading up to the convention. Of course this lead to many angry attendees that were left paying surcharges and weekend entry fees when they no longer wanted to attend. They had purchased the $200 Beckinsale bundle and had only had the cost of the meeting refunded. They were still left paying surcharges for the whole bundle and weekend ticket according to various sources.
RICC has a no refunds policy that reads
"GUEST LIST SUBJECT TO CHANGE AND REFUNDS WILL NOT BE GIVEN IF A PARTICULAR GUEST IS NOT IN ATTENDANCE." T
his did not go unnoticed by the geek and nerd community as normal agencies offer you the option to get a full refund for the bundle you have purchased or they allow you to pick something else in place of the defective item, in this case the defective item is a cancellation. It looks like RICC attendees have to book and hope their favorite celeb doesn't cancel if they are only going to see that person.
Princesses Refused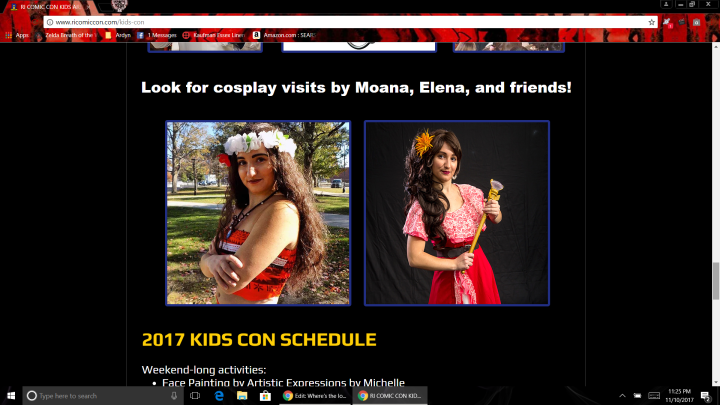 This year's RICC only brought up more rather concerning realizations about the convention. The coordination for the volunteers is certainly awry. Julie Alice Wilk and her fellow actress Alena Maria of New England Character Parties were scheduled to preform through the weekend at the Kids Con section of RICC 2017. Not only were they turned away Friday despite being featured on the website, they were also met in an unprofessional manner. The entertainers were scheduled to perform for the children in kids con on Friday 7-8 PM and Sunday 12-1 PM. Needless to say due to the volunteer coordinator treating this entertainer poorly and barring her access to perform, the children were left princess-less on Friday.
Having spoke to Miss Wilk about the events that transpired she gave me a brief description of what had happened this past Friday when trying to get to the convention. "The 'volunteer coordinator' blocked me entirely. I missed my performance on Friday because of her. The kids con organizer, Veronica, literally told me to go to the front entrance and mention her name but we got sent to three different locations." Upon arriving to the final destination, the unnamed Volunteer Coordinator was informed that they were late to the performance due to the run around caused by RICC, to which she responded with a rather unprofessional "I don't care." Not allowing them entry.
For a volunteer dealing with the children's area, coordinator or not, this sort of behavior is unacceptable. If the volunteer was willing to behave in such a way towards a performer and making their life more difficult than it already had been when they were there to entertain children, then how did they treat the attendees, adult and child alike? This raises a number of concerns as it seems that RICC has yet to properly train their staff to handle people, let alone the very people volunteering their time as an entertainer for their show.
By barring access to the entertainers, they have in turn made the entertainers look flaky due to the convention's utter incompetence and inability to communicate between departments let alone fellow staff members. The convention is now responsible for making these entertainers look unreliable to those who may have hired them for birthday parties.
Rude and Disorganized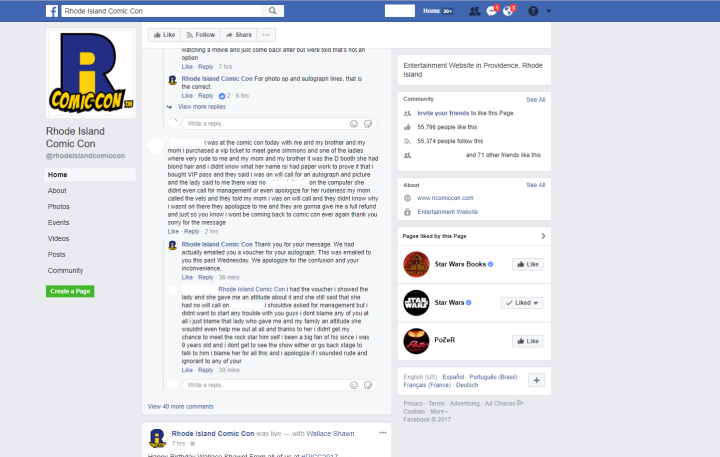 Of course this was not the only instance of volunteer staff being rude. One attendee was given grief simply for having a VIP badge which would have forced the volunteer to look his status and voucher validity up in the computer. It seems as though the staff still has not been properly trained for customer service as it was evident he was in the system later on. Another attendee posting on the lost badge thread on their Facebook page even stated, "RICC, your personnel were ignorant and rude. They didn't know anything and they consistently said idk to questions and it was horrible the way your people acted. On Veterans Day no less." And even Miss Grube-Grumt stated that staff "had no clue what they were doing,"which speaks volumes of their care for their attendees.
The sheer level of poor customer service over the years and the failure to train volunteer staff to handle situations let alone basic program or floor knowledge is appalling. People being treated like cattle, rude volunteers, and even mistreating volunteer performers are signs the Providence area convention is not only unorganized but is also failing to improve since the 2014 debacle. It is only a matter of time before the convention comes to a screeching halt.
That being mythical creatures and aliens! I want to hear your convention horror stories accompanied with your screen names! Email me at [email protected] and my next report will be a "reading your stories" video on my YouTube channel for my first ever video.
conventions