When will Martin and Lucy have a real relationship on General Hospital?
Fans want to see Lynn Herring and Michael E Knight's characters around for the long haul.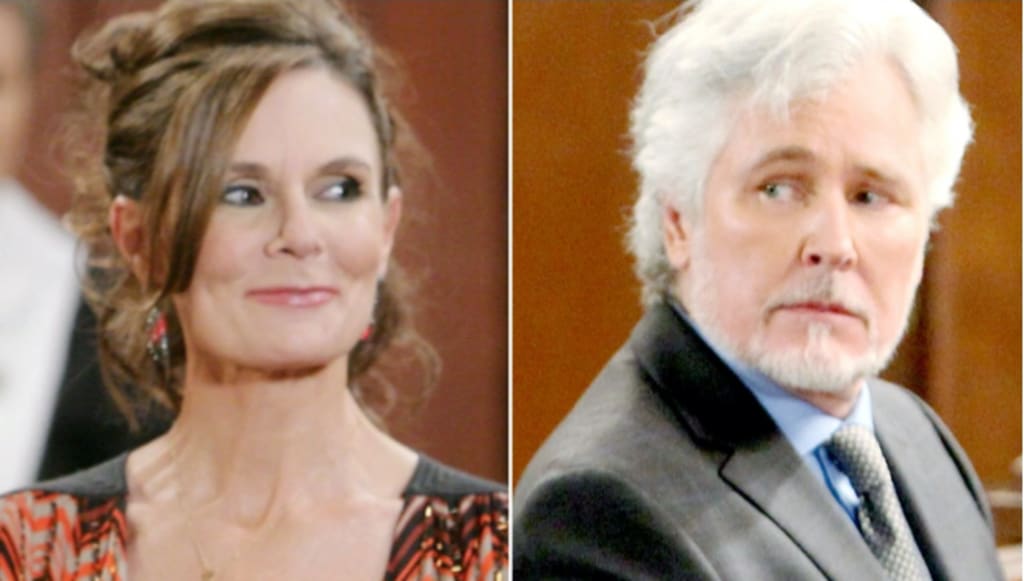 Fans want to know where are Martin and Lucy?
General Hospital has a habit of getting viewers invested in couples and then breaking them up. Scott Baldwin (Kin Shriner) and Liesl Obrecht (Kathlene Gati) are a recent example. Viewers were loving them as a duo and twice since that time Shriner has announced he is leaving the soap. He was gone for several months at that time and now some spoilers are saying he might have been let go from the ABC soap. It looks like the popular duo Lucy Coe (Lynn Herring) and Martin Grey (Michael E Knight) might be in the same boat.
Last summer just as General Hospital viewers were beginning to enjoy Martin and Lucy together he disappeared from the screen for several months. Martin and his sister Laura Collins (Genie Francis) were sent to a safe house to hide from their sibling Cyrus Renault (Jeff Kober). In real-time Francis was going on her annual vacation but fans don't know why Knight had to be away from the soap for the same period of time.
What do the writers have in mind for Martin and Lucy?
Lucy and Martin are funny and exciting and bring a fresh approach to the show. They exemplify adult relationships as do Scott and Obrecht. It's not clear whether or not Herring and Grey chose to be on General Hospital on a recurring basis or whether the decision came from the powers that be. What is known at this time is that the fans adore Martin and Lucy together and can't wait to see what they will be up to next.
The writers could go in several directions with Martin and Lucy and the first is to have them go their separate ways. They could end up being a couple utilized for comic relief or perhaps something serious could take place between them. Lucy is known for her comedic timing especially as it pertains to the General Hospital Nurses Ball. For a number of years, there would be mishaps where she would end up in her underwear. (Vocal Media)
Fans will be watching and waiting
There is no mention of either Martin or Lucy from any of the major soap spoilers for the next 2 weeks which suggests they will not be around or only ass support for other characters. Neither character is involved with storylines currently taking place in Port Charles except one that Martin is on the periphery of. Grey is the one who notified the SCC on behalf of Nina Reeves (Cynthia Watros) that Drew Cain (Cameron Mathison) and Carly Spencer (Laura Wright) were involved in insider trading. At some point, this information will come out and Martin will face as much retribution as Nina.
In the meantime, General Hospital fans of Lucy and Martin will be hoping the powers that be see how valuable this couple is and find a way to utilize them if their schedules allow. Herring spends a lot of time keeping busy on her California ranch with her husband Wayne Northrop. Knight has not shared whether or not he keeps busy with any ventures outside of working on the ABC soap.
Be on the lookout for updates related to Lynn Herring and Michael E Knight as well as their characters Lucy Coe and Martin Grey. The couple has danced around thsi relationship for close to a year and fans want to see them grow past the point of not being certain of who they are. If the writers choose perhaps even marriage could be in the cards at some point down the road. For now, like Scott and Liesl their followers just want to see them interact more on screen.
About the Creator
Cheryl is a widow who enjoys writing about current events, soap spoilers and baby boomer nostalgia. Tips are greatly appreciated.
Reader insights
Be the first to share your insights about this piece.
Add your insights