Video Calls reveal all on THE YOUNG AND THE RESTLESS
Spoilers tease that Summer confesses all to her parents as well as the man she loves.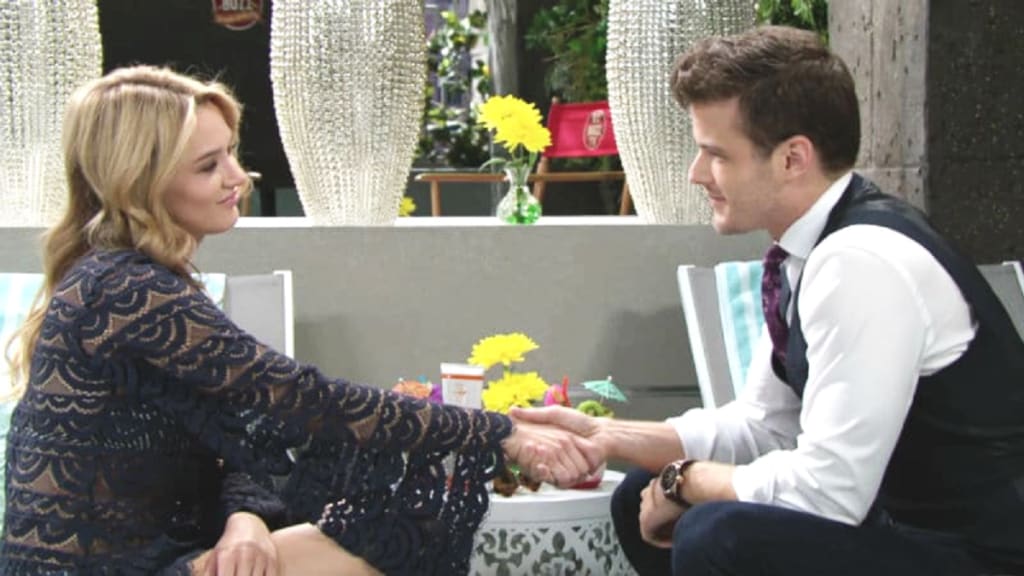 A few steps closer to a Skyle reunion.
Fans of THE YOUNG AND THE RESTLESS have been wondering how everything will unfold between Kyle and Summer prior to Michael Mealor'exit from the CBS soap. Spoilers are now putting the puzzle pieces in place and things look very promising for Kyle and Summer. You can click on the individual links that are included here to read the details. The bottom line seems to be that video chats will be the reason that Summer and Kyle reunite.
Those who enjoy the CBS soap know that Michael Mealor has taped his last episodes but there has still been no confirmation regarding Hunter King's departure. In spite of this spoilers are giving previews of how everything is supposed to line up during the next few weeks. The big news is that video chats are going to be what helps Phyllis take down Sally and also bring Kyle and Summer together.
Phyllis is like a dog with a bone and will not let go until she ruins Tara and Sally. Ms. Summer has met with Eric Forrester and Angelina Marchetti and taken a selfie with them. She sends a copy to Sally who will be quite shaken and there is no telling what she will do to try to talk her way out of things. Phyllis now knows that she was right all along and that Summer got her new job because Ms. Spectra interfered. During a video chat Phyllis will push her daughter until she confesses that she was blackmailed by Tara.
Phyllis and Nick will then go into the next phase of the plan that will expose Tara and Sally for the schemers that they are. THE YOUNG AND THE RESTLESS viewers have been hoping for this moment for quite some time and it sounds like it will have been worth the wait. Jack and Kyle are already suspicious so they are ready for the evidence that Phyllis brings to them. The best is yet to come as Summer will have another video chat that spoilers say will reunite her with Kyle.
It has not been revealed who will initiate the video call but it could be Summer after her conversation with her mom. Perhaps Phyllis even tells her daughter to move quickly and tell Kyle the truth. There is also a chance that Kyle will reach out to Summer after finding out how far Tara and Sally were willing to go get his fiancee out of the way. However it happens, THE YOUNG AND THE RESTLESS leakers say that Skyle will talk to each other via video and that Summer will offer an apology.
This will be a huge moment that Skyle fans do not want to miss and it will probably be filled with emotion and perhaps tears. Spoilers tease that Kyle will find out that Summer left Genoa City so that Tara would not take Harrison from him. It's not clear if this comes out in the video or if Phyllis reveals this to Kyle. What matters is that Skyle will air out the issues that divided them and will soon be on their way to a reunion.
Spoiler alerts agree that Kyle is about to make a major decision and the consensus is that he boards the Abbott jet and heads to Europe to be with the woman he loves. What is not clear is what happens between Kyle and Tara and how Harrison is affected by it all. Skyle fans hope that the little boy ends up not belonging to Kyle and that he and Summer can begin with a fresh start. Some fans believe Kyle will get custody of Harrison but that is something that cannot take place in less than a week unless some plan has already been in motion.
There are many details that need to work out but during this past week, THE YOUNG AND THE RESTLESS has been moving pretty fast with this storyline. There will probably be several revelations that of things that have taken place off camera for the sake of time. Be on the lookout for additional updates and breaking news related to the fate of Kyle and Summer. Make sure you tune in or set your recorder to see Phyllis have her big moment as Tara and Sally are cornered.
entertainment
Cheryl is a poet, freelance writer, published author and former Newspaper columnist. She has degrees in Psycology and Biblical studies. She enjoys sharing natural cures, and Nostalgia related info. Tips are greatly appreciated.