Using Keywords to Increase Your Views on Vocal Media
Optimizing Your Vocal Media Articles for Higher Search Engine Results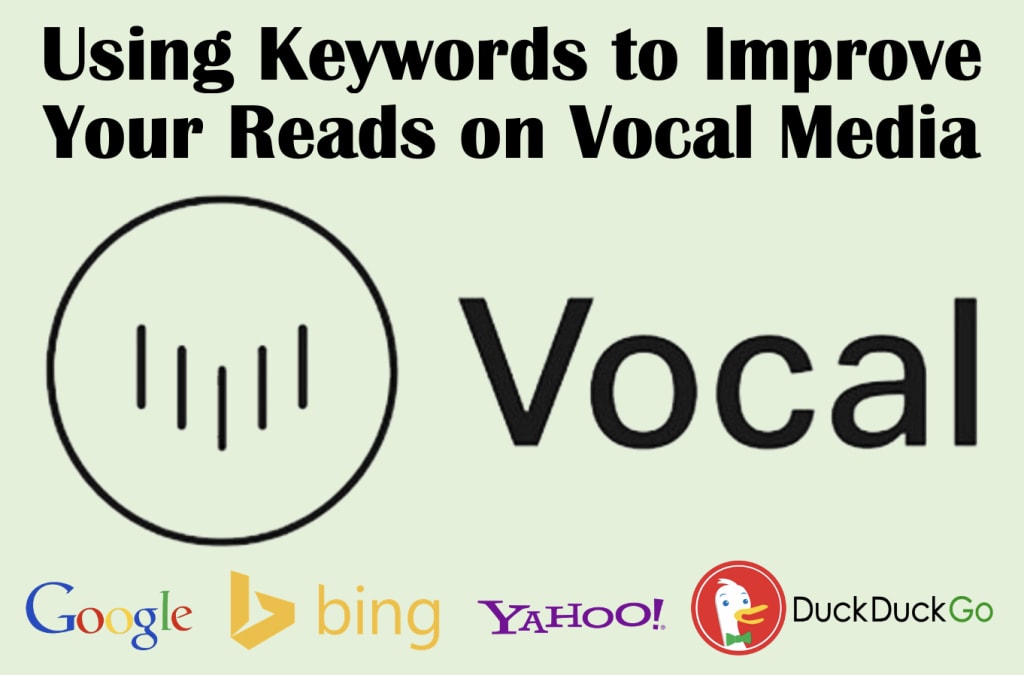 Introduction to Vocal Media Facebook Groups
There are several Vocal Media groups on Facebook. My favorite is Vocal + Assist - of course I am biased in the matter.
These groups all have one goal in common. That is to generate reads for the Vocal authors that are members.
Each group has its own niche. One does fun writing prompts to gin the creativity of the author's. Another has daily threads in which members add their stories. Others have Author of the Day features and fun games to get members involved.
The creators of these groups Judey Kalchik, Dharrsheena, Lisa Lachapelle, Frankie Martinelli, and several others are all sincere in developing an atmosphere that fosters kinship, fun, and most importantly reading.
I originally created Vocal + Assist because I wanted to develop a place where both authors and readers could meet.
So, what or who is the main factor that makes these groups function? One could argue it's the admins and moderators that come up with the fun activities such as Mike Singleton, Cathy Holmes, Heather Hubler, and so forth. Some of them work with multiple groups.
The reality is the members of these groups are the main factor. They make these groups happen. They share reads, participate in conversations, pose questions to the group, and become friends and admirers.
Still though it all boils down to one thing: The almighty read.
Why are these reads so important?
1. Reads lead to subscribers. The more subscribers you have the more potential you have to receive reads for your stories and tips. Subscribers are more apt to leave a tip.
2. Reads can lead to your story becoming a Top Story. Believe it or not Top Stories are mostly chosen due to engagement and not so much quality. Top Stories receive a $5 bonus which is a nice little incentive.
3. Reads bring engagement such as hearts, insights, and comments. One all authors love is engagement, critique, and feedback on their writing. This is how we grow as writers.
4. Reads bring recognition and satisfaction to the works of the author.
5. But what's the one thing we're looking for? Reads bring monetary gain to the author. The monetary gain may be modest, but it is something. It takes 5,000 reads for a Vocal+ author to earn $30.
Monetary Gain
Let's talk a bit about monetary gain. Most authors tend to focus on creating stories/poems specifically to earn Top Stories. There is absolutely nothing wrong with that. But there should be a two-prong goal if you are looking for optimal earnings. The goal is to create works that will earn Top Story status and achieve Search Engine activity.
Quite a few people put out a stream of poems, which for the most part are quick and easy to write and publish. If you are fortunate enough to earn a Top Story with your poem you will also receive more reads than normal. The poem that receives a Top Story is going to get between 70 to 100 reads. 100 reads gets you 60¢. Potentially a Top Story poem can earn you $5.60 (and more if you get a tip). The same goes for a fiction/non-fiction story.
However, if you focus on Search Engine Optimization (SEO) that's where the steady stream of passive income comes in.
Search Engine Optimization (SEO)
Now, when I say passive income that does not mean you don't have to work for it. First point is poems and fiction/non-fiction stories generally are not going to trend on the search engines. Informative articles are your best bet for SEO. Whether it be a story on a celebrity or an instructional article such as freeing up a clog in your toilet, a music list or a recipe.
Simply writing an article is not going to guarantee search engine activity. The most important factor in SEO is the title. Let's say you are writing an informational piece on unclogging your toilet. Titling it "Unclogging Your Toilet" will get you on the search engines - but you will be low in the search maybe #328,972 or so. Nobody will see your article.
How do you get an article that ranks higher in the search engines? First let's work on the title. "Unclogging Your Toilet" is not going to get much traction but "5 Steps to Unclogging Your Toilet" will get you up to around #80,000 in the search engines - you probably won't get too many reads from that listing either. You want to come up with a title that is not overused and is focused on the type of people that will be reading your article.
Determining your Audience
Let's focus on the type of person that might be doing an internet search for unclogging the toilet. Most likely they do not know what they are doing. So maybe a title such as "Unclogging Your Toilet for Dummies" or "The Beginner's Guide to Unclogging Your Toilet." Now you're talking about a placing around #2,500 and that is a placing that will get you a stream of maybe 10 reads a month for quite some time. But how do you get a placing within the Top 100 results of a search engine? This is where keywords come into play.
What are keywords and where do you put them?
Keywords are a set of words that are focal to the topic at hand. Keywords for your article "The Beginner's Guide to Unclogging Your Toilet" are beginner, unclogging, and toilet. Those are your primary keywords. A set of secondary keywords could be plumbing, novice, how to help, bathroom, and so forth.
The best thing is to sit down and make a list of your primary and secondary keywords.
The Importance of Optimizing Your Subtitle
What do you do with those keywords? The primary keywords are already in your title. Now you can incorporate a combination of primary and secondary keywords in the subtitle. Maybe, "Plumbing Novice: Fixing a Toilet Clog". Now you've extended your search to include any combination of the words Novice, beginner, plumbing, toilet, unclogging, and clog.
Your subtitle is an extension of your main title and combined you can increase your search engine results. Search engines search for common words and phrases related to the user's search. Therefore the more relevant keywords in your content the more likely you will appear among the top of the search engine results.
But it doesn't stop here. You still have more work to do with your keywords.
Integrating your Keywords Articles
The last part of using your keywords is to integrate them into your article. Your primary keywords should be used many times throughout your article. Decide as to which is your most important keyword down to least important and how many times you will use each word.
Let's say unclogging is your most important keyword. You are going to use that keyword the most in your article. You might determine that ten times throughout is effective. Then you will use variations of unclogging such as unclog, unclogs, unclogged, etc.
"Starting out with a plunger should be your first method of unclogging your toilet." - this is a strong sentence as it includes two primary keywords.
"After your toilet is unclogged, you'll want to look at methods of keeping your toilet plumbing healthy." - in this sentence you've used two primary keywords and one secondary. Plus, you've used one of the primary words twice.
The following is an example of your determination of most important to least important keyword:
1. Unclogging (10 times)
2. Toilet (9 times)
3. Beginner (8 times)
4. Plumbing (7 times)
5. Bathroom (6 times)
6. Novice (4 times)
7. How to (3 times)
8. Help (3 times)
I hope this information has been helpful and easy to understand.
Soon, I will do a follow-up article on the importance of reciprocating reads.
About the Creator
Writing is a distraction for me. It takes me to places unknown that fulfill my need for intellectual stimulus, emotional release, and a soothing of the breaks and bruises of the day.
https://www.facebook.com/groups/vocalplusassist
Reader insights
Outstanding
Excellent work. Looking forward to reading more!
Top insights
On-point and relevant

Writing reflected the title & theme

Expert insights and opinions

Arguments were carefully researched and presented

Easy to read and follow

Well-structured & engaging content
Eye opening

Niche topic & fresh perspectives

Excellent storytelling

Original narrative & well developed characters

Compelling and original writing

Creative use of language & vocab

Heartfelt and relatable

The story invoked strong personal emotions
Add your insights