Twin Peaks: In Memoriam
A tribute to the show's actors we've sadly lost.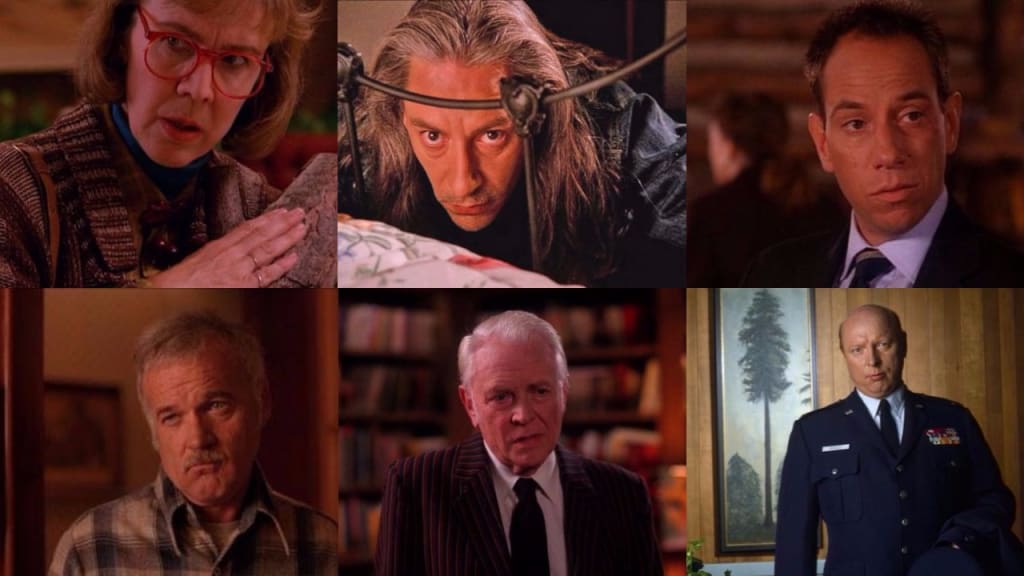 Left to right: (Top) Catherine Coulson, Frank Silva, Miguel Ferrer, (Bottom) Jack Nance, Dan O'Herlihy, Don S Davis
Miguel Ferrer (Feb 7th, 1955 to Jan 19th, 2017)
The oldest son of Academy Award winning actor Jose Ferrer and singer Rosemary Clooney, and cousin to George Clooney, Miguel was born in Santa Monica and raised in a creatively talented family in Hollywood, California. Although his early interest was in music, Ferrer moved into acting in the 80's, and made guest appearances in many popular TV shows, such as Magnum P.I. and Hill Street Blues. Ferrer's big break was arguably as cocky and ambitious executive Bob Morton, in Paul Verhoeven's 1987 classic black comedy sci-fi Robocop, alongside other 'Peaks alumni Ray Wise and Dan O'Herlihy. In 1990 Ferrer played FBI Agent Albert Rosenfield in Twin Peaks, to critical acclaim and fan adoration; Albert's sarcastic quips and cynical exterior belied a sensitive, humanistic nature which endeared him to many. Whilst he only featured in 8 of the 30 episodes, Albert quickly cemented himself as a fan favourite and his monologue to Sheriff Truman stands out as one of Peaks' best character moments.
Ferrer continued to feature prominently in both TV and film throughout his career, memorable roles including an award winning starring run as Dr. Garrett Macy in medical drama Crossing Jordan, and as NCIS Assistant Director Owen Granger in a whopping 105 episodes of NCIS: Los Angeles. He also won plaudits and yet more awards for his voice work as the villainous Vandal Savage in DC cartoon Young Justice and even entered the Marvel Universe as Vice President Rodriguez in Iron Man 3.
Beloved by family & friends, co-workers and fans alike, as witnessed by the huge out-pouring of grief and heart-felt tributes at his passing from throat cancer in January, Miguel Ferrer was a massively talented character actor and screen presence who enhanced every project he worked on.
Jack Nance (Dec 21st, 1943 to Dec 30th, 1996)
Born Marvin John Nance in Boston, Massachusetts and raised in Dallas, Texas, he met his most prolific collaborator David Lynch in the 1970's, and would go on to become synonymous with the director's work. Their first pairing, the surrealist nightmare Eraserhead, starred Nance as the fatalistic Henry Spencer; using oppressive sound design and disturbing abstract imagery to full effect, the film is a visceral expression of anxieties around sex and fatherhood. The poster art, featuring Henry in full blank-faced, shock-haired gaze, is probably the most infamous piece of Lynchian imagery, and it's all down to Nance. It was also here Nance met Catherine E Coulson (later of Log Lady fame), who was working behind the scenes; they married in 1968 but divorced in 1976.
Nance went to have to act in many supporting roles, working consistently through the 70's and 80's, but it is for his work with Lynch that he will be best remembered; had played minor but ripe, colourful characters in Dune (Captain Nefud), Blue Velvet (Paul, an odd friend of Frank Booth) and Lost Highway (Phil, the mechanic). His only other substantial role was in Twin Peaks, as hen-pecked saw mill operator Pete Martell; he radiated warm, small town charm, and his chemistry with with Piper Laurie as feisty, calculating wife Catherine endeared them to viewers. Nance also spoke the much imitated first line in Twin Peaks - "She's dead...wrapped in plastic...".
Nance was plagued by difficulty in his personal life, including failed marriages and the suicide of his second wife Kelly Jean Van Dyke, and struggled with alcohol on-and-off for a long time; in the last account of him alive from friends he was drunk and black-eyed, and told of a bar brawl that had been the cause. He went home complaining of a headache and died the same night of a subdural hematoma. It was a tragic end to a troubled man, who nevertheless left an on screen legacy of interesting and unique performances, and will be remembered for his kind soul and mischievous smile.
Catherine E Coulson (Oct 22nd, 1943 to Sept 28, 2015)
Much like her former husband Jack Nance, Catherine E Coulson is an actress whose career is completely associated with David Lynch. Born in Illinois but raised in Southern California, Coulson also worked with Lynch on Eraserhead, but in a back stage production capacity. Both Coulson and Lynch have later said that it was during this time that Lynch had first imagined her as a lady holding a log, and it was a role he intended she play for him at some point. In 1990 Lynch got his chance and wrote the role of Margaret Lanterman aka The Log Lady in Twin Peaks for her; ostensibly the town's kookiest resident who chews pitch gum, speaks in non-sequiters and perpetually cradles a wooden log, she is also capable of near-clairvoyant insight and wisdom. Appearing in 12 of 30 episodes, and prequel film Fire Walk With Me, The Log Lady became such an iconic part of Twin Peaks, and symbolic of its mysticism, that Lynch had her record a set of episode introductions for the DVD release of the series that expands on their themes and meaning.
Coulson made a few minor TV and film appearances afterwards, but preferred the stage and did considerable work with the Oregon Shakespeare Company in Ashland Oregon. She sadly passed away from complications related to cancer in September 2015. In 2016, she was announced as part of the cast list for the 2017 revival but no actual confirmation of whether she has filmed scenes has been given. However that turns out, Coulson's performance as The Log Lady will forever remain an iconic part of the mythology of Twin Peaks.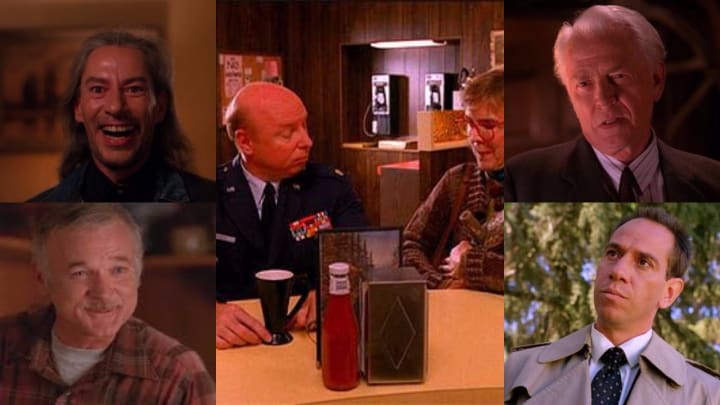 Don S Davis (Aug 4, 1942 to June 29, 2008)
Eloquently spoken and oozing quiet charisma, Don S Davis was an immense on-screen presence that lent gravity and class to any production he was in. Born and raised in Aurora, Missouri, David entered acting in the early 80's whilst working as a teacher at the University of British Columbia, having earned his Masters Degree in Theatre in 1970. Deciding to act full time, he started in minor TV parts and was stunt double for Dana Elcar on MacGuyver, before meeting David Lynch in the late 80's. Lynch cast him in Twin Peaks as wise and dignified Major Garland Briggs, father of troubled teen Bobby, whose work for the US Air Force is very much classified. Davis lights up the screen, his delivery and mannerisms magnetic, his assured air making more outlandish elements believable.
After his Peaks performance, Davis became in demand for all kinds of genre shows and films; he appeared in the updated versions of The Outer Limits and The Twilight Zone, and memorably as Captain William Scully, father to Dana Scully, in 90's pop culture sensation The X-Files. He further cemented his status as a sci-fi icon by becoming a regular in Stargate SG-1, as Lieutenant General George S. Hammond, head of Stargate Command. Over seven seasons he became one of the franchise's most popular characters and his acting was critically praised, before he had to take a step back from it due to worsening health. Don S Davis passed away from a hearth attack in June 2008; he will long be remembered and celebrated for his larger than life performances and integral part in multiple popular franchises.
Dan O'Herlihy (May 1st, 1919 to Feb 17th, 2005)
Born in County Wexford and raised in Dublin, Dan O'Herlihy had a long and distinguished career before appearing in Twin Peaks. Starring in multiple English productions in the 40's, O'Herlihy's first Hollywood lead was MacDuff in Orson Welle's version of Macbeth in 1948. He also worked with noted surrealist Luis Bunuel, earning an Academy Award nomination for his starring performance in Bunuel's 1954 adaptation of Robinson Crusoe. Throughout the 50's and 60's O'Herlihy continued to lead in a variety of war films, westerns and period pieces, before the 80's saw him take a change towards supporting turns, in films such as Halloween III: Season of the Witch and The Last Starfighter. Probably his most notable role from this period is as The Old Man, the CEO of Omni-Corp, in 1987 cult sci-fi classic Robocop.
In 1990 he was cast in Twin Peaks, as Catherine Martell's brother, Andrew Packard, a local business magnate who is believed dead at the story's beginning. O'Herlihy fills the role with energy and verve, but is introduced during the muddled second half of season two, and his story isn't given enough depth or attention; his is just one of several great performances lost amongst the shuffle of new faces. His chemistry with co-stars Piper Laurie and Jack Nance makes their scant scenes very enjoyable nonetheless. He attracted regular TV work in the 90's, appearing in stalwarts such as Murder She Wrote, but only acted in a few more films before retiring in 1998. He passed away peacefully from natural causes in 2005.
Frank Silva (Oct 31st, 1950 to Sept 13th, 1995)
Whilst he did backstage work, including set dressing and art design, on many productions, Frank Silva will be forever synonymous with his sole TV acting performance, as the demonic entity Killer BOB, in Twin Peaks. Born in Sacramento, California, Silva attended San Francisco State University, where he earned a Masters Degree in Light Design. He worked on multiple Lynch productions, including Dune and Wild at Heart, and was working on the set of Twin Peaks when a camera fortuitously captured a mirror image of Silva crouching behind a bed. When Lynch saw the footage that day he liked the imagery so much, he decided to write a role for Silva. He first appeared in scenes shot for a potential European release of the pilot, where it would be aired as a movie if the TV series wasn't picked up. Lynch, who also brought Al Strobel back, liked it so much he added the characters to the shows mythology, and BOB and MIKE were born.
Silva's scenes in the finished show count as Peak's most terrifying moments; his cackling, animalistic performance is the distillation of imminent physical and sexual violence, the sheer menace permeating the screen, described in show by characters as the manifestation of the evil that men do. In stark contrast to his infamous character, Silva is universally described in anecdotes as a softly spoken, warm and friendly man, modest about his fame but with an infinite amount of time for fans, regularly taking part in festivals and signings. Frank Silva tragically passed away September 13th 1995, aged only 44, from complication related to AIDS, and will be sadly missed from the revival, his presence unique and his performance inimitable.
pop culture
tv
celebrities
About the author
Writer, confessed geek and pop culture enthusiast, loves film, TV and video games. Blogged and written for various websites on all the above.
Reader insights
Be the first to share your insights about this piece.
Add your insights